Gear Guy
What is the most appropriate base-layer system for winter backpacking?
What is the most appropriate base-layer system for winter backpacking? Under Armour's compression-fit garments seem great for moving along the trail, but they're perhaps not good for sleeping or insulating. Do I need a set of base layers for daytime hiking and a different set for nighttime? Doug West Chester, Pennsylvania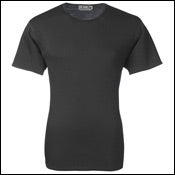 Heading out the door? Read this article on the new Outside+ app available now on iOS devices for members! Download the app.
Yeah, that's an interesting question. Winter layering can be a little tricky, especially for the base layer. And you're right about Under Armour—it's great stuff for highly aerobic activities but is aimed at a little different market than backpacking.
SmartWool Microweight Tee

Microweight Tee
These days, my preferred winter base layers are actually a mix of a couple of different things. One is Patagonia's Capilene 1 (formerly known as Capilene Silkweight). This stuff really is one of the most versatile base layers around—super-comfortable, fast drying, and with a lot of warmth in a very light package. I even use the tees as summer hiking wear. For winter, use either the long-sleeve tee ($38; patagonia.com) or short-sleeve ($42 due to its graphics) as a base layer.
Then, over that I like wool. For winter, the midweight wool pieces are best, such as Icebreaker's Bodyfit 260 Long-sleeve Crew ($58; icebreaker.com). Wool is billed as being a better thermal regulator than synthetics, meaning it's comfortable over a wider temp range. I'm inclined to agree. It also has good wicking capabilities and will keep you warm even if you get pretty sweaty.
There are lots of ways to mix and match. Wool alone makes a good base layer. Or, start with a short-sleeve Cap 1 shirt and a long-sleeve wool layer over that. Or try a long-sleeve Cap 1 shirt, then toss over that a short-sleeve wool piece such as SmartWool's Microweight Tee ($55; smartwool.com).
I'll say this, these days the base layers out there are so good it's almost inexcusable to be uncomfortable. The other day I was skiing in mid-20 temps. I had on a light Icebreaker long-sleeve tee, a mid-weight Polartec long-sleeve tee, and Marmot's new Exum Jacket made with Gore-Tex Pro Shell ($375; marmot.com). It is an incredibly lightweight setup, and I was perfectly comfortable both laboring down some deep snow up high, and sitting outside eating a sandwich at lunch.
The 2008 Winter Outside Buyer's Guide is now online. From snow sports to trail-running to camping, get reviews of more than 300 new gear must-haves.