Gear Guy
What's the best backcountry snowboarding gear?
I seek your advice because I'm tired of lift lines and bad snow conditions. What's the best way to get around in the backcountry for a snowboarder? The new Verts from C3 design? Snowshoes? What about the split kit from Voilé? Also, what setup would you recommend for boots? Mountaineering boots? Simon Montreal, Quebec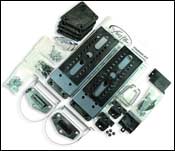 Heading out the door? Read this article on the new Outside+ app available now on iOS devices for members! Download the app.
Actually, the Verts from C3 ($80) aren't all that new—they came out in the late 1990s. Describing them to the uninitiated is a little tough. Think of them as rigid, compact snowshoes made from nylon, which strap very firmly to a boot and create a footprint maybe three times as large as the boot sole. That gives you pretty good float, and the rigidity of the Verts and their firm attachment to the boot mean you have a lot more leverage—you can even climb knobby rock with them, a stunt you never could try with snowshoes. That also means you can ascend along the sides of steepish gullies or even up the crest of adjacent ridges, rather than slogging up the center of the gully with snowshoes or alpine touring gear, fully exposed to avalanches.

Split Decision Kit

Voilé's Split Decision Kit ($150; www.voile-usa.com) is an interesting option. It lets you take an old snowboard, saw it in half lengthwise, and then fix bindings to each side. You can then use them like short cross-country skis to get to your destination, reassemble the snowboard with clip attachments, and board away. Very clever, it saves you from having to carry any extra gear. But I'd say it's best for rolling terrain, rather than anything really steep. For those double-black pitches, the Verts, or a pair of tough, compact snowshoes such as MSR's Lightning Ascent ($250; www.msrcorp.com), are best.
You probably would need to invest in some boots as well—snowboard boots are generally too flexy to handle steep terrain. The ideal solution is a pair of light plastic boots, such as Koflach Degres ($270; www.koflachusa.com). They're warm enough for winter, keep your feet dry, and have the rigidity needed for steep terrain wearing either Verts or traditional snowshoes.
Be careful out there. It's always better to call it a day than take a chance and get nailed by an avalanche. And unfortunately, today's better backcountry gear is putting more and more people into harm's way.
For everything you need to know about skiing in the backcountry, read "How I Came to Know and Love the Backcountry" from Outside Online's partner site, Away.com.