Gear Guy
What's the best clothing for snowshoeing?
As someone who's five-foot-two and 104 pounds, I'm looking for snowshoeing clothing that I don't disappear into! I have several pairs of insulated pants, but they are really bulky (snowboarding-type pants). I see tons of form-fitting "pants," but there are so many different kinds I don't know where to start. Any advice on layers and brands that will keep me warm but fit closer to my body? BJ Guilderland, New York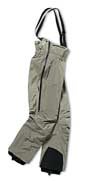 Heading out the door? Read this article on the new Outside+ app available now on iOS devices for members! Download the app.
First up, I'd toss all those "insulated" pants. They aren't putting the insulation where you need it, which is right next to the skin. Instead, they're creating a big air pocket around your legs that has to be warmed and then re-warmed as your motion squeezes it out the cuffs or around the waist. Besides, while they do help some, insulated pants are impossible to adjust for temperature.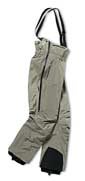 Minuteman Bib

Instead, think layering. You really don't lose that much heat off your legs, so typically you can get away with about one-third the insulation that's comfortable over your upper body. For snowshoeing when temps are in the upper teens to upper 20s, for instance, I'm usually fine with a midweight long underwear layer (for you, try the women's Midweight Bottoms from Marmot: $40; www.marmot.com) with a windproof or waterproof-breathable layer over that. A pair of decent Gore-Tex pants, or something similar, would work fine—perhaps REI's Switchback Pants for women ($160; www.rei.com), which use a proprietary waterproof-breathable fabric to make an affordable all-weather pant.

Depending on conditions, you can add or remove underlayers, too. Some days a pair of light long underwear will be all you need. Others, the so-called "expedition-weight" stuff, will be trimmer than those puffy pants you're using now.
Of course, da bomb for winter activities is a pair of Gore-Tex XCR bibs. Bibs are warmer than waterproof-breathable pants because they add a layer around your lower torso. Plus the shoulder straps help keep everything in place. A great bib for winter sports is the Arc'Teryx Minuteman Bib, available in women's sizes (I guess that makes it the Minutewoman). Price is pretty steep at $350, but they'll last for years and give you excellent performance (www.arcteryx.com).
The Gear Guy is unveiling his ten favorite pieces of gear, and in the spirit of the season we're giving it all away. CLICK HERE to find out what makes his all-star Hall of Gear and enter the 2003 Great Gear Giveaway!