Gear Guy
What's a good car rack for skis and snowboards?
What's a good, durable, and reliable car rack for skis and snowboards? Joon New Orleans, Louisiana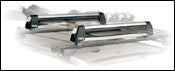 Heading out the door? Read this article on the new Outside+ app available now on iOS devices for members! Download the app.
Several good choices out there, Joon. These days, if you can ski, bike, paddle, or float with it, you can pretty much fit it on top of any car.

Flat Top Ski Carrier

The King Kong and Godzilla of the car-rack world are, of course, Yakima and Thule. They both make extremely strong, versatile systems, similarly priced, and I don't really have a preference. I use a Yakima rack, and like it very much, but that's also because I started out with Yakima many years ago and stuck with it. Some people prefer Thule's square crossbars to Yakima's round ones. Both are extremely durable, long-lasting systems.


Let's say you want to use one or the other for skis and snowboards, and you've got a pretty typical vehicle with rain gutters but no factory roof rack. For Yakima, you'd first need a set of four 1A Raingutter Towers ($119; www.yakima.com). Then, two crossbars ($50 per pair). Finally, the Big Powderhound SE Ski Mount ($100) carries up to six pairs of skis or four snowboards—or various combinations of both. So you've spent $269, more or less. In the future, you can always add more ski-carrying capacity, bike racks, kayak racks, you name it.
For Thule, a comparable setup starts with the Gutter Foot Pack ($125 for set of four; www.thuleracks.com). A pair of crossbars for those towers runs $50. Finally, the Flat Top Six Ski Carrier, which holds six sets of skis (imagine that) or four snowboards, runs $110. Total here: $285. As with the Yakima, you can go on to add all manner of holders, boxes, luggage racks, and so on.
More sport racks reviewed in Outside's 2004 Buyer's Guide.