What's Next for Snowboarding? A Conversation With Jake Burton
We cornered the founder of Burton Snowboards at Outdoor Retailer's Winter Market to talk about his company's latest developments, where he likes to ride most, and avalanche safety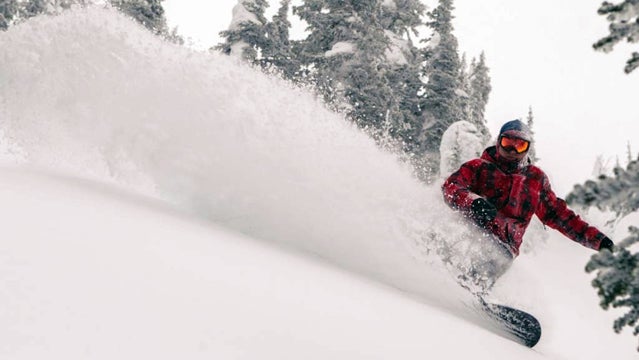 Heading out the door? Read this article on the new Outside+ app available now on iOS devices for members! Download the app.
As industry folks shuffled across the showroom floor at Outdoor Retailer's Winter Market last week, their plastic nametag holders chafing across DWR-coated midlayers, Jake Burton was just hanging out in jeans and a T-shirt, blending right in. Burton, who started Burton Snowboards in 1977, was chatting up pro riders John Jackson and Dave Downing as if they were just waiting for their turn to bowl. We joined the pow-wow to talk about some of the company's latest developments.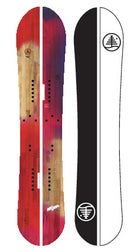 Burton's 2014 splitboards.

Jake Burton.
How often are you riding these days?
Over the last 15 years, I've been riding over 100 days a year, although I missed last season because I had a little testicular cancer issue. I was bald and everything, really out of it, but I'm back now. I've already got 51 days this year, well on my way back to a "hundee," so I won't have any problems.
Does a cancer scare like that make you really want to get back out there?
Yeah. It's a sort of discipline I have. If i'm going to be in this role, I should be riding a hundred days a year. It forces me to go up on days I maybe wouldn't and I never regret it. I love to tally them up.
Where do you like to ride most?
I like Stowe, my home mountain in Vermont. If my favorite mountain was somewhere else, I'd probably be living there. The scene in Stowe is great. It gets cold at times but when it's on, it's so good. And living there, you get all the good days. It's all about tree riding. When I moved up from Southern Vermont 20 years ago, people weren't in the trees as much. There was some backcountry stuff happening, but it was more abandoned ski areas and hiking trails and stuff. It just wasn't as prevalent as it is in Stowe. I think Stowe definitely led the way in tree riding, at least in the Northeast.
You mentioned backcountry riding, which is booming. How are you at Burton taking that and running with it?
Well, we're really supporting the splitboard thing. It's a Spark binding with this custom puck plate system that we're co-labeling with Voile and you don't have to deal with the pin anymore, which is pretty insane. We've been experimenting with the boards for a while now and we have it pretty dialed with flex and stuff.
What have you noticed about splitboard technology in the past few years that you wanted to change?
Just to get really good shapes and team rider feedback. For a while, people were making splitboards without focusing on details like flex patterns and dual channels and quicker transition times.
It's exciting that splitboards are allowing snowboarders to go on hut trips with skiers and keep up. What's the biggest thing that still needs to be improved?
I think the biggest thing is speed of transition, which we've gotten to under a minute. Skiers have never liked to wait for boarders. We're going to start offering this new system on a limited basis. I don't even know if we even have a name for it yet. It's so much faster without the pin; it's a little lighter, too. Spark is making the bindings and we're making the boards and pucks. It's so simple.
As people are venturing out into the backcountry more, what kind of role is Burton taking in avalanche safety?
That's a tough one. It's a huge responsibility of ours. I think that kids are way more hip to it now than even just a few years ago. We have team riders doing avi refresher courses every fall and that never used to happen. I think what we're mainly doing is putting out literature in hang ties on our products, but I guess we could always do more. There's nothing like saving a life, right?
What new gear are you most excited about that's here?
We have a new boot line that's pretty sick called Infinite Ride. We used to cut the stitch liners out of all the materials, and we still do in some of our boots, but the higher-end line is just one injected piece of foam. It feels so comfortable and there are no pressure points at all. I'm riding the 2014 Ion boot.
In the board and binding stuff, we have some new technologies, but we're really focusing on value. We've got a channeled way of mounting bindings to the board. Instead of holes, it's just this slot—which goes with our Reflex binding—that allows the board to flex under your feet with the binding. We're spreading that damn near throughout our whole line, not just the top end. If you've got a good idea, why not make it available to everybody?
Tell me about the Learn to Ride programs that you're setting up with resorts.
We work a lot on product in terms of making a board that people can learn on very easily. It's harder to catch an edge, softer flex. We're also demanding lower rider-to-instructor ratios to make learning a good experience. The process of learning how to snowboard can be so much better if you pay attention to the details. We have the Snowboard Academy at Northstar with little bank turns and roller and the perfect grade hill. That's taking it to the next level. We have the Riglet Reel for three- to five-year-olds where you just pull them around on the board.
Speaking of little kids, there are so many sick groms coming up through the ranks that are ridiculously good. How do you spot these kids?
We have this network of pro riders scouting young talent and these kids show up as 12-year-olds throwing 900s. I couldn't even tell you where they come from. Burton has always focused on getting beyond the pure gymnastic side of things and getting kids with good freeriding technique and style.
In addition to Spark, what other companies are you collaborating with to make some exciting stuff?
We're doing our outerwear collaboration with Filson. Sometimes companies approach us and sometimes we approach them. The technology stuff is more centered around splitboarding with the pucks and such. I think we're leading the way with a lot of technical aspects of snowboarding. We're working with a lot of material guys to get stuff lighter, but in terms of R&D, we pretty much have it all in-house.
Burton has grown so much since you started it in 1977. How do your streamline your brand so you still have an identity?
We still have a pretty broad line. I think snowboarders like to be individuals and it's not a sport where people all like to wear the same uniform. Our AK line is super technical and worthy in terms of its performance, but it's a bit younger in terms of who it's aimed toward in the context of the prints and the cuts. That's sort of our spo, pretty much our niche.
How do you grow with that? People who started snowboarding when they were young are now old and have kids of their own….
It's funny you ask that. We originally made the AK stuff for riders who were a little bit older with a little more cash who could afford Gore-Tex and stuff like that. But then it kind of happened over night, where the younger riders got into the lightness and the performance aspects of it.
Some have said that skiing is getting cool again and snowboarding's growth is in decline. What do you think about that?
Snowboarding changed the whole industry when we arrived, and we took so much from skiing. We didn't know about steel edges or have resorts, which were built for skiing. Then we showed up and gave a lot back to skiing in the context of wider skis, sidecut, looser fitting clothes, going big, terrain parks, half-pipes. So it's a two-way street. I think snowboarding is as edgy as ever. There are some older people out there riding like myself, but you go into the park and there are a lot of kids ripping it. I think snowboarding is so youth-driven that we're in a really solid place.
I remember when the early X Games half-pipes were like six feet tall and pulling one 900 would win first place. The top of the podium didn't seem so far away. Now it's such a dramatic leap. Is there a limit to this progression at some point?
That's a good question. I ask myself how many more spins can you do and how much bigger can you go? But you just accept the fact that that's sport. It doesn't matter if it's football or skiing or car racing. People are always going to scare the shit out of the previous generation. That's what progression is all about and snowboarding is all about progression. At the same time, helmets get better and pipe design gets safer with bigger and better transitions.
The same question can also be asked about gear. Cuts are more aggressive, bases are faster, boots are comfier and warmer. Bindings are still pretty similar and straps have outlasted the step-in. How much can change there?
We have a new buckle on our Genesis binding with teeth on both sides that makes the entry point much smoother, but the basic function of two straps with a ratchet binding is pretty solid. We're still always looking at step-ins, but you just can't compromise the ride. That's just suicidal. Those bindings lift a lot more than you think they do. Our guys measure how much the heel cup comes off the board on a topside turn and it's unbelievable. It's very hard to replicate that with a step-in technology. They're a big kink in the middle of this very fluid connection. That's what people have constantly rejected over the years.