Gear Guy
Which are the best all-terrain snowshoes?
I in the market for a set of snowshoes, but I'd like to know if there is one shoe that can tackle all types of weather and terrain? It will be used for day hikes and some climbing. Erin Brockville, Ontario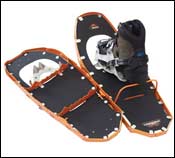 Heading out the door? Read this article on the new Outside+ app available now on iOS devices for members! Download the app.
Sure, there are several snowshoes that can handle all terrain and all conditions. The one caveat I offer is the Gear Guy's Ten-Gallon Rule: If you usually boil a quart of water but occasionally must boil ten gallons, and can buy only one pot, then you'd better buy a ten-gallon one. Same goes for snowshoes—but you may find that a "do anything" shoe is more shoe than you need in many conditions.

Lightning Ascent

Anyway, enough philosophy. One of the more interesting new snowshoe designs is MSR's Lightning Ascent ($250; www.msrcorp.com), a snowshoe based on MSR's groundbreaking Denali (which at $129 for a pair remain one of the best bargains in winter sports). The Lightning Ascents are a little more traditional than the molded-plastic Denalis; they have a metal frame and urethane decking, similar to other designs out there. What sets the Lightning Ascents apart is their unusual crampon design. The "teeth" of the snowshoe consist of a continuous vertical band of aluminum and steel, with points spaced all around and two longer points at the toes. The circular edge ensures that you have bite at any angle, up or down, left or right. They'd work on day hikes, handle climbs, and do just about anything you ask of them.
Another good go-anywhere snowshoe is the Tubbs Altitude 36 ($269; www.tubbssnowshoes.com). Like the Lightning Ascents, they consist of a tubular aluminum frame and synthetic decking. Built-in crampons don't have the 360-degree effect of the MSR design, but work very well and are designed to bite in any direction. I like the bindings on the Tubbs more than those found on the MSR shoes.
Myself, I'm a long-time Redfeather snowshoe user and think they work great. One of the newer iterations of the lightweight Redfeather design is the Alpine Ultra ($199; www.redfeather.com), a well-priced snowshoe that has stainless-steel crampons, sturdy and simple bindings, and Redfeather's tapered shape, which makes them a little easier to maneuver than other models. I think they'd work great for you.
Mind you, any of these snowshoes will be more than you need for easy, flat recreational snowshoeing, but for steeper terrain and climbing they'll serve you well!
Check out Outside Online's Gear Blog on the Timberland Waterproof Snow Lizard Trail Shoes for a perfect mate to the MSR Lightning Ascent snowshoes.