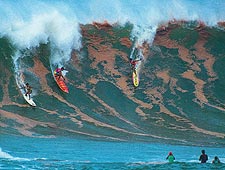 Heading out the door? Read this article on the new Outside+ app available now on iOS devices for members! Download the app.
THE SNOW GEESE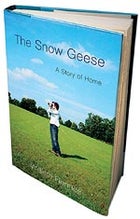 Art Brewer (The Surfer's Journal, ), The second volume in the Masters of Surf Photography series, collects more than 30 years of this camera Kahuna's Ultrasoulful Work—from action shots like this one of Dennis Pang, Marvin Foster, and the late Mar
A Story of Home

by William Fiennes
(Random House, $25)
AFTER A SERIOUS ILLNESS, 26-year-old William Fiennes, cousin to actor Ralph and explorer Ranulph, recuperates at his family home in the British Midlands by rereading a childhood favorite, Paul Gallico's allegorical novel The Snow Goose, and yearning for "strange horizons." So he sets out to follow the snow geese—pure restlessness in animal form—from their winter haven in Texas to breeding sites near the Arctic Circle. Fiennes's first book is an avian pilgrim's progress in which everyone seems subtly birdlike—from the guy who smacks into the plate-glass door of Dally's Dining Lounge in Aberdeen, South Dakota, to the Manitoba quilter whose house is a feathered nest of eiderdowns. These homegrown guides invariably possess better goose radar than our slightly dim Brit does: the nun pointing out a flock flapping past their Greyhound bus window, the cantankerous Manitoban who shouts, "You!—Have you looked up lately?" But when the author does catch up to the vast flocks, his metaphorical flights are glorious. The birds, "yapping like small dogs…circled over the roost, thousands of geese swirling round and round, as if the pond were the mouth of a drain and these geese the whirlpool turning above it." In the surreal finale, he travels in the constant daylight of Baffin Island with two Inuit, eating snow goose, wearing goose down—"snow geese inside and out"—and realizing, like Dorothy in the Emerald City, that he's finally ready to go home, that "not all returns are retreats."
—Caroline Fraser


BATAVIA'S GRAVEYARD
The True Story of the Mad Heretic Who Led History's Bloodiest Mutiny

by Mike Dash
(Crown, $25)
LIFE ABOARD A 17TH-CENTURY Dutch spice trader wasn't exactly an Old Spice commercial. Rats, lice, and boredom conspired to drive sailors mad, typhus was epidemic, and discipline was rough—a sailor caught knife-fighting had his hand nailed to the mast. In Batavia's Graveyard, British historian Mike Dash, author of Tulipomania, the best-selling history of the Dutch tulip craze, uses a bloody 1629 mutiny on the Dutch East India Company flagship Batavia to explore the ruthlessly profitable trade. Ship-wrecked on a coral atoll 50 miles off Australia's west coast, the Batavia's passengers and crew were subjected to a brutal game of Survivor, with commercial agent Jeronimus Corneliszoon as a demonic Richard Hatch. Initiating a kill-or-be-killed reign of terror, he condemned dozens to die of thirst and others to be ribboned with knives. By the time a rescue ship arrived, 216 of the original 322 survivors were dead. Combining a broad understanding of the world spice trade with chillingly specific details, Dash tells a gripping tale of power, greed, and spectacular blood thirst.
—Bruce Barcott


TIME TRAVELER
In Search of Dinosaurs and Ancient Mammals from Montana to Mongolia

by Michael Novacek
(Farrar, Straus & Giroux, $26)
NOW CURATOR OF PALEONTOLOGY at New York's American Museum of Natural History, Novacek was once a longhaired hippie in an L.A. rock band who got bit by the dino-bug on a UCLA collecting trip to New Mexico's Jornada del Muerto desert. Hunting for fossils, he discovered, could involve "tedious stretches of time that seem as interminable as the Precambrian Era," but it also offered long macho road trips and a Boy Scout's favorite pastimes: "tent pitching, fire starting, route finding, rock hammering, excavating, fossil hauling, crate making, and even dynamiting." Following his many expeditions in Baja, Mongolia, and Yemen, this paleo-autobiography captures the hazards of a career that's anything but sedentary—as well as its rare triumphs, like Novacek's discovery of a nest of oviraptors on Mongolia's Flaming Cliffs. Seeing those cliffs for the first time, he writes, felt "eerily natural…as if I had merely walked around the block of my parents' house in Los Angeles and into the land of the dragons."
—C.F.


BLUES FOR CANNIBALS
The Notes from Underground

by Charles Bowden
(North Point Press, $24)
"I AM NOT A MAN of the center," Charles Bowden announces in this fierce desert fugue. "I am from somewhere else." No kidding. Bowden continues what he started in his 1995 rant Blood Orchid, exploring the depths of American depravity to find the blood running beneath the glossy commodified skin of modern life. What he's for: passion, thirsting, terrible odds, "plowing into the wilderness of dreams." What he's against: credit cards, retirement communities, home entertainment centers. Bowden's a beatnik trapped in a globalized world, resisting logic and convention (sometimes to the reader's detriment) in favor of brilliant primal-scream riffs. He still retreats to the desert, but even there his furious appetites cry out: He has to "mash my face into the pulp of the cactus and smear the wet and sticky flesh all over my body and suck deeply the raw smells of the earth." This is a careening mess of a book, a wild-eyed ride through the psyche of one of America's most incandescent writers.
—B.B.