10 Rules for Building Your Own Kayak
Heading out the door? Read this article on the new Outside+ app available now on iOS devices for members! Download the app.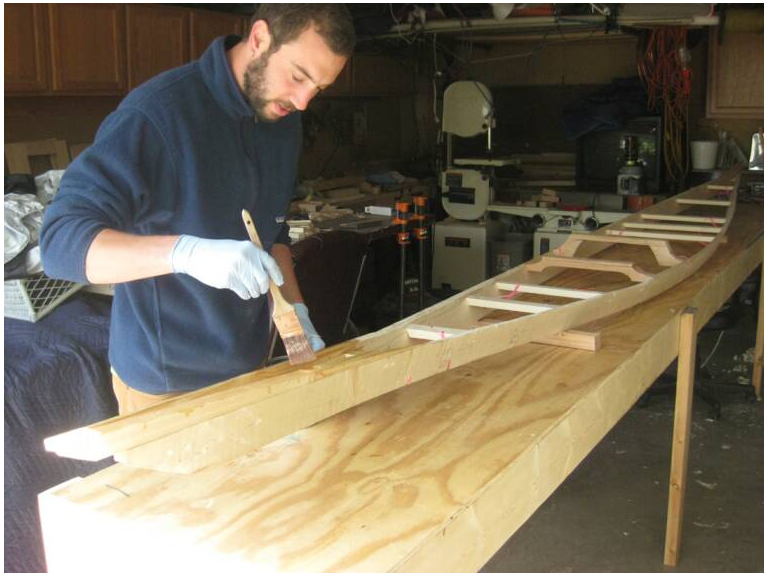 It all started back in 2005 when my college roommates and I opened our first Pabst Blue Ribbon of the night. Luke, Will, and I shared a fondness for PBR and dreaming big. The subject of the night was a circumnavigation of the world's largest freshwater lake: Lake Superior. It must have been something about the spraying mist and froth from those beers, because by the end of the the night we had decided to build our own kayaks for a Great Lakes adventure.
Press the fast forward button to May 2010. Outside Luke's parents' garage, we stared at wood piled over the back of a red Ford Ranger. We toasted a few more beers to the boards that would become the gunwales of our kayaks.
Several crushed cans and cut fingers later, we find ourselves on the eve of our Superior Dream. Our kayaks are finished and deemed sea worthy, by us—we think. Just in case there's someone else out there with similar aspirations, here are ten things to consider about building your own kayak, after of course, you share a beer or two.
10. You should take a course.
Since neither of us had ever built anything beyond shop class in high school, this was our original plan. That said, the course we planned to take was canceled. We had two choices: Scrap the idea of building a sea-worthy craft with our own hands and purchase a plastic eyesore, or purchase a kind of connect-the-dots kayak kit. Neither option seemed great. We had fallen in love with the Greenland style of kayak. The sleek and sexy skin-on-wood-frame boat with it's translucent nylon skin glowed with sunlight and we couldn't let go of the idea. So after some research online we ventured into the unknown and tackled the online instructions we found at instructables.com.
We are aspiring adventurers, correct? Plus, it was exponentially cheaper, $300 per kayak as opposed to $1,200 each. Since our pocket books have never actually seen $1,200, the decision was easy.
9. Make multiple trips to the hardware store.
Grasp the fact that you will make multiple trips to the hardware store to purchase single items at a time. It is a fact of life.
8. You'll need to find tools before you start.
If you do not own all the necessary equipment, find a friend or family member to take advantage of. Ron, Luke's dad, had granted access to his shop and tools. Without which we would not have been able to attempt the project.
7. Take note of the parts that need to be special ordered.
This will truly save you time. A project that we promised Ron would only take two to three weeks took two months. We had taken over his man-space and after the third week we could see him pacing outside his shop waiting for us to finish.
6. Drink beer.
The overlooked tool of the novice craftsman. It takes the edge off the mistakes you can't undo. You find the keelson, the backbone of your kayak that helps it keep in a straight line in the water, is in the shape of a "C"… Crpssst. If your kayak won't win a blue ribbon, at least you can enjoy one.
5. Recognize the times to worry.
Kayak doesn't float: worry. You've shaved an extra quarter inch off or drilled an extra mortise: not.
4. Think about modifications.
It takes a special breed to try to make any modifications to a design that is not yours. The traditional Greenland style kayak does not have bulk heads or hatches to store gear. We wanted them, so we made our modifications. They kind of work. . . . We are special.
3. Take a deep breath
At a certain point you may find yourself overwhelmed. The list of things to do may be so long that the end lies beyond the horizon. The whole project teeters on the knife's edge of motivation and risks becoming another half-done project in the garage, where it will rest until your mid-life crisis.
Take a deep breath and finish the step you are on, then move to the next one. Take baby steps if necessary.
2. In reality, scratch number 6.
It turns out an extra quarter inch can screw you. So, I give you the adage: "Measure twice, and cut once". There is no way to actually stretch a board.
1. Enjoy the success.
The ghost of a diving loon as it passes the bow of your kayak just beneath the rippled glass of the the water's surface. The sunset reflected on the lake. The deep satisfaction that something at the start you thought might not float does, beautifully and with grace.
We've got grand plans for these boats. Yes, sir. They are going around Lake Superior–the largest freshwater lake by surface area in the world. We're going to film the adventure and share our experience. It's been a dream of ours for over half a decade. Building these kayaks is but a small portion of our dream, our Superior Dream. Follow along, if you like, at www.superiordream.com.}
–Greg Petry
Trending on Outside Online