Adventure's Gold Coast
Kayaking, biking, hiking and gawking along the wild west's farthest shores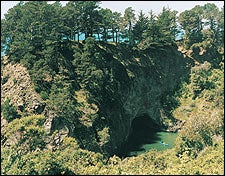 Kurt Markus
Heading out the door? Read this article on the new Outside+ app available now on iOS devices for members! Download the app.
THE GLORY OF MENDOCINO and Humboldt County seacoast is the dazzling union of big surf, big cliffs, big trees, and big mountains. It's so multifarious, there's no single, signature way to experience it all. While the Big River serves up a dreamy paddle amid rugged inland terrain, you won't want to travel that far north without savoring the bracing coastal hits as well. Take a bike, take your boots, take a kayak, take some car-camping indulgences and make a high time of it. Here are four ways I amused myself once I got my fill of the Big River.

Navigating the sea-arch maze near Elk
SEA KAYAKING
The Pacific Coast off Elk

IT'S GAME TIME and a 16-knot wind is vaporizing the crests of seven-foot swells beyond a daunting surf that's crashing on Greenwood State Beach, across Highway 1 from the tiny village of Elk, 15 miles south of Mendocino. "She's a little rough, but we'll be fine," says Aaron Stauffer, the manager of Force 10 Ocean Whitewater Tours, a kayaking operation based in Elk. A minute later we're launching through the surf, and though I'm ptooeying saltwater, I'm also noticeably upright, beyond the breakers, and paddling toward an offshore rock. Aaron's piloting our 24-foot custom fiberglass tandem from behind, and that's the key to Force 10's operation: By running tandems, they put a strong engine and a ton of experience in a superstable boat with you. In the course of our four-mile paddle north to Cuffey's Cove and back, we shoot through arches into hidden coves, idle in dark caves, and arf back at stellar sea lions lollygagging on an offshore rock. Afterward, Stauffer admits that most summer days are quite calm. "But we can always find something intense," he says, like tucking into one of the many low-clearance caves rendered unapproachable on my tour. Force 10 runs coastal kayak day tours from May to November for $95. For more information, call 707-877-3505 or visit www.force10tours.com.

Backpacking the Lost Coast Trail

Land of the lost: Usal Creek
LITTLE-KNOWN FACT: The world's most ogled coastline in the nation's most populous state is left to itself for 80 wild miles beginning about 50 miles north of Mendocino. In the 1920s, builders of California Highway 1 were thwarted by the awesome coastal mountains. They sent the highway over the hills to merge with U.S. 101 and left behind the Lost Coast. Dirt roads usher visitors to its north and south boundaries, and only one partially paved thoroughfare, the Briceland Road, touches its midpoint. Otherwise, the only way to see it is under your own power—most notably, via the 50-mile Lost Coast Trail.
I approached the Lost Coast from the south by turning off Highway 1 at mile marker 90.80 onto unsigned Usal Road (County Road 431), a narrow dirt track that leads six miles to Usal Camp, a primitive campground on the southern edge of 7,367-acre Sinkyone Wilderness State Park ($7 per night, bring or filter your own water). I set up camp on a sandy flat a couple hundred yards from the crashing surf and took off early the next morning to hike as much of the Lost Coast Trail as my legs would allow in one day. The trail rises 500 feet above Usal and then runs in and out of redwood groves and fir forests, up and down coastal canyons drained by streams, emerging to reveal shocking Lost Coast views—whitecapped ocean, crashing surf, sea stacks, and sheer cliffs—from meadowy bluffs. Each is a garden of green wild oats, California poppies, blue bush lupines, foxgloves, blackberry brambles, and wild purple lilies. By the time I switchbacked down to a trail camp at Little Jackass Creek, my turnaround point for the day, I'd gained and lost more than 4,000 feet in 7.5 miles. The trail continues north another 42.5 miles, a great through-hike that takes ten days. For more information, call Sinkyone Wilderness State Park at 707-986-7711 or the BLM at 707-986-5400.

Mountain Biking the Hotel Gulch Road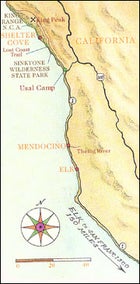 SINCE THE LOST COAST TRAIL isn't two-wheel compatible, mountain bikers will want to head to the Hotel Gulch Road, a higher, parallel route about a half-mile inland. It delivers some of the same vistas, although much more of this trail is cloaked in deep forest. It follows an untended old logging road that climbs steeply out of Usal Camp to 1,500 feet before it drops toward Anderson Creek. A couple of downfalls and landslides require hike-a-bike, but it's all ridable if you have gears and gumption. About a mile downhill from the first crest, where you'll be hot no matter how brisk the day, a 30-foot waterfall tumbles into a shallow pool. After I cooled off there, I rode on, following undulating ridges that traverse rare old-growth redwood groves, dropping into the abandoned logging site of Wheeler, 12 miles from the trailhead. This is a good place to turn back, because you have to relive three long climbs before the bumpy descent back to camp. For more information, call Sinkyone Wilderness State Park at 707-986-7711.

Hiking King Peak
BEHOLD THE KING RANGE from the tiny clifftop town of Shelter Cove in the middle of the Lost Coast, 20 miles north of Usal as the gull flies, and you understand why Highway 1 gave up any notion of proceeding through here. The jagged range rises 2,000 feet to the north above the surf within the first mile. Above it all is 4,087-foot King Peak. On the eve of my King Peak climb I relocated to Shelter Cove where I found a room with a pilothouse view of the entire Lost Coast. My trailhead of choice was Saddle Mountain, a 10.5-mile-drive north on dirt from Shelter Cove Road. Much of the 5.5-mile King Crest Trail disappears into forests of tan oak, madrona, and Douglas fir. Still, after dropping 700 feet, it follows a ridgeline on a gradual 2,300-foot climb and serves up a peak at the summit's vista grande. After a final steep push to the top I could see clear over to the snowy Trinity Alps, 90 miles to the northeast, Punta Gorda; ten miles to the northwest; and Point Arena, 100 miles to the south. What I didn't see was another soul. I made the round-trip in five hours. For more information, call the BLM at 707-986-5400. Doubles at Shelter Cove Motor Inn start at $85 per night; call 888-570-9676.