2023 Summer Gear Guide
The Best Kayaks and Rafts of 2023
We asked 13 testers to take the plunge on this year's newest fleet of watercraft. These boats floated to the top.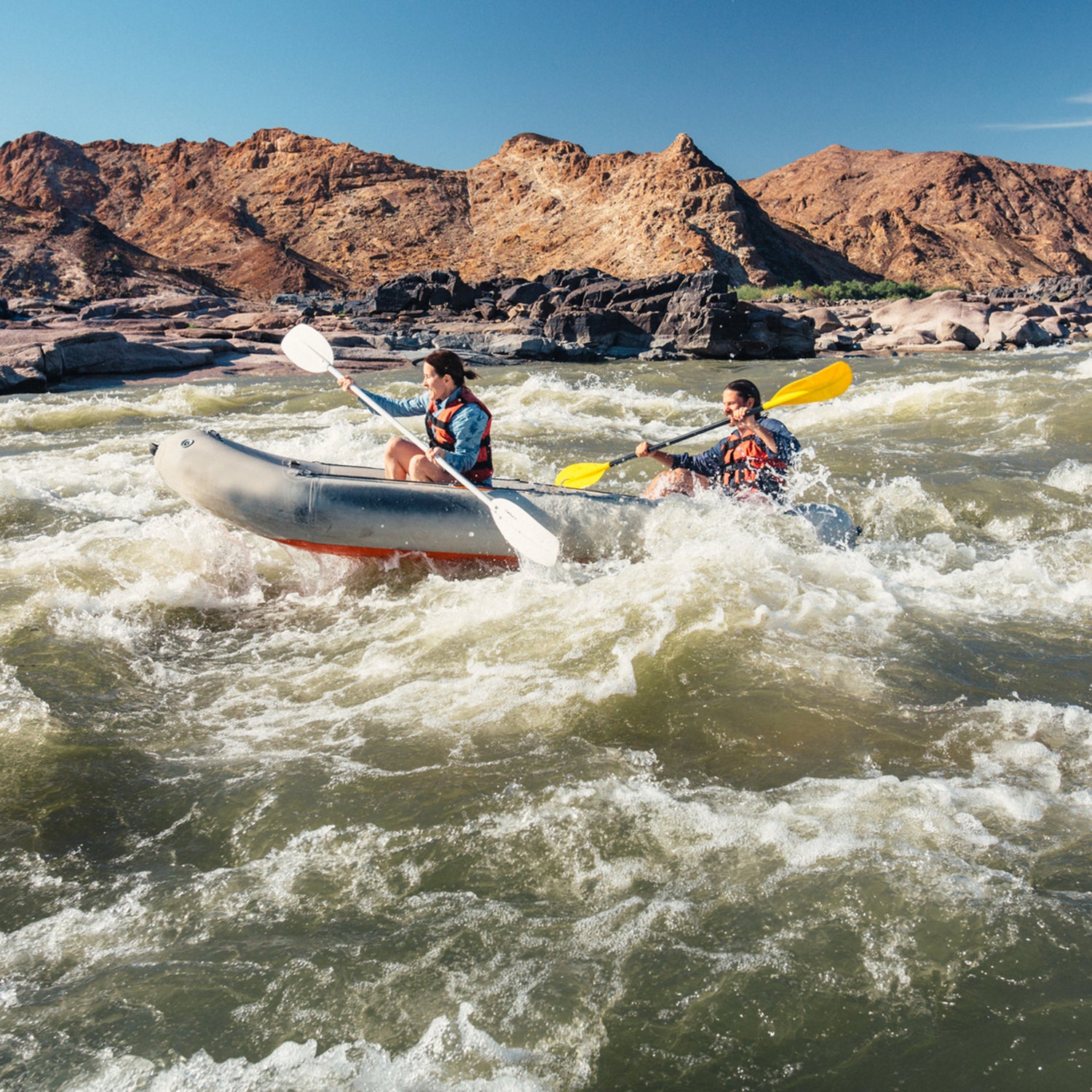 Heading out the door? Read this article on the new Outside+ app available now on iOS devices for members! Download the app.
The market for human-powered watercraft is as diverse as it's ever been. From diminutive inflatables that weigh barely more than our life jackets, to fishing rafts and kayaks, to exceptionally stable yet playful whitewater kayaks, many consumers have more choices than they know what to do with. Here, we break down the best new paddle craft hitting the water in 2023, and give you the knowledge to make the best purchase possible.
The Winners at a Glance
Alpacka Ghost Packraft
NRS SlipStream Raft
Jackson Kayak Gnarvana
Advanced Elements AdvancedFrame Elite
Oru Lake Rec Kayak
BOTE Zeppelin Aero 12'6" IK
Pyranha Ripper2 Whitewater Kayak
Hobie 12.0 Mirage Passport 12 R Fishing Kayak
How We Test
Number of Testers: 13
Number of Products Tested: 24
Number of Miles Paddled: More than 121
Combat Rolls: 7
Fish Caught: 11
Lure Snags: 6
Questions from Parking Lot Passersby: 14
Enchilada Plates Consumed: 5
To test boats this season, we assembled a team of expert paddlers from around the country who took the newest kayaks and rafts everywhere from sea kayaking in the San Juan Islands to whitewater paddling such classics as the Green and Chattooga rivers in the Southeast. The group consisted of sea kayak guides, retailers, whitewater junkies, fishing aficionados, and more, including men and women of all ages. The one thing they shared in common: a love for being on the water as often as possible. In all, we got our hands wet on 24 different boats, whittling the list down to eight based on category, performance, weight, durability, comfort, and that most important characteristic of all: fun.
Meet Our Lead Tester
Testing manager Eugene Buchanan is the 14-year publisher and editor-in-chief of Paddler magazine and founder of PaddlingLife.com. He's written about the outdoors for more than 25 years. He's a former ski patroller and raft and kayak guide whose passion for paddling has taken him to more than 30 countries on six continents. A Fellow member of the Explorer's Club, he was also the recipient of W.L. Gore & Associates's prestigious Shipton-Tillman grant for a 27-day, white-knuckle whitewater trip down Siberia's Bashkaus River, a trip he chronicled in one of his five books, Brothers on the Bashkaus.
The Best Kayaks of 2023
Jackson Kayaks Gnarvana ($1,599)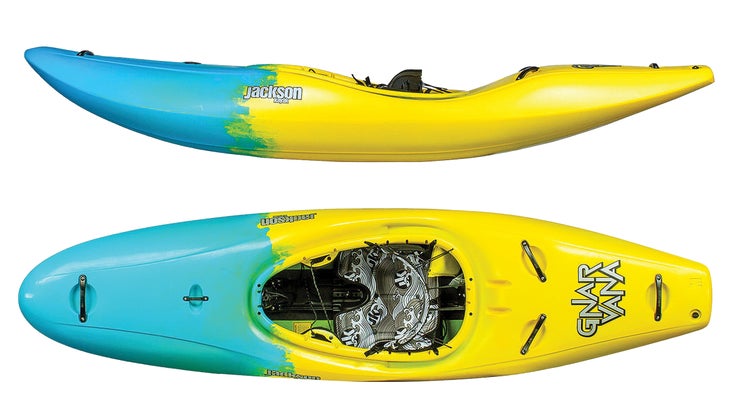 Length: 8'6″ to 9'3″
Width: 26 in to 28.25 in
Volume: 80-102 gal
Optimal Paddler Weight: 110-240 lbs
Boat Weight: 43-51 lbs
Its newest creekboat design since the release of the Nirvana five years ago, Jackson Kayaks' Gnarvana hits a chord as a confidence-inspiring charger, blending speed, maneuverability, and boofing chops for everything from creeks to big, Stikine River-sized Class V (where co-designer Dane Jackson took it on an Alaskan five-lap test mission last year). Word on the street from our testers is that it's "Jackson's best creeker yet." And based on the company's history, that's saying something.
What you'll notice first: an all-new high rocker profile, plus added width and length. This all combines to keep the bow dry and hull stable, but keeps it maneuverable at launch time. It also offers training-wheel-like secondary stability for everyone from beginners to advanced paddlers who may have botched a line.
Our testers took it everywhere from the badge-of-courage Green River Narrows in North Carolina, to Georgia's Section IV of the Chattooga, on up to New York's rapid-filled Beaver River. "Somehow, Jackson made a high-performance, but very forgiving, boat," said tester Branden Baltich. "I credit it for some of my cleanest lines ever on the Green Narrows." What he liked: it was driveable, with the stern releasing on command yet not tripping him up, and it turned and carved easily. Plus, it was a breeze to outfit ("minutes instead of hours"). It might look too big, he added, but it's not. "The high bow blasts over holes, and the rails and stern are a fab combination—it's so forgiving that I found myself really extending on boofs, twice landing back on the stern. In most other boats, that would've resulted in bracing to prevent flipping, but this one didn't mind. It's nimble and stable—from flat to 90 degrees on edge."
His only knock came from being six-foot, four-inch tall and paddling the medium. "The knee position could be slightly higher for taller paddlers—I was comfortable, but it's a little lower position than I'm used to in creek boats."
Tester Jonny Ortiz, lead boat buyer for Colorado Kayak Supply, agrees. He took it on eight laps down the stout Taylorville Section of New York's Beaver River, as well as the Nantahala Cascades in North Carolina. "It's the right balance between sporty and stable, and is easy to boof and turn with the extra bow rocker," he said. "Plus, its width provides stability in swirly water and the edges don't grab unless you want them to." He did find the 27-inch width a little harder to get on edge to boof, and that it's a little slower than its predecessor.
Perhaps no one sums it up better than the hard-charging Hayden Voorhees, winner of Idaho's 2022 North Fork Championships race. "It's fast, yet extremely easy to paddle and excels in every style of whitewater. I'm certain it will be my race boat in 2023."
Best For: Chargers on creeks and big-water runs
Pyranha Ripper2 ($1,699)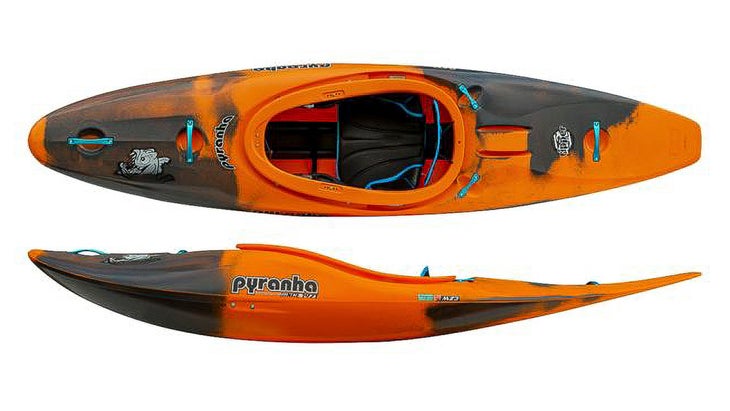 Length: 8'8″, 8'11", 9'1″
Width: 24.5, 25.5, 26 in
Volume: 55, 62, 71 gal
Optimal Paddler Weight: 88-165, 145-210, 175-275 lbs
Boat Weight: 42, 44, 46 lbs
Pyranha's original Ripper was an evolution of what is referred to as a half-slice: a boat with the bow of a creeker and stern of an old-school slice boat, made for playing your way down the river while still being able to charge. This new incarnation, called the Ripper 2, adds a massive bow rocker profile, providing lift and confidence to ride over rocks and holes, with width for stability and a stern that slices even harder. Engage that tail to squirt on eddylines, surf waves like a surfboard, and still plow through the gnar. With its edges and planing hull mostly unchanged, it still retains its speed to catch waves and nail must-make moves. For length, the medium is the same nine feet as the original, while the small and large are slightly shorter and longer, respectively, giving more playfulness to smaller paddlers and more stability for grande ones.
Our testers took it throughout Oregon's Columbia River Gorge, including Class II-IV+ runs on the Middle, Lower, and Bottom White Salmon, plus the Lower Wind, sampling everything from surf waves to boulder gardens to 18-foot waterfalls. "A healthy amount of bow rocker and volume lets it plow over features and skip out of boofs much better than its predecessor, while its low-volume stern hands out maximum play," said one. But he also advised, "Don't forget to lean forward. The lack of volume means you have to really utilize your boat control skills in sticky situations—more slice equals more spice."
While our testers commended its agility, they also said it felt easy, stable, and controlled on more difficult rapids like the Lower Wind's Flume and Shipherd Falls, the latter being a fast rapid with lots of exposed rocks. It's also more comfortable than the previous iteration, with a higher deck around the cockpit for extra knee room. The bottom line, according to one tester: "The original Ripper was insanely fast and a phenomenal surfer; the Ripper 2 maintains that performance while adding more comfort and ease of paddling—it's a Ripper for the masses."
Best For: Playing your way down a river, without losing confidence on harder drops
The Best Rafts of 2023
NRS Slipstream Raft (from $3,495)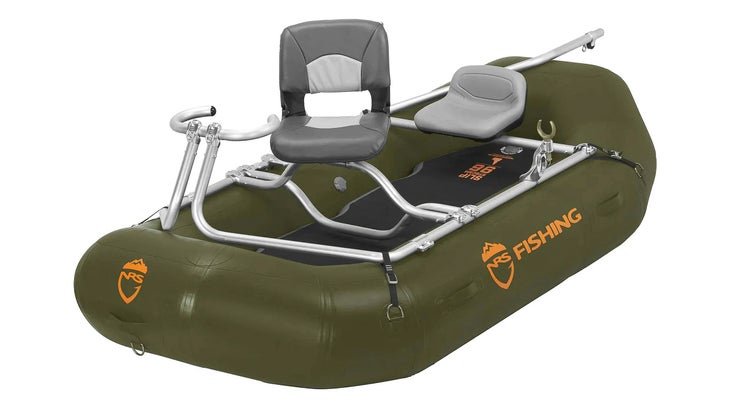 Length: 9'6″, 12'9″, 13'9″
Width: 63, 72, 79 in
Weight: 130, 215, 235 lbs
NRS, known for its Star and NRS lines of inflatable craft—from inflatable kayaks to stand-up paddleboards—added its Slipstream rafts this year, designed from the ground up for fishing. The new rafts are available in three sizes (see above), with room for one rower and one fisherman on the smallest, and a rower and two fisherman on the larger ones. Fishing-specific features include an internally routed anchor system so it doesn't interfere with fishing lines; air valves moved lower and toward the rower so they're out of the way of anglers' lines; and a rigid, drop-stitch floor with an EVA foam deck, eliminating the need for a bulky and heavy fishing platform.
Our testers took it out on 18 miles of Montana's Stillwater River at about 900 CFS, exploring new channels and rapids after historic floods in June 2022. "It maneuvered easily through tighter corridors and snuck around debris in the outside corners," said one, who rowed the 9-foot-6-inch length while his son fished from the bow. "If we would've had to portage, it would've been easier because of its smaller size and weight."
Rowing was easy, thanks to the profile and size. "It ferried into position super easily, especially in the smaller eddies we were trying to hold," said the same tester. "It also ran wave trains well and was quick to maneuver." Testers also loved the sturdy and slip-free drop-stitch floor as a fishing platform.
The only knock: packing gear was tight in the the smallest length, requiring the right size coolers and dry bags to fit in the smaller storage areas. Our testers took their well-behaved black lab along for the day but noted that an active dog "would have been a bother," but that's what the two bigger versions are for. With those, you also get added stability and confidence in bigger water.
Best For: Float fishing with friends or family
Alpacka Ghost ($750)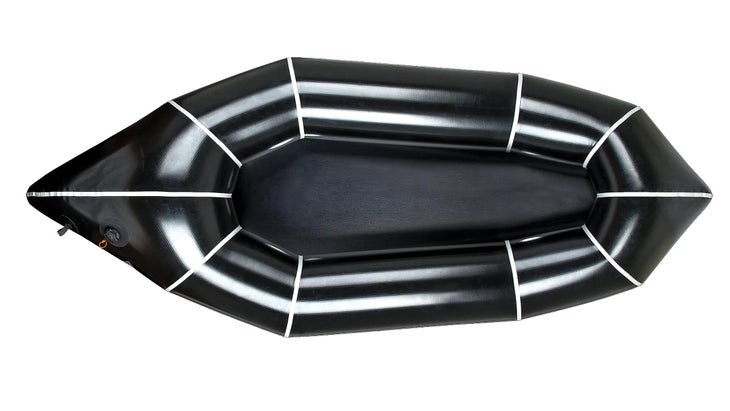 Dimensions: 7′ x 34″
Weight: 2.25 lbs
Packed Dimensions: 11″ x 5″
Max Capacity: 225 lbs
At about the same weight as a small pineapple or quart of milk, the new Ghost is almost as lightweight as its namesake. The boat is Alpacka's lightest to date, built for ultrarunners, canyoneers, backpackers, high-alpine anglers, and more. Billed as a specialized craft for those who need to cut every single ounce, it's not made for whitewater—in fact, the company advises against it. But it's perfect for throwing in a pack or even strapping onto a hydration vest or waist pack for hard-to-reach floating. Its hyper-minimal build features a 70-denier ripstop nylon hull, 200-denier nylon floor, and single seam tape construction— and absolutely zero extra features (such as a spray deck). But the result is a feather-light craft you can take anywhere.
Tester Nicholas Triolo put it through its paces in Montana, first on a ten-mile trail-running mission up the Bitterroot's Clark Fork River before floating back down. "It was a calm river with no rapids, but as a novice it felt easy to use and is an exceptional entry-level craft," he said, touting a weight-to-durability index that is "freakishly strong." He also appreciated how easy it was to set up: it only took him three minutes and 23 seconds to inflate it with its included airbag. On another foray, he packed it into Montana's high alpine Little Rock Creek Lake on a multi-day adventure. The only downfall, he noted, as with anything so bare, is its lack of beefiness: "Anything more than a small rapid and you might be compromising your experience—so it's really relegated to lakes, crossings, or super-calm rivers." For something with a little more meat, try the two-inch-longer Scout ($750), the next lightest boat in Alpacka's fleet, which offers a step up in fabric weight and durability (3.6 pounds).
Best For: Uber-lightweight forays into high-mountain lakes and waterways
The Best Inflatable Kayaks of 2023
BOTE Zeppelin Aero 12'6" IK ($1,399)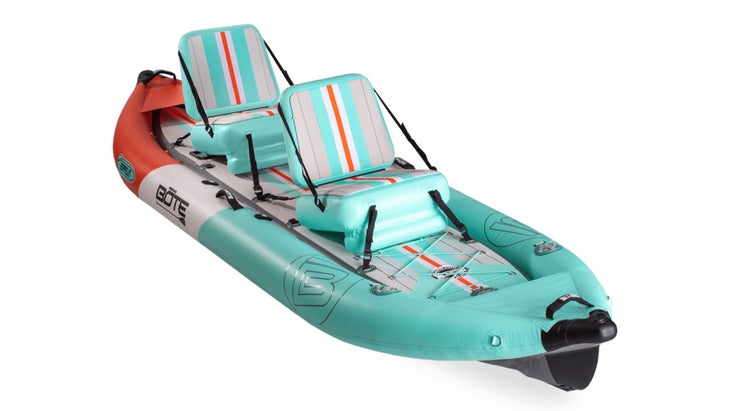 Dimensions: 12'6″ x 38″
Max Capacity: 600 lbs
Weight: 41 lbs
Bote's new Zeppelin Aero is reaching lofty heights in versatility. It's a minotaur, half stand-up paddleboard, half inflatable kayak, meaning you can stand on it for casting and cannonballing, and sit on it for paddling to your favorite cove. We tested it on the aspen-lined lakes of northwest Colorado, using it to leisurely paddle while trailing our fingers in the water, catching rays, quaffing brews, and even successfully fly casting to the rises of rainbows.
The combo approach works. The key is a removable drop stitch floor (the same tech inflatable SUPs use) for rigidity and stability, that's still self-draining but is nearly as stiff as a hardshell. Add side tubes that wrap around it like street curbs and the result is a craft you can pack the dog, cooler, and drybag on with nary a wobble. "I wouldn't use it above class II whitewater, but it's sturdy, comfortable, and super versatile," says one tester, who used it in both rain and shine on lakes and the meandering Yampa River.
There's also a removable second seat that lets you go tandem. Added another field tester: "Super comfortable to sit in, extremely stable, and easy to get in and out of, which I love." And, of course, you can roll it up afterward and stash it in your closet in the included bag.
Best For: Casual drifting on your local lake
AE1012-OG-E-P AdvancedFrame Elite Inflatable Kayak ($770)
Dimensions: 10'5″ x 32″
Weight: 36 lbs
Max Capacity: 300 lbs
Recreational boaters rejoice: for 2023, Advanced Elements upgraded its AE1012 inflatable kayak to the AE1012-OG-E-P AdvancedFrame Elite, which folds up to the size of a small suitcase (and packs into a duffel bag with removable backpack straps for ease of transport) but pumps up into a sturdy, stable vessel for flatwater paddling. A hybrid between a folding frame and an inflatable kayak, it comes with built-in aluminum ribs for a hardshell-like hull shape, resulting in a sharp bow for cutting through the water and a similar stern that helps with tracking. The company also upgraded the inflatable floor from low-pressure to a drop-stitch construction (again, think inflatable SUPs) for more rigidity and performance.
Inflating the boat is a little different than with similar crafts. If, for some reason, the tough, three-layers of material of one chamber punctures, another chamber still encircles the craft to get you home. It's a nice touch, and combined with the floor, it gives the kayak three major air chambers for security.
Once you're inflated, feel free to bring the kitchen sink: two zippers on the fore and aft decks let you access storage space, with bungee deck lacing and abundant D-rings for securing more gear. (You can even open the front zipper to let your legs breathe and grab some rays.) Performance-wise, you're not going to set speed records—the kayak's stability comes from its width, and like all IKs, it's not as fast as a hardshell, but that's not what you buy this type of boat for. "Super stable and fun," said one tester, who put it through its paces on Colorado's Pearl Lake. "Great for fishing, birding, and just paddling around." And, noted another, "it takes up zero garage space back home, but paddles better than most inflatables."
Best For: Easy touring on lakes, bays, and slow-moving rivers, with plenty of room for gear
The Best Folding Kayak of 2023
Oru Kayak Lake ($499)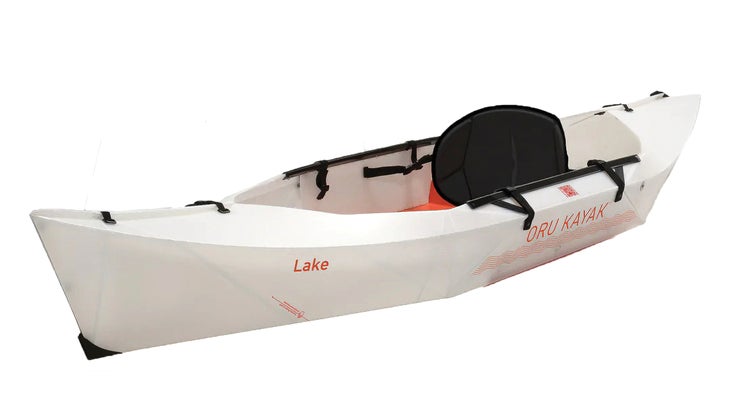 Dimensions: 9′ x 32″
Weight: 17 lbs (Lake+ 18 lbs)
Max Capacity: 250 lbs
Remember those origami projects you did as a kid? Well, instead of making a tiny crane, now you can use those same folding skills to turn a box into a life-sized kayak. The new Lake from Oru Kayak converts like a Transformer from box to boat in less than a minute once you get the hang of it. Weighing just 17 pounds, it's also one of the lightest kayaks on the market, meaning you can tote it from a car trunk or subway to shore without throwing out your back. We tested it on Colorado's Hahn's Peak Lake and, "People started gawking as soon as we started setting it up," said one tester. "They couldn't believe we pulled it out of our trunk." Loaded up with gear, it was great for fishing, island hopping, and paddling to a secret rope swing. Best yet, it folds back up to the size of a medium-sized duffel—and has a handle—so you can easily store it in a gear closet, garage shelf, or even under your desk. The key to its foldability is its material: it's made from five-millimeter, double-layered, custom-extruded polypropylene—much like those white corrugated plastic storage bins that remember their fold lines. It also comes with a 10-year UV treatment, so you can paddle away in the sun worry-free. Handling-wise, don't expect a race car, as it's just nine feet long. It has an open cockpit too, which means you should avoid long crossings where the waves might pick up, but the 32-inch width makes it stable and beginner-friendly enough for lakes, bays, and slow-moving rivers. The real reason to pull the trigger: at just under $500, it's a bargain. Note: Oru Kayak also offers the Lake+ ($699), which weighs 18 pounds but offers more adjustability and comfort.
Best For: Easy paddling when portability is the name of the game
The Best Fishing Kayak of 2023
Hobie Mirage Passport 12.0 R ($1,999)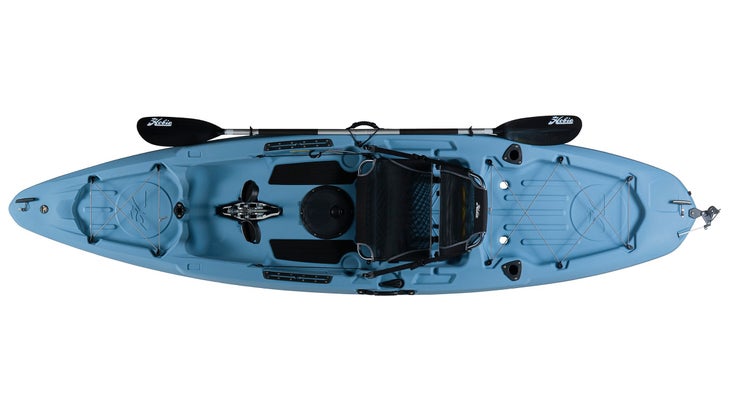 Dimensions: 12′ x 34″
Max Capacity: 400 lbs
Rigged Weight: 83 lbs
Hobie upped the ante with its new, rotomolded Mirage Passport 12 R pedal fishing kayak by making it more durable than its predecessor (the thermo-molded version is still available) and easier to customize. The Passport 12 R is sleek, stable, and speedy, thanks to the company's patented MirageDrive GT pedal system, which keeps your hands free for fishing (although you still steer with a hand toggle). Two accessory tracks accommodate add-ons such as fish finders, shallow-water anchors, transducers, tackle boxes, baitwells, and more. Other storage comes from two rod holders, an eight-inch hatch, under-seat and gunnel tackle space, and bungee-decked bow and stern areas. If you're into upgrades, you can add a sail kit or sunshade.
"A zippy fishing kayak that's easy to use, fun to pedal, and super easy to customize to your needs," said one tester. "Its 12-foot hull is the perfect balance between maneuverability and speed, while still being stable enough to stand up in and fish." Like all plastic fishing kayaks, the only real knock is its 83-pound weight, but it's tough as nails. And it's still one of the lightest fish kayaks in the Hobie fleet—and isn't that what trailers are for?
Best For: Hands-free propulsion in a super-tough package for use on open bays, lakes, and rivers
How to Buy
In this category, you'll find canoes and sea kayaks for touring lakes and bays; hardshell rec and inflatable kayaks for user-friendly flatwater paddling (and also IKs for Class I-III whitewater); and whitewater rafts and kayaks designed for running rivers. Decide what kind of paddling you're most interested in before making any decisions. Factors should include your proximity to water (and what type of water that is), skill level, and storage access. Below is a quick rundown on the type of craft you'll see on the water.
Sit-Inside Kayaks
These are good for folks paddling in cooler climates or taking longer trips, since sitting inside a closed cockpit keeps you drier and more out of the wind. They also offer better in-hull storage for gear, making them better for extended jaunts. Touring models such as sea kayaks are generally longer and narrower, making them faster and better suited for bigger crossings and multi-day trips (most come with a nylon spray skirt to keep splashes at bay). Recreational kayaks cater more to entry-level paddlers and are shorter, wider, and more stable, plus they usually have larger cockpits. The tradeoff is they're a bit slower and require more effort to paddle long distances.
Sit-on-Top Kayaks
These are touring and recreational kayaks that let you sit outside in a self-draining depression in the hull rather than inside a cockpit. They're great for entry-level paddlers since you can climb back on if you tip over, and are well-suited for warmer climates. In general, wider means more stable, and longer means faster, even though they're generally slower than their sit-inside brethren.
Inflatable Kayaks
As with rafts, abrasion-resistant rubber makes inflatable kayaks well-suited for rivers and other rocky environments. What inflatable kayaks lack in hull speed they make up for in stability, durability, and portability—when you're through paddling, simply roll them up for transport and storage back at home. Available in both single and double models, most also have inflatable self-bailing floors.
Fishing Kayaks
These are sit-on-tops with options to add accessories such as rod holders, bait platforms, anchors, tackle compartments, electronics, and more. They're generally wider, heavier, and more stable (some let you cast while standing), with large maximum capacities for gear—and fish. Pedal kayaks are propelled via a removable system that drops through the hull in front of your seat (note: you can also use a paddle). They can reach speeds of five miles-per-hour (faster than you can paddle), and are steered with a hand-operated rudder. While their origins stem from fishing (i.e. they keep your hands free for casting), they're becoming popular for general recreational use as well, and are good options for birding, sight-seeing, exploring, and other uses. Most also come with a forward and reverse mode, which can be handy for retrieving a snagged lure.
Whitewater Kayaks
Whitewater kayaks run the gamut from tiny playboats built specifically for surfing waves, to more bulbous creek boats for charging through hydraulics, to well-rounded river runners, built for easy paddling downstream. Determine what kind of water you'll be paddling before making your decision. One growing part of the market are "half-slice" boats, with a forgiving bow for river running and a flat stern for playing, squirting, and surfing.
Pack Rafts
This burgeoning category consists of uber-lightweight, bathtub-shaped inflatable rafts that are easy to carry into hard-to-reach lakes and other waterways. They come in a variety of shapes, weights and sizes, from super light (under four pounds) for easy portaging, to more robust models complete with sprayskirts and thigh straps for whitewater.
Whitewater Rafts
These durable boats are generally made for carrying gear and passengers down whitewater rivers. They range from heavy-duty haulers for multi-day trips to light and fast fishing vessels complete with raised seat and casting platforms.
Some Other Considerations
There are a lot of choices when it comes to design and materials. Ask yourself a few questions to narrow your search to the best craft for your needs.
What kind of paddling do I want to do? The water conditions will greatly affect the type of boat that is right for you. Will you be sticking to flatwater lakes and rivers or tackling whitewater?
How much space do I need? For longer day trips and overnights, you'll need room for extra gear, so consider slightly larger, or even tandem models.
What's my budget? There's a wide range of prices depending on size, design, and material, for everything from rec to whitewater kayaks. Decide how high-performance you want to go and what your budget constraints are before narrowing it down.
Tandem or single? Many rec and touring kayaks are made in single- and two-person versions. While it is possible to paddle a tandem kayak solo, it's more difficult, so only get a tandem kayak if you'll be using it mostly with someone else.
What type of material? As with most things, you get what you pay for. Weight and durability are the big variables to watch for. Some higher-end boats are made of fiberglass and composite, making them lighter but more expensive and less durable. The majority of rec and whitewater kayaks are made from plastic, which is affordable and durable.
Lead Photo: Juno/Stocksy