2023 Summer Gear Guide
The Best Standup Paddleboards of 2023
SUPs has become a crowded field, so we narrowed the field down to this year's four stand-out winners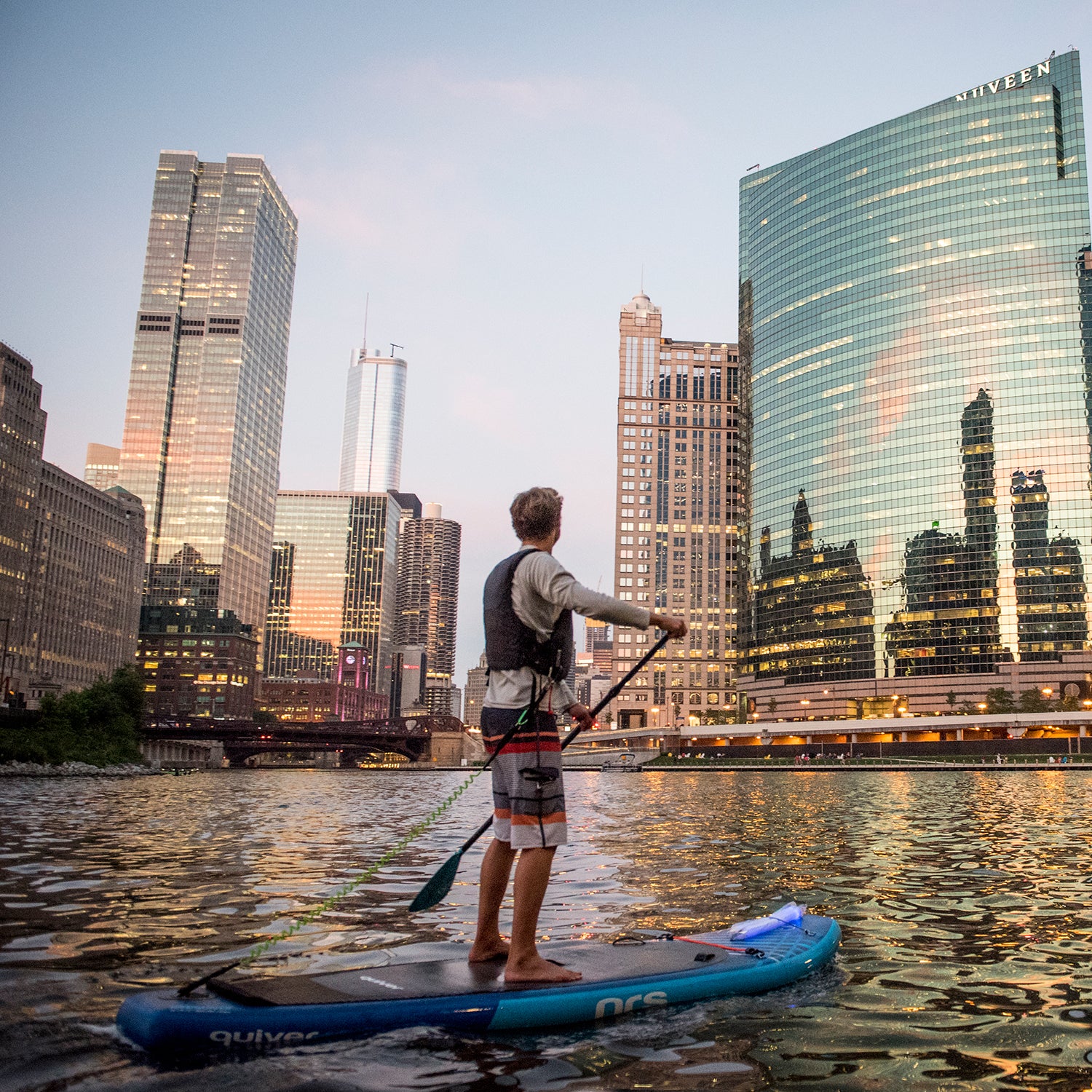 Aaron Black-Schmidt/Tandem
Heading out the door? Read this article on the new Outside+ app available now on iOS devices for members! Download the app.
One of the reasons we love stand-up paddling is because it's one of the most diverse watersports on the planet—where there's water, you can SUP. There's great paddling in every state, from local lakes to the Pacific Ocean, but it's the board beneath your feet makes the biggest difference. No matter if you're a dedicated racer, SUP surfer, or just a casual weekend paddler, these four stand-up paddleboards bring innovative new features to help you find fun on the water.
The Winners at a Glance
Infinity Blackfish Dugout
Red Paddle 8'10" Compact MSL Pact Inflatable
FANATIC AllWave
Kokopelli Chasm-Lite Inflatable SUP
How We Test
Number of Testers: 3
Number of Products Tested: 8
Number of Miles Paddled: 60
Number of Waves Surfed: 110
Number of Wipeouts: About 10; including one yard sale that resulted in 4 bruises and 2 cuts. Lesson learned: Don't fall on your fins.
Meet Our Lead Testers
Jack Haworth
Jack Haworth is an avid stand-up paddler who lives in one of the sport's meccas: Dana Point, California. With ample opportunities for both flatwater paddling and SUP surfing, Haworth put this year's boards through a classic Southern California gauntlet. Haworth is a former editor of SUP Magazine.
Dave Shively
Haworth was assisted by Dave Shively, who brings over 20 years of paddling experience to the table. He was a founding editor of SUP Magazine and editor-in-chief of Canoe & Kayak. He's also reviewed gear and worked for top industry publications including Outside and Men's Journal.
The Reviews: The Best Stand-up Paddleboards of 2023
Infinity Blackfish Dugout ($3,195)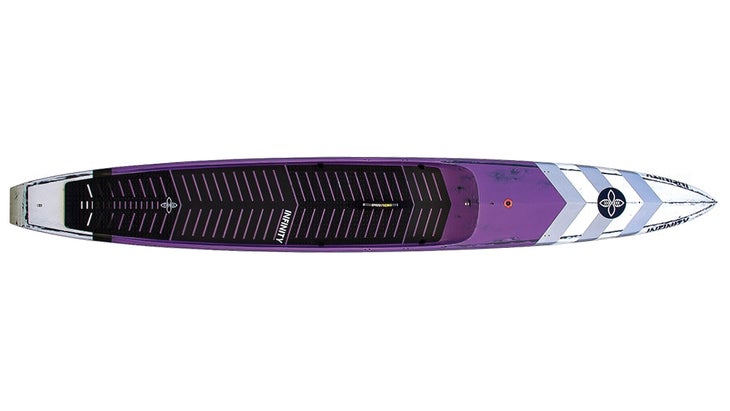 Size: 14' x 23" x 288L
Pros: Stable; strength-to-weight ratio; nose efficiently cuts through choppy water; all-around race performance
Cons: Expensive; all-around chops sacrifices top-end performance in specific disciplines such as sprints and downwind
Dave Boehne and his team of athletes at Infinity keep finding innovative ways to get more performance out of their race boards. Case in point: the redesigned Blackfish Dugout. At only 24 pounds, it's constructed from an EPS foam core encased in a PVC shell that's wrapped in both carbon fiber and fiberglass for an excellent strength-to-weight ratio. The biggest upgrade involves a completely reshaped nose that is taller, sharper, and more aggressive than the earlier version. The board managed to cut through both calm and choppy water with increased efficiency—especially compared to the more rounded nose from the previous Blackfish—which provided a welcomed boost during upwind jaunts in the Dana Point Harbor and a cleaner glide in flatwater speed trials.
One of the most versatile race boards available, the Blackfish Dugout excels in race conditions, ranging from sprints to long distances. In shorter races, the Blackfish flies off the start line thanks to an inverse V-panel on the belly of the board that transitions from a softly rounded hull into a flat tail exit behind the single fin box. The dugout design flexes its muscle in the windy or choppy conditions often found in longer ocean races, as we noticed the taller rails and lower deck position offered excellent stability when paddling through upwind, downwind, and sidewind conditions—especially for a board that's only 23 inches wide (it's also available in 21.5-, 24.5- and 27 inch-widths).
Bottom Line: The latest upgrade to the Blackfish Dugout is the top choice for performance-orientated paddlers.
Red Paddle 8'10" Compact MSL Pact Inflatable ($1,649)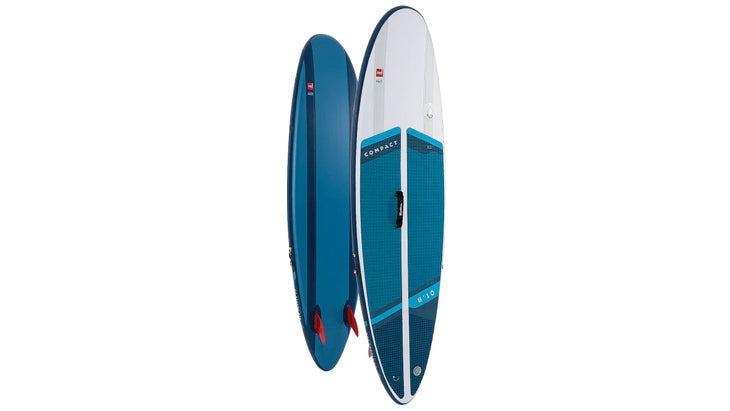 Size: 8'10" x 29" x 152L
Pros: Inflatable standup paddleboard offering reasonable performance for SUP surfing; packs down small; comfortable backpack
Cons: Less performance than a hard board; EVA grasp handle gets in the way while surfing
Finding an inflatable stand-up paddleboard that holds its own in a surf lineup is a rarity. The 8'10" Compact from Red Paddle Co. not only performed, but it was also a blast. The combination of Red's proprietary rocker stiffening system (that uses two plastic battens that go into sleeves along the rails) and four stringers pays major dividends, as the board offers impressive stiffness. At 8 feet 10 inches long and 29 inches wide, paddling into waves was easy, and the agile surf shape with a twin fin setup allowed for playful turns. The performance didn't quite match that of a traditional SUP surfboard, though. The board struggled to punch through whitewater, the low-profile EVA grasp handle in the middle of the deck was a tripping hazard (but can be removed for surf sessions), and the four-inch rails (while small for an iSUP) still had trouble planting into the wave face on aggressive turns. While we wouldn't paddle out in waves bigger than shoulder high, the pin tail shape did enhance maneuverability and led to several fun sessions and plenty of long rides at Dogpatch, the famed SUP-surf haven at San Onofre State Beach in Southern California.
The board took less than four minutes to inflate, easily packs down smaller than most inflatable SUPs (roughly half the size of Red's 11-foot Sport model), and fits into a padded backpack that weighs only 26 pounds when fully loaded, which all means it's up for a multi-mile trek to a secret beach.
Bottom Line: The Compact is worth a look for beginners and advanced SUP surfers alike, especially those looking to travel without lugging a heavy board around
Fanatic AllWave ($1,699)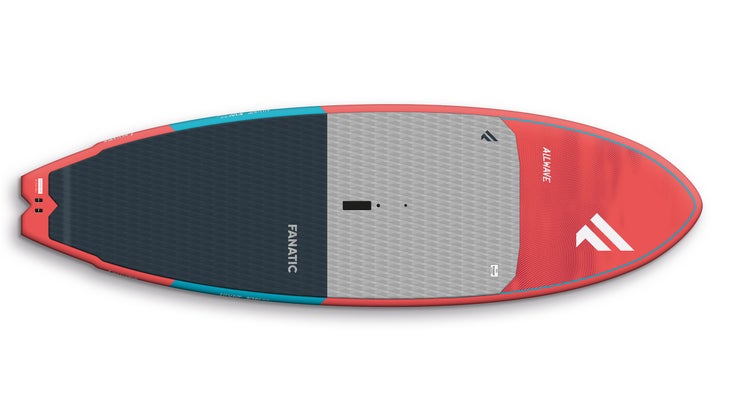 Size: 8'10" x 31.5" x 150L
Pros: Fun performance in all surf conditions; stable and easy to paddle for increased wave counts; solid construction delivers excellent durability
Cons: Heavier than other high-performance SUP surfboards
Redesigned to provide enhanced maneuverability and increased wave counts in a variety of surf conditions, the new AllWave lives up to its name. Fanatic packed performance in the tail with sharper rails and a swallow tail that provided good acceleration through racy, down-the-line sections. The bottom features a larger rocker curve that keeps the nose up on steep takeoffs on larger waves and improves maneuverability in smaller surf without losing too much planing speed. Plus, the double-V concave underneath the tail makes it easier to rotate the board in bottom turns and cutbacks.
We found the vacuum epoxy construction to be very durable—though it does add some weight—as it withstood damage from paddle slams and even a couple bangs on submerged rocks during low-tide sessions at San Onofre. While this isn't the most high-performance board on the market, the Fanatic AllWave has been thoughtfully redesigned to help SUP surfers of all skill levels catch more waves and have more fun, in the widest range of conditions. It's available in five different sizes (7'9", 8'2", 8'7", 8'10", 9'2").
Bottom Line: This redesign of a classic design offers solid performance, and enhanced durability at a relatively modest price
Kokopelli Chasm-Lite Inflatable SUP ($999)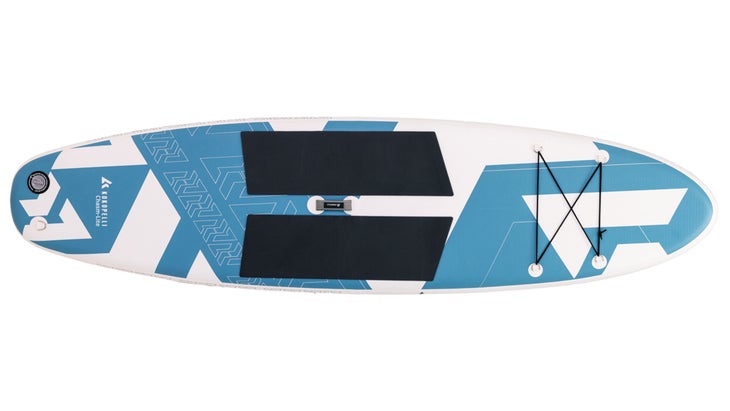 Size: 10' x 30" x 290L
Pros: Ultra-lightweight
Cons: Less stable than other iSUPs; no deck pad on the tail section
Renowned in the whitewater community for their premium packrafts, Kokopelli's first foray into stand-up paddling is one of the lightest and most packable inflatable boards ever made. Weighing only 12.9 pounds, the board folds in half (hot-dog style) and then packs down to only 18 inches tall—roughly the size of a regular sleeping bag. This board can be squirreled away into the tightest of spaces, used as carry-on luggage for plane travel, or hauled into the backcountry to explore remote bodies of water. It fit into a tiny nook in one tester's Subaru Outback when it was fully loaded for a camping trip, while other inflatables didn't stand a chance of being stuffed in.
Once pumped up, this 10-foot long, 30-inch-wide board offers a respectable paddling experience, though it makes some sacrifices in the stability department. The combination of a 10-knot wind and one-foot swell at the mouth of the Dana Point Harbor felt sketchy—plus, the lack of a deck pad on the tail did not help matters. "This is an ideal board for an experienced user looking for a lightweight, minimalist option," said Shively. "Though the minimalism comes down to the width, there's not a lot of board." While the board itself is spartan, Kokopelli includes everything paddlers need including a small pump, four-piece paddle, nine-inch fin, and a repair kit that easily fits inside their waterproof dry bag backpack.
Bottom Line: This is one of the most space- and weight-efficient SUPs on the market, best suited for calm-water paddles or treks to backcountry lakes
How to Buy
First, think about what you want to do with a board. Do you want to surf? Cruise around lakes? Run whitewater? (Yes, it's a thing.) Race in the ocean? Answers to these questions will determine the shape and type of board you buy. It will also help you answer another question: hard board or inflatable? Inflatable boards are excellent for storage, transportation, and general toughness (it is very hard to put a hole in a well-constructed inflatable board). But they do come with some performance tradeoffs, especially in the surf and race departments. Great beginner dimensions start around eight-foot, six-inches long and at least 30 inches wide.
We highly recommend purchasing a board from a local paddleboard retailer. Knowledgeable staff can help dial in theideal board dimensions to match your size and skill level, plus they'll tap you into the local paddling scene. If you don't live near a local retailer or the board you want isn't in stock, there are myriad options online.
Lead Photo: Aaron Black-Schmidt/Tandem