Gear Guy
The Best Waterproof Gear Cases, Tested
When you want to make sure your essentials—phone, cash, etc.—don't end up in the drink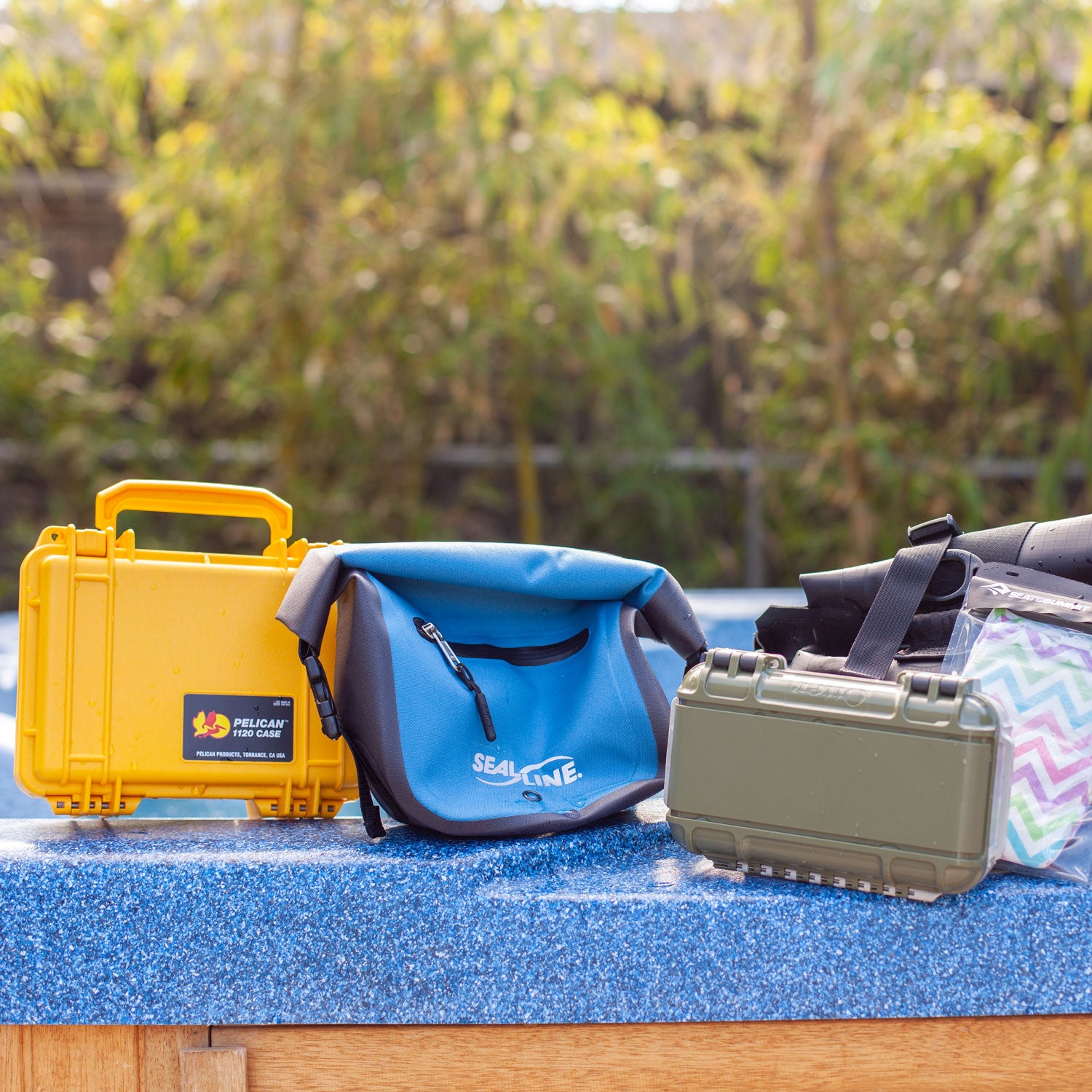 Sarah Jackson(Photo)
Heading out the door? Read this article on the new Outside+ app available now on iOS devices for members! Download the app.
Weather-resistant backpacks, drybags, and duffels seem to get all the attention, but I'd argue that it's the little cases—the ones that keep a phone, keys, snacks, and perhaps an extra layer safe—that are more important for peace of mind, as well as more versatile. Knowing your precious electronics and papers will remain dry and in working order means you can focus on getting after it on the water this summer. So I set out to find the best waterproof cases for the job.
The Test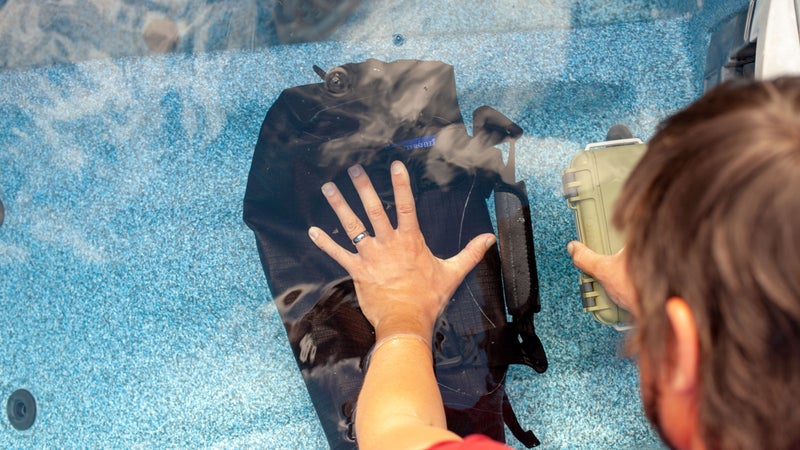 To test these cases head-to-head, I tinkered with each of them at my house for a week—packing, unpacking, stowing in my kayak on dry land to test for usability. I stuffed each case with a diaper, which is obviously built to absorb liquids. I then held the containers underwater in my Jacuzzi for two minutes, keeping track of time with my phone. I weighed each diaper afterward to see how much, if any, water weight it took on.
The Results
Sea to Summit TPU Medium Accessory Case ($20)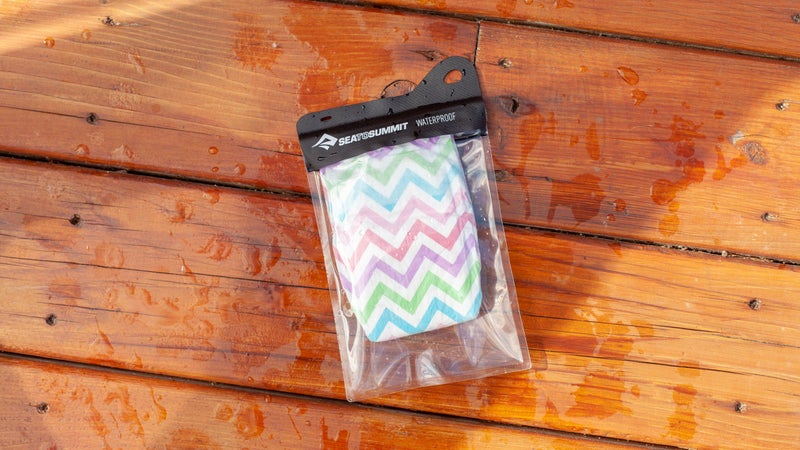 What It Can Carry: Phone, small topo map, keys
Waterproofing: Completely dry
Usability Score: 3.5/5
Takeaway: Even though this case has just an IPX8-tested rating (meaning it's not meant to be fully submerged), the diaper remained bone-dry during my test. This Sea to Summit 4.7-by-6.6-inch case runs only $20, is extremely effective at keeping out the elements, and is see-through, which I loved because it let me easily locate small items without having to open the case. With a small 22-gram volume, it fills up quickly, and the soft exterior offers nearly zero crush protection for the contents, but, hey, it's better than a Ziploc.
---
OtterBox Drybox 3250 ($28)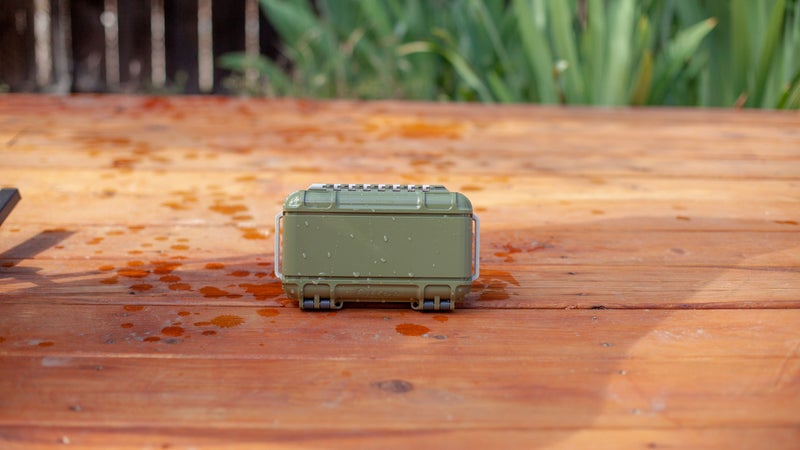 What It Can Carry: All that, plus either a wallet or ProBar
Waterproofing: Completely dry
Usability Score: 4/5
Takeaway: The Drybox 3250's fully gasketed enclosure, sturdy polycarbonate exterior, and eighth-inch of padding on the interior made this case feel absolutely bombproof. I'd feel comfortable putting a thumb drive with a month's worth of work in this thing and chucking it in the bottom of a raft on an expedition.
It's rated waterproof to 90 feet for 30 minutes—making it almost embarrassing to judge based on a two-minute soak six inches down—but that extra burliness doesn't come at the cost of usability. The low-profile latches were incredibly easy to open. Note: While the handles on the sides are awesome for tying the box to a raft or sea kayak, there's no carrying handle, so consider coupling this case with a cam strap.
---
Pelican 1120 Protector Case ($43)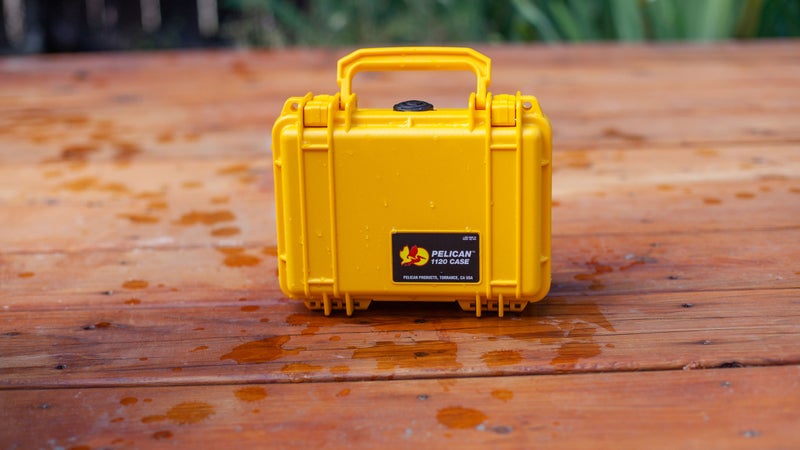 What It Can Carry: All that, plus a point-and-shoot camera and headlamp
Waterproofing: Completely dry
Usability Score: 4.5/5
Takeaway: A larger volume (7.3×4.8×3.3-inch interior), thicker polypropylene shell, and considerably more foam padding make the Pelican 1120 a better fit than the OtterBox 3250 for delicate gear, like high-end camera accessories and electronics. This is the case we used as first-aid kits in the rafting company I used to manage, and I've seen bandages and anti-diarrhea meds come out dry after more than a few flips. The plastic wall is thicker than any other case here, and the "Pick N Pluck" cushioning (quarter-inch cubes of removable foam) let you customize the interior for whatever you want to keep safe on a specific trip.
---
SealLine Seal Pak ($50)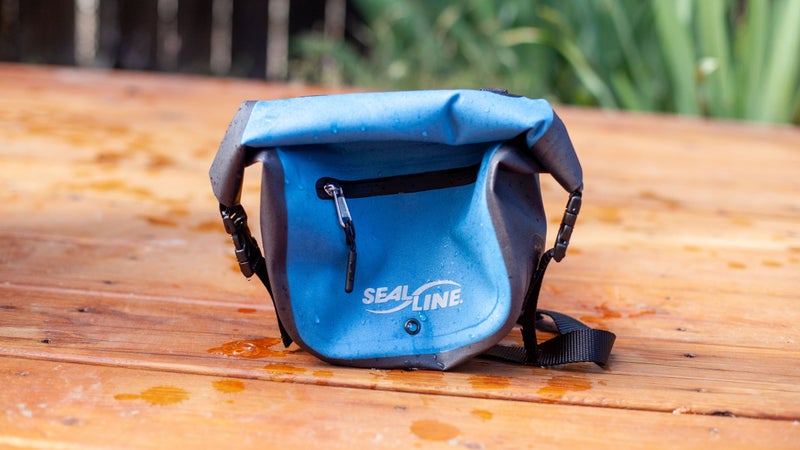 What It Can Carry: All that, plus a sandwich, banana, beef jerky, DLSR with a small lens, and an extra layer
Waterproofing: The Seal Pak was the only case that let water in. It wasn't severe, but tiny droplets beaded up on the interior and the diaper soaked up 0.1 ounce of water—enough that I wouldn't trust my phone to it.
Usability Score: 5/5
Takeaway: While the Seal Pak did not pass the soak test, its rolltop made it one of my favorites, thanks to its ease of use and multiple carry positions. "This is going to be my snack dispenser from the back of the raft!" I said excitedly to my wife when I first put it on fanny pack–style. The intuitive design made larger gear easy to access in the "waterproof" main compartment and things like keys or energy gels from a little zippered pocket in front. I was impressed at how much this squat four-liter bag could hold—it easily fit my Cannon Mark II 5D camera with a 50-millimeter lens. I plan to use it on while paddleboarding and kayaking, so long as there's only splashing, no submerging.
---
Watershed Ocoee Dry Duffel ($112)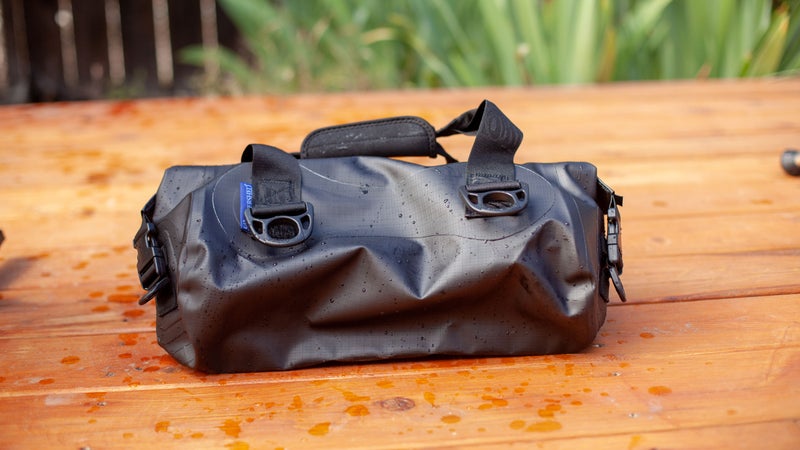 What It Can Carry: All that, plus lunch for the whole family and one full change of clothes
Waterproofing: Completely dry
Usability Score: 4/5
Takeaway: At 15 liters, the Ocoee straddles the line between waterproof case and small drybag. Watershed's ZipDry closure on the top resembles a Ziploc on steroids, and it's absolutely bomber—so much so that it takes a good bit of elbow grease to open. Like the Pelican 1120, the Ocoee has taken a few swims downriver, but I've always retrieved it with the contents totally dry. Its construction is strengthened by four reinforced plastic tie-down buckles and hearty webbing throughout, making it ideal to strap onto a fast-moving, hard-charging watercraft.
Lead Photo: Sarah Jackson
Trending on Outside Online