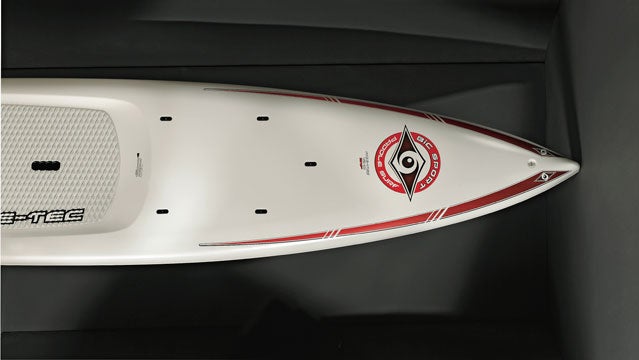 Inga Hendrickson(Photo)
Heading out the door? Read this article on the new Outside+ app available now on iOS devices for members! Download the app.
Bic Sport Wing Ace-Tec
That's right, a killer flatwater SUP made by the company that produces ballpoint pens and disposable razors. The Wing Ace-Tec is bombproof: a molded epoxy board with a thin thermoformed shell makes it more durable than most boards on the market. And yet it's relatively lightweight at 34 pounds. A displacement hull with a flat midsection makes for a speedy, raceworthy ride that cuts through chop. At 30 inches wide and over six inches thick, the Wing Ace-Tec is stable but won't feel like a dog to seasoned paddlers. In short: a practical, durable, affordable, fun-to-paddle SUP. 12'6″ (also available in 11′)
STABILITY: 4.5 
GLIDE: 4.5
Tahoe SUP Rubicon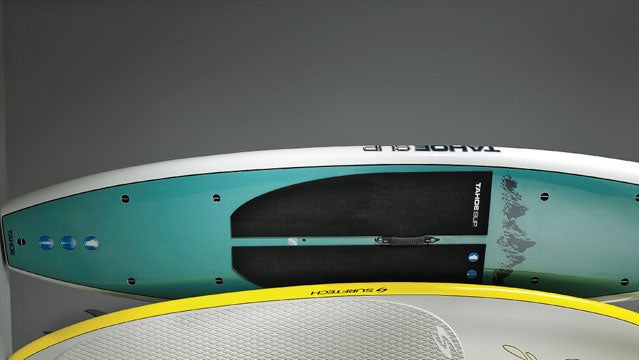 BEST FOR: Flatwater touring and overnight trips.
THE TEST: The Rubicon is one of those boards that make you feel immediately at home. It's 30 inches wide and 4.8 inches thick, so newbies will be comfortable from their first step onto this stable SUP. In our testing, it sliced through windblown chop and tracked well. Tie-down plugs on the bow and stern allowed for ample gear storage on a multi-day paddle. Constructed of epoxy with an EPS foam core, the Rubicon is plenty durable, though we were disappointed with the flimsy stock fin. (Upgrading to a stiffer one is easy enough.) Also, the small traction pad left little room for moving around on the deck. Still, weighing in at just under 30 pounds, the Rubicon is a solid touring board.
THE VERDICT: Predictable ride at a good price. 12′
STABILITY: 4 
GLIDE: 4
Surftech Surf Music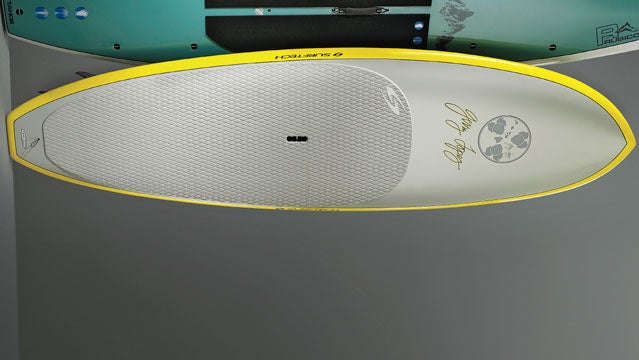 BEST FOR: Surfing.
THE TEST: A couple years back, we reviewed a Surf Music SUP designed by legend Gerry Lopez. While it surfed relatively well, it was a little narrow and low volume for a non-pro to ride confidently in all conditions. So we were surprisingly stoked on the design of this new iteration. At a coffee-table-stable width of 34 inches (six inches wider than the old one), it makes surfers of any level feel solid and sturdy in the lineup. And though it does take a fair bit of mojo to get the Surf Music up to speed and on a wave, once you've caught it the Surf Music has a loose and lively feel.
THE VERDICT: One of the easiest-surfing SUPs we've ever tested. 10′ (also available in 9′)
STABILITY: 4.5 
GLIDE: 3
NSP Elements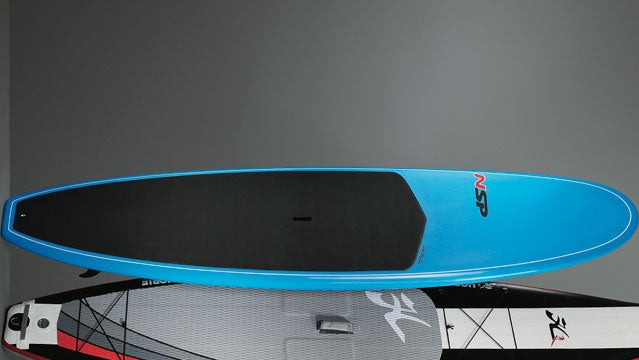 BEST FOR: Budget-minded SUPers.
THE TEST: The Elements outperformed several boards that cost hundreds more. (Well-made SUPs usually run at least $1,200.) With a traditional surfboard shape, it's plenty stable, with good float, and the planing hull picks up sufficient speed in calm water, though it won't cut through chop as well as longer displacement-hull boards. We surfed a 31-inch-wide, 4.3-inch-thick Elements in mellow, waist-high waves and it rode predictably, like a wide, fat longboard.
THE VERDICT: You probably won't win any surf contests on this basic SUP, but it's a great choice for your first board. 10'2″ (also available in 10'6″ and 11′)
STABILITY: 3.5
GLIDE: 3
Hobie Tour Inflatable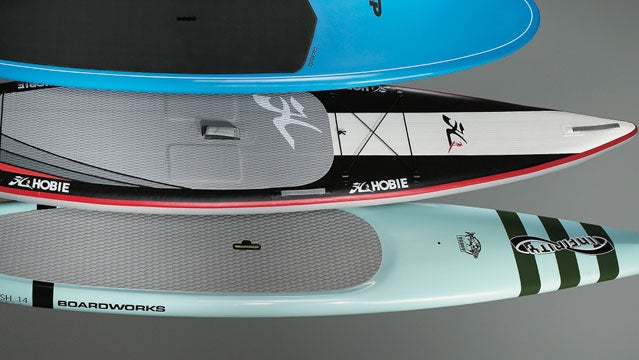 BEST FOR: Travel, car trunks, small apartments.
THE TEST: From a performance standpoint, there's still no substitute for a traditional board. But inflatable SUPs are a good option when storage is an issue or if you don't want to deal with a full-size board on a trip. This twelve-foot-six Hobie squishes inside a large backpack (37 pounds total) and can be inflated drum tight in about six minutes with the included pump. Though testers found the ride a bit bouncy, especially paddling upwind into chop (the nose slaps the water), the Hobie was surprisingly fast for an inflatable. Also, thanks to a pair of sturdy footplates embedded in the board, the ride was far superior to other, waterbed-like inflatables out there.
THE VERDICT: Show up and blow up! 12'6″ (also available in 10'6″)
STABILITY: 3.5  
GLIDE: 3.5
Boardworks Infinity Whiplash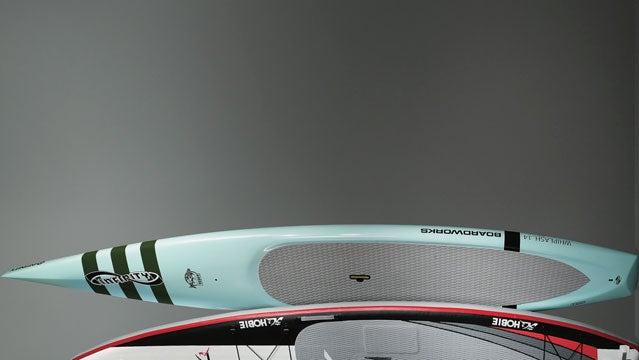 BEST FOR: Racing.
THE TEST: This Boardworks model was named by one of the sport's rising stars, Slater Trout. Testers noted excellent acceleration from the first strokes on the (well-named) Whiplash and appreciated how the slightly turned-down nose and displacement hull up front sliced through water. The back half of the bottom transitions from a displacement to a planing hull, which helps get the board up on plane quickly and keep its speed. At just 27 inches wide, the Whiplash is tippier than a touring board, but the deck is recessed somewhat, offering a slightly lower center of gravity and some stability. Our only complaint: sticker shock. You have to really care about speed to cough up more than two grand.
THE VERDICT: If you don't win, you can't blame your board. 14′
STABILITY: 3.5 
GLIDE: 5
Lead Photo: Inga Hendrickson