The Best Stand-Up Paddleboards of 2018
After a summer of testing, these four SUPs came out on top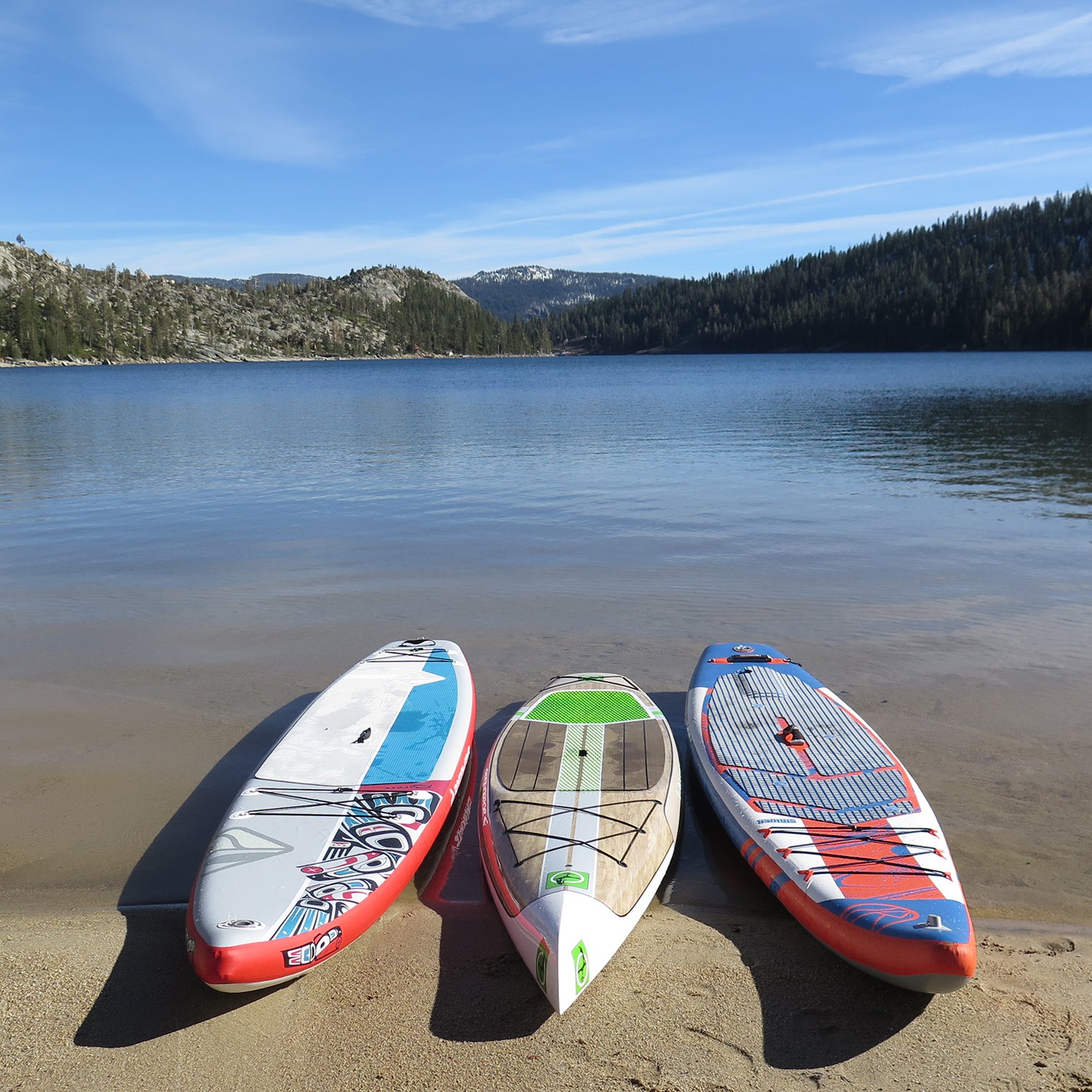 Heading out the door? Read this article on the new Outside+ app available now on iOS devices for members! Download the app.
Paddleboarding is a young sport, and each year boards seem to become lighter, cheaper, and more finely tuned. This year, I spent 13 days testing a collection of stand-up paddle boards new for 2018 and came away impressed with several that specialize in river trips, tandem paddling, or lake cruising. But it was Surftech's new Aleka that was my favorite stand-up paddleboard of 2018. The Aleka is as comfortable navigating rivers as it is surfing small waves off the coast of Northern California. The Aleka has a clean, classic shape, it's light, and I think it will appeal to a wide range of paddlers in a wide variety of conditions.
Our Pick
Surftech Bark Aleka 11'2" ($1,349)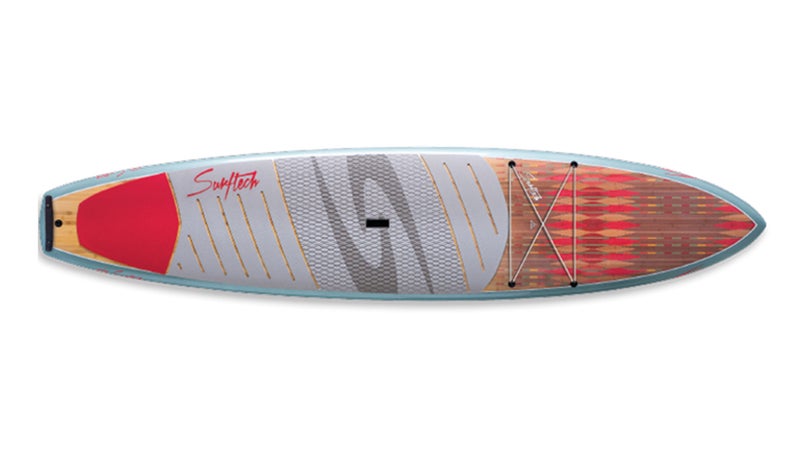 The Aleka, which Surftech designed for fitness paddlers, comes in two lengths: an 11'2" board that is 4.8 inches thick, weighs 26.35 pounds, and has a volume of 181 liters; and a smaller, 10'4" version that is $150 less expensive, weighs 22 pounds, and has a volume of 165 liters. Both sizes are lightweight and durable, and in nearly all conditions, the Aleka is extremely capable.
I tested the 11'2" Aleka in a variety of conditions, including distance paddles, choppy short trips, and small waves on the Northern California coast. With a 29-inch width, it scoots across the water. It's not as stable as some of the wide river-focused boards or the multi-person boards we tested, but it hit a near-perfect balance of steadiness, glide, and responsiveness. In the surf at the mouth of the Eel River in Northern California, the Aleka accelerated quickly and caught waves with ease. (I expect the 10'4" would be even more nimble in surf.) The rocker in the nose helped avoid pearling in steep shorebreak, and when I shifted my stance toward the tail, the Aleka was quick to maneuver. Though the deck pad doesn't reach the nose (no hanging ten), it does cover the crucial area for footwork and is comfy on bare feet.
Surftech, which is based in Southern California, is one of the SUP industry's largest brands, and the Aleka was designed by well-known board shaper Joe Bark. It's built with a combination of fiberglass, bamboo, algae-based foam, and a bio-based epoxy resin. Those materials are perhaps more environmentally friendly than what is traditionally used in boards.
---
Best for Touring
Lakeshore Wet Woody Sport 11'6" ($1,349)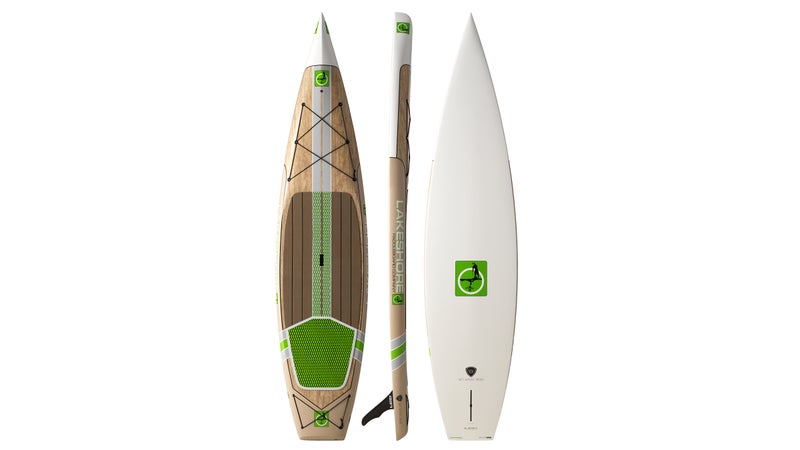 The little sister of Lakeshore's classic touring model (the Wet Woody), the Wet Woody Sport eats flatwater for breakfast. It has a clean torpedo shape that cuts through glassy surfaces like air and comes with inset front and back tie-downs and an indented handle. This is a board for smooth, easy paddling.
I tested the Wet Woody Sport on Echo Lake, near Lake Tahoe in California's Sierra Nevada. It needed significantly fewer strokes to cross the two-mile-wide lake than the two inflatables we were also using—the 12'6" Ten Toes Globetrotter and the Jimmy Styks Strider, both of which are 12'6". The Sport tracks incredibly well, especially considering its relative shortness, and I think that's a function of its batwing-shaped flatwater fin.
Though Lakeshore lists the Sport's capacity at 275 pounds, I found it performs best with a paddler who weighs less than 170. For paddlers heavier than 170, or for people hauling a lot of gear, I suspect that the longer Wet Woody or Lakeshore's cargo-ready River Rover would be better choices.
---
Best Inflatable
Jimmy Styks Strider 12'6" ($749)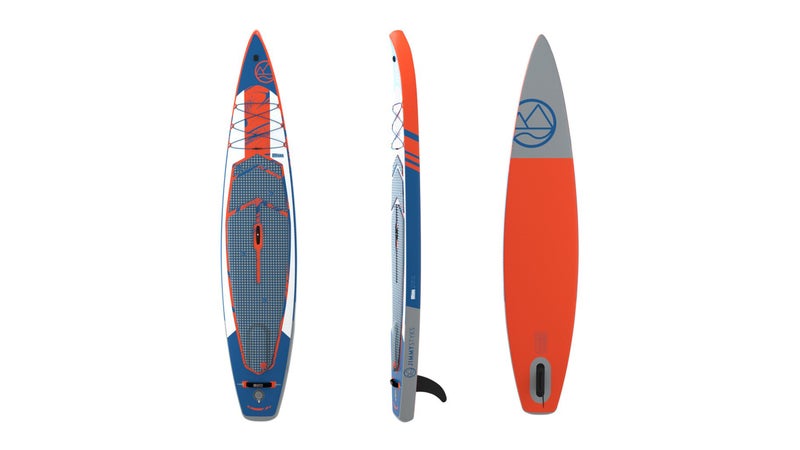 The Strider, an inexpensive board from a small brand, was a surprising standout in this test. At 22 pounds, with five-inch rocker in the nose and a moderate 30-inch width, it popped easily over waves and chop on Lake Tahoe, but it still tracked well on glassy days. It seemed to hit a sweet spot for touring boards. Plus, the construction and build quality seemed as robust as better-established brands'.
Inflatable stand-up paddleboards continue to gain steam. This year we've seen almost every major board company offer at least one blow-up model, if not several. There are designs for every style of paddler, from flat planks for yogis to beefy boards for river runners. The Strider has more rocker than many of the other inflatables I tested, but with a stance in the middle of the board, I was still able to paddle five to six strokes on one side before noticing a change in direction.
The Strider, like all Jimmy Styks boards this year, uses a fin that locks into place with a small rotating clip. The system is user-friendly and quickens setup and breakdown of the board, and it's a good alternative to the old screw-and-nut format. When deflated, the Strider fits into a simple backpack. It also comes with a decent adjustable carbon-fiber paddle.
---
Best Multi-Person
Red Tandem Voyager 15' ($1,999)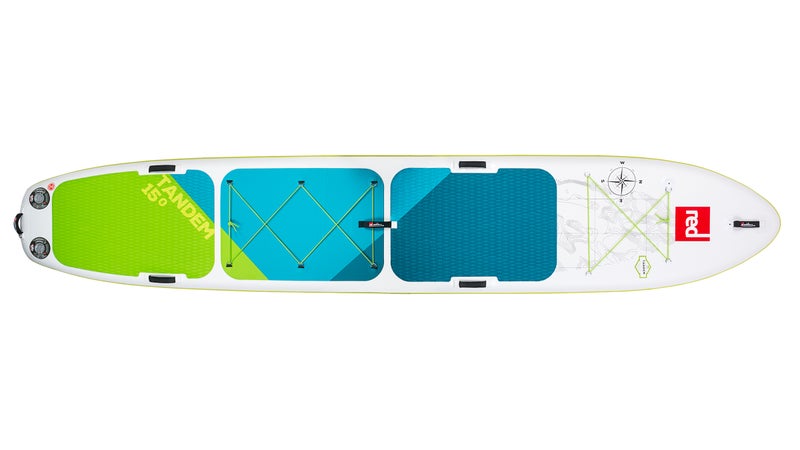 Dubbed "the station wagon of SUPs" by one tester, the Tandem is an inflatable 15-foot behemoth that can easily carry two paddlers and lots of gear. It's like road-tripping, just on the water. The 34-inch width is narrower than multi-person boards that can carry more paddlers, and its relative narrowness allows the Tandem to move fast across the water. And at 723 liters and eight inches thick, it lifts cargo high off the water, which helps keep the deck dry.
The world is beginning to recognize the joy of multi-person stand-up paddling. Multi-person boards, or "big boards," are showing up everywhere from Utah's Green River to the huge swells of Portugal's famed surf spot, Nazaré. There are now a half-dozen companies selling boards that accommodate anywhere from two to eight paddlers.
A friend and I tested the Tandem on a five-mile cruise on Lake Tahoe and around a sharky river mouth on California's North Coast. Our combined weight was 325 pounds, and the Tandem had no trouble floating us both. It takes a little practice to synchronize strokes, but once in rhythm, we got moving faster than a single-person board. Even with two people, it felt stable, despite the high center of gravity created by the board's thickness.
Red offers two valves on the Tandem to speed inflation, which took us about eight minutes. Tie-downs near the nose and in the middle of the board ensure that each paddler can have his or her gear close. Surprisingly, when deflated the Tandem Voyager rolls up not much bigger than a single-person inflatable. It fit snugly in the $150 roller bag that I also tested.
---
Best River SUP
Shaboomee vSUP 10' ($1,199)
At 36 inches wide, the vSUP is the widest board I tested. It has a two-inch slot down the center, to work somewhat like a flexible catamaran, letting paddlers shift their weight back and forth without a major response from the opposite side. In fact, even with all the weight on one side, it's tough to flip the board over, and it doesn't feel like a wide board on the water. Shaboommee is a small Colorado-based company, and the type of dual-hulled boards it makes are gradually catching on in river-happy states like Colorado, West Virginia, and Oregon.
On flatwater, the vSUP glides well, though it doesn't carry its momentum as well as the Lakeshore Wet Woody Sport. A set of D-rings along the edge of the nose creates a wide area for cargo, and interchangeable fin boxes allow paddlers to switch between smaller fins for rivers or longer fins for flatwater. With long fins, the vSUP tracks like an 11- or 12-foot board. But it's on whitewater that it really shines. Testing it in small, Class II rapids, I could move each leg independently, feeling stable and free at the same time.
How we picked the best stand-up paddleboards
I've been standup paddling for more than ten years. I've competed in distance races, including the 22-mile Lake Tahoe Fall Classic, and I paddle more than 60 days a year in rivers, on lakes, and on the ocean. For this test, I put in hours researching new boards and then spent 13 days on the water, looking at how boards tracked, gilded, and handled gear. Every board I included was tested on actual rivers, lakes, or ocean—not in a pool—and often by several different testers. I did my best to put the boards through their paces, which meant loading them down, roughing them up, and paddling.
What you should know before buying a stand-up paddleboard
Let's be clear: SUPs come in all different shapes and sizes. There are models for specific activities (fishing, surfing, whitewater, racing) and boards that mix both conditions and activities. The trick is knowing what you want from a board before buying, but it also helps to know a little about how boards are sized and shaped, and how those features affect what they do on the water.
Dimensions: A board's most important numbers are length, width, and thickness. For whitewater and rivers, paddlers often want a board that is wide (34-plus inches) and short (ten feet or less), with a lot of rocker (the curve from tip to tail). Racers prefer narrow boards in the 14-foot and 12-and-a-half-foot classes. The boards in this test range from ten to 15 feet in length, and 29 to 36 inches in width. The test's girthiest board, the Red Tandem Voyager, is eight inches thick, whereas the Aleka is 4.8. In general, wider boards are slower but more stable, and slimmer boards are faster but require better balance.
Volume: A board's volume, measured in liters, determines how much weight it can float. Low-volume boards maneuver well in surf, while a paddler on a multi-day tour would want a high-volume board that can carry cargo. Most companies show weight capacity in their specs, and in my experience it's almost always better to err on the side of too much capacity.
Weight: The lightest boards are usually built with carbon fiber and foam. Boards made from fiberglass, wood veneer, or a plastic outer skin are often more durable but heavier. Beginner paddlers should opt for a board that can handle getting banged around and not worry too much about weight.
Shape: Keep an eye on hull type. Planing hulls slide over the top of the water, whereas displacement hulls, often characterized by pointy down-turned noses, slice through the water.
Construction: There are two basic board constructions: inflatable and rigid. If you're space-challenged, inflatable boards can be rolled up and stored. They're also easy to transport and usually come with a bag. But few inflatables match the performance of rigid boards, especially for racing and surfing.
Lead Photo: Dylan Silver