The Gear Junkie: Kokatat Dry Suit
Heading out the door? Read this article on the new Outside+ app available now on iOS devices for members! Download the app.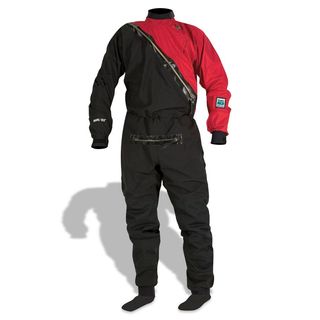 By Stephen Regenold
They cost hundreds of dollars. Their use is limited to cold-water scenarios where you may have to swim. But for many outdoors enthusiasts — including sea kayakers, divers, and sailors in cold climates — a dry suit is an essential, life-preserving piece of gear.
Unlike wet suits, which are made with thick neoprene and allow water in against the skin, dry suits seal all H2O off from the person inside. Watertight zippers, booties, and rubbery gaskets on the neck and wrists keep cold water from seeping through.
This year, I got intimate with a dry suit from Kokatat Watersports Wear. For an expedition last winter in South America, where I kayaked in the icy waters of Chile's Beagle Channel, the Kokatat wonder suit was a mandatory survival item.
Tip a boat in cold water and your core temp can immediately plunge. Hypothermia is a quick threat. A dry suit like the Kokatat GORE-TEX Front Entry model, which costs a hefty $899, is a thin barrier made to keep you safe and dry.
Before heading to South America, I drove to a boat launch near my home in Minneapolis. It was late January in Minnesota, but despite snow on the banks and a temp outside of about 20 degrees, a stretch of river was open and ice-free.
I zipped into the Kokatat suit and stepped in the water. Air in the suit moved up my body as the leg fabric was squeezed by water pressure below. I leaned back and floated, my arms straight out, swimming in winter water that could easily kill.
Under the suit, I wore a couple layers of winter clothing. There was an initial shock of cold. But soon my body was used to the ice water. Not a drop got in.
Kokatat (www.kokatat.com) uses a GORE-TEX fabric for its high-end suits. They cost a couple hundred dollars more than some of the competition. But the fabric, which is light and comfortable to wear, has better breathability.
In the seat of a sea kayak, paddling hard, a person can overheat in a dry suit. The GORE-TEX fabric helps mitigate that heat and moisture inside, breathing better than other dry suit options.
For $899, the suit had better fit right and perform in action as well. The Kokatat suit did not let me down. There is almost no restriction when paddling a kayak. For durability, there is a tough Cordura fabric on the seat and over the knees.
The Kokatat suit uses latex gaskets for its collar and wrist cuffs. On the neck, the fit is snug and somewhat uncomfortable at first. But I got used to the slight pressure. It was a small trade off for the protection this pricey suit offered — in South America or swimming in an icy river near home.
–Stephen Regenold is founder and editor of www.gearjunkie.com.
Trending on Outside Online