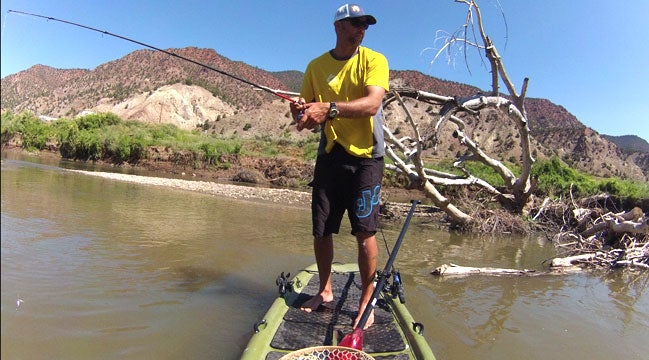 Heading out the door? Read this article on the new Outside+ app available now on iOS devices for members! Download the app.
I couldn't help but roll my eyes when I saw the Advanced Elements Lotus Yoga Stand Up Paddleboard featured in the Wednesday edition of the OR Daily—a magazine that highlights gear, activities, and people of interest from the show. I apologize to every SUP yogi out there, but it just felt like a product catering to a fad.
The idea of yoga-specific SUPs momentarily made me cringe, but only seven years ago, I was told that stand-up paddle boarding itself was a fad—and we've seen how huge the sport has become. With that in mind, I dug deeper and was surprised to find that a discipline I considered fringe warrants its own board design, with several companies already making yoga-specific SUPs.
For two and half years, Boga Yoga has been making yoga-specific boards. And Jeramie Vaine, a team rider from Boga Yoga Boards, further hurt my fad assumption when he told me that he taught 340 students at Wanderlust California—a yoga, music, and organic food festival—two weeks ago and had to turn dozens of students away.
Back on the floor and with my assumptions shattered, Jackson Kayak's SUPerFISHal caught my eye. The massive 11'7″ SUP has accessories to manage your rods, paddle, and drinks while you toggle between slaying fish and SUPing. Again, this SUP was designed for one thing—not touring or surfing, but fishing.
The SUPerFISHal is a year old and feeds into the kayak fisherman's passion for efficient gear storage, a stable fishing platform, and ample cooler space. According to Jackson Kayaks, the SUPerFISHal is killing it in sales. "We haven't even scratched the surface of this [market]," says SUPerFISHal co-designer Ken Hoeve.
Regardless of what you think of the fishing SUPs, an undeniable trend in the show this year is a hyper-specialization of SUPs. The move is understandable when you consider that stand-up paddleboarding essentially allows people to walk on water, as Hoeve says.
Instead of just SUPing for the sake of paddling, people have started taking their previously land-locked recreational activities out on the water—for a greater challenge and more fun—and adapting their SUPs to make it happen. And, like it or hate it, this makes potential for SUP specialization damned near endless.