The 6 Best Stand-Up Paddleboards of Summer 2012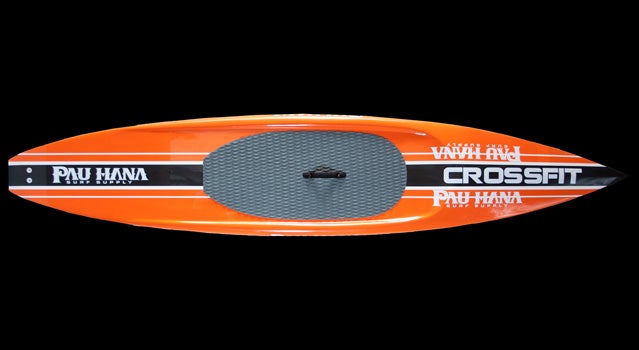 Heading out the door? Read this article on the new Outside+ app available now on iOS devices for members! Download the app.
Pau Hana Crossfit
Though there are many larger, better-known SUP manufacturers, Pau Hana is quickly carving out a name for itself with fast, well-priced boards like the fitness and adventure-ready Crossfit. Made with a cocktail of bamboo, carbon fiber, and fiberglass, this SUP is both lightweight and very rigid. It's wider (28.5 inches) and more stable than most race-inspired touring boards, but just as fast. From battling chop in the ocean to burying miles on North Carolina's glassy Intracoastal Waterway, the sharp nose of the Crossfit sliced through the water, consistently offering up the glide of a more expensive full-carbon SUP. Add it all up and you've got a speedy enough board for those of you thinking about racing. Case in point: we loaned a friend the Crossfit for a last-minute race, and he won the rec division on his first session aboard it. 12'6″; 27 lbs
STABILITY: 4.5
SPEED/GLIDE: 4.5
MANEUVERABILITY: 3.5 (OUT OF 5)
Boardworks Badfish MCIT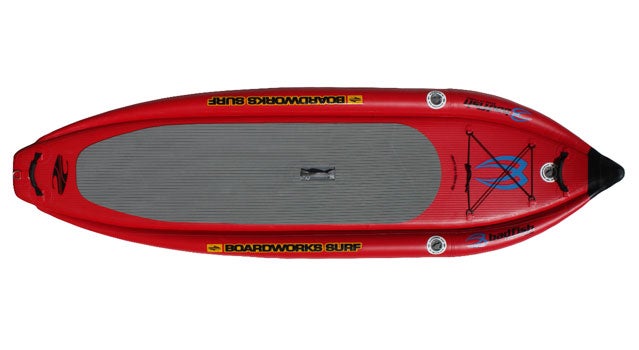 BEST FOR: Whitewater paddling, the space-constrained, or frequent fliers. THE TEST: The inflatable SUPs we've tested in the past were as floppy as dead fish—and often just as much fun. Not so the Badfish, which deflates down to a large duffel-bag-size bundle. Designed to run whitewater rivers and surf standing waves, this inflatable, with military-grade rubber and three air chambers, was more rigid than any other we tried. Super-wide (35 inches) with a recessed deck framed by air-chamber rails, the Badfish is also uncommonly stable. Our only gripe: water pools in the sunken deck, which is fine in the flush of a river but annoying on flatwater. THE VERDICT: Finally, an inflatable SUP that's solid, durable, and entertaining. The Badfish is even a hoot in ocean surf. 9'/10'6″/11'6″, 27/30/33 lbs
STABILITY: 4
SPEED/GLIDE: 2.5
MANEUVERABILITY: 4
404 Monster 2.0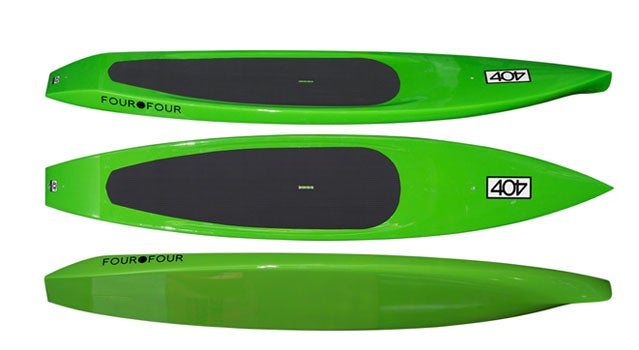 BEST FOR: Weekend-warrior racers and fitness paddlers. THE TEST: Designed by SUP racer Danny Ching, this 12'6″ foam-and-fiberglass board borrows high-performance race cues from the pro's own custom-built 404 Monster. At 28.5 inches wide and 4.6 inches thick, the Monster is tippier than surfboard-style SUPs but plenty stable for a touring race board, especially once you build up momentum. Our testers fought over the 404 on long-distance sessions because of its speed and the way it plowed through chop and wind swells. THE VERDICT: A touring race board that gobbles up the miles. The carbon-fiber model ($2,675) offers more full-on speed. 12'6″; 27.5 lbs
STABILITY: 4
SPEED/GLIDE: 4.5
MANEUVERABILITY: 3
Naish Nalu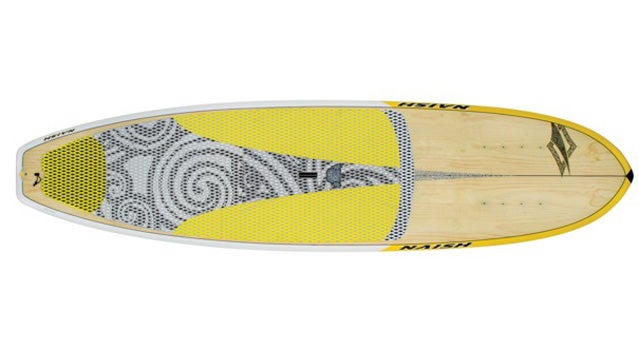 BEST FOR: Anything from surfing to a multi-day outing. THE TEST: While longer, touring-style boards are better for distance paddling, the beauty of shorter, wider surfboard-style shapes is their versatility. And the Nalu is one of the most versatile new SUPs out there. At 32 inches wide and nearly 4.5 inches thick, it's as stable as any board but paddles with the glide of a bigger SUP. Credit the six deep channels running lengthwise along the board's bottom, which help funnel water and keep the board tracking straight. Despite those channels, the Nalu was surprisingly maneuverable and fun in the surf. THE VERDICT: A great all-rounder and close runner-up for Gear of the Year. 10'10"; 31 lbs
STABILITY: 4.5
SPEED/GLIDE: 4
MANEUVERABILITY: 4
Six deep channels (which look like ripples) on the base of the Nalu direct water from nose to tail. It lends the Nalu the speed and tracking of a board two feet longer.
Surftech Blacktip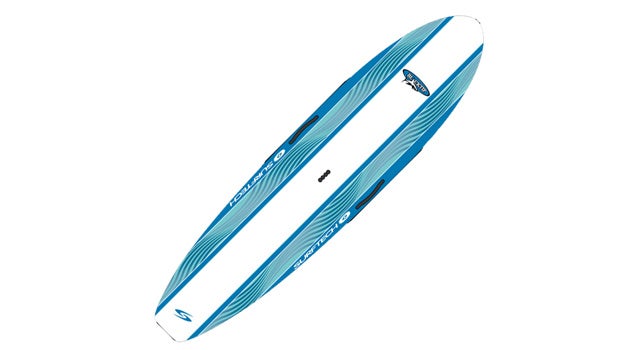 BEST FOR: Beginners, families, and anyone on a budget. THE TEST: This entry-level board-and-paddle package is almost half the cost of most new boards alone. At 30 inches wide and a whopping five inches thick, the lightweight, soft-foam Blacktip floats like crazy and provides confidence-inspiring stability. It's nice and stiff compared with other foamies, and the slick bottom was surprisingly smooth—but don't expect much glide. Our testers said it was fine in flatwater and surprisingly adept in small beach breaks, though several complained about catching their feet on the oversize rail handles. Bonus: includes an ankle leash. THE VERDICT: Fine and user-friendly, but affordability is this board's true appeal. 10'6″; 30 lbs
STABILITY: 4
SPEED/GLIDE: 2.5
MANEUVERABILITY: 4
Dragonfly 13'6″ Fishing Edition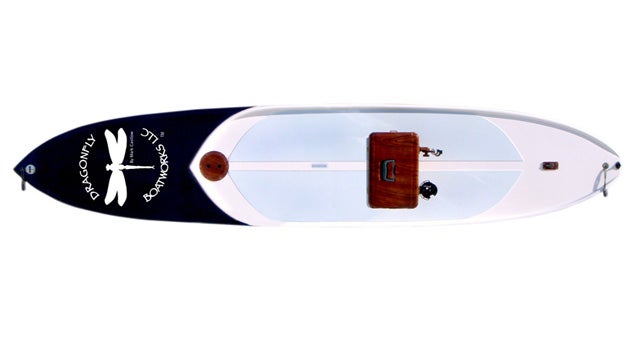 BEST FOR: Fishing and flatwater touring. THE TEST: As anglers realize how easy it is to sneak up on fish with SUPs, manufacturers have scrambled to retrofit their boards. But the fiberglass composite Dragonfly, developed by a former Orvis guide and a fishing-boat designer, was purpose-built for angling. Its hull has a sharp entry like a boat bow, which helps it slice through the water without startling fish (it doesn't slap the surface as many boards do). Our testers also appreciated the V-shaped hull that kept the Dragonfly tracking. And though hardly lightweight, the board's fishing specifics (rod holder, fly basket, and pictured drybox/cooler) make up for the heft. THE VERDICT: Perfect for stalking bonefish in the flats. 13'6″; 45 lbs
STABILITY: 4.5
SPEED/GLIDE: 3.5
MANEUVERABILITY: 3.5
Trending on Outside Online