Rapids Transit Systems
Superlative kayaks and accoutrements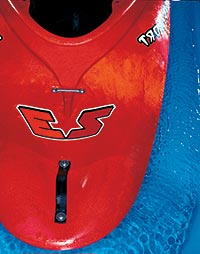 Chris Bartlett
Heading out the door? Read this article on the new Outside+ app available now on iOS devices for members! Download the app.
You survived the spring runoff. Your combat roll is dialed. You've never been this strong. So now it's time you made a planter out of that 11-foot behemoth of a boat you've been wrestling and time you left Class II waters behind. But where do you go from here? Maybe Class V Idaho river running is your twisted mission. Or perhaps you dream of knocking off cartwheel number 17 in some roadside hole in New Zealand. How about mixing it up on a southeastern dam-release run that's loaded with stellar play spots inaccessible from the road? Regardless, once you've figured out what type of boater you want to be—river runner, rodeo jock, or a bit of each—one of the standout kayaks on the following pages should more than satisfy. As for the other gear that follows—from paddles to earplugs—we've rounded up the best accessories there are, no matter what your paddling pleasure.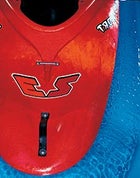 The Boats
Dagger RPM Max
Specs: Price $980; length 9 ft., 2 in.; weight 42 lb.; internal volume 75 gallons; paddler weight 180-265 lb.

A bigger version of the best-selling whitewater kayak of all time, the RPM Max is a classic river runner. Two feet longer than most rodeo playboats, it also has an old-school rounded displacement hull instead of a flat, trick-turning bottom. These traits make it stable and predictable in big water, but they also make it fast, so you can power through glassy stretches or escape to that boat-width shoreline eddy above They All Died Falls. It's not that you can't play with the Max—roll it up on edge and it's rock solid, slip it onto a wave for some front surfing and the Max is at the top of its game, plunge in the bow and the Max will pop bigger ender air than the best rodeo boat—it's just that its size and shape make it difficult to perform spin maneuvers. Oh well, it also doesn't fit like thong underwear on a Holstein. Indeed, at 75 gallons, the Max is downright comfy, and the extra room means you can load up enough camping gear for an overnight. Smaller paddlers (under 180 pounds) should stick with the standard RPM, which is 9 feet long, weighs 39 pounds, and has 60 gallons of internal volume.


Riot Dominatrix
Specs: Price $1,080; length 7 ft., 6 in.; weight 33 lb., 8 oz.; internal volume 44 gallons (size medium); paddler weight 130-180 lb.

"Man, I got spanked big-time." Sound familiar? With the Dominatrix beneath you, now you can spank back. She rules when it's playtime. Loose (it spins easily on waves) and retentive (it wants to stay in the hole during vertical moves), this boat is designed for park-and-play, meaning you drive to a specific hole and bust some moves in that one spot. River running? Be careful. More than one skilled boater has taken the Dominatrix out in big water only to get worked relentlessly. There just isn't enough volume for that type of boating, and all that retentiveness is not a good thing when you're trying to punch through a nasty keeper hole. As you might expect, the Dominatrix is very demanding when it comes to fit—OK, it's as tight as a leather jumpsuit—but there are three volumes to choose from, all of which are about 7 feet, 6 inches long. Because they use a plastic that's stronger than standard polyethylene, Riot is able to offer the Dominatrix in an ultralight 251/2 pound version for only another $120.
Wave Sport EZ
Specs: Price $1,025; length 6 ft., 9 in.; weight 34 lb.; internal volume 47 gallons; paddler weight 110-230 lb.

EZ is right. This boat makes it easy to pick your way through rapids, easy to surf, and easy to ride in a hole. Although there's no such thing as a do-it-all boat, this one comes close. (What it won't do is handle steep-creek drops where you might hit bottom—you need more bow in front of you for that, and its modest volume will get you pummeled in really large flows.) It's not overly edgy, and because it's rockered more at the bow and stern than a pure rodeo boat, it's manageable enough for less skilled paddlers to initiate daring moves without tanking. At 6 feet, 9 inches, the EZ is capable of fitting on the smallest wave or wimpiest hole, but the length in this case doesn't detract too much from the boat's river-running prowess. It's stable and predictable in all but the biggest water; it also just happens to be a loose and fairly retentive play machine. What sets the EZ apart, though, is the way it's outfitted: The hip pads are sculpted for a snug, comfortable fit, the adjustable thigh braces feel plush yet grip securely, and a no-slip back band supports and cushions the spine. It's a tight squeeze, though; bigger paddlers should go with the 7-foot Big EZ, a 52-gallon version that's only a few pounds heavier.
Paddling Wear
(1) Before fuzzy rubber (stretchy fleece laminated to rubber), cold-water paddling was all about bundling up in restrictive layers of polyester pile or clammy neoprene. However, SplashGear's Aqua shorts ($62; 800-996-9327; www.wyomingwear.com) are lightweight, stretchy, and breathable. And because they're cut high to keep those kidneys warm, you can get away with a less bulky top as well.

(2) Women should check out Northwest River Supplies's Hydroskin Little Jane ($95; 800-635-5202; www.nrsweb.com). Designed to keep the core warm, the Little Jane is made of new-generation ultrathin (half a millimeter) breathable neoprene that's covered with a stretch-nylon blend and lined with stretch fleece. Wear it alone under a paddling jacket on mild days or, when temperatures drop, use it under a fuzzy-rubber top and

(3) Bomber Gear's The Bomb drytop ($285; 970-259-1571; www.bombergear.com). Cut from three-ply waterproof/breathable fabric with a watertight latex gasket at the neck, The Bomb has Velcro closures to seal out water at the wrists and waist.

(4) Who wants to paddle in cold weather anyway? If you're a summer boater, check out Lotus Designs's EKG Shortie short-sleeve top ($92; 800-638-6464; www.lotusdesigns.com). Made from water-resistant yet highly breathable treated ripstop nylon with a brushed lining, the EKG is perfect for sunny rodeo sessions.



(5) Although the Teva Cobra ($70; 800-367-8382; www.teva.com) looks like a trail runner, it's actually a slip-on multisport shoe made with synthetic uppers drained by mesh ports. For portaging and rocky hikes back to the car, dual-density running-shoe-style midsoles and padded heels offer ample support and protection.
Whitewater Gear
(1) WildWasser Sport's Hipster spray deck ($135; 303-444-2336; www.wildnet.com) solves the problem of water pooling on your lap with a tentlike design that slightly raises the deck. Even better, the Hipster is very supple, making it easy to get on and off the cockpit rim and comfortable to wear.

(2) That old hockey helmet won't cut it anymore. Grateful Heads Helmets's DropZone ($120; 301-689-0915; www.gratefulheads.com) is a Kevlar-reinforced shell; foam liners of five different thicknesses are available to customize the fit. True, the helmet's six-way strap system can baffle even the brightest boater (no comment), but once you figure it out, you can lock your adjustments in place.

(3) Paddling can bring on carpal tunnel syndrome as easily as pushing a computer mouse. Not so with Werner's 39-ounce Double Diamond ergonomic paddle ($425; 800-275-3311; www.wernerpaddles.com); the shaft is curved at the handholds to keep the wrists in a relaxed position instead of bending them upward as a straight shaft would do, and the hand position (slightly forward of the shaft) seems to better transfer power to the lightweight blades.

(4) Designed by a surfing physician, Doc's Proplugs ($10; 800-521-2982; www.proplugs.com) are the off-the-shelf alternative to custom earplugs. They cost less, prevent excruciatingly painful eardrum ruptures, float, and (bonus) you can hear what's going on around you. ("I said eddy out, you idiot!")

(5) One pull of the straps on the Extrasport RetroGlide Avenger PFD ($115; 305-633-2945; www.extrasport.com) and the front and back panels suck into the body while the top wraps down around the collarbones. It's an instant fit that's abetted by neoprene side panels that stretch when you stretch.

(6) The SOG TiNi AutoClip knife ($60; 888-764-2378; www.sogknives.com) clips easily to a PFD. And with its durable Zytel handle molded in a woven texture, it feels secure in wet hands. One push reveals a serrated titanium blade, and you can even adjust the release tension. It's almost as trick as your one-handed air blunt.