A Love Letter to the Wavestorm, the Best Beginner Surfboard Around
Some experienced surfers might scoff at them, but these user-friendly soft-tops are the best wave-riding gateway drug
Mike Kemp/Getty
Heading out the door? Read this article on the new Outside+ app available now on iOS devices for members! Download the app.
On mornings before high school in San Diego, my friend Tanya and I would occasionally paddle out into the ocean, her on a fiberglass shortboard, and me on my dad's 10-foot, soft Doyle foam longboard that weighed about 30 pounds when wet. I didn't feel cool maneuvering that giant red tank around, and I spent most of my time getting pushed around in the whitewater. But I sure as hell felt cool at school that day, having "gone surfing" before first period.
That user-friendly board allowed me, a beginner surfer, to paddle out safely and not get a concussion from a fiberglass board clocking me in the head during a wipeout. Its all-foam makeup made it extremely buoyant and easy to paddle. It was user-friendly. It was my in. I may have ridden that thing more like a boogie board and rarely stood up in a proper surf stance, but I began to understand what can be difficult, and intimidating, for many new surfers: how to paddle out against an incoming torrent of whitewater, what to look for in a swell, and how to sit balanced on a board—not to mention actually catching and riding waves.
In college at U.C. Santa Barbara I focused on volleyball and triathlon, and over the next decade I chased finish lines of endurance events instead of waves. I didn't really reconnect with surfing until I moved to—you're not going to guess this one—Colorado. I missed the ocean, so I made frequent visits to Hawaii and back home to the beaches up and down the coast of California. Just about every time I'd rent a board, or borrow one from a friend, and head out into the Pacific to try my hand at surfing again. And almost every time I'd end up on a soft-top Wavestorm that someone had bought from Costco for $110.
Those myriad experiences taught me to seriously love Wavestorms. Here's why: They're soft. They don't bruise my hipbones, which happens when I surf a board wrapped in fiberglass and epoxy or polyurethane resin. The soft boards paddle easily, keep me stable once I'm up, and let me make slow longboarding turns. Since I surf so infrequently, I love their forgiving nature—I can have fun surfing on Day One of any trip.
And these eight- or nine-foot foamies aren't bad boards—or just for beginners. (They're also a huge step up from that ten-foot Doyle from the 1980s, being far more agile, and lightweight.) The buoyancy makes them so fast and easy to paddle that they're "wave magnets," says longtime Hawaiian lifeguard Kai Hall, who reaches for one of his eight Wavestorms to surf breaks up and down the North Shore of Oahu all winter. In fact, Hall's Wavestorm is his big-wave board of choice; he's ridden 20-foot at Waimea Bay on them. "It's the best $110 board I ever bought," says Hall.
Hall adds that Wavestorms are "the most versatile boards around," and are even better on small waves. He uses them to teach Junior Lifeguards all summer, and then surfs on them with his buddies when he's not working, no matter the season. "They have a wide range of usability, from kids to adults, on one-foot waves to 18-to 20-foot waves."
Foam boards are also safer for everyone around you, too. Fall off a fiberglass or epoxy board and send it launching, even when you're wearing a leash, and you could stab someone with the tip of the board, knock them out, or bruise them.
I surfed ankle slappers in Laguna Beach on a Rasta-colored Wavestorm I rented from a surf shop. I plopped it onto the surface a couple feet above a reef and didn't worry about dinging it or hurting myself. I caught those tiny waves because the board floats and paddles so well, and I rode them—smiling—because longboards are stable and forgiving.
And the greatness of foam boards isn't limited to Wavestorms. There's now a whole range of soft-top surfboards, from giant longboards, to more performance-oriented models.
Foam boards allow me—or any other haphazard, landlocked wannabe surfer—to chase tiny waves wherever surf shops rent boards. And those shops rent foam boards to kooks like myself because you can't ding a foam board. The board hits a coral reef or a roof rack and squishes for a sec, then rebounds. No expensive fixes. (Note: They can tear or lose a chunk if battered too much, and if the foam on the sides frays, it'll shred the skin on your inner thighs, something I recently experienced surfing four days in a row in Waikiki on thrashed rental foamies.)
Soft-top longboards are ridiculously fun, and fun is what summer is all about. "No matter the conditions, no matter your level of confidence, no one ever gets out of the water after riding a Wavestorm and doesn't have a smile on their face," says Hall.
If you surf frequently and have a quiver of boards, consider getting a longboard that your friends can borrow and learn and. And paddle it out yourself every once in a while for some low-stakes fun. If you live near a beach and don't surf yet, get yourself a soft-top and paddle out. (Just learn etiquette and safety rules from a local before heading out.) And if you're traveling to a beach and are past the learn-to-surf lesson stage, rent yourself a foam board and smile big as you chase longboard waves on your floating pillow. Because surfing should be all about having fun.
Wavestorm ($249)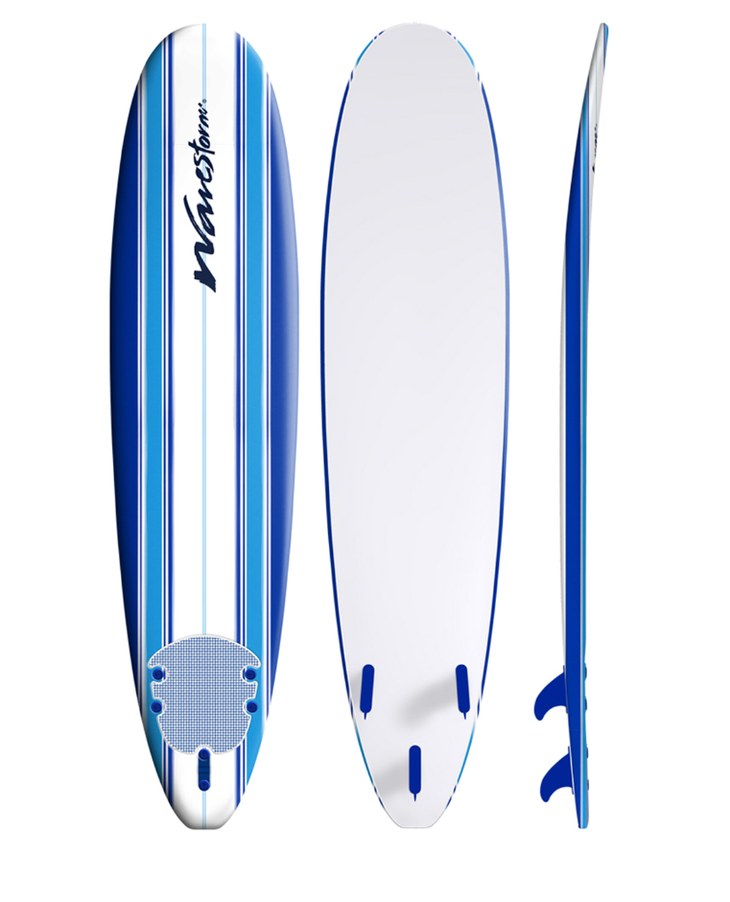 These eight-foot boards are built with a foam deck over an expanded polystyrene core and high-density polyethelyne bottom. Since they used to be sold cheaply at Costco, they're ubiquitous, which is a good thing because they're great—and we still think they're worth the increased price tag.
Lead Photo: Mike Kemp/Getty
Trending on Outside Online