Which kayak works best for a mature (55+) outdoorsman?
What kayak would you recommend for an older guy who has lower-back problems? Also, any suggestions on resources for people over 55 who still want to stay active? John Sherborn, Massachusetts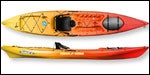 Heading out the door? Read this article on the new Outside+ app available now on iOS devices for members! Download the app.
You don't specify what kind of back problems, John, so I'll have to wing it a little. But I take it that in general you're not comfortable sitting in confined positions, or when you can't move around much. Kayaks pose some challenges here, as they tend to be a little on the cramped side (which is desirable, as a snug fit helps you control the boat), and they force you into a sort of legs-straight-out position.
Ocean Kayak Prowler 13

Ocean Kayak Prowler 13

Still, there are some options. One is to get a sit-on-top kayak. These have the obvious advantage of a roomy, spacious sitting area—literally, you sit on top of the kayak (well, in a small depression, but not in an enclosed cockpit). That makes the boat easy to get into and out of, and offers a much less confining sitting area. You can shift around more and hopefully be more comfortable. A good example of such a boat is the Ocean Kayak Prowler 13 ($769; www.oceankayak.com). It's a good-sized boat—13 feet in length—so it's big enough for a long day trip, with room for extras such as lunch, clothing, and a camera. It comes with a backrest, of course, but for $65 you can add an Ocean Kayak Comfort Pro backrest that's taller and offers more support. Might be a useful option for you.
You might also look at some of the "sit inside" kayaks that have oversized cockpits, again because I think having extra room will be advantageous. Dagger's Echo 12 ($700; www.dagger.com) is such a boat—a comfortable, stable kayak that has an extra-roomy cockpit that's easy to get into and out of and doesn't feel like you just slid into a plastic tube. No optional seat with the Echo, but you should be able to find a comfortable position.
As for over-55 resources, I should think there'd be plenty in your area. From what I understand, the area around Sherborn (located 18 miles southwest of Boston) has all sorts of open spaces and hiking trails. There might well be a chapter of the Appalachian Mountain Club (www.outdoors.org) in your area. And, if so, they're sure to organize regular hikes for a variety of fitness levels. I dunno how your back would hold up on a bicycle, but the same thing would apply. You could find a club (inquire at your local bike shop) and go from there. You might consider a recumbent bike, sort of the two-wheeled equivalent of a sit-on-top kayak, as they're much easier on one's back than a traditional bike.
Stay active!
The votes are in: Check out the winners of Outside's 2006 Gear of the Year awards, including the year's hottest kayak.
Trending on Outside Online