The Well-Outfitted Hot-Weather Hiker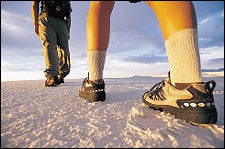 Heading out the door? Read this article on the new Outside+ app available now on iOS devices for members! Download the app.
When outfitting yourself for desert or tropics, you no longer need to choose between protecting your epidermis and sweltering or going skimpy and inviting melanoma. New togs of tightly woven, highly sun-protective fabrics combined with built-in screen doors now reconcile coverage and comfort.

RailRider's Eco-Mesh Shirt Pants, and Patagonia's Tropical Flat Shorts

Ex Officio Long-Sleev AirStrip Shirt and Mountain Hardwear's Mountain Kilt (his), The North Face's Backwater (hers)

Five Ten's Cesium

Clothing

Many an adventure racer has slogged through Borneo swamps and similar hellholes wearing the Eco-Mesh Shirt and Eco-Mesh Pants from RailRiders. The shirt, which also comes in a new Leaf Print style ($59), is made of fast-drying Supplex nylon and places flow-through mesh all the way down the arms, sides, chest pocket, and back. The pants ($69) use thigh-to-ankle mesh down the outside of each leg that can be zipped open or closed as conditions dictate—the airiest full-leg sun protection available. Just seal them up if the bugs get bad. L.L. Bean's Ripstop Convertible Pant ($79) is my hot-weather convertible of choice. The SPF-30 Cordura fabric is stronger than the usual Supplex, and the shorts have an au-courant knee-length cut, versus the shorter, so-1998, hemline of other convertibles. The naturist in you will love Patagonia's Tropical Flats Shorts ($50), made of a nylon-poly blend so fine it scarcely feels present—nice and baggy, too, with mesh strips in the pocket that cool your nether bits. Of course, if airflow en bas is really a priority, try Mountain Hardwear's Mountain Kilt ($85)—aye, a Scottish skirt for lads and lasses, techified with Supplex fabric, microchamois waist lining, and security pockets. Switching cultures, the company's Guayabera Shirt ($75), styled after Mexican wedding shirts, runs a pair of vents down both chest and back. The fabric is rated to SPF 30 (compared to the SPF 5 of wet cotton T-shirts), and the collar extends to protect the neck. But the real standard for sun protection and airflow is the SPF-30 Ex Officio Long-Sleeve AirStrip Shirt ($78), with a protective collar, a large back cape, and side vents. Finally, for just kicking around sultry climes, I like the loosely woven (no SPF claims here), with unbelievably quick-drying Powerdry fabric used to stylish effect in Prana's Dri Force Crew ($40).


On Your Feet

You can't forgo foot support and cushioning in hot weather; in fact, thin soles and socks invite trip-ruining blisters. Oakley's Chainsaw ($95) and Five Ten's Cesium ($95) both cool your tootsies with strategic use of mesh, while sturdy treaded outsoles insulate against hotfoot. The midcut Chainsaw has the coolest open-mesh tongue in the business, and it's superbly engineered for a comfortable and stable stride. The Cesium features Five Ten's sticky Stealth rubber and a half-dozen mesh panels around the perimeter, ideal for commuting between top-rope stints in J-Tree. As for socks, believe it or not, wool's the best stuff for heat. Whether humid or dry, its natural wicking and insulating properties really kick in when it's warm. I like SmartWool's Trail Runner II socks ($13) for their low cut and insulative padding.
Lips, Shades, Screens, and Packs

Watership Trading Co.'s Vineyard Haven Hat, Camelbak Sherpa, and Prana's Dri Force Crew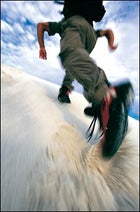 Oakely's Chainsaw and Eco-Mesh Pants
Lids, Shades, Screens

TravelSmith's mesh-sided, SPF-30 Sunblock Cap ($30) lets you affect the Larry of Arabia look; just detach (via Velcro) the dweeby cape when the sun lets up. Watership Trading Co.'s Vineyard Haven Hat ($50) is shady as a deck awning thanks to a broad foam brim that not only retains its shape after serious hat abuse, but floats, should you forget to snug its retention cord. The pliable nylon crown is treated to reject UV rays, and screened grommets let your noggin respire. Look like a rock star and protect your eyes while you're at it—the Spy Scoop HS ($80) is notably friendly in hot weather, with little anti-fog vents at the outside edges of the lenses and no-slip rubbery temples that cling to sweaty skulls. When you can't cover your skin, you need sunscreen; the American Academy of Dermatology recommends a minimum SPF of 15. UVB rays do the obvious damage (tanning and burning), but insidious UVA rays are equally dangerous, are present year-round, and require a broad-spectrum sunscreen. The most effective ingredient against UVA rays is Parsol 1789—approved by the FDA a few years ago and just now showing up in brand-name sunscreens. Good examples are Coppertone's waterproof SPF 30 Gel (6 ounces, $10) and Ocean Potion's Sport Potion SPF 30+ cream (6 ounces, $6).




Packs

I spent a summer week two years ago doing Death Valley day hikes in 120-plus temps. I just kept a constant draw on a 100-ounce CamelBak reservoir. Now they've introduced the CamelBak Sherpa ($130), a 1,740-cubic-inch daypack with a compression-molded-foam back panel that permits cooling airflow down the spine and insulates the reservoir. Another new touch: A shut-off prevents dreaded bite-valve dribbles between draws. Stay even cooler by going backless with the True North Load Monster ($89)—essentially an overgrown (1,340-cubic-inch) lumbar pack with shoulder straps for extra support. It'll hold a 70-ounce reservoir and two 1.5-quart water bottles. For shorter hikes or trail runs, The North Face's Backwater backless bag ($90) stows 500 cubic inches of miscellany and a 60-ounce reservoir. Tucked inside any hydration pack or daypack, the combo of a foam-covered Platypus Hydration Insulator 2 ($17) and Big Zip 2 Reservoir ($23) from Cascade Designs gives cold water a fighting chance: The reservoir's big Ziploc-style opening makes it easy to clean or clink in a tray of ice cubes.



The Well-Outfitted Snow Rider

Backcountry Access Companion, the Giro Nine.9 helmet, Oakley's Straight Jacket, Smith Triad goggles, and Mountain Hardwear's Monkey Phur Vest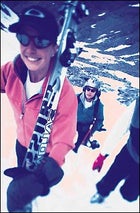 Salomon's STL-550 jacket (his) and the STL-551 jacket (hers)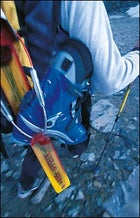 Mountain Hardwear's eXtend base layer, Cloudveil IceFlow bibs, and the aluminum, three-section Life-Link Odyssey III poles
Ski and snowboard equipment continues to speciate for riding style and ability. Lucky for us, we like to hike for turns, stay out all day,and perfect the carve. The gear we picked—like Schoeller stretch-woven jackets and Salomon side-mounted bindings—is technical but, worry not, it's comfy too.


Apparel

Gore-Tex works great, but how often do you really ski in the rain? The new generation of soft, form-fitting snow wear, like Salomon's STL-550 jacket ($549) with removable liner and the women's STL-551 ($279), replaces the crinkly-sounding nylon- and Gore-Tex-lined shells with quiet, stretch-woven fabrics that improve breathability and durability while retaining water-resistance.
Matching hot pants? The Patagonia stretch-woven Salopette ($245) and Cloudveil IceFloe bibs ($325) are not skintight, but they don't droop like garbage bags either. If you keep moving and maintain your core temperature, stretch-woven fabrics obviate traditional layering, but you'll need a moisture-managing base layer like Mountain Hardwear's eXtend ($52 crew top, $45 bottoms). For extreme cold or sitting on a ski lift, midweight layers like The North Face Aurora Zip Neck ($75) or Mountain Hardwear's Monkey Phur Vest ($80) are light and breathable. Wrap your feet in the SmartWool Snowrider socks ($17), which outperform all synthetics in transporting moisture away from the skin. When it comes to brain buckets, vents are crucial, and the new Giro Nine.9 ($125) features a dozen you can open and close at will. Fresh powder, however, demands an insulating and wind-blocking fleece lid from Shred Alert ($24). For your hands there's the Marmot Ultimate Ski Glove ($149), or get a grip with the goatskin palm of the new breathable and waterproof SmartWool Backcountry Mitten ($95). After a day of skiing, only slipping into a hot tub comes close to donning the new omon Powderslide s ($65). The ley Straight Jacket's ($95) iridium lenses ensure clarity and contrast on snow and that je ne sais quoi for the sundeck. But up on the mountain, off the groomers, goggles perform better. The lenses on the helmet-friendly Smith Triad ($90) mimic the curve of the eye for more precise vision, plus unsurpassed airflow eliminates fogging.
The Well-Outfitted Snow Rider
Toys

DaKine Blade back pack, the Arbor S-Series snowboard, the K2 Eclipse boot (his), the the Atomic Beta Ride 10,50 Carbon ski boot (hers), and Salomon's Crossmax 9 Pilot (hers)

The G3 Targa T-9 telly binding and Work Stinx telemark ski

The Burton Cascade SPLT 70 snowboard, the DaKine Dually, and waterproof Smartwool Bacountry Mittens
The Arbor S-Series snowboard ($470) is an all-terrain pleasure monster, thanks to a performance-enhancing wooden topsheet and internal carbon-fiber torsion rods. The K2 Eclipse boot ($200) uses triple-density foam to create a custom fit the first time you wear 'em. On deck, the K2 V-12 Magma binding ($230) instantly translates steering from boot to board to edge via magnesium-injected base plates and anatomical carbon highbacks. Backcountry riders who earn their turns have learned that when it comes to ascending, snowshoes and approach skis simply can't match the speed and efficiency of a splitboard. The 170 centimeters of the Burton Cascade SPLT 70 ($900 board, $130 climbing skins, $50 crampons) float and shred so smoothly, you'll never believe they were sliced down the middle. If you ski mostly in-bounds with a yen for carving high-speed turns and floating in powder, the Salomon Crossmax 9 Pilot ($975, skis and bindings) is your one-ski-fits-all. The Pilot system uses laterally mounted bindings and reduces the distance between the toe and heel mounts, eliminating the nonflexing dead spot underfoot (read: They turn on a dime). But if you do occasionally duck out-of-bounds, the cuff of the new Atomic Beta Ride 10.50 Carbon ski boot ($595) holds the Recco, a battery-free avalanche-beacon reflector that's been used in Europe for over 15 years. Plus, its shell design is like an Atomic World Cup race boot tweaked with softer and more comfortable plastic in the toe, ankle, instep, and shin. Classic bumper sticker: "Free your heel, your mind will follow." Built in the same mold as K2's AK Launcher alpine ski, the ultrafat Work Stinx ($499) telemark ski set the standard for off-piste powder, measuring 118 millimeters at the tip, 88 at the waist, and 105 at the tail. The asymmetric flex bellow—not to mention the new three-buckle closure and higher, stiffer cuffs—of the Scarpa T2 boot ($459) matches the natural curve of your toes for comfort and power steering off the back foot. The reengineered G3 Targa T-9 ($195) telly binding is steel-reinforced and battle-tested, good qualities when you're miles from any road. Add tasty extras like G3's new 15-millimeter Shim Extenders ($25) and the High-Performance Heel Kit ($25), and you've got quicker turning edge-to-edge as well. Thanks to a proprietary glue mixture and a clip at the tail, Black Diamond's 110-millimeter Ascension Nylon Clipfix Climbing Skins ($131) are good for yo-yoing your favorite hill. Lightweight, adjustable poles are key for all hiking snow sliders. The aluminum, three-section Life-Link Odyssey III ($100) offers a backpack-friendly 30-inch range of adjustment and composite lower sections for shatter-proof flexibility. With its easy-to-understand digital readout showing direction and distance to your lost companion, the Backcountry Access Tracker DTS ($300) is the quickest way to find someone buried alive. Period. In a time-sensitive search for a buried partner, don't fumble to connect your ski poles; rely instead on a dedicated probe pole like the collapsing one that nestles inside the shovel handle in the Backcountry Access Companion shovel/probe ($90). Haul everything in the DaKine Blade pack ($100), which carries skis and snowboards horizontally so they don't bang against your legs. The harnesses on the larger, snowboard-specific Arc'Teryx M40 ($225) render flapping boards immobile. When you're going for really big air (as in "airline"), luggage with wheels makes life sooo much easier. The taco-style DaKine Dually ($140)—with heavy webbing, cinch-shut closures, and a big inside pocket—uses a pair of in-line skating wheels to convey a veritable quiver: a pair of skis, a pair of boards, or a pair of each.



The Well-Outfitted Trekker

Low Arko GTX boots, Prospector Pant, and Kavu's mesh-vented Trailrunner

Timberland's Mountain Athletic Zone pack

Outdoor Research Flex Tex Low Gaiters
Traveling light is the only way to trek, particularly when teahouses are providing your food and shelter. When shopping for gear, think versatility; temperature extremes will demand layering, packability, and durability.


Apparel A journey of a thousand miles begins with one step…in a supportive pair of waterproof, lightweight hiking boots. Gore-Tex liners and beefy soles bolster the Lowa Arko GTX ($185) and the Scarpa Vento Mid GTX ($150). Both feel cozy right out of the box, but break them in for at least a month, and treat yourself to the extra stability and cushioning of Superfeet's Trim-to-Fit Synergizer foot beds ($30) to minimize blisters on the trail. Pair Bridgedale's A.T. CoolMax Liner ($8)—an easy-to-clean lightweight liner for fighting friction—with the Bridgedale Trekker sock ($16)—a soft, reinforced blend of wool, nylon, and polypro, with a touch of Lycra to keep the high-density padding under the heel and toe from slipping. But get a pebble in there and you're doomed. The featherweight (4-ounce) and stretchy Outdoor Research Flex Tex Low Gaiters ($33) seal your boot-tops and laces against mud, puddles, and yes, pebbles. For morning jogs don Kavu's mesh-vented Trailrunner hat ($22), but on the passes in the wind, swap that sun lid for the insulating fleece of Mountain Hardwear's Phillips Head ($20). The wind-resistant, water-repellent nylon and 700-fill of The North Face's Nuptse down jacket ($199) weighs just 23 ounces and compresses into a tiny pocket. But for temperature control and sweat removal on the way up, layer wisely. The SmartWool Next to Skin Wear (zip-neck top, $74; bottoms, $60) wicks moisture faster than any other base layer, keeping you dry and insulated against cold and heat. Mountain Hardwear's Monkey Man or Monkey Woman Jacket ($110) makes an ideal second layer: breathable, durable, water-repellent, and quick-drying, with the highest warmth-to-weight ratio of any Polartec fleece. Or try Patagonia's R2 Jacket ($145), with stretch panels at the elbows, cuffs, and torso sides. With or without long underwear, the Cloudveil Maverick ($140) serves as a rugged do-anything mountain pant, spun from Schoeller Dynamic Micro for moisture and temperature management, wind stopping, and abrasion protection. Or go with Cloudveil's slightly heavier Prospector Pant ($135). For the mist and rain, bring Marmot's lightweight, nylon-coated, and seam-taped PreCip Jacket ($99) and Pant ($69). Protect your hands from sunburn and wind with the lightweight fleece and reinforced palms of The North Face's Pamir WindStopper Glove ($50).



The Well-Outfitted Trekker
Gear

SmartWool Next to Skin Wear base layer (his), Nalgene Go Mug, the Adventure Medical Kits' Savvy Traveler, and The North Face's Nuptse down jacket.

Rite in the Rain notebook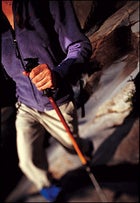 Patagonia's R2 Jacket, Cloudveil Maverick mountain pant, and Black Diamond's collapsible, three-section Ascent trekking poles
Most likely, porters will haul your baggage, but you'll need a comfy daypack to carry on-trail necessities. The Timberland Mountain Athletics Zone ($55) divides 2,700 cubic inches three ways, but for more technical features like water-bottle pockets and front-panel access, try the 2,500-cubic-inch Gregory Fury ($125). Trekking poles are nice for redistributing weight, and the grip-mounted shock absorbers of Black Diamond's collapsible, three-section Ascent ($100) soften the trail even more. Yes, the views are unreal, but don't fry your eyes! Wraparound Smith Pivot Sliders ($99) provide 100 percent UV protection and come with three sets of polycarbonate lenses. If one gets scratched or broken on the rocky terrain, you've got two spare pairs of lightweight, shatterproof glasses. Bring those distant peaks into focus with Brunton's Eterna compact 8×25 binoculars ($259). The rubber armor protects against trail knocks. For capturing the spectacle on film, the new 6.7-ounce Canon Elph LT270 ($230) offers an expanded viewfinder to help squeeze in all those mountains and the option to shoot in panoramic format. Protect your APS memory bank with the crush-resistant AccuCase Camera Case ($22). And for traditional memories, the waterproof paper of Rite in the Rain's notebooks ($3-$12) matches its All-Weather Pen ($7), which writes underwater, upside down, and in deathly temps from minus 50 to 400 degrees Fahrenheit. The ubiquitous dirt, road apples, and cramped kitchens encountered trekking abroad quickly sully hard-to-clean hose-and-bladder hydration systems. Solution: the classic 32-ounce, wide-mouth, puncture-proof Nalgene water bottles ($9), which are are easy to wash and available in fresh new colors like yellow and pink. Plus they screw right onto MSR's small, light, and field-maintainable Water Works II water filter ($130), featuring a ceramic element and carbon core. The insulated, two-in-one Nalgene Go Mug ($18)—good for keeping yak-butter tea piping hot—comes with a pop-out spare cup and an attached carabiner for clip-on convenience. At night, the 600-fill, 15-degree Big Agnes Lost Ranger sleeping bag ($199) will keep you plenty warm, and during the day its light weight (2 pounds, 12 ounces) and compressibility will keep you unencumbered. It also sports an innovative sleeve for slipping in your sleeping pad; no more sliding around and waking up on top of your boots. It holds most sleeping pads, though the 1.5-inch-thick, 20-inch wide, self-inflating Big Agnes REM Pad ($70) is a natural fit. Light your way to the outhouse with the 90-gram Black Diamond Moonlight ($35). On three AAA batteries, it burns an amazing 140 hours. The lemon-flavored oral rehydration salts and diarrhea-relief pills in Adventure Medical Kits' Savvy Traveler ($55) are vital for obvious reasons but so are the sutures, syringes, needles, bandages, and medications. You can turn a visit to a slimy hospital into a sterile, well-stocked experience. You'll even have enough to donate extra supplies to Medicines for Nepal (310-556-0809; www.medicinesfornepalgb.org)—a program whereby trekkers help stock medical outposts along their routes.


The Well-Outfitted Beachgoer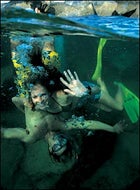 Men's Hawaiian Shorts and Woman's Skirt from Immersion Research, the Flip Snorkel and Fino Mask, and Twin Jen Full Foot fins

Oakley's Big Smoke Sandal, Mountain Hardwear's long-sleeve Canyon Shirt, Sportif's Convertible Pant, the Rip Curl Aerial watch, Ortlieb Big Zip, Patagonia's Puckerware Shirt, and Merrill's Shoreline Stretch water shoes
Whether your locus is marine or riverine, water is the star of the show, and like any celebrity, it makes particular demands. Whether you're bonefishing Bahamian flats, longboarding in Baja, or sailing in Mission Bay, you need airy, quick-dry garb, waterproof paraphernalia, and some cutting-edge toys.


Clothing

Safely crash yacht-club luncheons wearing Sportif's Teton Polo ($48); it has the Republican looks of a classic cotton polo but incorporates 45 percent CoolMax for quick-dryability, while a loose weave lets sea breezes blow through. The organic cotton/polyester blend of Patagonia's Puckerware Shirt ($58) is crinkled for a slightly rumpled look and a cool, loose feel. The Mountain Hardwear long-sleeve, two-ply supplex Canyon Shirt ($82) has more technical cachet—it was designed for canyoneering, when you need sun protection, ventilation, and instant dry-out. Nice touch: uncrackable rubber buttons. The Prana Congo Short ($49) is made from a sensual sueded nylon, has a neoprene waistband (comfy wet or dry), and a big pleated cargo pocket that's zippered and Velcroed for security and mesh-sided for draining. Carabiner grommets on the legs are a cool touch even if you haven't a clue what they're for. Immersion Research's nylon Surf Pants with draining pocket ($62) look like the offspring of board shorts and blue jeans—wear them for long days of sunny wet stuff (rafting, sailing) or as an apres-surf cover. Sportif's almost-dressy Matecumbe Convertible Pant ($70) mates the zip-off leg thing with a built-in CoolMax brief; ergo the rugged, multipocketed, sanded-nylon trousers are also worthy swim trunks. The long-cut Men's Hawaiian Shorts ($55) and Women's Skirt ($44) from Immersion Research utilize a supple microfiber that's amazingly soft, yet immune to sogginess. You wanna touch 'em as well as wear 'em. For women, Tyr's Reversible Tankini ($75) is at once sexy and jocky; the long-cut top and bottom stay put even in Ho'okipa waves. Reversing either half of the Lycra/Antron blend suit gives you four different combos.
Head and Toes

Kavu's Chillba hat ($29): A broad-brimmed, conical foam upper is shaped like those of rice farmers, and it barely touches your noggin, which is coolly swathed in adjustable, wide-open-mesh webbing. Bonus: It floats. Hats are helpless in the face of glare, though. The polarized, blue-mirrored lenses of Costa Del Mar's Fathom sunglasses ($149) eliminate glare and deliver a crisp, better-than-reality view while nonslip temples keep them where you want them. But if you're spending time in the water rather than looking at it, strap on Oakley's Water Jacket ($190)—a great surf or windsurf shade; with its boldly wrapped and vented frame, head strap, lanyard, and polycarbonate lenses, it borders on a goggle. The Teva Spitfire Deck Sandals ($79) combine Teva's most tenacious retention system (buckled straps rather than Velcro; your foot will come off before the sandals do) with grippy soles that won't mark the deck of the yacht you're staring at from behind the marina gate. Or go casual with Gravis's leather Low Tide flip-flops ($40). Oakley's Big Smoke Sandal ($70) is a roomy neoprene-lined slip-in that snugs with one yank of a toggled cord; an ample carbon-rubber outsole, injection-molded EVA midsole, and urethane-padded footbed combine to create outstanding foot support. Merrell's Shoreline Stretch water shoes ($70) aren't quite so supportive—but they're still more so than most ventilated water shoes, and they provide full-foot protection with a neoprene-and-mesh upper.
The Well-Outfitted Beachgoer
Tools and Bags

Teva Spitfire Deck Sandals and Patagonia's Wet/Dry Divider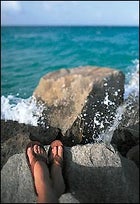 Gravis's leather Low Tide sandal
Tools

I prefer to carry my own snorkeling gear rather than rely on ratty rental stuff that someone else recently slobbered into for an hour or two. This Scubapro outfit is lock for tropical travels: The Flip Snorkel ($42) folds neatly in half for easy packing and quick-clips to the Fino Mask ($68), a low-profile mask whose twin lenses can accommodate a corrective prescription. Add the Twin Jet Full Foot fins ($159)—the split-fin design works like a propeller for easy propulsion. Surf's up! Or is it? Where are those tide tables? Oh, yeah: on my wrist. The Rip Curl Aerial watch with Automatic Tide System ($220) has dials that graphically show the moon phase, tide height, and tide range for any area, on an elegant analog face (dig the metallic red) that's waterproof to a deeper-than-you'll-ever-go 1,000 feet. Record your undersea excursions at less body-crushing depths like 33 feet with the Minolta Vectis Weathermatic ($473), an Advanced Photo System (APS) camera with a sure grip, built-in flash, and short zoom. I've dumb-lucked my way to Norbert Wu-quality shots. Well, almost.


Bags

Whatever needs to stay dry stays dry in the Ortlieb Big Zip ($150), which combines the absolute waterproofness of a drybag with the convenience of an 8,500-cubic-inch duffel by way of a waterproof zipper. For a hands-free goat-path commute down to and back from your secret snorkeling venue, secure your stuff in Patagonia's flipper-size Wet/Dry Divider ($58). Wet stuff stays in the outer mesh pouch, your change of clothes in a waterproof slot, and your precious items in two smaller pouches. Stash your most precious possession (cell phone, of course) in a Voyageur Waterproof Phone/GPS Case ($22), a mini drybag for electronics, with a clear vinyl face. As for your second-most precious possession, toilet paper, the new Ortlieb T-Pack ($40) keeps a roll of TP just the way you like it: bone dry. Paper included.



The Well-Outfitted Adventurer

Osprey's Transporter duffel-to-backpack convertible (on his back), Ex Officio's Double Haul Shorts (his), Nike's ACG Air Trigo (his), Timberland's Trek Compactor 30 (wheeled behind him), and Victorinox Swiss Arm E-Motion 360-Degree Trek Pack Plus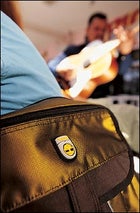 Timberland Comrade II Shoulder Bag

Gravis Checkpoint pack and the A/T Ventilation Shirt
Here's my tripartite schlepping strategy for virtually any adventure journey: Pack one primary duffel, rolling bag, or convertible pack and check it. Pack a daypack with in-flight paraphernalia like books and spillover from the big bag, and wear it. Inside it, or dangling from a shoulder, is my nerve-center bag containing tickets, passport, camera, and notebook.


Luggage

Wheeled bags make packing decisions easy: If you think you need it, bring it. At 7,100 cubic inches, the Gravis Convoy Roller ($299) is a beast of a duffel. The top flap peels away lengthwise to reveal the main compartment without any annoying flaps to hinder the search for your duds. Inside are niches for a toiletry kit and laundry bag (both included), while a separate lower compartment stashes two pairs of hiking boots with room to spare. JanSport's 28-inch Wheeled Footlocker Duffel (6,000 cubic inches, $180) utilizes a new cushy gel-filled shoulder pad and a different two-story configuration; beneath a midfloor is a full-length basement that isolates damp and smelly snorkeling gear from the upper tier, where your linen shirts store nicely. If you prefer one giant compartment, just zip away the divider. Timberland's Trek Compactor 30 (5,600 cubic inches, $200) has an inner structure that lends the bag rigidity when open, yet collapses flat for storage. No surprise that the Victorinox Swiss Army E-Motion 360-Degree 20-inch Trek Pack Plus (4,050 cubic inches, $325) has multiple "blades." It's a roller that converts to a backpack with sculpted, padded waist straps and an internal frame that follows the curve of the spine. Torso length is nonadjustable, but the bag comes in three sizes. Three docking bags—daypack, lumbar pack, and shoulder bag—attach to the mother ship. Osprey's Transporter (5,400 cubic inches, $134) duffel-to-backpack convertible is refreshingly simple. It uses foam-padded sidewalls to envelop one big compartment, and the harness is equally simple—maybe too simple, since it lacks waist-belt padding—but it's easily adjustable for torso length. As for nerve-center bags, opt for one of these three. The Timberland Comrade II Shoulder Bag ($45) is just big (and padded) enough for a point-and-shoot and the usual travel ephemera, and it converts to a lumbar pack. The Gravis Checkpoint ($50) is bigger, and the "peat" color looks pleasingly like fish scales but is urbanized with pouches for cell phone, PDA, and minidisc. Patagonia's Atom ($70) raises the style bar for shoulder bags. It amounts to a teardrop-shaped half-daypack that you sling snugly over one shoulder a la bota bag.
Clothing

Pack a quick-drying synthetic long-sleeve shirt and a pair of convertible trousers that zip down to shorts, and you've got yourself a full travel wardrobe. A good start: The North Face's T-Cargo Pant ($69) and A/T Ventilation Shirt ($79). The soft nylon pant features huge side cargo pockets and a zippered interior pocket that functions as a built-in passport pouch. The stretch-woven shirt has a smidgen of give and breathability, extra ventilation by way of armpit zips and a mesh back yoke, and a pass-for-dress-shirt look. Alternatives: The Sportif Wind Knot Shirt ($62) also has underarm zips and back yoke, with added utility in the form of roomy pleated pockets, roll-up sleeve tabs, and a sun-protective collar. The L.L. Bean Stretch Guide Pant ($125) lacks zip-off leggings, but its Schoeller Dryskin stretch-woven nylon (with CoolMax lining against the skin) is the ultimate travel-pant confection: light, breathable, and quick-drying. Or go with shorts like Ex Officio's peach-fuzz-soft, six-pocketed Double Haul Short ($48). For women, the svelte nylon Nike ACG Girl Convertible Skirt ($60) transfers the zip-off concept to a more feminine form. Whether you go ankle-length modest or short and gammy, you get pockets and a hidden security pouch. In the undergarment department, Ex Officio is reigning king: The ExO Active Tee ($38) is amazingly light and dressy, and the new ExO Give 'n Go Stretch Briefs for men and women ($18, $16) are the quickest-drying undertrou out there.
The Well-Outfitted Adventurer
On Your Feet and Extra Essentials

Sportiff Wind Knot Shirt and Patagonia's Atom shoulder bag

Petzl Zipka Headlamp, Nikon Sportstar III 8×25, Eagle Creek's Pack-It System, and Victorinox Swiss Army Altimeter Knife

On Your Feet

Low-cut hiking shoes with sturdy soles are perfect everyday cloppers. Nike's ACG Air Trigo ($65) has moderate lugs, ample EVA cush, and an athletic feel. Montrail's Ultra II All-Terrain Shoe ($90) doesn't have the fast feel, but its ample volume, airy mesh sides, and long-lasting polyurethane midsole coddle travel-abused dogs. In either case, you need low-volume socks that wick away moisture and pad potential trouble spots.
Dahlgren's Dri-Stride Hiking LV socks ($15) are a perfect fit, with a blend of wool, sensual alpaca, and synthetics that keep feet protected and dry.


Extra Essentials

If you don't pack binoculars, you're sure to regret it. The new Nikon Sportstar III 8×25 ($89) fits in a chest pocket, weighs 10.4 ounces, and delivers screamingly crisp optics, though eyeglass wearers should look elsewhere. Speaking of regrets, most plastic shampoo bottles are guaranteed to leak; the eight various-size containers in the Nalgene Travel Set ($9), available through L.L. Bean, are guaranteed not to. Eagle Creek's Pack-It System 300-cubic-inch 2-Sided Cube ($22), with divider and mesh top and bottom, obviates organizational chaos. You need the blades, you need the corkscrew; might as well know the altitude and temperature, too—a subtle digital readout graces the usual-size Victorinox Swiss Army Altimeter Knife ($97). Headlamps make the handiest travel lights, and the new Petzl Zipka Headlamp ($45, Tecate not included) is the handiest of the genre; the head strap retracts, so it's clean and compact.




The Well-Outfitted Techno Geek

JVC's GR-DVP3 (left), and Panasonic's Toughbook 34

Garmin's eTrek Vista, Magellan MAP 330, and Qualcomm GSP1600 (left to right)

Olympus's D-370 digital camera, and the Palm105 with the Palm Portable Keyboard
Postcards? Sweet, but how 20th-century, especially when you can zap home daily dispatches via e-mail—or better yet, via e-journals, digital pix, and videos you upload to your Web site. Today's selection of on-the-go wizmongery, with neato features like instant global communication capabilities and onscreen editing, allows you to tote a traveling studio and virtual darkroom. All products are PC and Mac compatible, unless otherwise noted.


Stills and Thrills

Capture digital still images by the dozens on tiny reusable memory cards, but be sure to bring several for your camera as Norma's General Store outside Manila probably doesn't sell them. Upon your return, just download the winning pix to your PC or Mac; then pump out glossies from Epson's Stylus Photo 780 ($99). Similarly, the matchbox-miniature MiniDV tape has revolutionized moviemaking, bringing us diminutive digital camcorders that capture up to 90 minutes of Hollywood-quality video and CD-quality sound—or more than 500 snapshot-quality stills—per tape. The 1.3-megapixel resolution of Olympus's D-370 ($249) is perfect for 4×6 prints. But while many digital still cameras poop out after a hundred or so shots, the D-370 will squeeze off up to 5,000 (with minimum use of the flash and LCD monitor) before its four AAs give up the ghost. The easily pocketable Nikon Coolpix 775 ($450) is the best compromise we've seen between size, performance, and price. Its Nikkor 3x zoom lens and 2.1-megapixel resolution deliver 4×6 prints indistinguishable from film. A one-touch button magically uploads pictures (via your USB laptop or an Internet-cafe computer) to your free NikonNet.com Web site. Pro shooters demand 3.3-megapixel performance for no-compromise 8×10 (or larger) prints. But such high-res images can be memory hogs—in some cases requiring an entire $35, 16MB memory card for just one shot. Enter the Sony MVC-CD300 ($1,000). Its built-in CD recorder burns images (over 1,000 of 'em with a low-res setting) on tiny $5 discs that hold 156MB. True, it's a bit bulky—about the size of a brick—but that's a small price for its performance and capacity. With image stabilization, a swing-out LCD monitor, a FireWire port (for editing on your computer), and a sharp 10x optical zoom lens, Canon's ZR20 ($700) digital camcorder delivers the performance needed for your yeti documentary. JVC's GR-DVP3 ($1,700) is gear lust defined. Not only is it the tiniest camcorder on the market—stashing spylike into a pocket at a feathery three-quarters of a pound—it also captures Web site-ready MPEG4 video clips and stores stills on either tape or removable memory cards.


Just Try to Get Lost

Now thanks to Wide Area Augmentation System (WAAS) technology, most receivers are accurate in North America to within a couple of yards (compared to the 30-foot GPS standard of yore); most also have 12-channel reception for finding satellites quickly. The Magellan MAP 330 ($269) is WAAS-equipped, thrashing-tough, and buoyant. Built-in maps display major U.S. roads, parks, and other points of interest. The GeoDiscovery Geode ($289), also WAAS-equipped, turns any Handspring PDA (see below) into a full-fledged GPS. Bonus: GeoDiscovery.com has downloadable maps (free), city guides ($10), and national-park guides ($5); plus it hosts a bustling online community for swapping data files on other cool destinations. You won't find Florence's Ristorante Acqua Al Due on a map. But with Garmin's WAAS-capable eTrex Vista ($349) and MapSource MetroGuide Italy CD-ROM ($100; other guides also available), you can download the restaurant's coordinates from your Windows PC to your Vista, then march precisely to your plate of assaggio di primi. The Vista also has an electronic compass and altimeter: That's amore. Took a wrong turn in the Amazon? Just phone for help with the Qualcomm GSP1600 ($899) combo satellite/cell phone with Globalstar service (plans start at 79 cents per minute). If you'd prefer to e-mail your SOS, the phone doubles as a slow (96 baud) but useful wireless modem for most computers and PDAs.
The Well-Outfitted Techno Geek
Think Globally, Act Locally

Canon's ZR20, Sangean ATS606AP radio, and Handspring's Visor Edge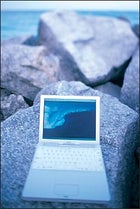 Apple's iBook
Lest you consider them glorified address books, please note that today's Personal Digital Assistants (PDAs)—with a healthy 8MB of memory for itineraries, journal entries, and software—link up with great add-ons like Lonely Planet's CitySync travel guides (starting at $20). Handspring's Visor Edge ($399) and Palm's color m505 ($449) run Palm software and offer sleek metal casings, speedy processors, and rechargeable batteries good for at least 12 hours of uninterrupted use. Both support add-on accessories and modules such as wireless modems and GPS receivers (like the Geode). Palm's m105 ($199) is more affordable and connects to the 7.9-ounce Palm Portable Keyboard ($99). We also dig InnoGear's MiniJam—a Visor-compatible MP3 music-player module. Choose between a 32MB model ($199) or a meaty 96MB unit ($299), which can store roughly 90 minutes of nonstop Dylan. Can't decide between Peter Gabriel and Peter Tosh? Bring them both with the sturdy Walkman-size Archos Jukebox Recorder ($349). The 6GB hard drive holds well over 1,500 tunes; the built-in mike lets it double as a portable audio recorder, and it's compatible with any USB-port-equipped PC or Mac. Apple's 4.9-pound iBook (starting at $1,299) is the bee's knees for laptop geekery. Upload scenes from your digital camcorder via the FireWire port and edit on the road with the bundled iMovie video software. If Windows is your choice and weight your bane, check out Panasonic's 3.8-pound, magnesium-clad Toughbook 34 (starting at $2,699). Dust- and water-resistant, one reportedly survived being run over by a Humvee. Slip in an Orange Micro FireWire PC Card ($99, including video-editing software), and you're ready for mobile moviemaking even in Mongolia. The paperback-size and digitally programmable Sangean ATS606AP ($150) keeps it simple: The world-band radio tunes in AM, FM, longwave and shortwave stations—which were delivering information instantly, anywhere, long before the Internet was a glimmer in some nerd's eye.