Gear Guy
What is a good starter bike for cyclocross?
I nuts about cyclocross. What is a good starter bike for cyclocross? All the Bay Area stores are sold out—no stock! Can you recommend a good shop from which to order one in the Bay Area? Tiger Pacifica, California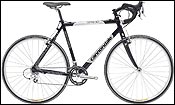 Heading out the door? Read this article on the new Outside+ app available now on iOS devices for members! Download the app.
Seriously, everyone sold out? I suppose that's plausible—cyclocross (a mix of mountain biking/road riding/trail running) is fast growing in popularity. And this is peak cyclo season, so perhaps the shops did run out of stock.

Cyclocross

You can start on cyclocross with just a mountain bike. You likely won't win many races due to a fat-tire rig's weight and relatively poor rolling characteristics. But it'll work. A true 'cross bike is essentially a slightly beefed up road frame (usually aluminum) with front forks and rear triangle adapted for somewhat fat tires (usually 700 x 32 knobbies) and either V-brakes or discs. Cyclo frames actually are exceedingly useful all-around frames—I've used them for "rain bikes" for years because they have room for fenders, good wet-weather braking, and corrosion-resistant frames.
Cannondale makes a fine 'cross bike—called simply the Cannondale Cyclocross—for $1,250 (www.cannondale.com). This has a very stiff frame, plenty of room for knobby tires, and TruVatiV/Shimano components. In time the component mix could use upgrading, but it's a race-ready bike right out of the box. If you have an accurate read on your road-bike size, then you can safely order one online or buy on eBay; typically 'cross bikes are fitted a size smaller than your normal road size (so, if you ride a 56-centimeter bike, buy a 54) and you can make adjustments with stem and seatpost to ensure good fit. The smaller size makes it a little easier to get over the frame when dismounting.
Bianchi makes a good, reasonably priced cyclocross bike as well—the Axis ($1,400; www.bianchiusa.com). This one's got Shimano components, a really nice aluminum frame, and is easily adapted to light touring or general training.
I can't recommend a good shop in the Bay Area, but surely there are many reputable ones (try the Bike Nook in San Fran proper). Any that's a Cannondale or Bianchi dealer should be able to order a bike for you—if they haven't already got one in.
Whether on the highway or the trail, the new spokesmodels of spin will carry you forward in revolutionary style. Read "State of Art" from the April '05 issue of Outside for the year's best bikes.