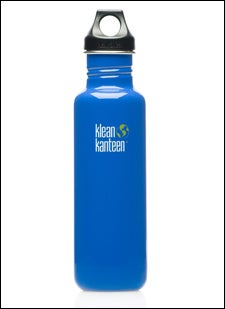 Heading out the door? Read this article on the new Outside+ app available now on iOS devices for members! Download the app.
After news reports revealed that our trusty Nalgenes contained a hormone-disrupting toxin called bisphenol-A, or BPA, drinking out of anything suddenly seemed like a high-risk activity. While sipping from polycarbonate clearly won't kill you, we started wondering where else BPA (or other nasties) might be hiding in our bottles. This is what we found:
Klean Kanteen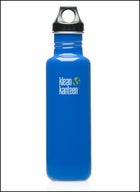 Klean Kanteen
Common Bicycle Bottle

WHAT IT IS:High-density polyethylene (HDPE, recycle code 2) or low-density polyethylene (LDPE, recycle code 4).
UPSIDE: These plastic bottles are BPA-free and safe from chemical leaching.
DOWNSIDE: None. Drink up!
Sigg Bottle

WHAT IT IS: Epoxy-lined aluminum.
UPSIDE: Light and durable, like plastic.
DOWNSIDE: Unclear. The liner inside Sigg bottles may contain BPA, though the company won't confirm or deny it. A similar epoxy liner found in most aluminum cans has been known to leach small amounts of BPA into food, but Sigg says its liner formula is unique and that no BPA was detected during a company-funded study of water stored in its bottles. Still, CEO Steve Wasik says Sigg is "exploring new suppliers" for its liners.
Klean Kanteen
WHAT IT IS: Stainless steel.
UPSIDE: This food-industry-standard steel is basically inert, with no BPA or epoxy liner.
DOWNSIDE: None. Both chromium and nickel are found in stainless steel and are toxic in very high doses, but neither leaches at a higher level than what's allowed in your faucet water.
Common Consumer Water Bottle

WHAT IT IS: Polyethylene terephthalate (PET, recycle code 1).
UPSIDE: There's no BPA in PET.
DOWNSIDE: Think twice about storing PET bottles in your trunk this summer. A recent study found they can leach enough antimony, a toxic metal, to violate EPA safe-drinking limits when stored at high temperatures—38 days at 149 degrees, or just 12 days at 158 degrees.