I've heard about kloofing. What is it and where can I do it?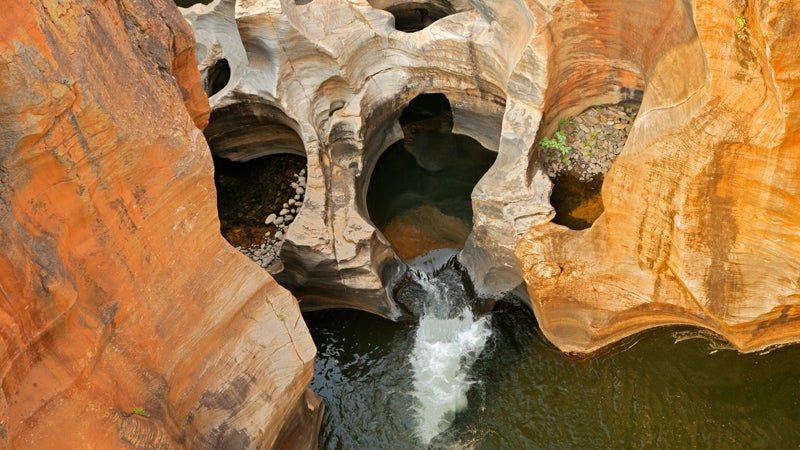 Heading out the door? Read this article on the new Outside+ app available now on iOS devices for members! Download the app.
Kloofing is the South African version of canyoneering. The term comes from the Afrikaans (Middle Dutch) term "kloof," meaning "a steep-sided, wooded ravine or valley."
Thought to have developed in the 1920s, kloofing is the art of following gorges—and the rivers that flow through them—by walking, swimming, floating, jumping, bouldering, climbing, rappelling, or bum sliding.
With that in mind, novice kloofers can tackle the adventure sport in a variety of places, but as with many things, it's best to start at the source. Here are four South African kloofing spots to explore:  
Hottentots Holland Nature Reserve
Located in the Western Cape where kloofing originated, this reserve is home to two bucket-list ravines for kloofers: Suicide Gorge and Riviersonderend Gorge. Suicide Gorge is a 10-mile wet hike that earned its name from several compulsory jumps—some more than 40-feet high—into the typically cola-colored water below. It also features an optional waterfall slide.
Better for beginners, Riviersonderend Gorge is slightly shorter and tamer with jumps reaching only 23-feet high, with scenery similar to Suicide Gorge. Both ravines have several waterfalls en route.
These areas are open for kloofing from November 1 to April 30 due to dangerous flash flooding other times of the year. Outfitter Frixion Adventures offers trips through Suicide Gorge as well as other destinations in the Western Cape.  
Garden Route National Park
Set on the South Cape, this national park is home to the Kaaimans River, where kloofs involve bouldering and rappelling down steep canyons, sometimes through trickling waterfalls. Eden Adventures offers guided trips here.
KwaZulu-Natal
This province boasts the Drakensberg, the highest mountain range in South Africa. In its foothills lies Kong Canyon, a moderately strenuous kloof. Navigating this ravine involves bouldering and rappelling down 16- to 80-foot cliffs. Four Rivers Adventures leads trips here.
Matroosberg Private Nature Reserve
Experienced canyoneers may enjoy a two-day trip into this extreme landscape, which requires a dozen descents by rappelling, often in waterfalls. Such a trip allows kloofs to follow the Groothoek valley from heart to mouth. There's a safety net, however: Two mountaineers accompany every group.
Trending on Outside Online