We've Trained Bears to Love Our Food
Yosemite animals are insatiable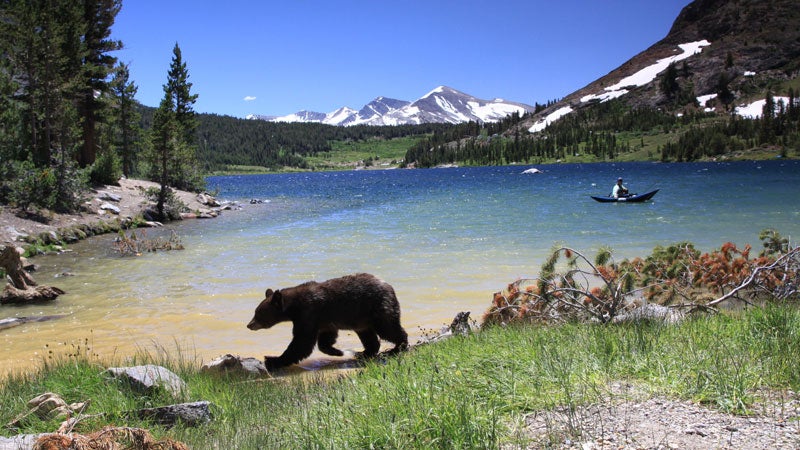 Heading out the door? Read this article on the new Outside+ app available now on iOS devices for members! Download the app.
Next time you have to bear-proof your campsite at night before snuggling into your sleeping bag, don't feel quite so resentful. Bears love human food, but that's because we've trained them to make it a part of their diet, according to new research from the University of California, Santa Cruz.
In the study, to be published in Frontiers in Ecology and the Environment, scientists specifically researched the Yosemite black bear population, analyzing chemical isotopes in hair and bone samples to determine how much human food the animals consumed.
Yosemite has worked to improve the problem. In 1999, the park implemented a strategy to keep human food out of the mouths of bears, which included buying bear-resistant food-storage containers, hiring staff to manage "problem bears," and organizing a team to educate vistors about how to store their food. The study suggests that these initiatives resulted in a more than 60 percent reduction in how much human food Yosemite bears consumed.
Once exposed to human food, however, bears get addicted to it, and because some people will always mistakenly leave their food out, the animals continue to search for it.
Study co-authors Jack Hopkins and Paul Koch analyzed hair and bone samples from Yosemite bears killed between 1915 and 1919 to get a statistical baseline. Back then, bears would sift through garbage, and annoyed visitors would often shoot them. From 1923 to 1971, the park actually opened feeding areas so visitors could watch the bears eat. From 1927 to 1956, Yosemite ran a fish hatchery, which it let bears hunt in for fresh trout. Still, bears sought human food at campgrounds and hotels.
"The remarkable thing is that the bears that eat human food are now back to the same level of Dumpster diving as in 1915, despite the fact that there are now millions of visitors in Yosemite every year and presumably a lot more garbage," said Koch, who is UCSC's dean of physical and biological sciences.
Human food constituted the largest proportion of bear diets from 1975 to 1985, when as much as a third of the food the animals ate came from humans. While Koch said reduction techniques could help ween bears from human food, he adds that the real solution is not conditioning them to eat our cuisine, which has more meat and corn than the animals should consume, in the first place. That's because genetic analysis has proven that even the offspring of bears that eat human food are conditioned to forage for our food in the same ways as their parents.
So, grumble all you want, but make sure to safeguard your food from bears accordingly. If you don't, you're part of the problem.
Lead Photo: Getty Images/iStockphoto