Fittest Real Athletes – Alan Horton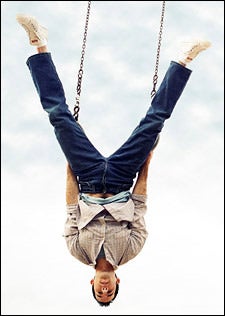 Heading out the door? Read this article on the new Outside+ app available now on iOS devices for members! Download the app.
Alan Horton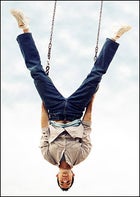 Alan Horton
Work, kids, 99-cent value meals we know how the fitness excuses can pile up. That's why we've assembled our second annual class of Outside's Fittest (Real) Athletes: five wickedly overscheduled Americans who haven't let hectic careers or a lack of sponsorship keep them off the podium. And their secrets are simpler than you think.
Alan Horton
Most top runners are sponsored or have flexible schedules students, waiters, coaches that can be tailored to running. Not Horton. He's a 40-to-50-hour-a-week accountant for a trucking company. A former mid-pack collegiate runner, he got serious about marathon training in 2006 by studying other runners and cramming 100 miles per week into his limited free time. (He was also putting in 15 hours a week after work as a tuition adviser at a nonprofit.) In the 2006 Chicago Marathon, Horton's first, he ran a 2:21:58 fast enough to qualify for the Olympic Trials. In April 2008, he ran Boston in 2:25:14, finishing eighth among all Americans and 25th overall.
"Running has to be everything and nothing at the same time. You've got to have balance. You can't just wake up, stretch, run, take a nap, and run again. You've got to go to work and do your regular routine, and running is at the back of your mind. But it's there. Once you've satisfied your duties, the day is yours. You need to be a stickler for planning, having a calendar, setting small goals. I'd plan my season in Excel, and if I had a conflict I'd know in advance. I'm not talented, but I work hard. I had some potential in college, but I never reached it. It left me hungry. It's about turning something that looks like failure into something that motivates you." KEY TIP: "Stubbornness is not a bad thing. Sometimes you have to miss that social event or activity. But that's why there's downtime. Make the most of it."
Pennsylvania Kid T-shirt ($50) from Glad Rags by Give and Take; Mini Stripe Buttonfront Shirt ($145) from Converse by John Varvatos; 501 Original Jeans ($60) by Levi's; Chuck Taylor All-Star Slip ($95) by Converse
Fittest Real Athletes – David Goggins
David Goggins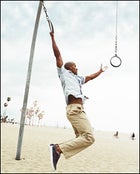 David Goggins
After fellow commandos were killed in action in Afghanistan in 2005, Goggins—a Navy SEAL temporarily working a desk job—decided to pay tribute by setting the hardest goal he could think of: running the 135-mile Badwater Ultramarathon. Though a novice runner, Goggins signed up to raise money for the Warrior Foundation—which pays the school costs of fallen soldiers' children—dropped 50 pounds, and completed the race in 2006, finishing fifth. He returned the next year to place third, beating Dean Karnazes's best time by more than an hour. Goggins has now notched 28 ultramarathons, including a two-day, 203-mile run in 2007. Next fall, before he's redeployed into combat zones, he plans to climb Everest.
"A lot of people choose to have balance, but my time is coming to an end. I have another year before I'm deployed again. I believe that when you're dead, your spirit lives on to think about all the things you didn't accomplish in your life. So I'm trying to accomplish everything. I was 270 pounds, and I said I wanted to run Badwater, so I did. I'd run 10 or 15 miles in the morning, then ride my bike 20 or 30 miles on the way to work. At lunch, I'd run, then I'd ride home after work. I'd do my six-, seven-, eight-hour runs on the weekends. It taught me that you don't have to enjoy things to do them. But what better place to find out what you're made of than when you're 24 hours into a 48-hour race?" KEY TIP: "Stop making excuses. If you want to make something happen, just make it happen."
Polo Shirt ($152) by Trovata; Core Freedom 5 Pocket Pant ($55) by Tommy Hilfiger; Striper Laceless CVO shoes ($60) by Sperry Top-Sider
Fittest Real Athletes – Kathleen Calkins
Kathleen Calkins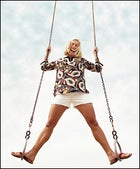 Kathleen Calkins
Calkins is the kind of amateur who can make pros seem oversponsored. At this past October's Ironman World Championship, she won her 30–34-year-old age group—the most competitive amateur category—in 9:55, beating 27 international pros in the process. She schedules her training around a full-time job as a pharmaceutical rep and the demands of juggling life with her husband and three-year-old son.
"I get up early and get at least one workout at 4:30 A.M., before my son is up. When I can, I try to squeeze in swim workouts on my lunch hours or ride my trainer when he's napping. But the biggest thing is that I take my son with me on my runs in a BOB stroller. He loves it, and it motivates me to keep going. Being able to multitask is huge. I don't dilly-dally around. I've heard a lot of excuses, but there are so many options for people to get out and do things, even when you have little kids. If you're willing, there are definitely ways to make it work." KEY TIP: "Commit to an event, whether it's a 5K or a marathon. It doesn't have to be extreme. It's all about having fun, and feeling good about yourself. But you need a plan or it's not going to happen."
Paisley Tunic ($70) by Tommy Hilfiger; Shorts ($132) by Joe's Jeans; Haiku Sandals ($100) by OluKai; bracelets, her own
Fittest Real Athletes – Kyle Daniels
Kyle Daniels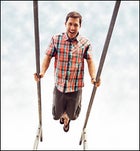 Kyle Daniels
When he's not logging 40 hours a week as an L.A. County lifeguard and another 20 as a real-estate agent, Daniels is winning some of the most respect­ed races in paddleboarding. He claimed last year's U.S. Paddleboard Championships and is the six-time winner of the Catalina Classic paddleboard mara­thon—a 32-mile crossing of the choppy strait between Santa Catalina Island and the California coast. Winning just once is one of the highest accomplishments that can be achieved in the sport. This August, Daniels is eyeing number seven.
"When I'm in the thick of training, I like to start every day with a workout. I get up with the sun and paddle up to two hours or park my car at one end of the beach and ride, run, or paddle to work. I squeeze in another workout during my break, and then I'll bike or run back home or to my car after work. Everything is "How can I turn my day into a workout?" I make my real-estate calls in the evenings and relax with my wife. I could not do it without her support. Family comes first. There are a lot of good athletes; the difference is those who are willing to give up other things. I average six hours of sleep a night. When the alarm wakes you up at 5 A.M., you've got to decide: Do you love it? There are days when I forget to eat or don't eat dinner until 10 P.M., but I have yet to have a bad day in the ocean." KEY TIP: "Make your car your base camp. I keep a paddleboard, running shoes, and something to swim in inside my car at all times. That way I never have an excuse to miss a workout."
Strike Everywhere Eco-Friendly Woven Shirt ($50) by Quiksilver; Commando Shorts ($45) by Hurley; 'Ohana Leather Sandals ($85) by OluKai
Fittest Real Athletes – Kimo Seymour
Kimo Seymour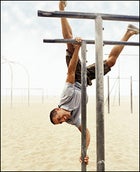 Kimo Seymour
You could say the field at the Leadville Trail 100 mountain-bike race is pretty strong. Last year, Lance Armstrong finished second. Kimo Seymour finished tenth. That's not bad for a married guy with two kids and a 40-hour-a-week job managing an investment pool and an event-promotion company. Seymour won the first two 24-hour mountain-bike races he entered—the 2007 and 2008 editions of Tucson's 24 Hours in the Old Pueblo, the country's largest—and has completed nine Ironmans, including five at Kona. He has no coach and no major sponsors, just a willingness to make the most of what little free time he's got.
"I try to keep the evenings sacred—and all day Saturday. That's the time I like to be home with the kids or at soccer or baseball. But I do get out in the mornings for long rides or runs. I block out Thursday and Sunday mornings for myself. I'm going to miss the kids those mornings, and I'm not scheduling any meetings. There's always a focus on quality; I can't afford to have any junk rides. Whether it's recovery, high-intensity intervals, long power workouts—I always have something in mind when I go out the door. Having a community is important. It's tough to go out there five or six days a week all by yourself. And you have to have a little spiritual balance. You have to give up some control. As hard as I might focus, push, and train to achieve a goal, whatever is going to happen is going to happen. I've managed to find that peace. It makes it all a little easier for me." KEY TIP: "Make sure your goals are actually achievable. Don't set a goal so high you destroy your life to attain it. Set goals you can achieve with balance."
Polo Shirt ($85) by Aether; Walker Plaid Cargo Short ($92) by Jeremiah; Bahama 2-Eye ($60) by Sperry Top-Sider