The 10 Best Adventure Headphones
In case you hadn't heard, headphone technology has gotten much better—and more specialized—since the advent of the mp3 player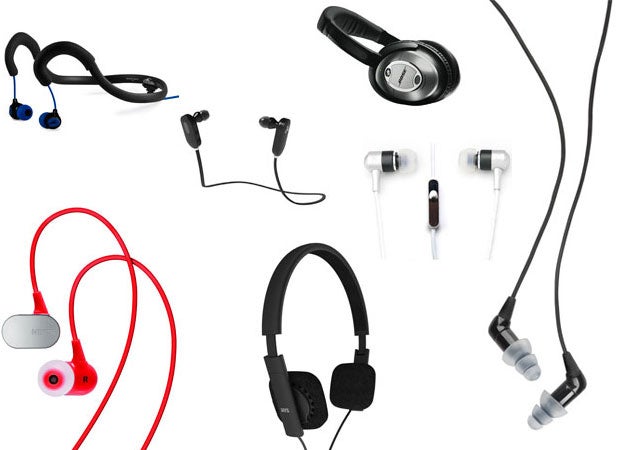 Heading out the door? Read this article on the new Outside+ app available now on iOS devices for members! Download the app.
I live half the time in Tucson, Arizona—where I run on saguaro-studded trails and cycle on endless highways—and half the time in Manhattan, where I travel by subway and work in coffee shops. Which means music is often an inspiration or a needed distraction from the noise of the world, and most of the time it's both. As I write this, for example, I'm in a Starbucks, successfully avoiding their latest, cloyingest mix, and instead listening to the soaring guitars of Scotland's We Were Promised Jetpacks, who sound way better than 25-year-old kids have any right to.
Maybe I lose something when I choose Blue Öyster Cult over the sound of quail in the underbrush, or when I stay inside my audio cave while riding the 1 train in New York. But everyone else on the subway is doing it, and as much as I try to convince myself that those people are listening to Tolstoy novels or teaching themselves Chinese, the truth is probably much scarier. At any rate, it's their own business: if they want to rock the Glee soundtrack, they have the right, which makes the private listening experience one of the greatest protectors of democracy we have.
If you've slept through the past ten years, you might have missed that there's a vast and varied world of specialized headphones and earbuds and in-ear monitors and Bluetooth devices that will make your experience more enjoyable—and make your investment last. Because whether you're trying to psych yourself up on your Monday morning commute or facing the final uphill of your morning workout, the quail aren't going to help you—but a good sonic kick in the butt just might.
Best for Running
Bowers & Wilkins C5s are the best-sounding earbuds we've ever run in—just don't sweat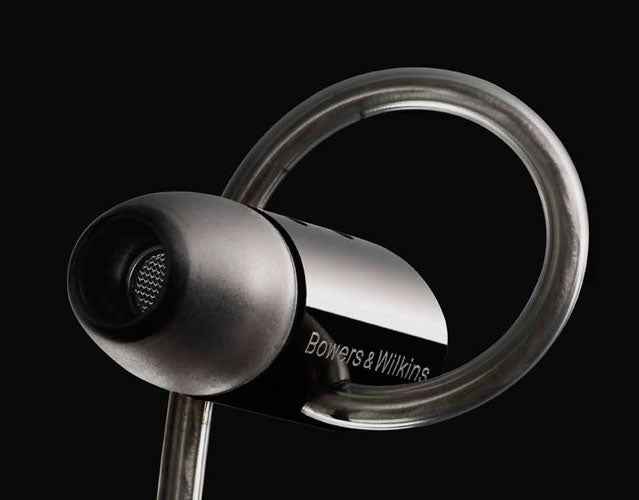 Bowers & Wilkins C5 earbuds are the best for running in a limited sense: you won't find better acoustics in a small package, but they're worthwhile only if you're good at taking care of your property and don't sweat much—they're a bit fragile and not waterproof. If you're hard on headphones and don't mind medium-quality sound, you might go with a more replaceable pair, like Skullcandy's Fix ($40) or twist-locking, water-resistant Yurbuds (from $30). Still, I hate it when earbuds slip out when I'm on the trail, and B&W's Secure Loop keeps the C5 in place on runs better than any headphone I've tested. The semi-rigid cord that comes out the top bends into a small, adjustable loop that wedges the earphone perfectly under the inner cartilage of your ear; that also keeps them from colliding with your sunglasses the way over-the-ear clips do. Additionally, they're weighted with tungsten on the side closer to your noggin, further securing them in place. But there's just no getting around Bowers & Wilkins' sound quality—and yes, they sound that good. Just remember to pop them out and put them back in their case when you finish your run.
Price $180
Best for Skiing
Ski earbuds should be cheap, durable, and easy to adjust with gloves on. Just pay attention to where you're going.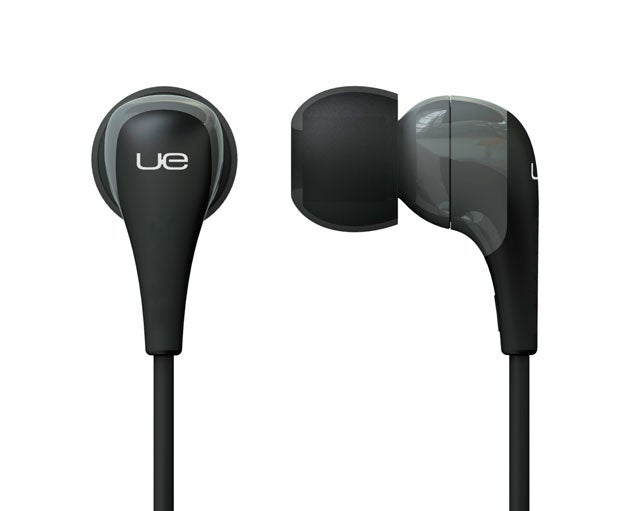 Only good skiers should listen to tunes, which rules me out. So I polled my skier friends, who say that, with the cord tucked inside your coat and the earbuds tucked under your headwear, a secure fit is less important than durability and the ability to control volume with gloves on. And given the abuse headphones will endure on the mountain—snow, sweat, and cold—investing a lot of money probably isn't the way to go. For above-average sound in a cheap, waterproof package, Logitech's Ultimate Ears 200 Noise-Isolating Headset is hard to beat. It has an inline volume control and mic, letting you answer important calls, like buddies summoning you to the lodge for lunch. Noise isolation is a mixed bag, however: you'll get better sound quality at a lower volume, but you're less likely to hear someone coming up behind you. If that makes you nervous, the standard earbuds that come with iPods and iPhones will do.
Price: $40
Best for Audiophiles
Why block outside noise when you can make it stop existing?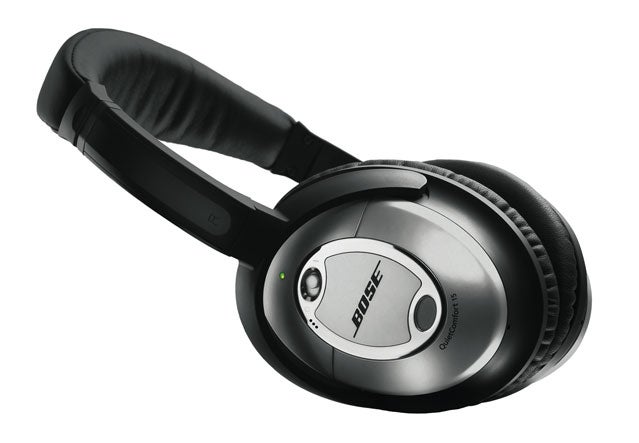 A lot of brands these days are touting their noise-isolating technologies, which in most cases is a "passive" form of blocking noise—that is, headphones with lots of insulation, or in-ear phones that create a seal, like earplugs, and voilà: less external noise. Bose is one of the only companies to use active noise cancellation, which detects incoming noise and emits an inverse signal to literally cancel it out. (Both types of technology allow you to listen at lower volumes, which is better for the health of your ears.) If you've ever worn Bose's now legendary QuietComfort headphones on a plane, you'll immediately hear the difference. The high-pitched drones of jet engines and crying babies fall away, letting you enjoy a quiet podcast or violin concerto as if you were lying in bed. That said, $300 (plus two AAA batteries) is a lot to drop on something you can accidentally leave behind in the seat pocket—so don't leave them behind in the seat pocket. (Do I sound angry at myself?) Still, bring these on an overnight flight to Europe (just turn them on and play silence) and you'll remember why God made headphones.
Price $300
Best for Action Sports
There are headphones, and then there are headphones built from Kevlar and steel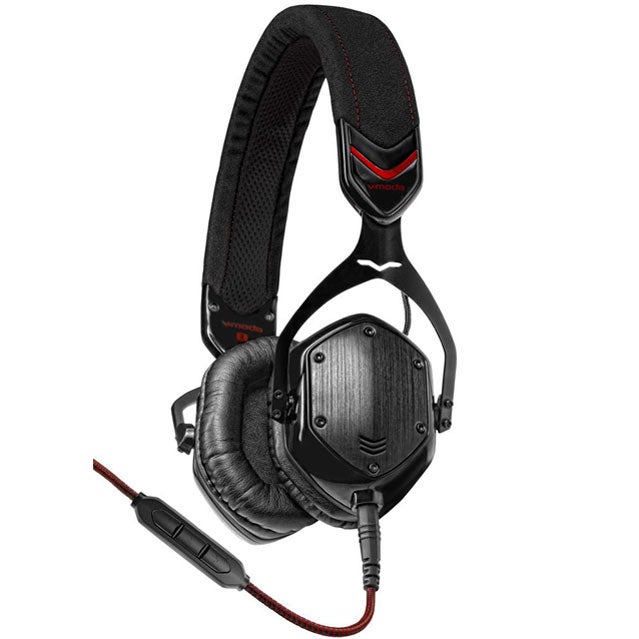 Headphones from Beats by Dr. Dre and Skullcandy are popular, but in the event of a wipeout, V-Moda's Crossfade M-80 are what you'll want. Built to military specifications from Kevlar and steel, these are likely the toughest headphones in the world: they're rated for extreme high and low temps, can absorb multiple drops from six feet and up, and won't yield to yanking and bending. Acoustically, they'll also surpass most other models, with rich, symphonic sound and enough bass to satisfy hip-hop lovers. And for $25, you can customize the outer "shields" with your own art. If you expect lots of falls, protect your player or phone, too, with an OtterBox case (from $20).
Price: $229
Best for Kids
Let your kid listen to music—without going deaf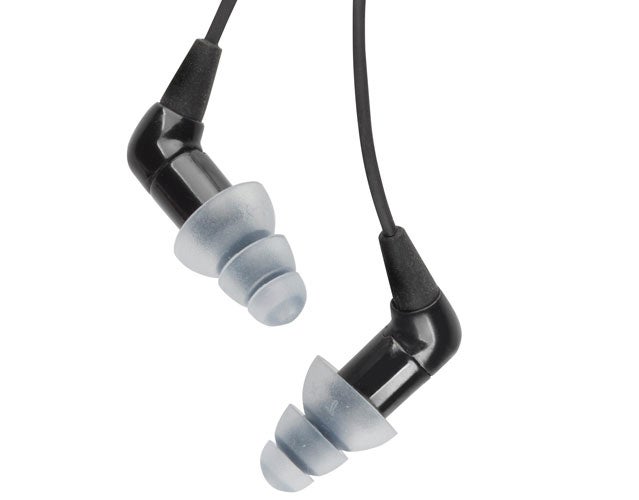 A 2010 study by the American Medical Association found that the number of teens suffering from hearing loss has risen by a third since 1995. Chances are good that portable music players are at least partly to blame, which is why earphone maker Etymotic Research has come out with a kid-specific in-ear monitor. The ETY-Kids 5 creates a seal in small ears for noise isolation, allowing them to listen at lower volumes, and, failing that, comes with a lower maximum output that limits damage even if they try to crank the volume. Good luck modifying listening behavior in teens, but if you get to them when they're young you might make a difference.
Price: $49
Best for Travel
Scosche's IEM856 In-Ear Monitors deliver high-end sound quality and won't break when you stuff them into your suitcase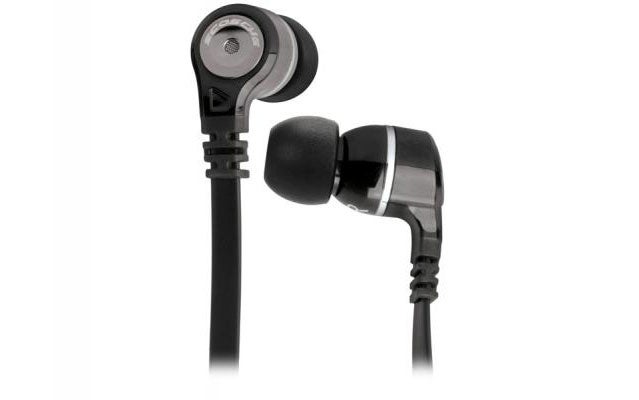 Scosche's IEM856 In-Ear Monitors give a rich, deep-sounding quality, travel well, and have become one of my go-to headphone choices this year. Credit the sound quality to the same kind of dynamic driver/balanced armature combination found in many high-end headphones, which gives you booming bass, crisp highs, and everything in between. The IEM865s are built tough to stand up to lots of jamming into and out of pockets and carry-ons, and the thick, linguine-shaped cord, which resists tangling and is as strong as any cable here, has a great oversize volume control. (The same flat cord can be found on a-Jays Four earphones from Jays, which go for $70.) Admittedly, they're not cheap, but you can find them online for a fraction of the sticker price.
Price $250
Best for Getting Wet
When you're underwater, sound quality isn't a big concern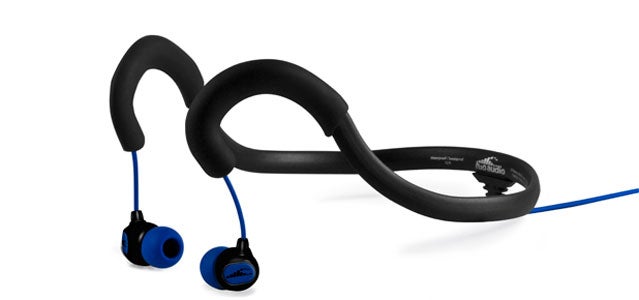 I was initially skeptical about H2O Audio's Surge Sportwrap 2G Waterproof Headphones, since anything that can be immersed in water "for an unlimited amount of time" must sacrifice something in the sound department. And these do, but as I swam laps in them, with some good music taking my mind off the arm-slapping monotony, I was forced to admit that the sound quality was perfectly acceptable, especially for $50. And it turns out that they are designed for much more vigorous use, like surfing or paddling, when you might get your head stuck in the spin cycle. I didn't love the sport band—its cord protrudes at the base of the neck and pressed into my skin when I looked upward—but it did remind me that the headphones were still connected to my noggin. I also liked the coiled cable, an idea that shouldn't have taken this long to come to sport headphones, given that we had one on our home phone in 1970. Pair these with one of the company's Amphibx waterproof armbands ($50–$60) for your iPod and you're good to go.
Price: $50
Best for Women
Because ears come in different sizes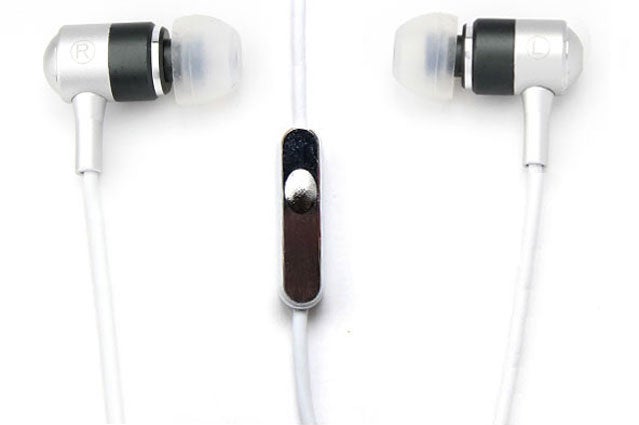 Nixon Micro-Blaster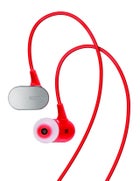 Nixon Micro-Blaster
All of the models I've reviewed, of course, are gender neutral, but Subjekt, recognizing that women's ears aren't as big as men's, built their HerPhones to be 40 percent smaller than average earphones. My high-school-aged daughter wears them regularly, and while she's a little uncertain about their ability to withstand teenage wear and tear, they pump out Strokes tracks reliably enough to make her swoon. And at $25 a pair, they get my vote. Another solid option is the Micro-Blaster ($100), an in-ear monitor from Nixon that has a similarly small profile, emits plenty of bass, and sounds nearly as good as headphones twice the price.
Best for Cycling
Wireless headphones, for when adjusting cords is both inconvenient and unsafe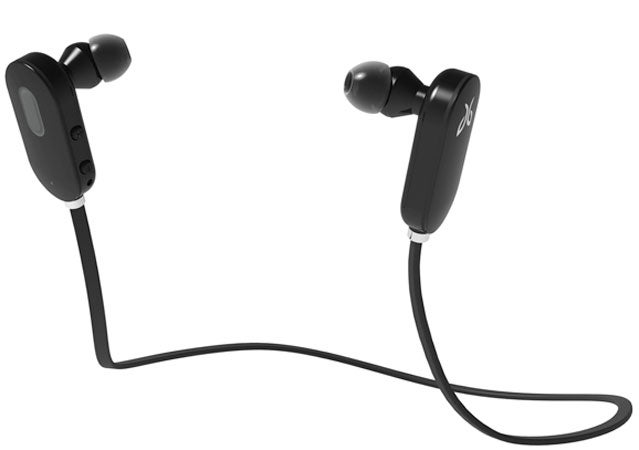 I'm not a huge fan of listening to music while I ride, but when I do, on lonesome stretches of road or trail, I use JayBird Gear's Bluetooth-equipped Freedom earbuds. They stay in place, and, because they're wireless, I never have to stop to make adjustments (or, worse, and adjust on the fly). They're also a good pick for runners, though jostling can make the connection choppy when the batteries near their six-hour limit. As with all Bluetooth-enabled headphones, the sound quality isn't top-notch, but if you get the fit right (there are multiple tip sizes, and wetting them helps), they'll bring out enough bass to keep most listeners happy. Volume controlls are on the right earpiece, and I've found that a pair of Slipstreamz ($25), which are a bit like spoilers for your ears, reduce wind noise and let you hear approaching cars.
Price: $99
Best Overall
A 2-ounce pair of headphones that travel well and sound better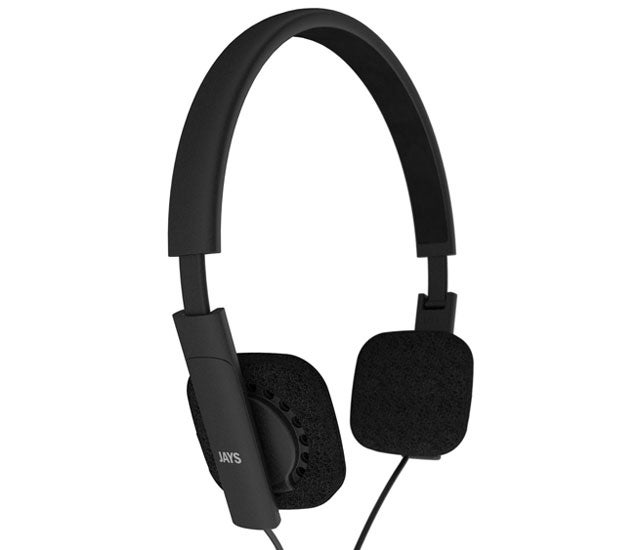 I've owned my soft, foamy Jays' v-Jays headphones longer than any other earbud or headphone in this test, and I reach for them first for a very elementary reason: They sound perfect. Plus, at only two ounces, they're travel-friendly and collapse into a shape you can fit in your coat pocket. I've even taken them running: the old-time foam pads sit comfortably on your ears and stay in place even when you sweat. But it's their booming bass and clarion highs that really get me, blending to create a full, fluid sound. The only drawback: the swivel balls that make them flexible are prone to breaking off if you stuff them into one too many messenger bags.
Price: $90