Fifty Years Later
An interview with Thomas Hornbein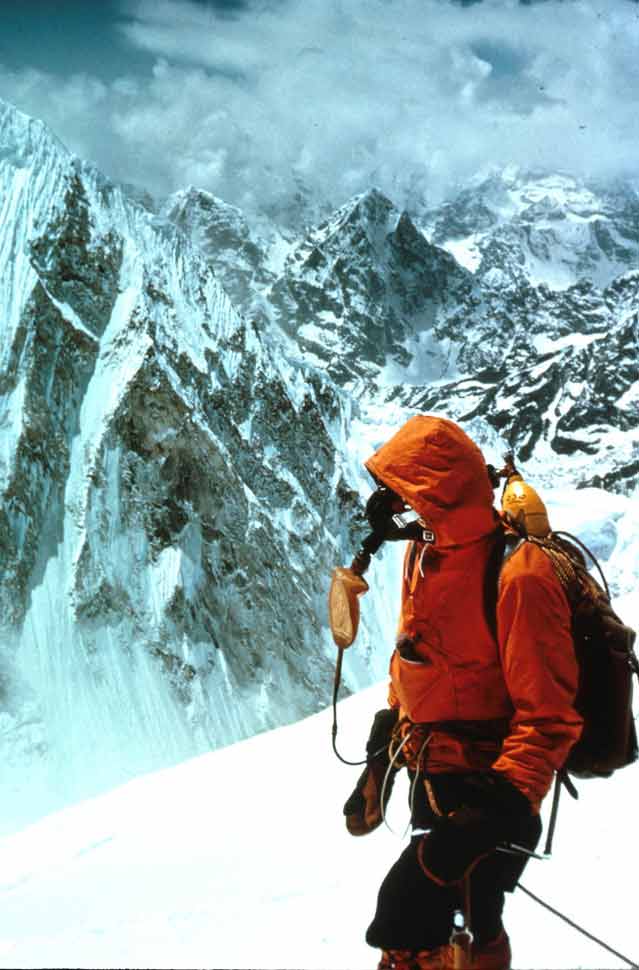 Heading out the door? Read this article on the new Outside+ app available now on iOS devices for members! Download the app.
On May 22, 1963, three weeks after Jim Whittaker and Nawang Gombu became the first Americans to summit Everest, Tom Hornbein and Willi Unsoeld climbed in alpine style what was then the hardest route on the mountain, the West Ridge. A half century later, the ascent is still hailed as one of the greatest achievements in American mountaineering. Grayson Schaffer spoke with Hornbein, now 81 and living in Estes Park, Colorado, ahead of this year's commemorative West Ridge climbs. 
Schaffer: When was the last time you were in the Khumbu?
Hornbein: Nineteen-sixty-three. I'm not planning on going back, nor was I at the time. It was a once-in-a-lifetime event. Life goes forward. 
What makes the West Ridge so difficult?
When we went up there we didn't have any idea what we were getting into. We had one Indian Air Force photo—they flew over Everest right after it had been climbed in 1953. That photograph inspired our choice of the [west ridge] route. We knew were going to be just an offshoot of the main expedition. We wanted to get high as fast as we could, and we could see this little gully [the Hornbein Couloir] of snow going up through the north face. It was well into China—which was not legal territory at that time—but there was nobody there. 
Was that typical of expeditions of that era—to have a second group attempt a different route up the same mountain?
It was totally atypical. But we had a lot of people, and a small subset of us thought it would be fun to try something that was a bit more unknown. There were five of us that were pretty passionate—Willi Unsoeld, myself, Barry Corbet, Jake Breitenbach (who died in the Khumbu Ice Fall on the second day) and Dick Emersen. (Dick and Willi and I had been on Masherbrum—25,659 feet—in 1960.
And the climb itself?
We were very lucky. There was a windstorm. Willi and I went up the night of the windstorm. After that storm, the mountain had really been scoured. The snow in the gully was in ideal condition. There were a lot of things like that that made the story come out right. 
Why has the route been climbed so few times since 1963?
There have been close to 60 attempts on that couloir, and I think it has been climbed a half a dozen times. A few of them have been on the West Ridge direct—according to Elizabeth Hawley's Himalayan Database. It looks like there have been at least as many deaths as there have been summiters. That doesn't mean the mortality rate is 50 percent, it's just your odds of success over your odds of getting killed. Relative to the main route, it's a small dataset. 
What are the main dangers of the route?
Well I was only there once for a small window of time. I have a very small sample size. Wind would be one. There also have been teams that turned around in the couloir because it was so icy. And avalanche danger can be high as well. Weather is a ubiquitous issue high on Everest. Then there's the technical difficulty, which I can't really evaluate compared with modern technique and equipment. It would be interesting to get some input from the guys trying it this year after they've been up that step at the end of the couloir. I mean Conrad [Anker] has knocked around the mountain enough that he'll be able to put it into a context. Back then we were climbing with nylon Goldline tied around our waists and old-fashioned crampons. 
To get over that step, did you guys free climb it without any protection?
The rock wasn't very good and I remember getting one angle [piton] down into the rock that I couldn't pull out with my fingers. But there wasn't much protection. We were climbing, you know. 
Why do you think there's so much interest in this route this year ahead of the 50th anniversary of your climb?
Any climber is always looking for a way to support an expedition, and our 50th coming up next year is a great opportunity to do that. I also think it's a good way to honor the memory of that climb. 
Any messages to send along to the climbers trying the west ridge this year?
I wish them all well. Most of them in these two expeditions are friends and wonderful people and strong climbers. I just hope they don't trip over each other up there. 
To commemorate the 50th anniversary of the first American ascent of Everest and its then-unclimbed West Ridge, Eddie Bauer has sent a team of seven mountaineers to repeat the historic climbs. Outside Magazine senior editor Grayson Schaffer is currently embedded with the team at Base Camp, sending back daily dispatches, including stories, photos, and videos. A team sponsored by The North Face and National Geographic is also planning on ascending the notoriously treacherous West Ridge, a route nearly as many climbers have died on as have summitted. Schaffer will be covering both attempts, as well as everything else that happens at Base Camp, until early June.