How to Get Up and Go
One thing you shouldn't leave behind with your foolhardy youth: the great American dirtbag road trip. Mark Jenkins explains how to do it right.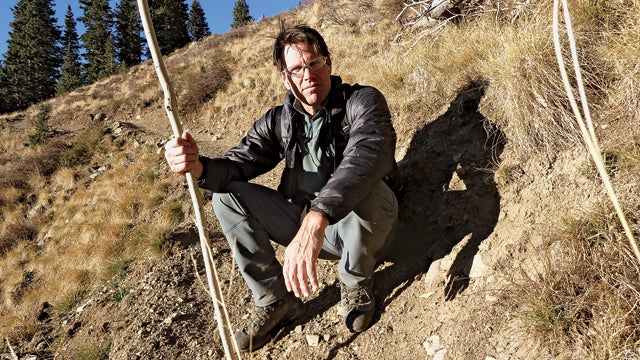 Heading out the door? Read this article on the new Outside+ app available now on iOS devices for members! Download the app.
WE LIT OUT in a spring snowstorm, flakes fat as butterflies spattering the windshield, the highway hissing with slush. By sundown we were galloping into Utah, our tracks back in Wyoming vanished under white. We hooked off I-70 at the ghost town of Cisco and curled down to the Colorado River, silver under the starlight. Hooting with glee, we dropped the windows and let the warm evening air wash over us.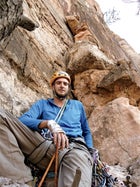 Caleb Own in Zion National Park, Utah.
Two nights earlier, I'd been sharing a pitcher of beer in a Laramie pub with Caleb Owen, an itinerant climber and a college student at the University of Wyoming, both of us dreaming about an old-fashioned rock-climbing road trip.
"Like, just up and leave," said Caleb, his hair a greasy mess, his tall, rangy body too long for the barstool. At 24, Caleb was half my age and twice my height, or almost. We'd met in a wilderness first-responder course, the only two serious climbers.
"Not finishing every last thing," I said. "Not explaining. Not preparing. Just going."
"Adios to all this country!" roared Caleb, flapping his arms like a raptor lifting into the sky.
I couldn't remember the last time I'd just dropped everything and hit the road. Back when I was Caleb's age, spontaneous adventure was the norm. I once hitchhiked from Laramie to Tempe, Arizona, just to see a girl who didn't want to see me. When I finally got the hint, I caught a lift to Las Vegas and then thumbed it to Yosemite, where I worked out my frustrations on white walls of granite. I bicycled across the U.S. with a one-pound down bag and $100, no helmet. I bought a ticket to Nairobi, planning to climb Kilimanjaro and Mount Kenya, and didn't come back for a year.
Over time, I'd turned my play into my work. Yes, I was still doing adventures, more than ever, but now they were well-planned, well-executed, well-documented missions.
Over breakfast the next morning, I was lamely complaining about this to my wife, Sue, when she interrupted: "Then go. Who's stopping you?"
I started mumbling about conference calls and impending deadlines and…
"Yeah, yeah. Call Caleb and tell him you'll pick him up at daybreak tomorrow." She'd never even met the kid. Her only demand was that I do it right: no calls, no e-mail, no work.
When your wife gives you carte blanche, don't speak, don't feel guilty, just go. I dumped my climbing gear into four plastic milk crates and loaded them into the battle van (a dented Toyota, odo reading 256,789). Caleb moved everything from his fridge into a cooler. Sue made us a chocolate cake, a pan of corn bread, and a huge pot of chickpea-and-sausage soup. At dawn we filled up the gas tank and fled.
SIX HOURS LATER, Caleb and I were on the white sandstone hills outside Grand Junction, Colorado, shirts off, our rubber-clad feet re-remembering how wonderfully sticky sandstone can be compared with snow-slick granite. We had not planned to stop here. We'd never even heard of the place. We'd seen the smooth walls from the highway and just pulled over.
Several hours after that, we were cruising along the wide ribbon of the Colorado, palisades of stone blacking out the night sky. In southeastern Utah, we randomly turned up into Castle Valley and pulled off at a sign that read PRIMITIVE CLIMBERS CAMPSITE.
"That's certainly us," Caleb said.
I set up my crusty green Coleman on a boulder and warmed the soup. We ate corn bread while staring up at crumbs of stars. Sometime after midnight, we threw out our bags and crashed in the dirt.
With no wife, kids, or career, Caleb is in the heart of his dirtbag years. A sharp-eyed, thin-bearded river guide from Maine, he was only one semester away from a degree in journalism, but he was taking yet another semester off because he couldn't bear the claustrophobia of a classroom after spending the previous summer at Devils Tower, working as a sawyer. For three months he'd lived outside, running a chainsaw one day and climbing the next. His face was darkly tanned, his hands strong as claws.
Caleb was a classic climbing bum. His down coat was patched with duct tape, and his threadbare pants—$2 from a thrift store—didn't survive our first ascent. He drove his grandmother's station wagon, lived in a dilapidated brick building, and knew where to find the best dumpsters in town. He'd recently scored a 50-pound box of bacon.
That first morning of freedom, after driving for ten hours, we decided to continue our adventure with an ascent of Castleton Tower, an iconic obelisk of red sandstone poking into the blue Utah sky. To climbers, Castleton is like the Statue of Liberty, a calcite-cloaked beauty standing over an ocean of desert, welcoming the wayward. It was first climbed by Layton Kor and Huntley Ingalls in 1961, two renowned forebears of the dirtbag lifestyle.
We practically sprinted up the cone of red dirt to the base. I would have been happy to do the classic route, the Kor-Ingalls, but Caleb was hot for the North Face. Since he has the wingspan of a condor, he led the first pitch, the crux. I, being short and broad, led the scary and more physical pitches above. On top, we sat in the sun and ate sandwiches. Rapping off, we hid our gear under an overhang along the ridge and stumbled back to camp. Hot homemade food, sloshy cooler-cold beer, and a warm bag under the shooting stars completed a perfect day.
OVER TIME, IT'S EASY to put yourself inside an invisible prison. The bars are made of money, expectations, obligations, and habit. If you're not careful, years on you'll have unwittingly convinced yourself that you absolutely must get up and go to work. That's a sucker's life. And while you can't run away from obligations forever, you can certainly take a break, whatever your age. They'll all still be there tomorrow, or next week, or next month.
The dirtbag road trip is just the thing: an existential jailbreak, an escape from domestic appurtenances. Unlike other kinds of road trips—staying in hotels, campers, etc.—the dirtbag version is all about going cheap, even if that means bending the law a little. The goal is to live off the land, to make a partial return to the hunter-gatherer life we all had thousands of years ago.
Paradoxically, the dirtbag road trip has goals. Extreme goals. Physical and psychological goals. To kayak a wet-your-pants creek or surf a giant, no-mistakes-or-you-die wave. Ours was to climb in the sun every day until we couldn't lift our arms. To scale the hard, steep walls of our fears, to eat lunch atop steeples of stone, to let the grit of the rock get into our sandwiches and our guts.
Coming into camp on the second afternoon, after sending another southern Utah favorite called the Rectory, Caleb was alarmed to discover that we were practically out of beer. We had no choice but to drive into Moab. While there, we realized we needed our own picnic table: a platform upon which to set the Coleman and build our enormous sandwiches. Luckily, it was almost dark. We found just what we were looking for at a construction site—a nice new sheet of plywood—and swiped it.
We drove straight into the night, west by southwest. We listened to Robert Earl Keen and John Prine and Lyle Lovett. We played "Fat Babies" over and over. This is how you get your groove on a road trip. You listen until you know every line by heart and then sing it together. What you don't do is listen to fascist talk radio. Or NPR. Not another word about what's happening in D.C. or the Congo. Your music, your voice, nothing else.
We bivied in the sagebrush. The next morning, we ate pancakes and sausage in the town of Panguitch. A 1970s diner, Formica countertops and chrome stools, eerily empty except for us. When the waitress walked away, Caleb whispered, "She's a zombie, I swear."
There was something strange about her, and she was the first of a series of humanoid-seeming waitresses who told us lies. She said the tourist season was over and we wouldn't see another person in Zion National Park, our next stop.
We got there that afternoon and found wall-to-wall tourists, the campground crowded with every kind of camper known to man, but not one tent.
In Zion, instead of climbing something long and legendary like we should have, we put up our own new route. Three unprotected pitches, a crack wide enough to shove a goat in. We couldn't believe nobody had spied this classic. We named it Get Dirty with Me and don't imagine it will ever be climbed again.
We came off so grimy that we actually needed a shower. Fortunately, in Springdale, we had our choice of schmancy hotels. We found one with an enormous outdoor pool, wriggled our trunks on in the van, caught the gate as a paying customer was exiting, and walked in. There was even a stack of folded towels. Nice of them. We each slung a big towel around our necks, careful to face away from the security cameras.
"I say we put in a few laps to clean off," Caleb suggested. Which we did. Then we slipped into a hot-tub pool to soak our sore muscles. We stayed there until we were as pink as lobsters. Stepping woozily to our feet, we combed our hair back like James Dean, strolled out the gate, and drove four hours to Las Vegas.
Where it was pouring. We had hoped to put up a new multipitch route in Red Rocks, the 2,000-foot set of walls just outside the city, but faced with soaked, crumbly sandstone we decided that was a no-go.
Instead we found ourselves cruising the tacky, luminescent Strip. Fat people were walking beneath zippering lights, and the neon silicone showgirls were reflected in asphalt puddles. "There's nothing for me here," Caleb said disgustedly. We left as quickly as we arrived, steering north toward the holy grail of granite: Yosemite.
THIS YEAR MARKS the 110th anniversary of the first American road trip. In 1903, Horatio Nelson Jackson and Sewall K. Crocker, along with a goggle-eyed bulldog named Bud, drove from San Francisco to New York City in 63.5 days. They roughly followed the Oregon Trail backward and used 800 gallons of gas.
It wasn't until 1938, 35 years later, that Route 66 became the first paved, coast-to-coast highway, though by then road trips were already a mythic rite of passage. Cars were uncomfortable and untrustworthy, flats frequent, and highways knee-deep in mud, but Americans couldn't get enough of the open road. By 1950, 32 million people were driving to national parks, Yosemite to Yellowstone, the Great Smokies to the Grand Canyon. Kerouac's On the Road, the Beat bible of libertine freedom and flight, came out in 1957. Steinbeck's vernacular Travels with Charley followed five years later, devil-be-damned Easy Rider in 1969, Zen and the Art of Motorcycle Maintenance in 1974, and Blue Highways in 1982.
The road trip is the cure for monotony, the answer to all the questions you should be asking yourself. Why am I doing this? Why am I living here? Why am I still with this jerk? Why haven't I hit the highway, blaring the horn and giving the finger to the rearview mirror? It's not merely your right but your duty as a citizen of this manifold, confused, labyrinthine, hypertrophic nation to slip your head from the noose of mediocrity and escape like a fugitive into the hinter-land.
During our drive to California, it rained all night, all across the Southwest. At dawn we had pancakes in Indian Springs, Nevada, then drove north on Highway 95, whizzing through clear blue puddles. Past the old Nevada Test Site and the even larger Nevada Test and Training Range.
"Contamination everywhere," said Caleb. "Explains all the zombies."
Across Sarcobatus Flat, left on 266, driving directly toward the snow-coated White Mountains. Because of the storm, all the rocks in a 500-mile radius were dripping wet, so I extemporized.
"What do you say we climb the highest peak in Nevada?"
"Doesn't get more obscure than that," said Caleb, genuinely uninterested.
"Boundary Peak, 13,147 feet."
"Uh-huh."
"It's on our way. When will we ever be this close again?"
"Who cares?"
But it was my shift in the driver's seat. We crawled up an old mining road, following it almost to the end, and set up base camp at around 8,500 feet. We erected our plywood kitchen table, built a fire in the snow, and roasted hot dogs.
"OK, this is living," Caleb finally admitted, sipping a beer.
At daybreak we set out to hike Boundary Peak, stalking through the willows, crossing into the Boundary Peak Wilderness, scattering hunky mule deer. Soon enough we were postholing, and I understood Caleb's initial reluctance: His boots were peeling apart. But he wouldn't turn around. On the summit, we read the register in the ammo box, then glissaded a thousand feet down to camp.
We were so close we were starting to smell Yosemite. That night we drove to McMurry's in Bishop. It had a barroom shuffleboard table, and we played against a couple of girls who were clearly watching the door for someone else. Either that or we were just a little too pungent.
I remedied the situation in Lee Vining with a stealth shower. To score one, you should be at the hotel you've targeted by 9 A.M.; this is when people are checking out and maids are cleaning rooms. Take your gym bag and skip purposefully up the concrete stairs. Walk past the rooms briskly, as if yours is down a ways, while discreetly eyeing each door. Without fail, the maid or someone just exiting will have left one ajar. Go inside, flip over the break-in latch. There's almost always an unused towel and an unopened package of soap.
Eric Beck, a bold Yosemite climber from the 1960s, once said, "At either end of the social spectrum there's a leisure class." Right on, brother. I shaved slowly and took a long, steamy hot shower. You don't know how good it feels to get clean until you get really dirty. I changed clothes, slipped the complimentary toiletries into my gym bag, strolled out, and drove away. Clean as a whistle.
THE STORM, WHICH had soaked Las Vegas and closed Tuolumne Meadows with a foot of wet snow, couldn't have been more perfect: the landscape was utterly empty. Caleb and I met up with 19-year-old "Cracker Jack" Torness, a South Dakota kid escaping his girlfriend. The three of us camped outside Yosemite near Tioga Pass, drove in every day, and had the gorgeous granite of Tuolumne all to ourselves.
If there's anything better for the soul than a burning cobalt sky, warm granite, and long, nervy runouts, I don't know what it is. We didn't see a cloud or another climber for almost a week. At first we climbed routes we knew we could do, gaining confidence. Later we sailed out onto oceans of empty rock. We happily ascended Fairview Dome, the Stately Pleasure Dome, Daff Dome, Lembert Dome, even Mountaineers Dome, where we sent a route called American Wet Dream, which deliciously summed up our time in Tuolumne.
By this point, Caleb and Cracker Jack were hankering to hang in the Valley, but I couldn't stop moving. We split up, Caleb and Jack heading down to Camp 4 and I continuing west. I had to. I was like an alcoholic who'd fallen off the wagon.
Driving alone, I began remembering journeys that I'd long forgotten. Dining and dashing as a rambunctious teenager, just to keep climbing in Yosemite. An insane driver putting a gun to my head when I was hitchhiking across North Dakota. Jackknifing with a U-Haul trailer on black ice. To set out on any journey is to relive past journeys.
I wasn't ready to go home, so I visited my youngest brother and his wife in Santa Barbara, then my parents, who live just down the street, walking with them along the beach and realizing, viscerally, how little time we all have left. I swam out to a buoy in the Pacific, miles from the beach—it took an hour longer than I anticipated—and wondered for the hundredth time why I didn't come to the ocean more often.
When I finally did start heading back to Wyoming, I decided to knock off a few more state high points. On Arizona's Humphreys Peak, 12,633 feet, it was blowing so hard I had to get down on all fours to reach the empty summit. On New Mexico's Wheeler Peak, 13,161 feet, a thick, full-curl bighorn sheep was guarding the top. It pawed the tundra and raised its snout at me. When it charged, I ducked behind a boulder, but it was just a bluff. I reached the peak at dusk, only a crease of crimson separating the black earth from the black sky.
I didn't call and say where I was or what I was doing. Didn't answer e-mail, text messages, or voice mail. I turned it all off and just drove and sang and climbed wherever I happened to be at midday. I did this for ten more days, until I was ready to be home.
 Mark Jenkins, Outside's longtime hard way columnis, is a staff writer at National Geographic.
Lead Photo: Mark Jenkins