The Value of a Sherpa Life
The deadliest single day in the history of Everest claimed 16 Sherpas in an instant. And, yes, there is something that needs to be done about it.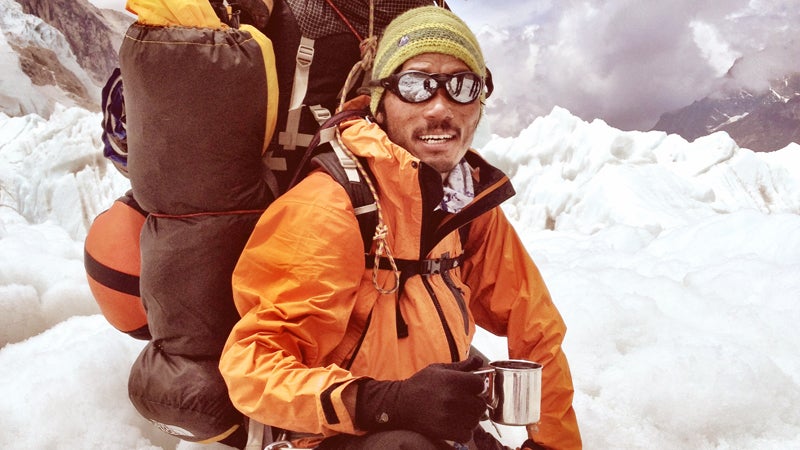 Emily Harrington(Photo)
Heading out the door? Read this article on the new Outside+ app available now on iOS devices for members! Download the app.
On April 18, at about 6:30 a.m. local time, an avalanche swept down off the west shoulder of Everest and killed 16 climbers. To anybody who's familiar with Everest climbing, it should come as no surprise that all of the men were Sherpa porters. Sherpas are Everest's workforce—the literal backbone of the climbing industry there. The men who were struck were either carrying 80-pound loads to Camps I and II, or they were on their way back to Base Camp. Without the hard work of the Sherpa porters, it would be largely impossible for Americans and Europeans with slightly above-average physiology, and well above-average disposable income, to scale the world's tallest mountain.
Everest Deaths: How Many Sherpas Have Been Killed?

Climbing Sherpas face
higher risks than almost any other profession.
Increasingly, the pinnacle of adventure tourism—the summit of Everest—comes at too steep a cost. In the August 2013 issue, I wrote a story titled "Disposable Man," about the routinization of Sherpa deaths on Everest. Today's avalanche was the worst accident in the history of the mountain. Add to this the April 2 death of Sherpa Mingma Tenzing, who was working for the Peak Freaks expedition, as well as at least a dozen serious injuries from the avalanche, and 2014 stands out as the bloodiest year in Everest history—all before most teams have even set foot on the mountain.
Yes, something needs to be done.
There's no question that guiding on Everest is ethically fraught. But shutting the industry down would anger the outfitters, clients, and, most of all, the Sherpas. That last group would lose jobs that pay between $2,000 and $6,000 per season, in a country where the median income is $540 per year. If, say, 1 percent of American college-aged raft guides or ski instructors were dying on the job—the mortality rate of Everest Sherpas—the guiding industry would vanish. But Himalayan climbing is understood to be extremely dangerous, and people who play the game still cling to its romantic roots in exploration rather than its current status as recreational tourism.
The answer isn't decreasing, or ending, the climbing business on Everest; the solution is increasing the value of a Sherpa life. Because right now—despite what anybody may feel in their heart—the industry clearly values life on a two-tiered basis: Westerners at the top, Sherpas at the bottom.
Want to know what a Sherpa life is worth? You only need to review the numbers that I reported last year: lower pay, lower standards for rescue insurance, lower payouts on accidental-death coverage in general. And, perhaps most significantly, the amount of time that Sherpas spend making laps through the deadly Khumbu Icefall and up the Lhotse Face, ferrying loads for predominantly Western expeditions so that clients can arrive fresh and minimize their exposure to the hazards of the mountain. Several organizations, including the Juniper Fund and Alex Lowe Charitable Foundation, have made valiant efforts to teach Sherpas the latest climbing, rescue, and first-aid skills via projects like the Khumbu Climbing School, but the hazards of the mountain remain.
Last June, after I'd finished reporting "Disposable Man," the Nepalese government announced that it would double the amount of insurance that high-altitude porters were required to carry, to $11,000. But for about $200 per policy, at least one Kathmandu-based insurance company will cover Sherpas for $23,000. Even that is clearly insufficient to cover the loss. What's left instead is a patchwork of charity, in which some families find help from climbers to send their kids to school and others don't.
The change I'd most like to see would start at the very beginning of the tragedy, when outfitters describe what has happened to these men, in words that, at this point, sound rote. A typical blog post on an expedition website follows a predictable pattern, like this one from earlier this month: "Our team is overwhelmed with sadness. Ours prayers go out to his family at this extremely difficult time. Tea lights have been lit, we hang our heads in sorrow." But after sorrow should come an acknowledgement of the deep sense of responsibility that is tied in to hiring somebody to do such a dangerous job—for an end result that's ultimately meaningless.
In the press, largely as a result of a faulty translation to English, the deceased are always referred to as Sherpa "guides." It's generally a misleading job title for the men—and one or two women—who, each day, lean into their pack straps and haul supplies up the mountain for paying clientele.
As guides and Sherpas begin to wake up today in Nepal, they'll commit themselves to finding the remaining bodies. They'll loiter for hours, shovels in hand, under the same serac that killed their friends. The Buddhist tradition is strict about needing a body to cremate if the deceased is to find a speedy reincarnation.
In the days to come, there will be 16 different puja funeral ceremonies, most of them in the small villages of the Khumbu Valley. In every village, there are already houses with missing men. Their photos, usually faded, smiling, and standing on the summit of the world, are still hung for visitors to see. Now there are 16 more.
Lead Photo: Emily Harrington