5 Routes to Run Through London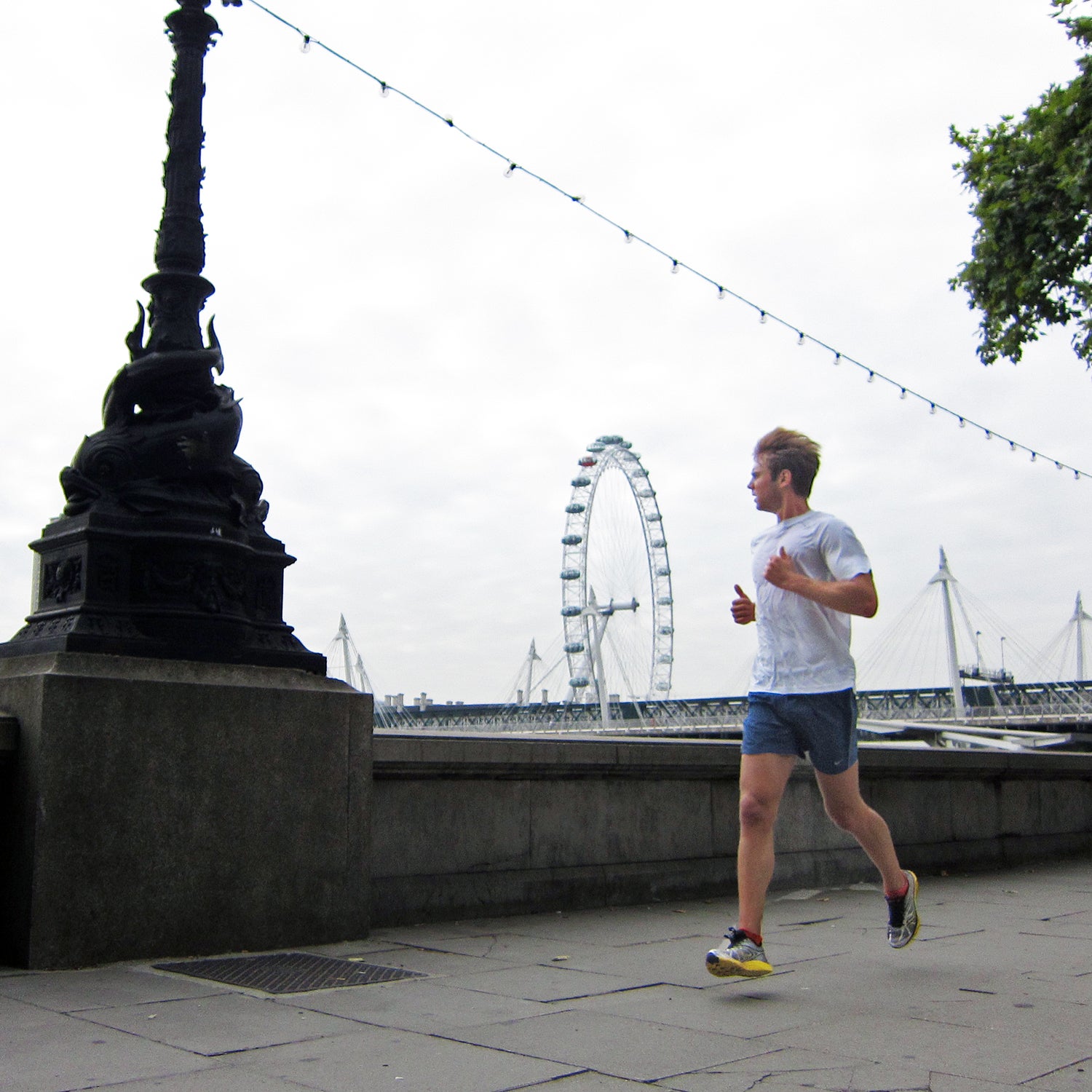 Heading out the door? Read this article on the new Outside+ app available now on iOS devices for members! Download the app.
Blame the weather, the color of the Thames, or the historical moniker of "The Big Smoke," but London doesn't always have the best reputation when it comes to the great outdoors. In reality though, Britain's capital city is an urban runner's paradise, housing 5,000 acres of parkland in the city's eight Royal Parks and countless other canals, hidden routes, and greenspace.
The city's collective grit and sense of can-do ambition means that Londoners understand running. A national aversion to being a nuisance means that pedestrians will generally move out of your way if you let them know you're behind them (hint: apologetically saying "sorry" is the British way of saying "get the hell out of my way"). And if you're worried about not knowing which way to look when you cross the road, don't fret. Always fans of orderliness, the Brits have painted "look right" or "look left" on the cross walks for tourists' convenience. 
So put on your trainers, and hit the tarmac.
Richmond Park
It's not really fair to call a run in Richmond park "urban running" because as soon as you enter the enclosed 2,500 acres, you'll feel far from a double decker bus or black cab. Rolling hills, woodlands, plenty of mud and wildlife, and an amazing view of St. Paul's Cathedral (12 miles away) at the park's highest point make it worth exploring. A perimeter run around the park will put you at just over seven miles, but getting lost in the park's inner trails is the perfect antidote to city life. Oh, and thanks to Henry VII who was a fan of hunting, you'll find plenty of deer to keep you company (they've been roaming freely since 1529).
Victoria Park
Though it's not a Royal Park, Victoria Park has the distinction of being the closest to the Queen Elizabeth Olympic Park and thus served as the workout spot of everyone from Kenyan distance runners to Paralympic cyclists during the 2012 games. Its roughly 220 acres are a perfect place to run grassy and shady loops and catch your breath at one of the park's three serene lakes—though you might have to dodge some hipsters thanks to its trendy location in the East End. The easternmost entrance at St Mark's gate is roughly one mile from the impressive Olympic Park, which is still open to the public.
Grand Union Towpath/Regents Canal to Primrose Hill
If loops aren't your thing and you want to cover ground while seeing the city, start your run at the Grand Union Towpath behind St. Pancras International Station at Kings Cross. Follow the canal path (you can peek into the windows of all the quaint narrow house boats while you're at it) to Camden Lock Market, where you might have to dodge a few punk rockers. Once you're in Camden, you'll be running along the Regents Canal, take the signposted staircase exit for Primrose Hill and run to the very top to get one of London's best city views. An out an back will put you at about 5 miles, or you can finish by running around Regents Park, which is adjacent to Primrose Hill.
Thames Path
There's no doubt every English literature professor has at some point referred to the River Thames (pronounced "Temz") as "liquid history." If you're a runner visiting London, it's also a very efficient way to get your sightseeing in. Start at the Tower of London and cross Tower Bridge so you're on the southern bank of the river. From there, turn right and you can run along the path and take in some of its most iconic sights: Shakespeare's Globe Theatre, the Millennium Bridge, Big Ben, the London Eye, Houses of Parliament, and Westminster Abbey. Definitely bring your phone to snap a picture, but try doing this run early in the morning, as tourists will predictably descend on the path.
The Pall Mall/Hyde Park
There's something about incorporating a palace into your running route that feels fittingly British. Start at the corner of The Mall and Horse Guards Road (right on the corner of St James' Park). Run straight down The Mall and when you get to Buckingham Palace (how's that for a landmark?), bear right. Run along Constitution Hill, which serves as the finish of the London Marathon, and you'll reach Hyde Park Corner and the entrance to Hyde Park. From there, you'll have 630 acres to explore in Central London's largest park. Don't miss the famous Speaker's Corner, in the northeast corner of the park.