What Happens When Lindsey Vonn Gets Pissed
All good things. "The Climb," which airs Sunday, tracks the pro skier's 22-month rehab and singled-minded determination to reclaim women's skiing's top spot.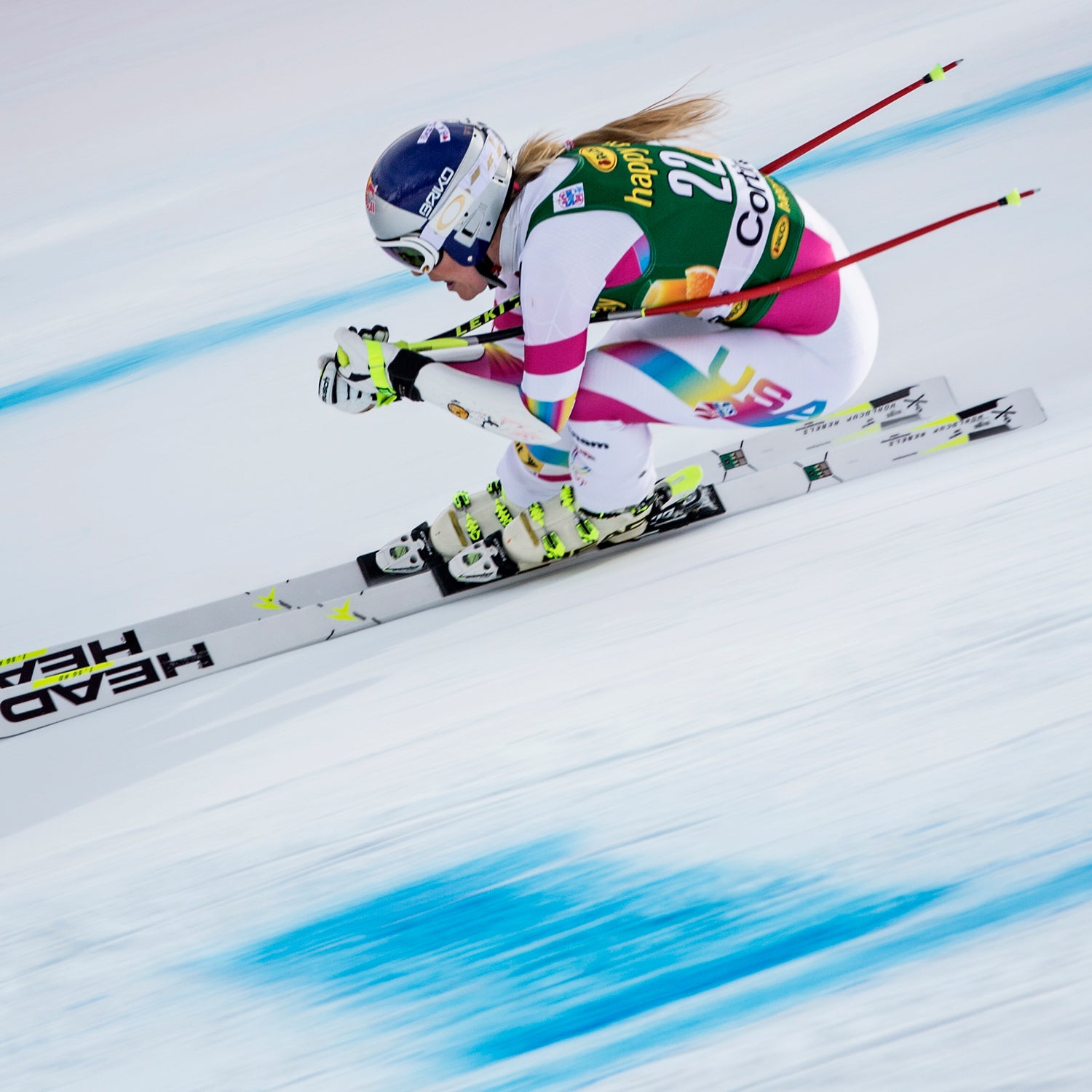 Heading out the door? Read this article on the new Outside+ app available now on iOS devices for members! Download the app.
"It's like rubbing salt in the wound," says Lindsey Vonn, watching the Sochi Olympics on TV from her living room in the opening shot of her new documentary. The film, which airs on NBC on Sunday, tracks Vonn's 22-month recovery from a series of devastating knee injuries. "Who are we going to find to replace Lindsey? And who's the next Lindsey?"
In Sochi, of course, nobody was really asking that question—Mikaela Shiffrin, the 18-year-old who won slalom gold, has been "the next Lindsey" for several years. But it is a revealing quote, and it is typical Vonn: More than a decade of media training notwithstanding, she usually manages to communicate exactly what's on her mind. And last winter, she was pissed that an 18-year-old teammate had captured the spotlight in what was supposed to be the crowning championships of her career.
Two crashes put Vonn on the sidelines for Sochi. In the first, a brutal fall at the World Championships in February 2013, she tore her right ACL, MCL, and fractured her tibial plateau. Footage from the fall is shown a couple of times in The Climb. Tiger Woods, Vonn's boyfriend, tells NBC that he watched the race online with his kids. "The worst part was not seeing it buckle," Woods says. "I knew it was damaged. But to hear the screams afterwards, that was hard to deal with. That's a scream that'll haunt you."
Vonn worked hard to rehab that injury, and The Climb is full of Rocky-like training sequences, some of which were filmed by her sister, Laura, who had planned to spend the 2012-2013 season traveling with Vonn on the World Cup. But for several reasons the film never fully explores—maybe Vonn pushed too hard to get back on snow, or maybe, as she alludes, the first surgery was botched—her knee didn't recover, and she partially tore her ACL again during a training run in November 2013. Vonn tried racing with a brace, but the knee gave out in Val d'Isere, France, a month later, and she eventually underwent a second surgery, this time at the hands of legendary orthopedist Jim Andrews. Time for comeback number two.
For a good bit of The Climb, Vonn bickers with her support staff—her coaches, doctors, sisters, and physical therapists—whining about jumping rope or doing an awkward drill on skis. It's a little off-putting and I'm not sure how to square it with Vonn's well-documented focus and attention to detail. She is widely considered the hardest-working skier in the sport. I wonder if the whining is partly an act—a way to keep things from getting too serious, or to make sure her minders are as focused as she is.
"I knew it was damaged. But to hear the screams afterwards, that was hard to deal with. That's a scream that'll haunt you."
In any case, Vonn's second comeback has been an unqualified success. The Climb ends with Vonn's first races of the 2014-2015 season—a pair of back-to-back downhills in Lake Louise, Canada, in early December. "There are all these expectations that I'll win and be this miracle comeback story," she tells the camera. "Maybe I'll be at the top, maybe I won't be. Maybe I'll be 10th. I have no idea." After finishing eighth in the first downhill, a clear disappointment, Vonn and her coaches watch footage of her run. Nobody quite knows why she isn't fast, and her coaches try to temper her expectations, after 59 World Cup victories, that she can win again right away. "It can't happen tomorrow, it just can't happen," one says. The next day, Vonn proves them wrong, taking her 60th victory. She has since collected wins 61, 62, and 63—a record—and shows no sign of slowing down.
Lindsey Vonn: The Climb airs on NBC at 3 p.m. EST on Sunday, January 25, one week before the 2015 World Alpine Ski Championships in Vail, Colorado, Vonn's hometown. It was produced by Red Bull Media House, in association with NFL Films and NBC Olympics.
Trending on Outside Online