The Fight for Gender Equality in Ironman
It's time pro women got an equal number of slots to compete in triathlon's premiere World Championship event.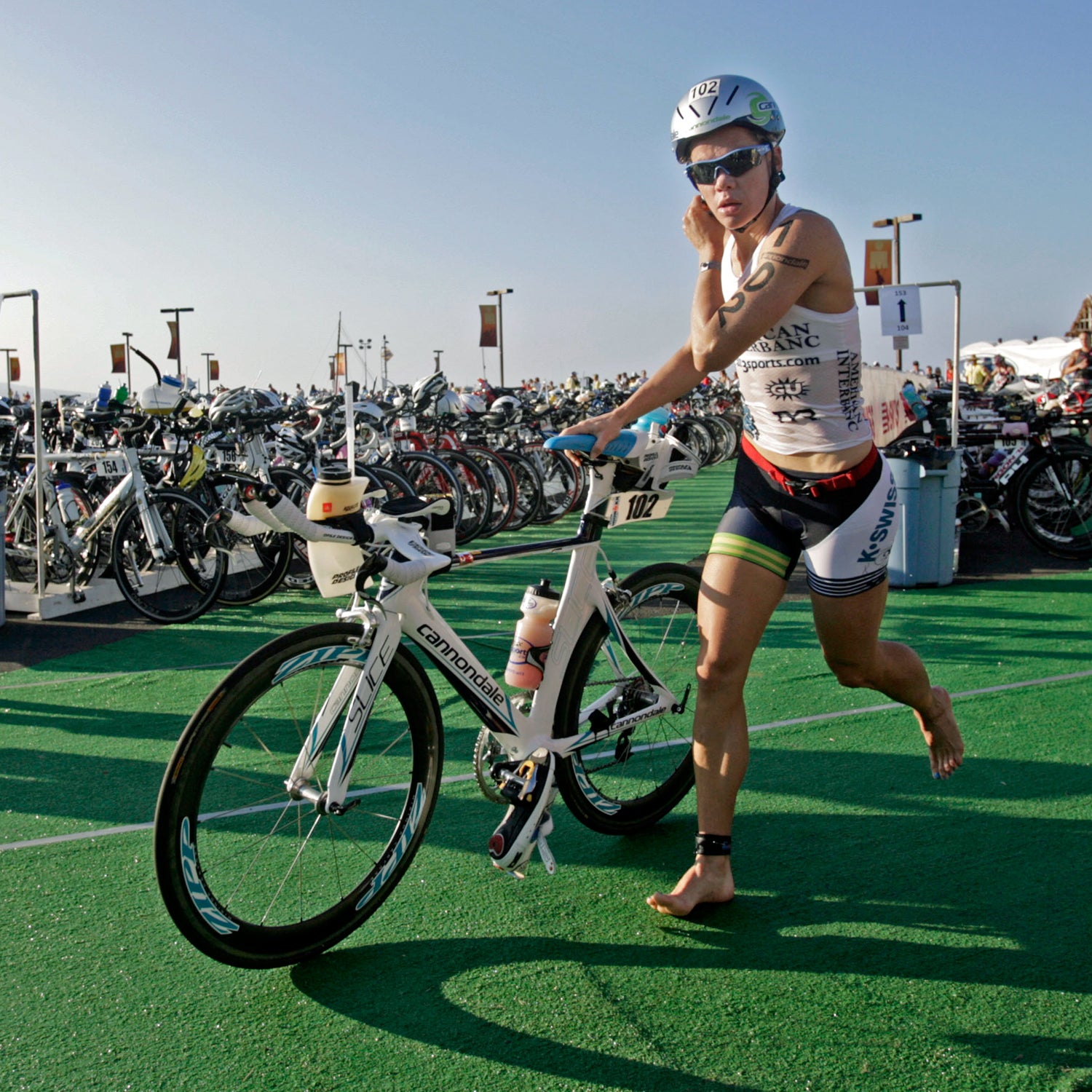 AP(Photo)
Heading out the door? Read this article on the new Outside+ app available now on iOS devices for members! Download the app.
Ironman is a pretty enlightened place when it comes to gender equality. Men and women have enjoyed equal prize purses at Ironman's World Championship race in Kona since the event started offering cash to winners in 1986. And at each of the 100 Ironman races around the world, the pro men and women split winnings equally. But there's one major sticking point: there are 15 more slots for pro male competitors at Ironman's World Championship in Kona than there are for women. In a recent statement, the company stood its ground, defending the decision to not close the gap. But it's time things evened up for our pros, for the greater good of the sport.  
Throughout the event's history, more male than female pros have toed the line at Kona. (See chart below.) Before 2011, pro Kona slots totaled 10 percent of the total number of slots assigned to a particular race. If there were 100 total Kona slots awarded at the IM Wisconsin event, for example, 10 of those slots would go to pro athletes. The number of males and females who earned a spot was then allocated based on the percentage of male and female pros at that specific event. Say 100 pros raced, for example—60 men, 40 women. In that case, six men and four women would qualify. Because more men than women raced, more men earned a spot at Kona.
Kona Pro Starters 2003-2014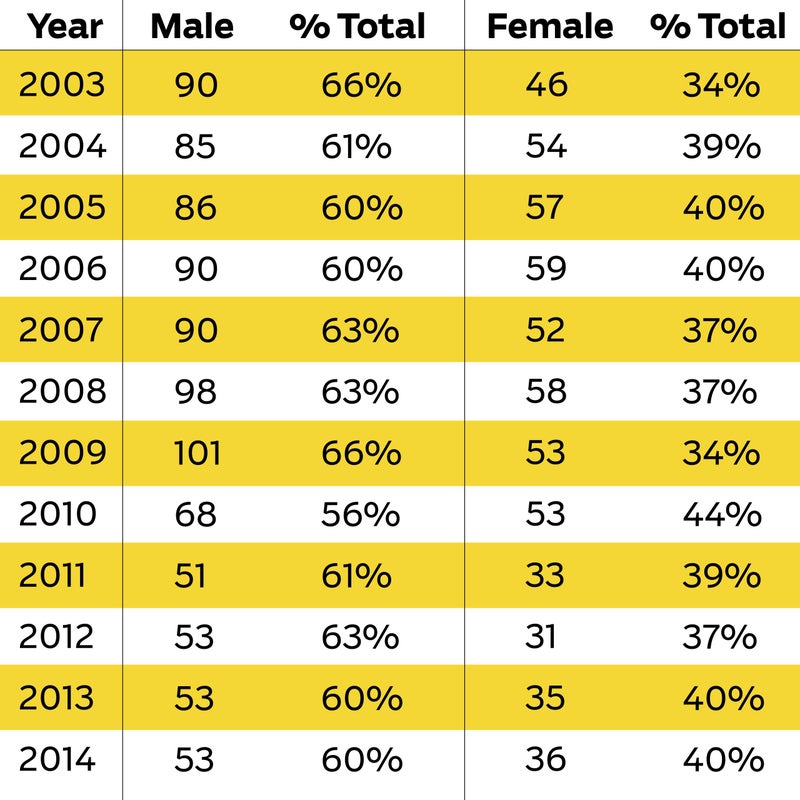 But in 2011, World Triathlon Corporation, the private equity-owned company that puts on the global Ironman series, instituted a more complicated points-system approach for pros. With an expanding global race portfolio—and each race offering Kona qualifying spots—WTC adjusted the pro qualifying process to get only the most competitive athletes on the Kona start line. With the new points system, the number of pro qualifiers shrank from a peak of 156 pros in 2008 (98 men, 58 women) to 89 pros last year, while the overall number of Kona competitors rose from 1,867 to 2,301. Now the top 50 pro men, as determined by the newer points-based ranking system, get to go to Kona. But only the top 35 women do. For a professional world championship event, the numbers seem arbitrary.
"Imagine Wimbledon without 64 men and 64 women," says Ironman champion Sara Gross, who holds a Ph.D. in Women's History. "There is no example in sport that I know of where the number of women allowed at a world championship event is decided based on participation numbers whether at the elite level or women generally. In some major marathons in the U.S., we have more women participating than men. So should we limit the number of elite males who can enter that marathon? That sounds ridiculous, right?"
Gross is a key driver behind a social media and letter-writing campaign called 50 Women to Kona that calls for equal slots for women as for men. The effort is backed by some of the sport's biggest names, both male and female, including four-time Ironman World Champion Chrissie Wellington. Gross asks why triathletes should accept the inequality in Kona slots when they've never had to accept unequal prize purses. "We are so close to having it all," she says. "It's as if we are stopping 100 meters from the finish line."
WTC says the logic for the current disparity in Kona slot allotments is based on gender representation in the Ironman pro athlete ranks. In 2014, there were 739 pro men and 381 pro women in the Ironman system. Put simply, the men get 15 more slots than the women because they nearly double the women in numbers.
That's not all. Ironman CEO Andrew Messick says giving women more slots would actualy hurt pro women in the long run because he believes those slots will go to slower pros who might not be able to beat the age groupers. "Having a separate, lower standard for women sends the wrong message and would be the first time in Ironman history that we are creating one,"he says. WTC pointed out in an email that in past years, such as in 2010, when the pro field was much larger, "many pros were beaten by the age-group field—resulting in concern that the World Championship was losing its prestige."
Furthermore, Messick says the overwhelming demand for Kona slots across all divisions—pro and amateur—creates the need to approach slot allocation in a highly systematic way. Tacking an additional 15 entries onto such a large race (last year, it hosted 2,301 athletes), Messick argues, is not easy. He claims race venue is at capacity, making it difficult to simply add more slots. Additional slots would have to come from the pro men or age groupers.
"Only three percent of age-group athletes qualify for Kona, and an overwhelming number of people who qualify for Kona take their slot," he says. "The groups of athletes that have the most people participating should have proportional representation in the world championship." 
Because there are far more men racing than women (most races have a 70-30 split), Messick believes arbitrarily creating a system of quotas for the pro women, when only the top three percent of age groupers qualify, is wrong. "We feel that it's antithetical to the spirit of Ironman," Messick says.
Kona Competitors 2005-2014, By Gender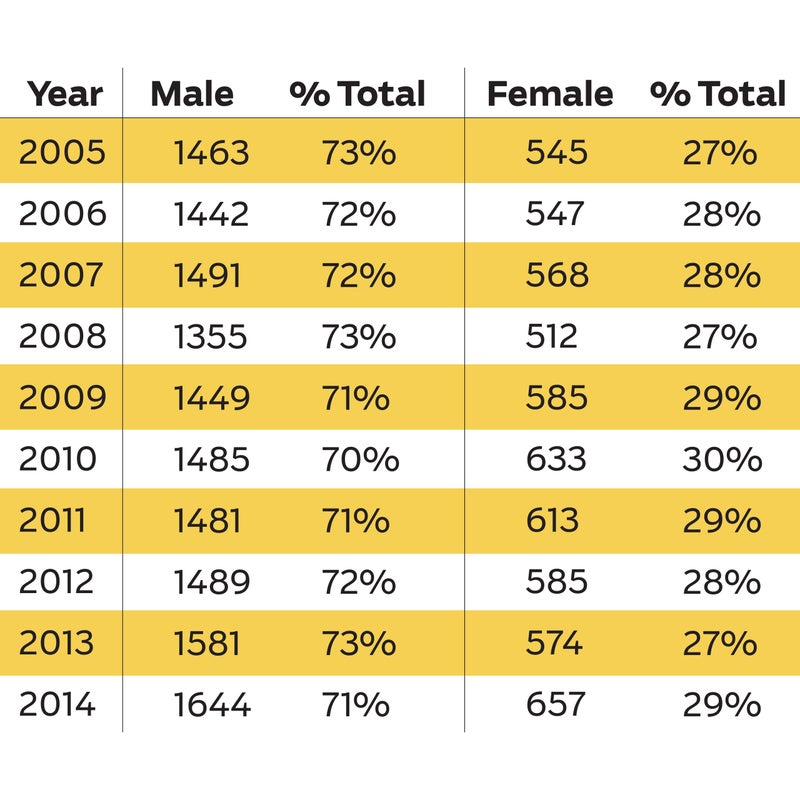 That gets us to the core of the debate between the WTC and its pro athletes: whether or not the pros should receive special consideration because of their elite status.
Amateur triathletes in Kona aren't there to earn a paycheck. For pros, who make up only four percent of the field, the stakes are very different; for many of them, their livelihoods are linked to an appearance in Kona, the most high-vis event of the year. The pro women aren't buying any of WTC's arguments—that 15 extra female racers will diminish Kona's prestige, or that adding 15 slots is unfair to age groupers. (WTC did, afterall, add 145 age group Kona slots between 2013 and 2014.) The three-percent rule or something similar, they argue, should not apply to them. 
The pro women I spoke with say adding the slots will not lower the bar for pro women. Instead, they believe just the opposite will happen: equivalent representation in Kona will ultimately raise the profile of the sport and draw more women—an endgame that would tremendously benefit Ironman's bottom line, considering that 81 percent of people who raced Ironman events in 2014 were male. Opportunity breeds growth, they say, and Ironman can stand as a powerful and inviting example of total gender inclusivity by closing a gap of a mere 15 spaces.
While Messick seems to understand the sentiment, he's not sold on it. "I appreciate the belief that 'if you build it, they will come,' and I would be curious as to whether there's any evidence to support that," he says. 
But maybe the fight for Kona slot equality isn't about hard proof or ratios. Maybe pro women like Gross have a case built on an ideal that can't be measured or countered in simple math.
I'm not advocating for 500 more slots for the women (i.e. adopting a sweeping policy of equal Kona slots for men and women in both amatuer and pro ranks), but I do believe that equal representation of pro women is the right step—and message—in laying a foundation for future sustainable growth of our sport.
Ironman has been a true pioneer in holding up women to a new standard, helping them dream a little bigger and enabling significant earning opportunities as they pursue their triathlon goals. Taking the final step by providing equitable professional representation at the world championship can close the circle and set us all up for success.
"Kona is about the experience of everyone coming together and supporting that passion for Ironman," says Julie Moss, the woman whose crawl across the Kona finish line in 1982 is largely credited with bringing the fringe event into global consciousness. "There's a part of Ironman that's about heart and soul. I say, let's err on the side of heart and soul."
Julia Polloreno is the editor-in-chief of Triathlete and Triathlete.com, and a founding board member of Women For Tri, the Ironman/Life Time Fitness initiative to grow women's participation in the sport.
Lead Photo: AP
Trending on Outside Online