In the Fight for Public Lands, the Outdoor Industry Is a Rising Force
From major manufacturers to local outfitters, the outdoor industry is coming into its own as a political force. Public lands, and all who love them, stand to benefit in a big way.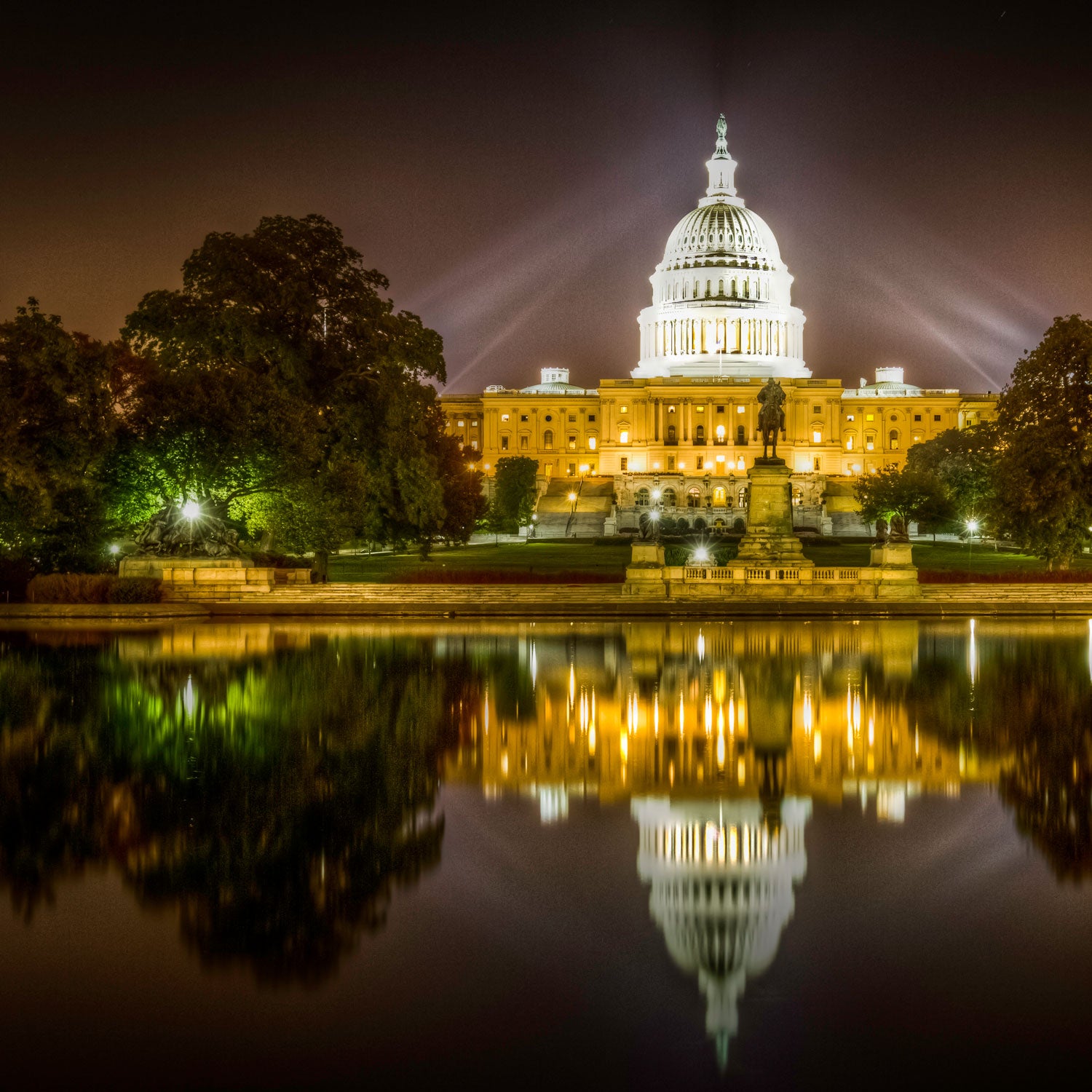 Heading out the door? Read this article on the new Outside+ app available now on iOS devices for members! Download the app.
On January 22, at the Outdoor Retailer Market in Salt Lake City, former interior secretary Bruce Babbitt told a roomful of recreation entrepreneurs, backcountry outfitters, and gear manufacturers to wake up.
"I would argue that your industry—the $646 billion per year outdoor recreation industry—is a sleeping giant," he said. "If you mobilize the full economic and political power of your industry, you can change the debate." The persistent, high-stakes debate about public lands, that is.
Babbitt's remarks were a vigorous reminder that a variety of forces, from congressional budget cutters to Cliven Bundy's homespun militia, are threatening the legal and financial underpinnings that prevent our nation's public lands from succumbing to private interest agendas. These lands power the outdoor economy, but millions of federally protected acres in the West are currently under attack by what is commonly referred to as the land transfer movement.
Lawmakers in Utah, Nevada, Wyoming, and other states have passed or are considering bills that demand the federal government relinquish its claim to national forests and Bureau of Land Management parcels and transfer them to state control. If these campaigns succeed, there's a good chance the states wouldn't be able to bear the costs of managing their new holdings and would be forced to sell them off to extractive industries and developers. Lawmakers in Utah, who are leading this fight, have threatened to sue the federal government if it does not comply. 
"This is the moment," Babbitt told his audience, "to apply the strength of your industry to the defense of America's public lands."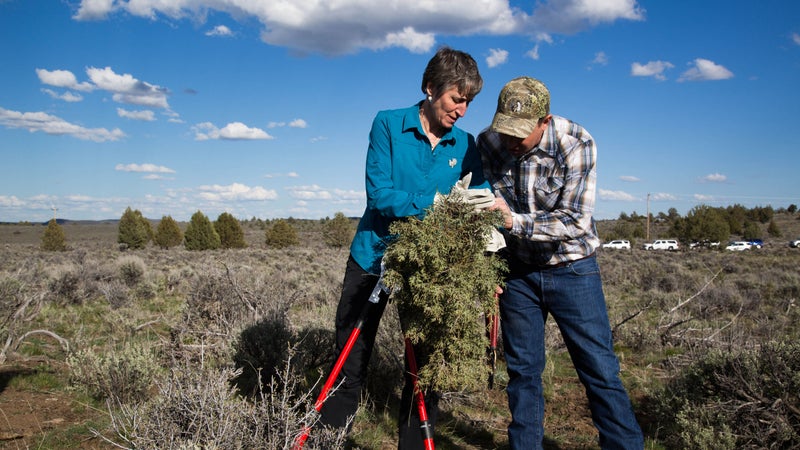 There was a time not so long ago, during the Clinton administration and the early years of George W. Bush, when the outdoor industry wasn't a giant at all. It didn't have the strength to respond to this kind of challenge. It was young and inexperienced in the corridors of power. "We would go into DC, and we would be dismissed," says Frank Hugelmeyer, former CEO of the Outdoor Industry Association (OIA). "We'd joke that we were meeting with the intern's intern."
But the industry has come a long way in the past two decades. It has emerged as an employer of 6.1 million Americans, according to the OIA, and has one of its own, former REI CEO Sally Jewell, at the helm of the Interior Department. Outdoor companies and their employees are flexing their political muscles in novel and creative ways all across the country. From outspoken CEOs like Black Diamond's Peter Metcalf to local advocacy by smaller outdoor businesses, the industry's unique voice is growing louder and getting bolder day by day. For the public lands and the people who love them, that's a very good thing.
In the days before April 15, a group of 55 executives from companies like REI, SmartWool, Patagonia, and more boarded planes bound for Washington, DC, to attend the OIA's annual Capitol Summit. As the outdoor economy's flagship trade group, the OIA calls on its membership to spend a few frenzied days each year bending ears and pushing the industry's broad and growing agenda on Capitol Hill. With congressmen, senators, and other bigwigs on hand, it's a good opportunity to plug the public lands.
This year, the group lobbied Congress to fully support the Land and Water Conservation Fund, a crucial pool of money drawn from offshore oil royalties and distributed among government agencies to develop outdoor recreation infrastructure across the country. It's what builds those fishing access sites on the side of the road, those bike trails through town, and the campsites in your favorite parks. Congress has consistently raided the fund for other purposes; only twice in 50 years has it received its full $900 million allotment, and this year it's up for reauthorization. The OIA's message to lawmakers was simple: Failing to fully reauthorize the fund will hurt the communities and companies that count on trails, parks, and public access to generate business.
The gathered OIA board also took time to address the threat on everybody's mind. For the first time, it officially voted to support OIA staffers who want to go after the land transfer movement at the local, state, and federal levels. The OIA will now be able to lobby against land transfer legislation in Congress, according to OIA government affairs director Alex Boian. It may also develop a network of outdoor businesses to help quash land transfer efforts in the states. Many of the organization's supporters say the move couldn't have come soon enough.
"I think that certainly we as an industry did not stand up soon enough on this state land-grab idea," says Metcalf, who attended the Capitol Summit. "We need to move in a unified strident voice to say that this is a horrific idea, this is radical, it is dumb, and if it goes forward, it will be one of the worst things that has ever happened to our industry."
The OIA's message to lawmakers was simple: Failing to fully reauthorize the fund will hurt the communities and companies that count on trails, parks, and public access to generate business.
The OIA is not alone in its effort to harness the outdoor industry's economic might and help it realize its full political potential and protect its interests. A slate of other independent projects is doing the hard work as well. The most notable, perhaps, is the Count My Job campaign. 
The Center for American Progress and other groups launched Count My Job in January to persuade the federal government, and the Department of Commerce in particular, to start collecting comprehensive economic data on the outdoor industry. Federal agencies do that for industries like mining and timber, but it hasn't happened for outdoor business, and that's a problem. Right now, policymakers and legislators can't find big-picture government numbers on the industry's contribution—in jobs and dollars—to national, state, and local economies. That lack of official data makes it more difficult to push for things like new land acquisitions, a beefed-up Interior Department budget, or more trail crews in the national forests. 
Being counted is crucial. Babbitt stressed the issue in his January speech, and the OIA is behind it. What's more, the campaign is seeing success. Several senators are already calling on the executive branch to study the economic benefits of outdoor businesses. On April 16, Count My Job sponsored a gathering on Capitol Hill that featured a very supportive Jewell, who offered this folksy advice to outdoor advocates:
"If you are not at the table, you are on the menu, and I think about that a lot," said Jewell, speaking of the need for better government data and more industry input on policy. "Because if we value public lands and they are important to our businesses and they are important to the things we care about, then we have got to be at the table."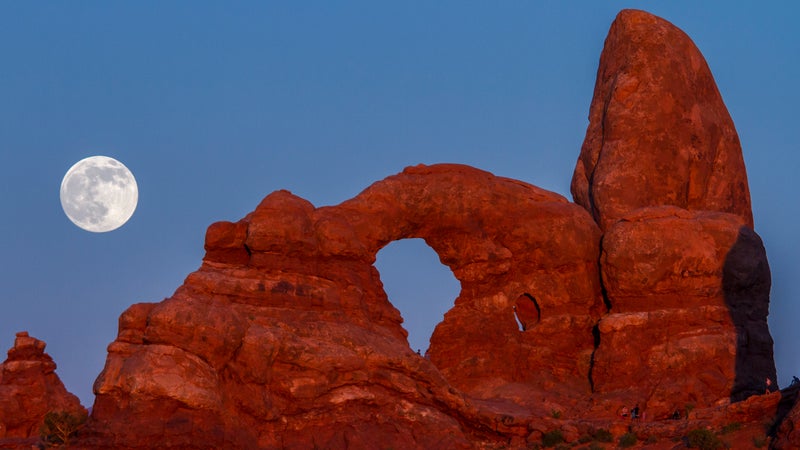 Of course, there's more to the world than Washington, DC. Industry leaders are also looking to the local level to turn their values and dollars into action. In her speech to the Count My Job crowd, Jewell singled out a pioneering example of local advocacy done right. It's called the Moab Master Leasing Plan, a Bureau of Land Management attempt to balance competing interests on more than 900,000 acres of public land around Utah's Arches National Park. Outdoor businesses—led by Ashley Korenblat, the hard-biking CEO of Moab's Western Spirit Cycling—have had a standout role shaping the plan.
"Supporting the public lands has to become the mainstream agenda for everyone," says Korenblat, who is an OIA adviser and runs the nonprofit advocacy group Public Land Solutions. She believes the industry still relies too heavily on conservation groups to protect the public lands. "We want to make it a business issue," she says. The BLM has taken notice of her work; its master plan is shaping up to keep Moab's finest trails and recreation hot spots safe from oil and gas operators.
All these projects, and others like them, signal the same development: The outdoor industry is coming into its own as a political force. It is articulating the economic case for public land protection. It is building power. The giant is awake, but there is much more to do.
Lead Photo: Tony Brooks/Flickr