Lhakpa Sherpa Is the Most Successful Female Everest Climber of All Time
Lhakpa Sherpa ​​has climbed Everest more than any other woman—​and now she's on the mountain trying for her seventh summit​.
Heading out the door? Read this article on the new Outside+ app available now on iOS devices for members! Download the app.
Lhakpa Sherpa awoke before dawn on a cold Connecticut morning in January 2015 and shuffled into the kitchen of her two-bedroom apartment in West Hartford. The walls were covered in drawings and coloring-book pages of Disney princesses shaded in crayon and pencil by her two daughters, ages 8 and 13. She brewed up a small pot of coffee rather than the milk tea she grew up on in Balakharka, a village in the Makalu region of the Nepalese Himalayas. The apartment was clean, the girls' toys packed away against the walls, and the building, though older, was more or less in good repair. It seemed secure.
"I'm very sad inside, but I never show people sad," she said. "I'm all the time happy." I asked whether she was sure she wanted her story told. She was.
Lhakpa made breakfast sandwiches for the girls as her 18-year-old son, Nima Sherpa, left for community college in nearby Hartford. Each time she stepped out into the hallway of her building, one of her daughters would jump up and deadbolt the door behind her. When she walked them to their respective schools—she doesn't drive or read or write, though she's learning—Lhakpa kept her cell phone charged and remembered to stay alert, just as the women who took her in at Interval House, a local shelter for victims of domestic violence, had told her to do.
All of this—her whereabouts, her basic routine—was known to her husband. "Ex-husband," she caught herself, saying it twice, trying out the prefix for the first time. She had just finalized her divorce, after 12 years of marriage, from a Romanian-American named George Dijmarescu, 55, a nine-time Everest summiter and home-renovation contractor. Following a civil trial in Connecticut Superior Court during which, according to Judge Jorge Simon's memo of decision, Dijmarescu had to be "verbally restrained by the court repeatedly to cease his continued personal assault," Lhakpa—a permanent resident of the United States on the path to citizenship—was awarded sole legal custody of the girls, both of whom are U.S. citizens. At the time, Connecticut still had a criminal trial pending against Dijmarescu for breach of peace and second-degree assault against Lhakpa. He's since been convicted of the first charge, found not guilty of the second, and given a six-month suspended sentence and a year of probation.
On the witness stand at their divorce hearing, Lhakpa said through an interpreter that Dijmarescu had told her the same thing on multiple occasions—that if she took his girls away, "First I will kill you, and then the girls, and then myself."
All along, Dijmarescu has maintained, as he testified in his deposition, that Lhakpa "clearly cannot distinguish her lies from the truth," that she orchestrated the abuse narrative as a way to rob him of his daughters, though he was the plaintiff in their divorce case. Now she'd won the girls in court. And so she was watching her back. Once they were at school, she'd go to one of her two jobs—housekeeping for an in-home health care service and working as a cashier at a 7-Eleven. Combined they earned her $400 per week. She was embarrassed by both of these occupations.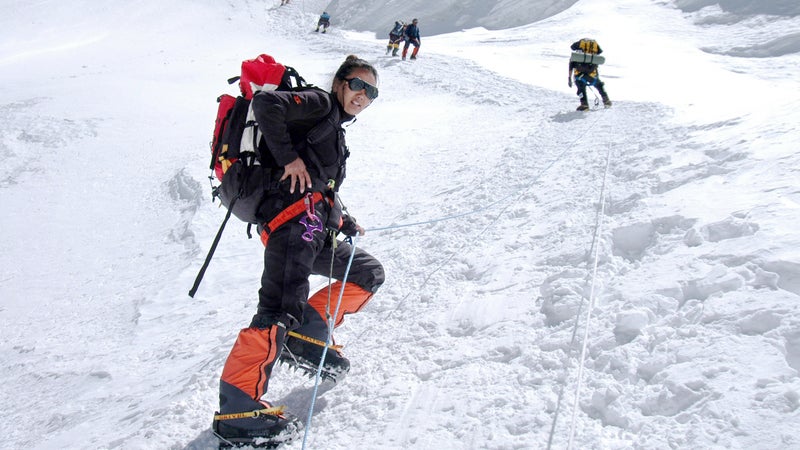 Lhakpa, whose Nepalese passport says she's 43, but who's probably closer to 40, is also a climber. A good one. She has summited Everest six times, more than any other woman in the world. Five of those trips were organized by Dijmarescu. In 2000, she became the first Nepalese woman to summit Everest and make it back down alive. In 2010, she made it to camp 3 on K2 and spent two days there before the weather forced her to descend.
Yet few people are aware of her mountaineering exploits. The Wikipedia page that catalogs Everest records contains listings as specific as "first twins to climb Mount Everest together," but there's no mention of Lhakpa. A 2013 ESPN.com article on five-time Everest summiter Melissa Arnot mentioned Lhakpa as an aside, calling Arnot "either the most accomplished female Everest climber ever, or the most accomplished non-Sherpa woman. (A Nepali named Lhakpa Sherpa is said to have from four to six Everest summits.)"
Since 2004, she has been too frightened to speak to reporters. That's the year she says she was punched in the head by Dijmarescu in Everest's north-side base camp—a charge that Dijmarescu insists was self-defense.
"I'm not sure why no one knows about her," Arnot, who is climbing Everest again this year, recently wrote in an e-mail. "When I ask around to Nepalis, not many have heard of her. The first time I heard about her was in 2011, when I met her father when I was going to climb Makalu."
Lhakpa's obscurity owes partly to the fact that Sherpa climbers are still perceived as a homogenous workforce so gifted at getting to the summit that their accomplishments are often referred to in the collective. But in Lhakpa's case there's something more. Since 2004, she has been too frightened to speak to reporters. That's the year she says she was punched in the head by Dijmarescu in Everest's north-side base camp, in Chinese-controlled Tibet, in full view of expedition teammates from Connecticut—a charge that Dijmarescu insists was self-defense. Photographs published in the Hartford Courant (which Dijmarescu claimed in court were doctored) showed her being carried limp and bloody to the kitchen tent for treatment. After that incident, Lhakpa became very quiet about her achievements. Her six diploma-like summit certificates—five from the Chinese government and one from Nepal—are stored in a closet.
Now she's going for seven. Last spring, newly liberated, after a ten-year hiatus from Everest, she planned to make another attempt on the summit. But as she waited in base camp, again on Everest's north side, the April 25 earthquake hit, prompting both the Nepalese and Chinese governments to suspend climbing for the season. A year later, she's back on Everest to try again.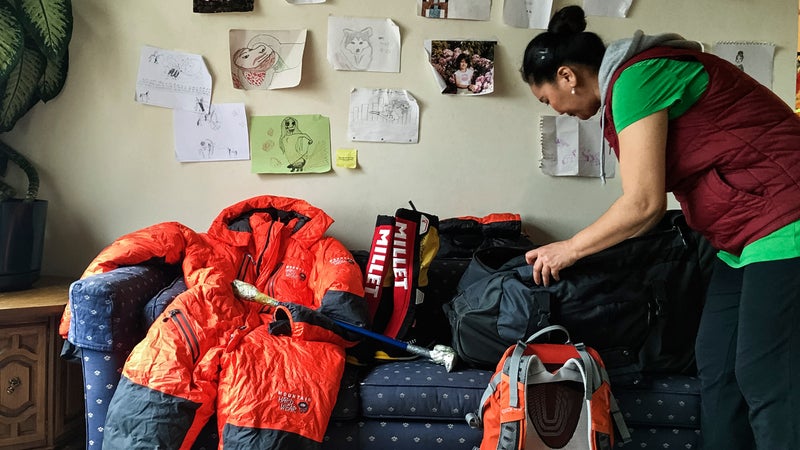 ---
When you look at court records, medical records, and news reports, there is little question that Lhakpa Sherpa has had a rough go of things. But to view her solely as a victim would be to underestimate her.
"A queen among the Sherpa people" is how Oregon climber Dave Watson describes her. Watson was with Lhakpa and Dijmarescu on the 2004 expedition that ended with the public altercation. In 2005, a Times of London reporter who was in Everest's north-side base camp described her as somebody very much in control: "Lhakpa, who received me on her collapsible chair as if on a throne, had sought me out specifically to write about her next great adventure."
Lhakpa's parents, both still alive, own several teahouses in Makalu. Her brother Mingma Gelu Sherpa, who has summited Everest eight times, is a director at Seven Summits Club, a successful expedition outfitter based in Kathmandu.
Growing up in Makalu, a middle child among 11 siblings, Lhakpa was something of a tomboy. "I am very different kind of girl," she told me. "I have seven sisters, but my mama say I mostly look like a boy. 'Whatever boy doing, you doing. You never doing girl things. Mostly you're doing boy things.' " Like many Sherpa women in the late seventies and early eighties, she received no schooling.
In her family, that meant going into the trekking and climbing business. Like the boys, she started carrying loads for an outfitting company at age 15. Her uncle hired her as a kitchen boy for expeditions attempting 27,838-foot Makalu. (The title still applies to the small number of girls who help the cooks peel potatoes and do dishes.) But Lhakpa quickly moved to carrying loads, ferrying tents and sleeping bags up the trails leading to base camp. She carried between 25 and 50 pounds, often walking on ice.
Early on, she got her foot stuck between two rocks. "I fall over, broke femur," she says, hiking up her sweatpants to show three large scars on her upper left thigh where doctors had cut into her wounds to let them drain. Lhakpa was working for an Indian army expedition at the time, and it took her two weeks to make it back to Kathmandu. "Two, three days walking," says Lhakpa, "and my three friends help me. I come by bus. So painful." The basic medical care was covered by the state, but the drugs were not. She couldn't afford antibiotics, never mind pain meds, so she sold her two gold earrings for a little more than ten dollars.
The next year, she again worked as a porter but also gave climbing a try, first on Mera and Yala, two 6,000-meter peaks that are popular stepping stones to the 8,000-meter giants like Everest. As a Sherpa, Lhakpa doesn't need to purchase a climbing permit, and she was able to borrow gear from family members in the climbing and portering industries.
Lhakpa's son, Nima, came from a short relationship she had in the late 1990s, when she was living in Kathmandu. (Now in the U.S. as a permanent resident, Nima is exceedingly intelligent, motivated, and good at science and engineering.) Around the same time, she had a friend help her dictate a letter to the prime minister's office. She wanted to climb Everest. It had been several years since Pasang Lhamu, a 32-year-old Sherpa, had become the first Nepali woman to summit Everest, only to perish during her descent. Lhakpa appealed to the government and to dozens of corporate sponsors to fund an all-Sherpa women's expedition.
"They were scared," Lhakpa said. "And me, I say, I wanna go to the summit. Really this is my dream."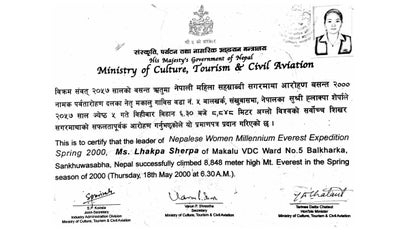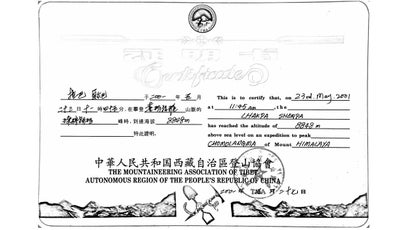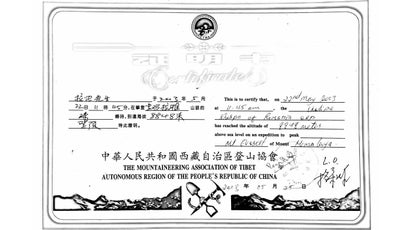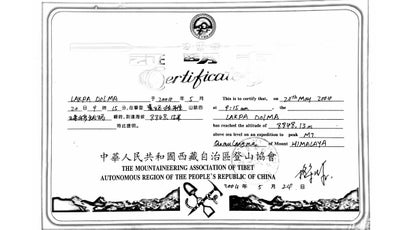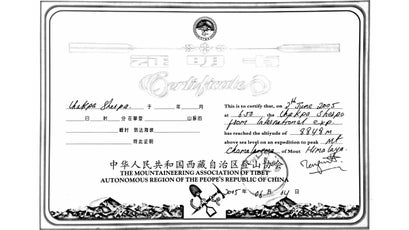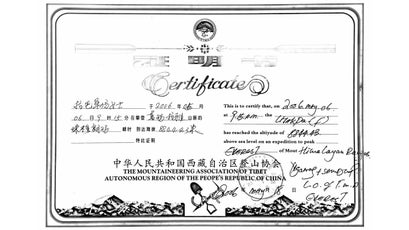 ---
The Nepali Women Millennium Everest Expedition set up their base camp on the south side of Everest in the spring of 2000. "Lhakpa had taken a lot of training around Langtang and Manang regions for ice climbing," says her brother Mingma Gelu. "The other women also took the training, but they saw that my sister knew things and she had leadership potential."
As sometimes happens, the expedition was beset with undercurrents of dissent against its lead organizer. Lhakpa was the only one from the Makalu region, and she didn't mesh with the other climbers, who were from the Khumbu. The way Lhakpa tells it, the five women and the largely Khumbu team of male Sherpas wanted a Khumbu woman to make it to the summit. Lhakpa was the outsider.
"She was definitely the odd man out," Ramyata Limbu, one of the producers of Daughters of Everest, a documentary about the climb, confirmed recently in an e-mail. "Not in a victimized way, though. She was aloof, above Base Camp politics and gossip. It was a do-or-die mission for her."
In climbing parlance, Lhakpa might be called a sandbagger, somebody who understates her abilities in order to beat expectations. Lower on the mountain, in the Khumbu Icefall, the rest of the team labored up the trail at top speed, jockeying to see who was stronger. (The icefall is the dangerous and unpredictable section below Camp I that was the site of a deadly avalanche in 2014, during which 16 workers died.) There, Lhakpa received valuable advice from one of the so-called Icefall Doctors, Sherpas who maintain the fragile network of aluminium ladders and safety ropes over the route's crevasses.
"This Icefall Doctor say, 'Why you running there, girl?' " Lhakpa recalled. "You not summit now. Four thousand meters up the top of the mountain. Up there you run. Not here."
So she slowed down. The other women asked if she was sick, if she had a headache. She said yes.
"I wouldn't say she was manipulative," recalls Limbu. "But I think she was prepared to go to lengths to ensure that she made the ascent."
When Lhakpa reached Camp IV, at the South Col, at 26,000 feet, the clouds formed a sea below her, thick and full of lightning flashes. But the skies above were clear. Her companions were in their tents melting water, or so she thought, until she looked out and saw three headlamps heading toward the summit.
She started to cry. "Tears of ice," she told me. "And I said, 'Ah! I'm losing!' "
Lhakpa pulled on her boots and convinced her male Sherpa climbing partner to get out of his tent and head up. Within a couple of hours, they'd caught and passed the lead party, which soon turned around.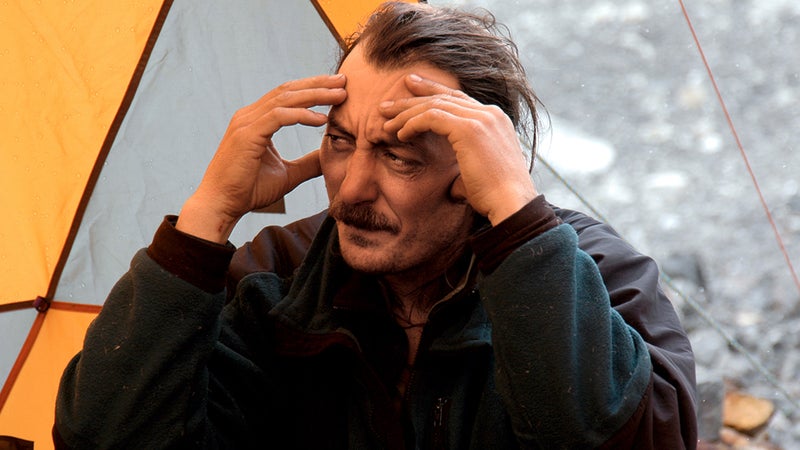 At 6 a.m.—dawn on May 18, 2000—she and her climbing partner reached the summit, which, she says, was beneath a rainbow. They were the only two members of the expedition to make it. She was received by a crowd in Lukla and flown by helicopter to her home in Makalu to celebrate.
At a party held shortly after the climb at the Rum Doodle, a popular bar in Kathmandu's touristy Thamel neighborhood that serves free food for life to all Everest summiters, she met her future husband. George Dijmarescu was standing against the wall. Then a handsome 39, he stood six-foot-two and weighed over 200 pounds.
"He hanging around the Khumbu Sherpas," recalls Lhakpa. "You know, coming, teasing me, saying, 'Oh, Lhakpa!' And he's looking nice. Long hair. You know, strong man. Sherpas say, 'Oh, he summit without oxygen.' "
Lhakpa spoke little English then—only what Dijmarescu would later refer to in court transcripts as "gibberish." But other Sherpas helped the two communicate. Lhakpa went to visit her sister Cheng at her adopted home in Daytona Beach, Florida. (She has a sister in New York City and a brother in Hartford as well, part of Nepal's thriving U.S. expatriate community.) When Dijmarescu called from Hartford, Cheng helped relay his messages to her sister.
Dijmarescu bought Lhakpa a plane ticket to Connecticut. Along with several other Sherpas, she worked doing demolition for the home-renovation company that Dijmarescu and his brother, Claudio, owned. In 2001, Lhakpa and Dijmarescu climbed Everest together, her second ascent, from the Tibetan side. In the fall of 2002, they were married in a civil ceremony at Hartford's city hall.
---
When I visited her last winter, Lhakpa was walking the girls home from school, taking the bus to the supermarket, and visiting with her English tutor, Elizabeth Hanlon, who'd been helping her write—mostly essays about her time in Nepal, like the time she says she was stalked by a snow leopard. She was starting to make more friends, but it was still difficult.
"I cannot talk to anybody," Lhakpa said over coffee. I'd been told that she could seem guarded and quiet, but the woman I met was gregarious and funny, laughing often and smiling constantly while her girls played Minecraft and entertained friends. "I love to talk," she said. "I stay in house and I… God, I'm still thinking about the mountain. You know, my God, I need to go to Nepal."
Lhakpa's attorney from the nonprofit Greater Hartford Legal Aid clinic, Ramona Mercado-Espinoza, came over to read a copy of the judge's ruling that gave her sole legal custody of the girls. Dijmarescu had tried to argue in court that because Lhakpa can't read or write in any language, she was unfit to parent. "What George didn't know," said Mercado-Espinoza, "is that Judge Jorge Simon's parents came here also from another country"—he's of Cuban descent—"and that they didn't speak English. Everybody is afraid of George, but I'm not afraid: I'm Puerto Rican."
For a time, the Dijmarescus' marriage was peaceful. Lhakpa testified that it didn't start to deteriorate until 2003, when their first daughter was born. "The relationship was good before I had children, but once I had children, he started hitting me," she said on the witness stand last year.
The couple climbed together from the Tibetan side of Everest in 2003, 2004, 2005, and 2006—Lhakpa's third through sixth ascents. In 2003, her younger sister Ming Kipa joined the team. She was 15, making her, at that time, the youngest person to climb Everest.
"I cannot talk to anybody," Lhakpa said over coffee."I love to talk. I stay in house and I… God, I'm still thinking about the mountain. You know, my God, I need to go to Nepal."
The 2004 expedition was documented by reporter Michael Kodas in a series of stories for The Hartford Courant, work he later incorporated into the 2008 book High Crimes: The Fate of Everest in the Age of Greed.
The single incident that horrified the climbing world came on that trip. The expedition, called Connecticut Everest, was made up mostly of climbers from New England; it was organized by Dijmarescu and co-led by Lhakpa and Trinity College field-hockey and lacrosse coach Anne Parmenter. The team, including Kodas and his wife, Carolyn, ascended Everest's north side.
"Success here was a triumph of physiology rather than mountaineering skill," Kodas wrote in the Hartford Courant. "And in this world, George and Lhakpa's strength was obvious. They stayed so far in front of the pack that I wasn't sure which figures on the landscape were theirs." The higher the team climbed, he wrote, the "more remote" Lhakpa seemed. She rarely carried a pack, he alleged, and "coaxed those whose packs seemed light to carry some of her gear."
The altercation took place after Lhakpa had just summited for the fourth time, and Dijmarescu, after failing to summit, had helped rescue a Mexican climber who'd had trouble descending. "He is all frostbit on his fingers and toes, and Lhakpa starts to become jealous and starts accusing George of being gay," climber Dave Watson, who helped with the rescue, told me by phone. "We're about to leave base camp and start driving back to Kathmandu. This is the last day. And it finally fucking boils over, you know? George is in a tent with the Mexican climber and a couple other guys, and Lhakpa comes in and starts throwing huge rocks at George."
In his deposition for the divorce case, Dijmarescu said that Lhakpa had attacked him and the other climber. "She charge at him and she grab him by the throat," he said. "He was all bandaged, he had severe frostbite, we just rescued him. And calling him 'fag,' that he had just had an affair with me." Dijmarescu testified that, as Lhakpa pelted them with rocks, "I opened the tent door, and I pushed her out."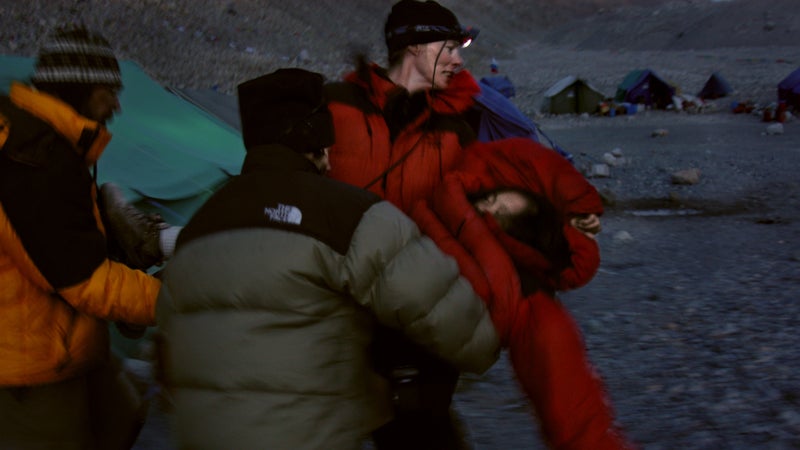 The version Lhakpa presented in court was that Dijmarescu had become angry when she protested that "he was not treating the people that we walked with nicely."
According to testimony from Anne Parmenter, who was present at the altercation, Dijmarescu lashed out at his wife, hitting her. In his cross-examination of Parmenter, Dijmarescu—who acted as his own counsel throughout the trial—disputed her testimony. "Ms. Parmenter has not witnessed any hitting," he said.
Lhakpa told me at her kitchen table last January that she remembered being knocked out. "I'm flying, and I'm at my mama's house. And I hear people singing, yelling. I heard some birds," she said. "I opened my eye, and I look at Everest. And half is red and half is white." She thought that blood vessels had ruptured inside her eye.
Dijmarescu declined to comment for this story, but his brother and former business partner, Claudio, speculates that so much time at altitude may have affected his brother. "He isn't the same person he was before he started climbing," he wrote me in an e-mail.
In a Facebook message to me, Dave Watson called Dijmarescu "very tough, very misunderstood, and very kind. He taught me how to play the extreme-altitude game, and I feel very fortunate to have had him as a mentor.… I know I can count on him and have trusted my life to him. We've been through mountain combat together, and now I consider him a brother."
Some of Dijmarescu's toughness no doubt grew out of his own difficult immigration story. A soldier in the Romanian army, he escaped from the Communist country in 1986 or 1987, at age 25, a few years before the overthrow and execution of dictator Nicolae Ceausescu in 1989.
"My departure took two years of training in an Olympic swimming pool. I trained myself to cross the largest river in Europe, called the Danube," Dijmarescu said in his deposition. "It took me two years to prepare myself for this journey, took me two years learning where the border patrol was." He then walked across the former Yugoslavia and into Italy, where he lived for a time at a refugee camp. Because he'd served in an Eastern Bloc army, which meant he might have useful intelligence, he was able to defect to the United States and become a citizen.
---
When High Crimes was released in 2008, says Lhakpa, she retreated deeper into the shadows. According to her, Dijmarescu was furious. "Here is your Michael Kodas book!" she told me he shouted as he hit her with the book.
The Dijmarescus bought a house in 2009, a four-bedroom craftsman in Hartford with a trampoline out back. The girls each had their own room. Dijmarescu's ailing father, Valeriu, 80, who the girls call Nunu, lived upstairs. According to court documents, he'd had a liver transplant and was on dialysis, and Lhakpa looked after him.
By this time, Lhakpa had been out of the spotlight for four years, having claimed her six summits and retreated to home life in Connecticut. But despite having been able to fund nearly a dozen trips to Everest, Dijmarescu was in financial trouble, hit by the recession and hospital bills from a diagnosis of sarcoma.
Lhakpa didn't train for Everest. She was born and raised above 13,000 feet and believes her strong will and genetics will get her to the top of the mountain, just as they have in the past.
It was during his battle with cancer, in May 2011, that Dijmarescu wrote Lhakpa a letter—which Lhakpa's attorney introduced as evidence during the court proceedings—promising that things would get better. "I know, Lhakpa, I hurt you many times," the note read. "I'm sorry. I said it to you before. If God grants me another chance, I'll make you my queen and I will devote my life to your happiness. I was wrong, and I did not know the meaning of happiness, the meaning of true life and prosperity. I know I found it now and am ready to use this knowledge."
But by the summer of 2012, the stress had gotten worse. The family was on food stamps. Nima had received a green card and moved from Kathmandu to Hartford, but it quickly became clear that he'd need to live with his uncle, Lhakpa's brother, rather than with her and Dijmarescu. According to court records, things blew up that summer, resulting in the incident for which Dijmarescu was later convicted of breach of peace. July 1 was their older daughter's birthday, and Dijmarescu wanted to throw her a party. Lhakpa rode the bus to Stop & Shop to buy food for the party, only to find there was no credit on the state-issued benefits card.
On the witness stand, Lhakpa testified, "I came back and told him that it does not work. He accused me of not making food that day."
"He started hitting me for that," she said. "He also tells me to buy alcohol with the card, but you actually cannot purchase alcohol with the food stamp."
Lhakpa told the judge that their older daughter ran to her grandfather Valeriu's room and turned up the television. But, she testified, the younger daughter stayed, crying and shouting, "Don't hit mama, don't hit mama." According to Lhakpa, Valeriu tried to intervene and shield her from the blows. Afterward, she said, Dijmarescu drove off in his pickup truck and she called a neighbor who she often confided in. Her friend called the police.
At Hartford Hospital that night, Lhakpa met with a social worker. The medical records from the case, which Mercado-Espinoza provided to me in Lhakpa's presence, summarized her claims like so: "States she has been abused by her husband for 11 years."
From the hospital, Lhakpa and the girls were transported directly to a women's shelter, where they effectively disappeared. When they reemerged a month later, Dijmarescu filed for divorce.
After two years of legal wrangling and a trial, Judge Simon issued his ruling on January 5, 2015, dissolving the marriage. While he said that did not find all of Lhakpa's claims credible, his written opinion was pointed. "It was clear to the court that the husband treated the wife more like chattel than a human being; someone more suitable for the rigors of carrying loads than raising children," Simon wrote. "Ms. Sherpa embodies all the qualities of first-generation immigrants to the United States seeking a better life for themselves and their children."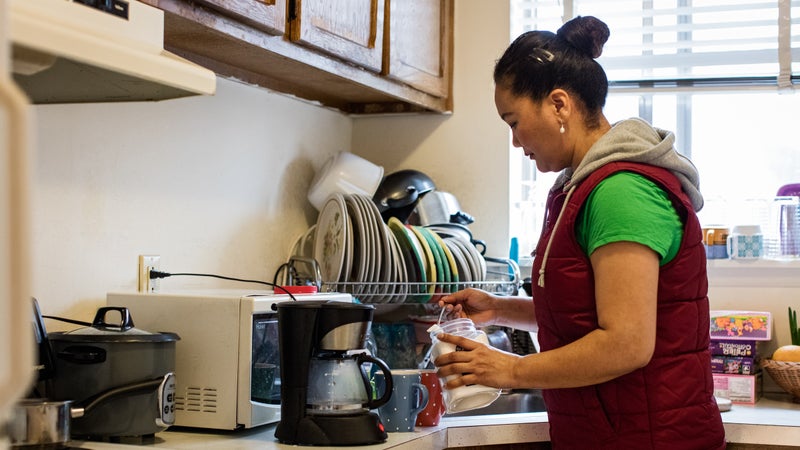 ---
Lhakpa didn't train for Everest. She was born and raised above 13,000 feet and believes her strong will and genetics will get her to the top of the mountain, just as they have in the past. She has summited in fierce winds, in whiteouts, and eight months after the birth of her first daughter. She went back up Everest when she was two months pregnant with her second child, a fact the younger daughter holds firmly over her big sister's head. "I walk every day," Lhakpa said, describing what passes for her conditioning strategy. "I go to my work walking, pick up my children walking."
According to Mercado-Espinoza, it's been a calm year in relation to Dijmarescu, who is allowed to visit with his daughters as long as his mother or another designated supervisor is present. Last month, Lhakpa left the girls with Claudio Dijmarescu and his wife and returned home to Nepal, where she'll climb Everest on a trip run by her brother's outfit, Seven Summits Club. Mingma Gelu will provide her with everything she needs. "We will climb together," he says. "We have a great climbing family. She doesn't need a Sherpa. She is so strong."
By early May, the Sherpa fixing team had set ropes to 27,000 feet, well ahead of schedule for Everest's north side. Lhakpa had been doing her acclimatization rotations to the North Col and beyond. Everest, she had told me before she left, isn't a physical challenge so much as a mental one. It requires the strength to endure and to keep getting up, putting icy boots on, and stepping out of your tent even when you're cold and tired, no matter how bad you feel. That much Lhakpa knows she can do.
Even if she succeeds in nabbing her seventh summit, she'll almost certainly return to housekeeping in a world that is slow to validate her accomplishments. It's not that she wouldn't welcome a little recognition. She wants to have a movie made about her, and she desperately wants to meet Oprah Winfrey; she's carried copies of O: the Oprah Magazine to the summit on multiple occasions. For now, though, Lhakpa is happy to have her freedom, and she has no plans to move. "I like my friends," she says. "I don't want to have to find new ones." And the girls have their friends and their school and a place in the world.
But that doesn't mean Lhakpa is at peace. Last winter, I asked her for the fifth time whether she was sure that she wanted me to tell the details of her story. She said that she did. Then she added, "You tell me when this story is public. I must watch which way I walk."
Grayson Schaffer is an Outside senior editor.
Lead Photo: Jesse Burke