Biker Sherlock's Family: "Brain Injuries Took Him Away from Us"
Michael "Biker" Sherlock, a noted downhill skateboarder and street luger who won multiple medals at the X Games and Gravity Games, sustained many head injuries during his career.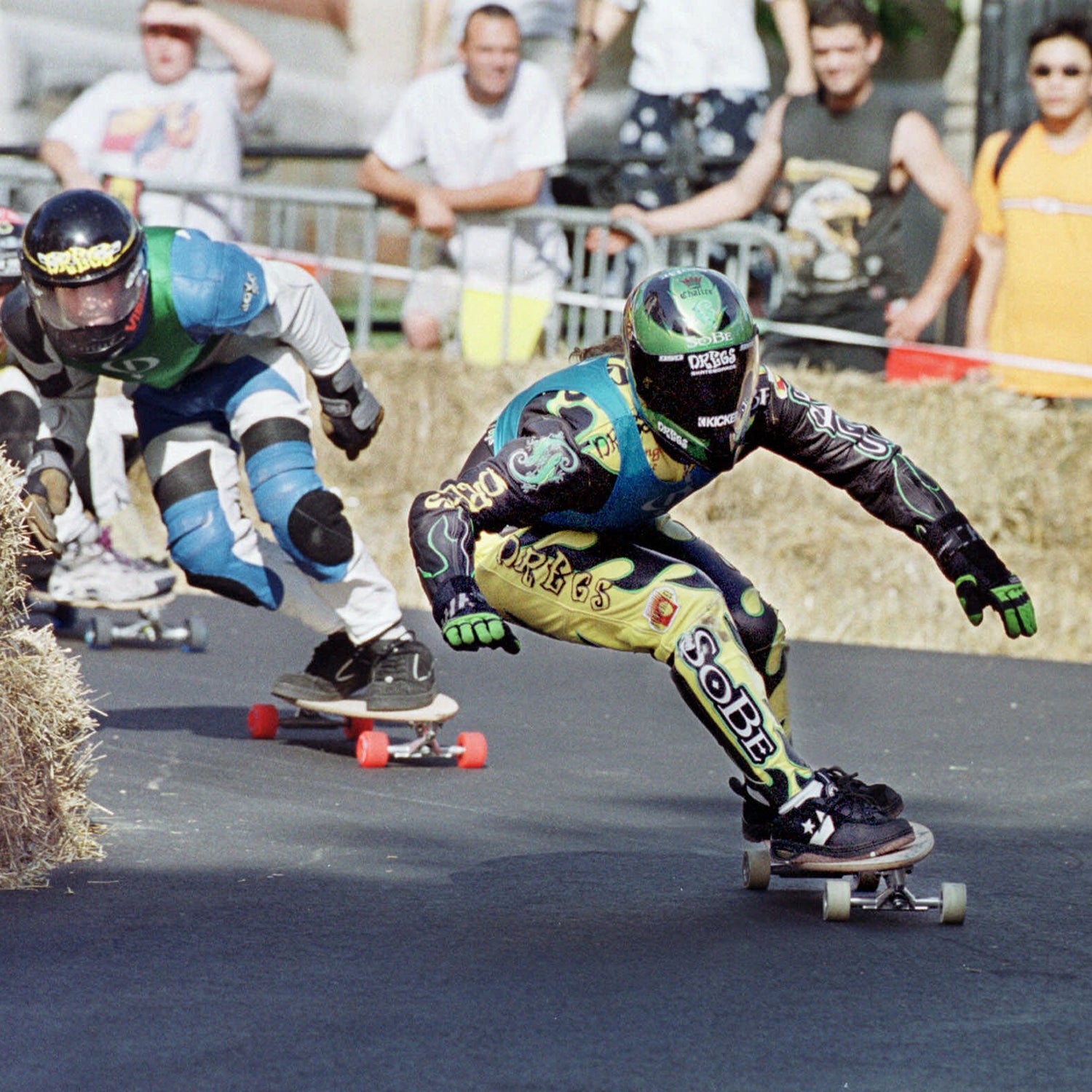 Paul Connors/AP(Photo)
Heading out the door? Read this article on the new Outside+ app available now on iOS devices for members! Download the app.
Michael "Biker" Sherlock, a noted downhill skateboarder and street luger who won multiple medals at the X Games and Gravity Games, sustained many head injuries during his career. On December 3, 2015, he committed suicide in San Diego, California. In response to Dan Koeppel's request for an interview for Impact Zone, Margaret Sherlock and Marjorie Sherlock Kavanagh, two of Biker's sisters, provided this statement. 
Impact Zone

Are cyclists, skiers, and other athletes subject to the same concussion and CTE risks that have been so widely reported in the NFL?
The name Biker Sherlock is synonymous with speed, adrenaline, and risk-taking. Biker found his passion in bikes and boards at a very young age. That was one side of Michael. The other side was a caring loving, sensitive, and generous person.
Surfing was like a spiritual experience for Michael, and he pledged to himself never to compete as a surfer to protect the euphoric relationship he had with the rush of surfing, whether it was on the Jersey Coast where he caught his first waves, San Diego where he lived and raised a family, or Hawaii where he tow-surfed the big waves. 
Couple Michael's childhood passion for these sports with a highly competitive drive, contagious enthusiasm, and a chance street luge ride motivated by a friend in the 90's, and a professional extreme sports athlete was born.
Michael was off to the races. He broke world records and took home gold medals from the X Games and the Gravity Games in downhill skateboard and street-luge racing events. He was called upon by NBC to assist in launching its inaugural Gravity Games, where Michael pioneered the introduction of downhill skateboarding in televised extreme sports and was touted by NBC as the most professional and organized sport organizer. He assumed ownership and leadership of the EDI racing organization, founded Dregs Skateboard company, and revitalized the Dregs racing team—a force to be reckoned with everywhere. Michael was an industry leader who launched his sports and fellow competitors into the world of action sports. 
This was all fun for Michael. Michael shared the joy of his sports with his sons, Titus and Steel. Safety first. Helmets on. And he taught them the right way to do things. He taught them about the equipment, how their bikes and skateboards were made, and why they were made the way they were. He taught them the art and science of participating in bike and board sports. 
With Michael's type of fun and at the level he competed came risk and injury. In the spirit of this article, Michael had his first brain injury at the age of seven. He rode his bicycle down a hill with no hands, the bike stammered over rocks, and Michael went down, resulting in a fractured skull. In his professional action-sports life, he sustained many concussions—all the while wearing the best in protection in helmets. 
The world is coming to know more every day of the life altering and sometimes tragic loss of life due to the effects of brain injury. While Michael was not officially diagnosed with CTE, no other conclusion can be drawn—his last act demonstrated this.
We encourage all athletes, regardless of age and sport, organized or not, to focus first on safety. And to treat every injury as a milestone moment to think about short and long-term effects, potential lifetime consequences, and whether or not to make it a stopping point. 
It's easy to feel like superman when the adrenaline is rushing and you are part of something bigger than yourself, especially when surrounded by like-minded individuals who love their sport. From our perspective, at the end of the day, the medical, physical and psychological consequences of the fleeting moments of elation will outweigh it all. 
Michael's passion for sports was eclipsed exponentially by his love of his family and friends. The consequences of brain injuries took him away from us. 
It is with great difficulty that we share this with the world. However, Michael helped and supported so many people throughout his life—friends, family, strangers alike—that it is in his memory we share this to help others, athletes, and the parents of young athletes to make the best decisions each moment of every day of sport participation.
Lead Photo: Paul Connors/AP