You're Wasting Your Money on an Expensive Bike. Get Wheels Instead.
The best upgrade you can make on your rig? A new set of hoops. Presenting our favorites for road and mountain.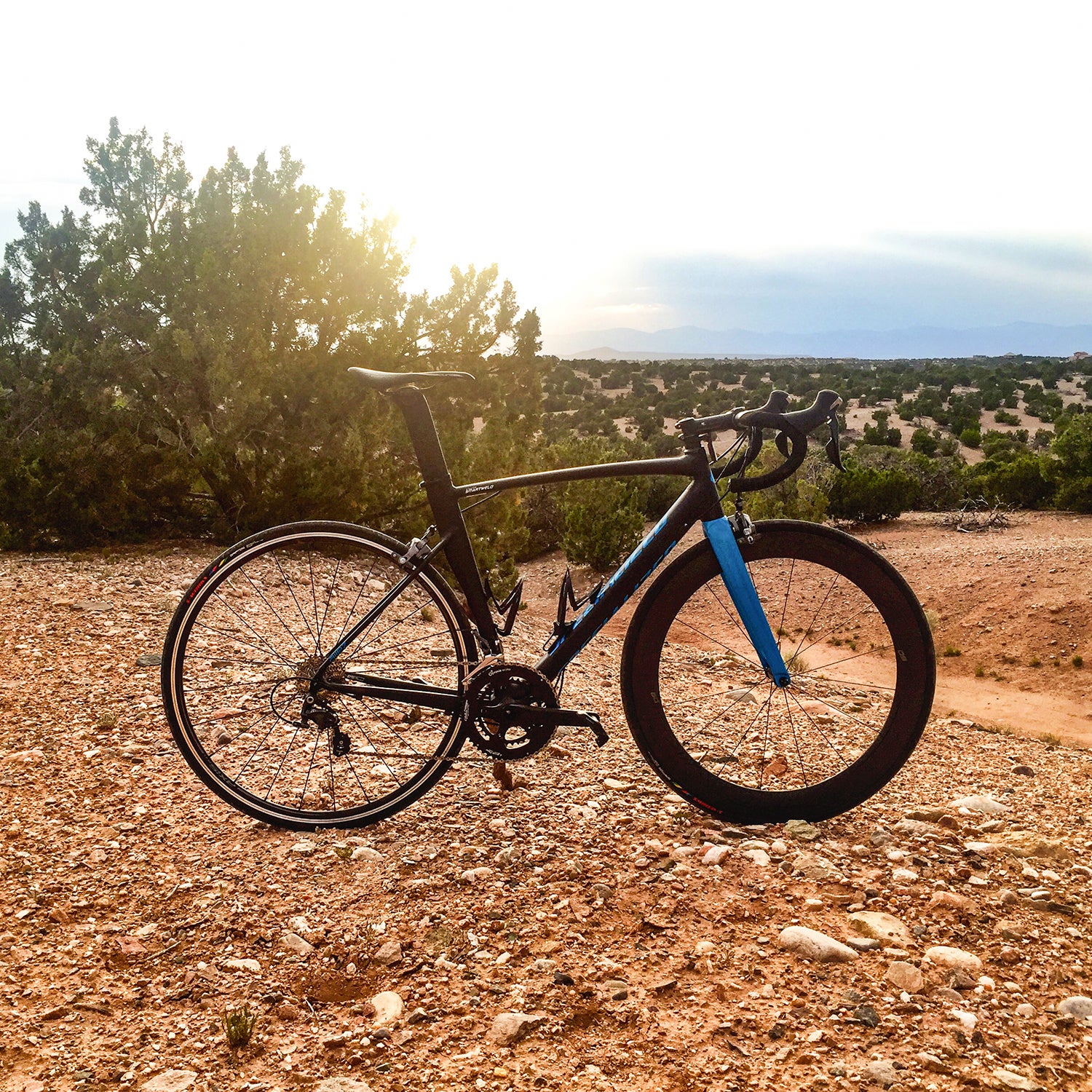 Heading out the door? Read this article on the new Outside+ app available now on iOS devices for members! Download the app.
Earlier this year, I attended an event in Santa Cruz, California, where Specialized unveiled its latest aluminum road bike, the Allez Sprint. After a 100-mile ride on the opening day, one of the editor's remarked, "If I didn't know better, I'd have sworn I was riding a carbon bike." It was true, and was high praise for the amount of compliance and comfort that Specialized has built into its alloy frames.
It didn't escape me, however, that the company had equipped the bikes with Roval CLX 60 Rapide wheels—carbon hoops that are far nicer than the alloy wheels that come stock on the Allez. A set of these wheels cost more than the retail price of the top-end Allez bike complete.
I took the bike home with me for further testing, but made sure I had the stock wheels—Axis Elite alloy hoops—as well as the CLX 60s. For years, I've preached that the biggest improvement you can make to any bicycle isn't the frame or the components but rather the wheels. And riding the Allez back-to-back with the stock wheels versus the carbon ones reaffirmed this feeling. The bike is a very solid bike in its base-model format. But putting on the carbon wheels makes it come alive. The CLX 60s are stiffer, lighter, and more compliant, and the Allez feels as quick and responsive as any race machine with these high-end wheels, even though it's "only" a $2,000 bicycle.
People frequently enquire what new bikes they should upgrade to from their current models. It's true that if you have a very old machine, especially on the mountain side where suspensions are constantly evolving and improving, a completely new bike may be a huge improvement. On the other hand, you could also upgrade wheels, which may dramatically enhance your existing bike's ride quality and feel for less than the cost of a new bike.
Similarly, if you're buying a new bike on a limited budget, purchasing a less expensive model and saving some money for a nice wheel upgrade may yield a better ride than you'd get by spending more on the retail price of a nicer bike. For instance, that Allez with CLX 60s would run you $4,200, which is less costly than the similarly equipped Venge ViAS but will likely ride better, thanks to those high-end hoops.
This summer I've been testing tons of wheels, and what follows are some of my favorites.
Road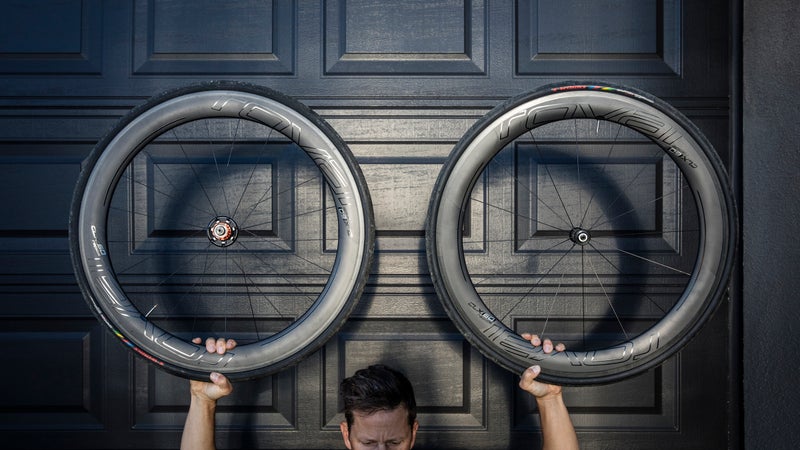 Roval CLX 60 Rapide ($2,200)
These are the wheels that convinced me of just how big a difference wheels can make. Honestly they are underrated and often overlooked (perhaps because of their association with Specialized). At 1,550 grams for the set, these carbon hoops weigh nominally more than the shallower road rims I liked, meaning you get some real aero benefits in a serious lightweight package. The 60mm depth actually feels extremely fast but doesn't get blown around in the crosswinds much, either. And though they are hardly cheap, these wheels are a pretty fair price and less expensive than most everything out there in their class. The verdict? An excellent race clincher at a legit price.
---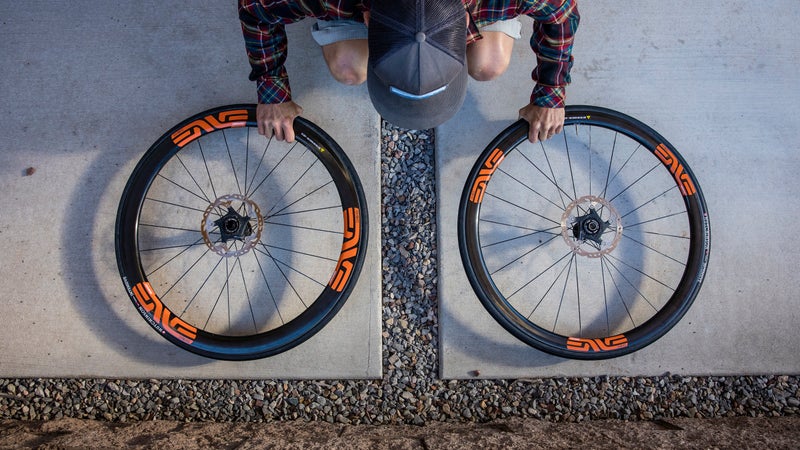 Enve SES 3.4 Disc ($2,900)
As with all of Enve's road offerings other than their lightweight climbing hoops, the 3.4-rim profile is different between the set, with a 35mm depth and 18.5mm internal width up front, and a 45mm by 16.5mm out back. The disparity is said to account for the varied forces on the bike, with the front low and squat to minimize drag in crosswinds, and the rear taller and skinnier because the back half of the bike is less affected by stability issues. The wheels feel fast, though not as fast as the Rovals. They are, however, stiffer, which translates into direct cornering and handling. They are also exceedingly stable in the wind, and, if you add tubeless rim tape, can be set up no problem without tubes.
This American-made wheel gets my top vote for a high-quality, disc-compatible carbon clincher for all-around road use, especially because I prefer to ride tubeless.
---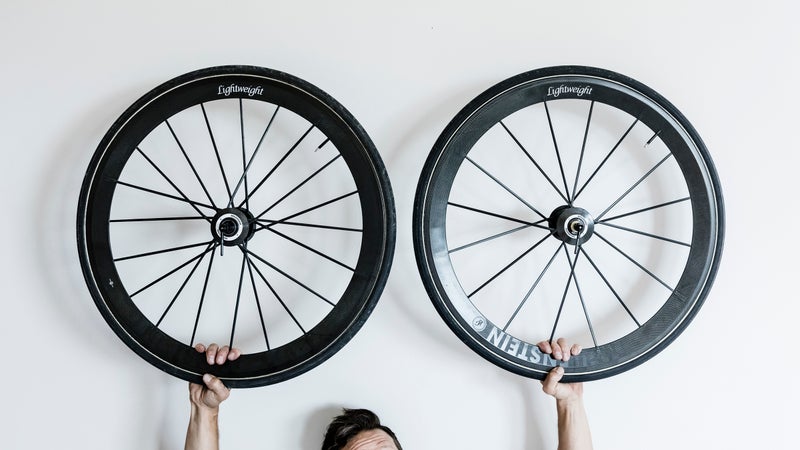 Lightweight Meilenstein ($5,600)
Though these German-made carbon tubulars are prohibitively expensive, they also feel like the fastest wheels I've ever tried. At 1,100 grams for the set, they are notably snappier than either of the sets above, and you almost feel like you are floating when climbing on steep pitches. That weight is even more phenomenal given the huge, 47.5mm depth, though the shape is sharp and pointed (not rounded like the other two), which isn't quite as aerodynamically sound or stable in the wind. Still, you reap some wind-cheating benefits for the weight of most super low-profile climbing rims. They get their weight and shaping advantages from the full carbon hubs and bonded carbon spokes—the disadvantage being that re-tensioning or replacing a spoke means a costly return to the factory for the fix. I don't generally go in for the hassle of gluing tubulars, either, but I have to admit that they really do have a very supple road feel.
Possibly the fastest wheels money can buy, and they should be given the eye-watering price.
---
Mountain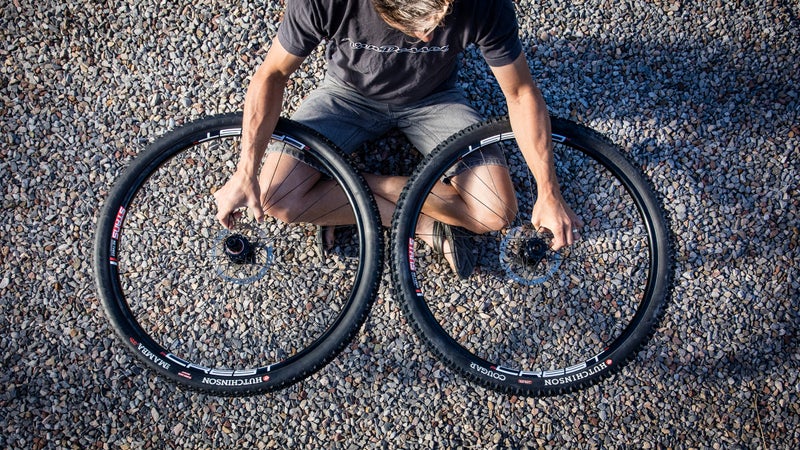 Stan's ZTR Crest MK3 ($370)
These are the only aluminum rims I rode. While they aren't as stiff as some of the carbon models, they offer incredible performance for the price. The Crest, which splits the difference between lightweight for XC riding and durability for all-mountain, has been around for years and is tried and true. This year's revised MK3 shape is lower profile, wider, and even lighter than before. The added width (23mm internal) means you get better spread on fatter tires, and Stan's, the company that pioneered tubeless tire technology, says that the shape also all but eliminates the possibility of pinch flats. I can't verify that quantitatively, but it's true that over hundreds of miles of rugged single track, I've yet to flat a tire on these rims. A friend, who was fed up with her bike, recently upgraded to these wheels and they transformed her ride so dramatically that she's decided to keep the bike. For an XC bike or trail 29er, there's no better wheel for the money.
---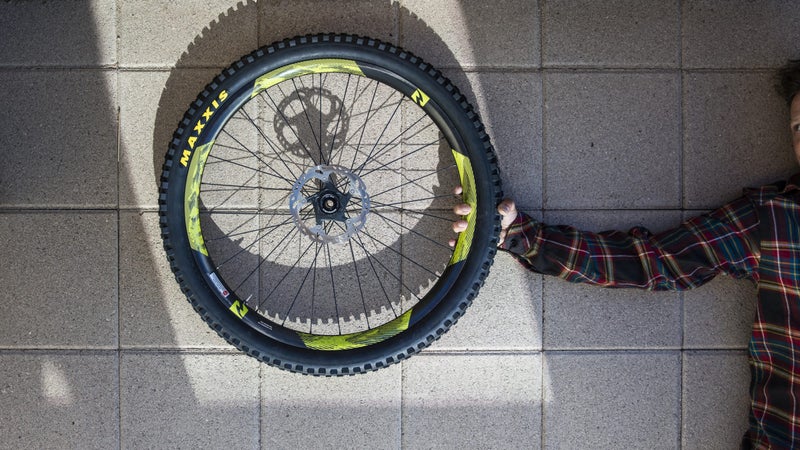 Reynolds Enduro 27.5 ($1,400)
Though some riders still have concerns over carbon rims for heavy-duty mountain bike usage, these stout, wide rims once again prove that, when constructed properly, the material can take any and all abuse. The rims are wide (34mm external/28mm internal) and spread big tires admirably—I rode up to 2.6-inch rubber on them just fine. The asymmetric shape yields incredible stiffness, especially considering the 28-hole drill pattern and surprisingly lightweight 1660-gram set weight, and the hookless bead design was simple to set up with every tire I tried. I also appreciate the interchangeable end caps, which ensure that you can easily switch between bikes no matter the hub standard. It's the ultimate American-made carbon rim for all-mountain bashing and hard-charging.
---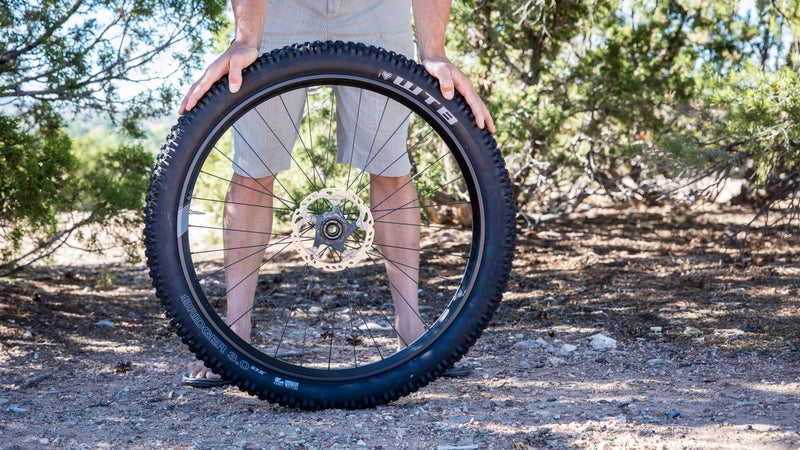 Whisky No. 9 50W I9 Torch ($1,900)
Since there's so much wheel and tire mass in plus-size and fat bikes, and because stock builds often save money by spec'ing inexpensive (read: hulking) hoops, a wheel upgrade can make a shocking difference on these oversize bikes. Case in point: I trimmed nearly two pounds from a complete bike weight when I upgraded to these 50mm-wide Whisky carbon wheels, and the ease of spinning—especially climbing—transformed an average bike into an absolute rocket ship. The recessed channel in the rim bed makes mounting tires a snap and keeps the rubber away from the rim tape when it snaps into the hookless bead on tubeless setup. The Industry 9 hubs, while a bit noisy in the Freewheel, have proven totally indestructible, too, as have the rims themselves, which have a 300-pound rider weight limit but have absorbed huge drops, blasting through rock gardens, and a few impacts courtesy of low tire pressures, with nary a scratch or ding. If you are riding three-inch tires, do yourself a favor and upgrade to these feathery carbon wheels—they will make you love your ride that much more.
---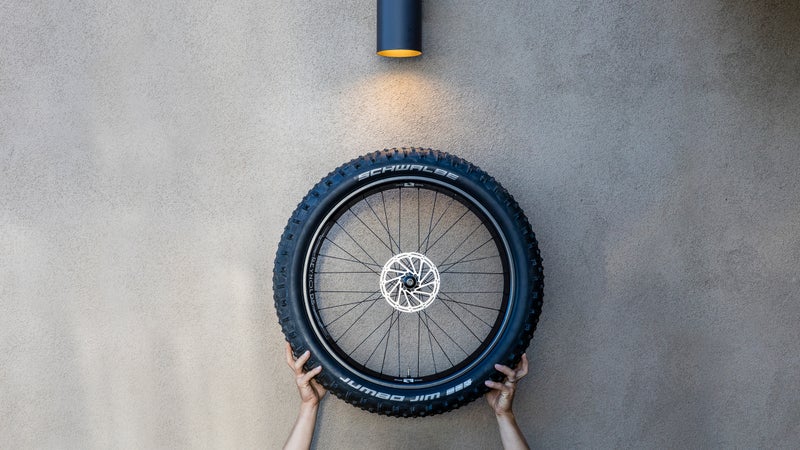 Reynolds The Dean ($1,800)
As with plus-size bike, the weight savings of upgrading to these 80mm-wide carbon wheels on my fat bike was staggering: nearly 3.5 pounds off the total weight. And once again, since that's mostly rotating weight that's been cut, which is more dramatic than any other weight on the bike because it's moving mass, it makes the bike feel like a completely different machine. I mounted some 3.8-inch tires on these hoops to begin with, and they worked fine, but the rim shape seemed best suited for tires four inches or bigger. Reynolds uses a Vee-shape taper inside the rim and a small hook at the bead, which is a bit atypical these days, but I had no issues setting up multiple models of tires with only a floor pump. Five PSI proved optimal on snow, while 7-8 PSI was good for most rocky terrain. When I took the occasional rim hit, the Deans proved sturdy enough. Almost three grand is pretty excessive for a winter-time ride, so these awesome wheels are probably only for year-round fat bikers. For a more affordable, but still awesome option, check out the Bontrager Chupucabras. In the end, it's a ton of money for a winter wheel—but those who drop the cash won't be disappointed.