The Hillary Clinton Environmental Scorecard
The former Secretary of State could inherit a number of ambitious eco-commitments established by President Obama. Here's where she stands on each one.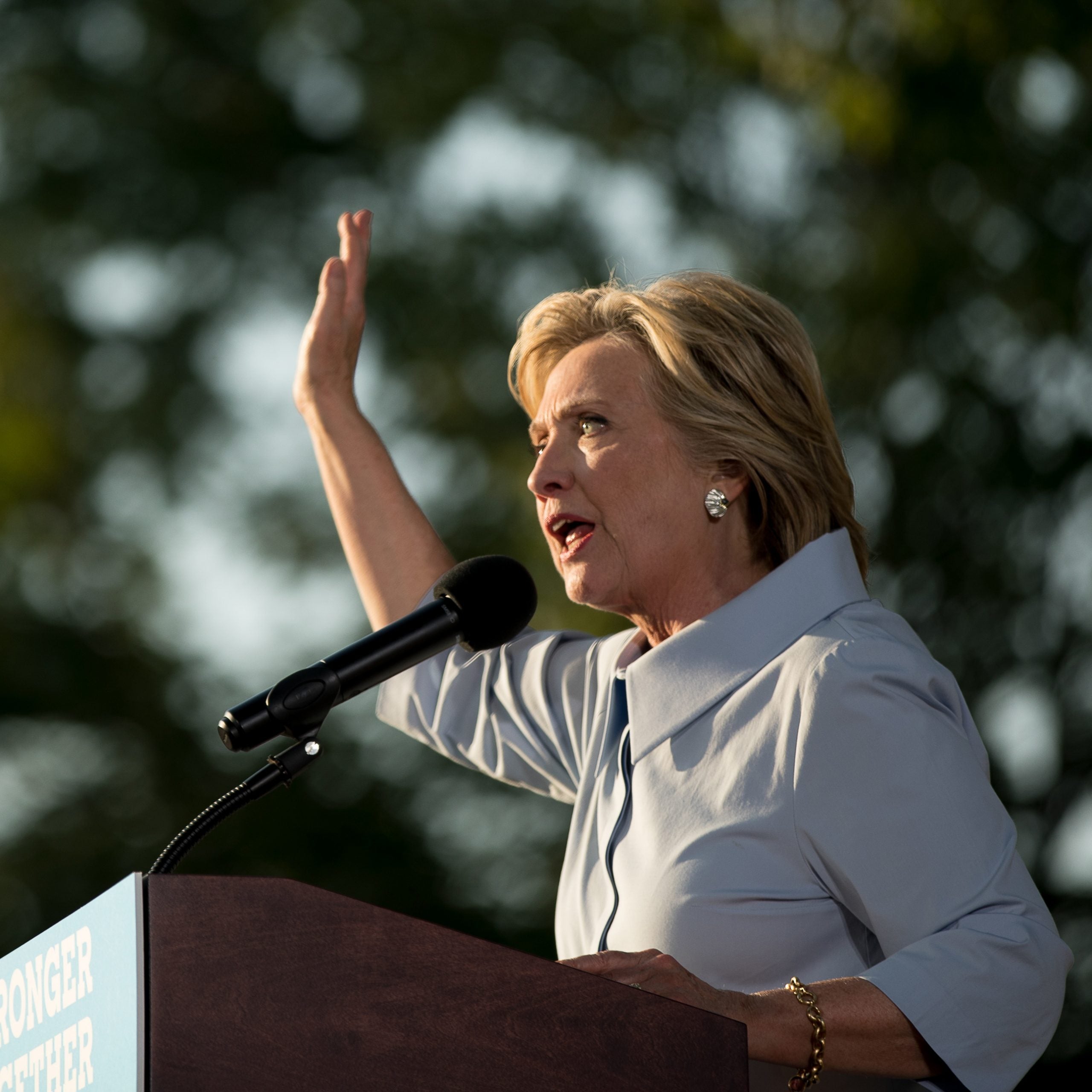 AP/Andrew Harnik(Photo)
Heading out the door? Read this article on the new Outside+ app available now on iOS devices for members! Download the app.
In a campaign season dominated by sex tapes and Twitter insults, wonky questions surrounding the price of carbon or what to do about our public lands haven't gotten much airtime—particularly during the first two presidential debates. But few issues underscore the wide chasm between the Republican and Democratic presidential nominees more than the environment.
These are the issues that will help define the next president's first term, and the distance between the personal beliefs and policy proposals of Donald Trump and Hillary Clinton is worth exploring. We did our best to extrapolate Trump's vision from his various public comments (it wasn't easy). With Clinton, who aims to expand on the ambitious environmental policies championed by President Obama, the picture is clearer: she's going to be aggressive.
Here's a breakdown of what Clinton hopes to accomplish if she wins the Oval Office, and what it means. 
---
Climate Change and Renewable Energy
In contrast to Obama, who barely mentioned the issue when he was running for reelection in 2012, Clinton has made tackling climate change a major theme in her campaign. She's mentioned it during both the primary and general election debates, mocking Trump during the first debate by saying, "Donald thinks that climate change is a hoax perpetrated by the Chinese. I think it's real." Trump replied, "I did not. I did not. I do not say that." (He actually did tweet that, and he has also questioned whether global warming is even underway.) 
Clinton has vowed to cut U.S. greenhouse gas emissions by as much as 30 percent below 2005 levels by 2025, and 80 percent by mid-century. She's also pledged to cut U.S. oil consumption by a third, ensure that half a billion solar panels will be installed by 2020, and carry out a ten-fold increase in renewable energy production on public lands. On top of that, she aims to provide $60 billion to state and city officials through a "clean energy challenge fund" so they can reduce their carbon output and enhance their resilience to climate impacts, along with another $30 billion to struggling coal communities. 
Such ideas make Clinton attractive to environmentalists. "It's probably fair to say that, by the time his term is over, President Obama will be regarded as the most environmental president we've ever seen, and yet we're confident Secretary Clinton will build on this record, and even do more," says League of Conservation Voters President Gene Karpinski, whose group is pouring $10 million into the presidential race this cycle.
Clinton's 2020 overall emissions target is more aggressive than what Obama has pledged under the Paris climate agreement. Her solar plan, for example, suggests that the U.S. will have 140 gigawatts of installed solar by the end of 2020, compared to the 100 gigawatts that's now projected. But the question of whether she can deliver on her promises remains—especially since she has yet to embrace the idea of imposing a sweeping carbon tax, and it's unlikely that Congress would hand over tens of billions of dollars to her administration if she's elected. While Clinton has vowed to defend federal regulations limiting the carbon output of existing power plants, which are currently being challenged in court, she will have to do much more than that in order to meet her professed goals. 
Clinton's aides point to a few federal levers that Obama has not yet pulled, such as generating as much as 12 gigawatts in hydropower from inactive Army Corps of Engineers dams and spurring municipalities to shorten their permitting process. But Joseph E. Aldy, an associate professor of public policy at Harvard University's John F. Kennedy School of Government, wrote a critique of Clinton's overall approach in the October 6 issue of Nature, outlining how inefficient it can be to add on incremental incentive programs for cutting emissions when others are already in place. Such moves could disproportionately impact poor Americans, he noted, or increase overall costs. "To drive the innovation necessary to realize the long-term goal and to attain it in a cost-effective manner requires an economy-wide price on carbon," he concluded.
Republicans, for their part, have accused Clinton of waging "a war on coal," pointing to her own comment in March on how she plans to expand clean energy in Appalachia and elsewhere "because we're going to put a lot of coal miners and coal companies out of business, right?" Scott Segal, a partner at the law firm Bracewell LLP who represents energy companies, some of which burn coal, says that Clinton's record as a senator suggests she might be more consensus-oriented than her campaign rhetoric implies. "This approach to the legislative branch suggests the potential for a more pragmatic approach to a range of environmental issues," Segal says. "She may focus on a few key priorities in this space and allow for cooperation elsewhere."
---
Conservation on Public Lands and in Federal Waters
On this front, Clinton has staked out one position to the left of Obama—she opposes offshore oil drilling in the Arctic Ocean and off the Atlantic Coast—and is pushing for a doubling of the outdoor recreation economy within a decade. The Democratic nominee has vowed to unlock access to at least 2 million acres of currently inaccessible public lands by the end of her first term, and to revitalize more than 3,000 city parks within ten years. Like Obama, Clinton says she will work to increase recognition of communities of color, women and lesbian, gay, bisexual, and transgender Americans among national parks, monuments and memorials.
Amy Roberts, executive director of the Outdoor Industry Association, says the fact that Clinton has vowed to double the outdoor economy marks the first time a presidential candidate has talked about her industry "in a distinct way," rather than just as side benefit of conserving public lands. And former U.S. Senator Mark Udall (D-CO), who spoke on Clinton's behalf to the OIA's annual conference in September, wrote in an email that, "There is only one thoughtful vote to cast for president in this election. Hillary Clinton."
Clinton's call for a halt to offshore drilling in the Arctic—a step that environmentalists have been seeking for years—has attracted little attention. Jack Gerard, president of the American Petroleum Institute, declined to comment on Clinton directly, but wrote in an email, "We need an informed energy policy where we can learn about the potential resources in the Atlantic and Arctic. Expanding our offshore oil and natural gas development to new areas is critical to our nation's long-term energy security."
---
Wildlife
Though wildlife trafficking is far from a top-tier political issue, it's been a priority of Clinton's for some time. "I am a Democrat, but I really like elephants," she remarked during a taping of The Ellen DeGeneres Show in May. According to David Hayes, who served as deputy secretary of the Interior under both Obama and Bill Clinton, Hillary Clinton became interested in elephants during a trip to Africa with her daughter while serving as First Lady. She pushed Obama to sign an executive order to combat wildlife trafficking in July 2013, and helped establish a non-governmental group—the Elephants Action Network—through the Clinton Foundation and Clinton Global Initiative. "Every time I see her, she asks me, 'How are the elephants?' he recalled. 
---
Environmental Justice
You can sum up why Clinton has made the topic of environmental justice so prominent in her campaign in a single word: Flint. The lead contamination crisis in that largely black Michigan city commanded national attention this election cycle, and Clinton has invoked it repeatedly as an example of policymakers failing to pay enough attention to communities of color. 
She has promised to eliminate lead as a major public health threat within five years, modernize the nation's drinking and wastewater systems, reduce urban air pollution, and establish an Environmental and Climate Justice Task Force to ensure that federal decisions take account of the cumulative impacts vulnerable communities face when it comes to pollution. 
"There are a lot of Flints across our country where children are exposed to polluted air, unhealthy water and chemicals that can increase cancer risk. And like Flint, they tend to be places that are home to poor people and people of color," Clinton told the National Action Network in New York City in June. "Every child and every family in America deserves clean air to breathe, clean water to drink and a safe and healthy place to live. This a justice issue. It's a civil rights issue. And as president, it will be a national priority for us."
Lead Photo: AP/Andrew Harnik
Trending on Outside Online