Indefinitely Wild
Why Hikers Need Hunters and Vice Versa
Federal lands belong to all of us—it's time to unite to fight crooked politicians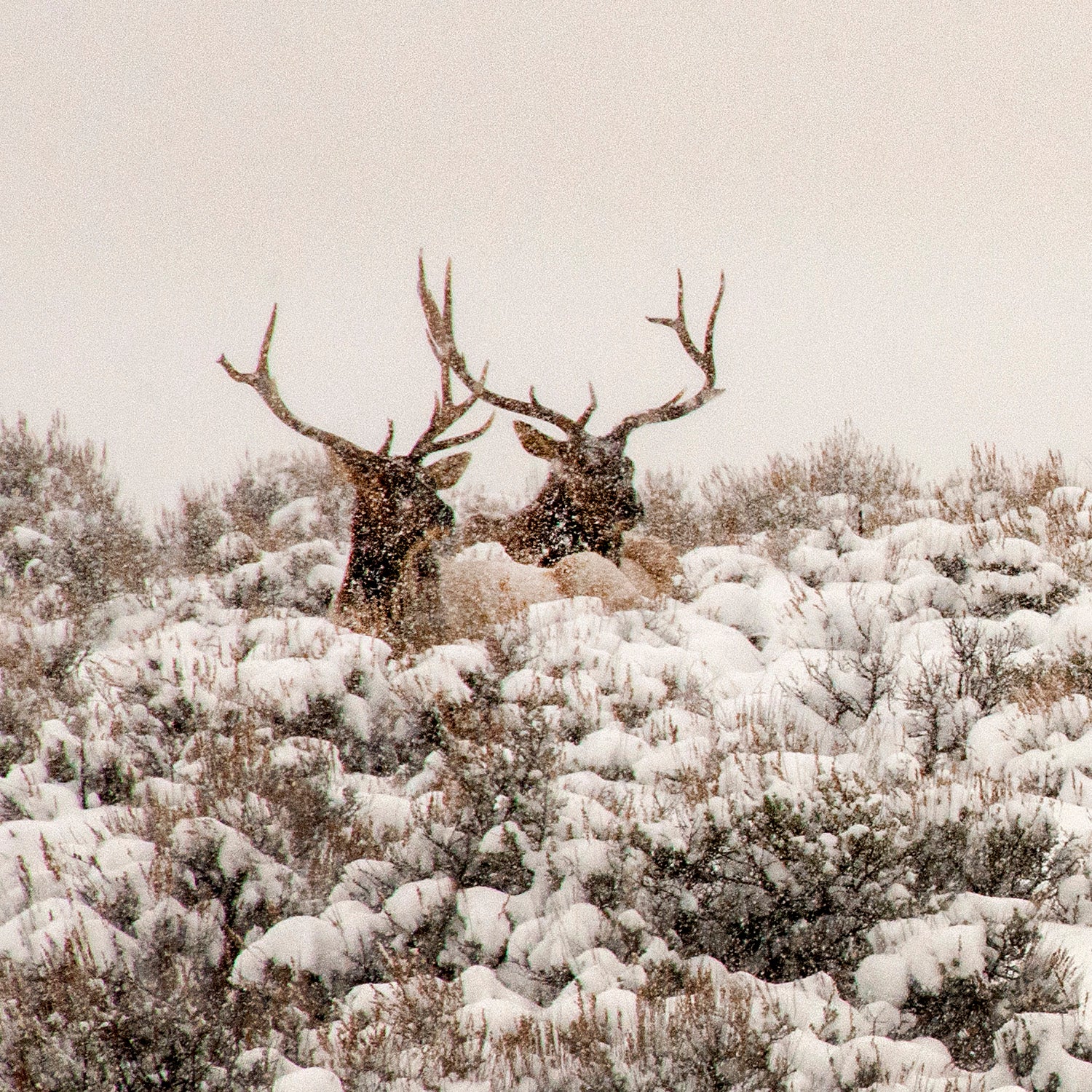 (c) 2014 Tom Kelly(Photo)
Heading out the door? Read this article on the new Outside+ app available now on iOS devices for members! Download the app.
Divide and conquer. It's a strategy as old as warfare itself. It's also Congress' strategy for stealing America's public land. By pitching the heist as pro-state's rights and pro-small government, our elected officials are sowing disinformation and hoping to fit the effort into a larger picture of political polarization. But if recent protests against a land heist bill are any measure, their attempts to divide us are backfiring.
"This ain't about politics. Whether you're a Democrat, or Republican, or Libertarian, or vegetarian, these lands belong to you," Montana Governor Steve Bullock pronounced last week. "They're our heritage. They're our economy. They're our quality of life."
That didn't fall on deaf ears. Thousands of people marched on state capitals across the American West, protesting Congressman Jason Chaffetz's (R-Utah) proposed bill to sell off 3.3 million acres of public land. Shortly after, Chaffetz announced via Instagram that he would withdraw the bill. It was the first successful defeat of anti-American policy proposed by the 115th Congress.
"Whether you tote a gun or a snowboard, these places matter to all of us." —Mark Kenyon
What made the protests against HR 621 different from the Women's March, the rioting in Berkeley and Washington, D.C., or the protests at airports over Trump's Muslim immigration ban was that the people marching against the public land heist weren't just women, liberals, or consumers of mainstream media. They were people wearing camouflage, people who vote Republican, and even people who support President Trump. As Governor Bullock suggests, they are the people who don't want to give up our natural heritage as Americans, every type of them—and they may be the most effective force in history for protecting our public lands.
To recap: a decades-long gambit by Republican lawmakers to convince the American public that giving away our 640 million acres of public land is somehow pro-state's rights and anti-big government is coming to a head this year with the party controlling the executive and legislative branches. What the Great Public Land Heist actually represents is a concerted effort to steal the American public's natural heritage and give it to energy and mineral extraction interests. The heist brings no benefits to the American people and no benefits to states whatsoever.
First, Republicans in Congress voted in the first week of January to remove the need to achieve fair value for any land sold in a bill so ridiculous that it suggests even federally owned buildings, like the nation's capital, are worth exactly zero dollars. Then Chaffetz introduced HR 621 to sell off a small, fractured selection of "disposable" public lands across the country. It felt like a trial run for selling off more.
Chaffetz made a big deal about the "disposable" label coming from the Clinton administration but failed to mention that it was labeled as such during an effort to fund Everglades restoration. He was picking and choosing language to justify stealing from you and me.
That awoke a sleeping giant, as all sides of the fractured and diverse outdoor industry rose up to oppose it. Hunters and anglers don't want to lose access to the public land that supports animal conservation. Environmentalists don't want to lose our nation's clean water, clean air, and unspoiled spaces. Hikers, campers, and the businesses that support them don't want to lose trails, rivers, and campsites. The issue united citizens from across the political spectrum.
Composed of a bunch of mom-and-pop businesses, rather than three or four huge conglomerates, the outdoor recreation industry tends to fly under the radar but actually accounts for a substantially larger share of the American economy than energy or mineral extraction. In 2010, spending on outdoor recreation was estimated at $646 billion. Gasoline and other fuels? Just $354 billion. By stealing the lands where Americans recreate outdoors, the land heist threatens to destroy one of our nation's largest industries. Whether you enjoy fishing, hiking, whitewater rafting, skiing, hunting, stargazing, or camping, this affects you.
The drive to oppose the heist has also brought together two halves of the outdoor world that have traditionally opposed each other. You see, there's the hook-and-bullet crowd of hunters and anglers (or, as we often like to call ourselves, conservationists) and the fleece-and-sandal-wearing crowd that shops at REI. Those worlds also tend to be split along our two-party political divide. Like Teddy Roosevelt, hunters are typically Republicans; like Al Gore, people who hike, camp, pedal, and paddle are typically Democrats. Both sides feel their take on protecting our wild places is uniquely relevant, but working together has been mired in the same urban-rural, left-right divide that has fractured the rest of American politics. People in camouflage sneaking around in the woods to find their next meal see little in common with people in Lululemon tights hiking those same trails, and vice versa. But protecting our public lands appears to be something both sides can agree on.
"One of the great things about this issue is that it's opening both sides of this great big family to our commonality," says Mark Kenyon, a Michigan-based hunter who's trying to drag that industry into the 21st century via his website, Wired to Hunt. Rather than viewing hunting and outdoor recreation as opposing forces, Kenyon suggests we're all just a bunch of people who love the outdoors, its animals, and the clean air, water, and unspoiled spaces that make all that possible. "Whether you tote a gun or a snowboard, these places matter to all of us," he says.
The Great Public Land Heist is, of course, taking place on more fronts than a single congressional bill. Take the shenanigans going on in Utah right now, for instance. Lawmakers in that state are spending millions of taxpayer dollars in an attempt to sue the federal government for control of public lands that are currently under federal management. They estimate that, if the state gains control, Utah might be able to make $311 million per year from the land, but it would cost the state $280 million a year to do it. As it currently stands under federal management, Utah receives $185 million annually from that land—$154 million more than it hopes to make by assuming management. Utah lawmakers are wasting their constituents' money and tying up time in courts to lose hundreds of millions. The Salt Lake Tribune has dubbed the effort "quixotic."
While that's going on, Utah Representatives Chaffetz and Rob Bishop, as well as Utah Governor Gary Herbert, are working to reverse the designation of Bears Ears National Monument, which added more environmental protections to 1.3 million acres of public land that was already federally managed in the state. In response, Patagonia has pulled out of the massive Outdoor Retailer trade show. The show, hosted in Salt Lake City, was already looking for new venues in other states due to Utah's anti-public lands actions. According to Patagonia, the outdoor recreation industry brings $12 billion in spending and 122,000 jobs to the state.
I called a spokesperson for the state's largest hunting show, the Western Hunting and Conservation Expo, to ask if that show or participating brands had any plans to do something similar. "I don't think that's on the table," media representative Chris Carling told us, but he went on to describe how important public lands are to animal conservation in Utah. Yeti, Weatherby, Sitka, and other hunting brands are sponsoring a pro-public lands concert at the expo. What makes hunting in the United States unique is that it's an egalitarian tradition that allows people from all walks of life to participate—and that's thanks to our unique public lands. American hunters are the original and most financially significant contributor to animal conservation. It was a Republican president, after all, who gave us our land. Carling says hunting is a "$1 billion industry in Utah." An estimated 250,000 people in the state are hunters. And Bears Ears National Monument is permanently ensuring continued access to some of the best elk hunting, not just in the state, but the world.
In contrast to the $13 billion in annual spending and the hundreds of thousands of jobs created by outdoor recreation and hunting, Utah produces only $2.4 billion in oil and gas per year, and that industry employs fewer than 7,000 people there. Perhaps coincidentally, that industry was also the largest donor to Bishop's 2015–16 campaign and was a major contributor to the campaigns of Chaffetz and Herbert.
Perhaps the best defense of President Obama's use of the Antiquities Act to designate Bears Ears that I've read was in Field and Stream. In it, Hal Herring writes, "In a nation like ours, our world is run by those who show up, and run best by those who show up informed and with clear suggestions and demands. Our national monuments provide some of the greatest hunting opportunities in the world. They will remain so as long as hunters get involved, and stay involved, in the public process."
Bears Ears isn't being defended just by touchy-feely brands like Patagonia that are out to save the world. Traditionally conservative players are also standing up for its protection. If HR 621 is any indication, that bipartisan approach might just work.
"If we show our politicians that this is a partisan issue, then we lose our power," says Kenyon. "They can then use that to divide us. If we can show that this isn't a red or blue issue, that this is an American issue, then it's way more likely that we're going to be able to keep these places around."
"I hear you," Chaffetz said when he withdrew HR 621. Let's continue to make sure that he, and lawmakers like him, continue to hear from all of us.
Lead Photo: (c) 2014 Tom Kelly
Trending on Outside Online