Gear Guy
What Are the Best Car Camping Sleeping Bags?
Five affordable options for when you're not worried about size and weight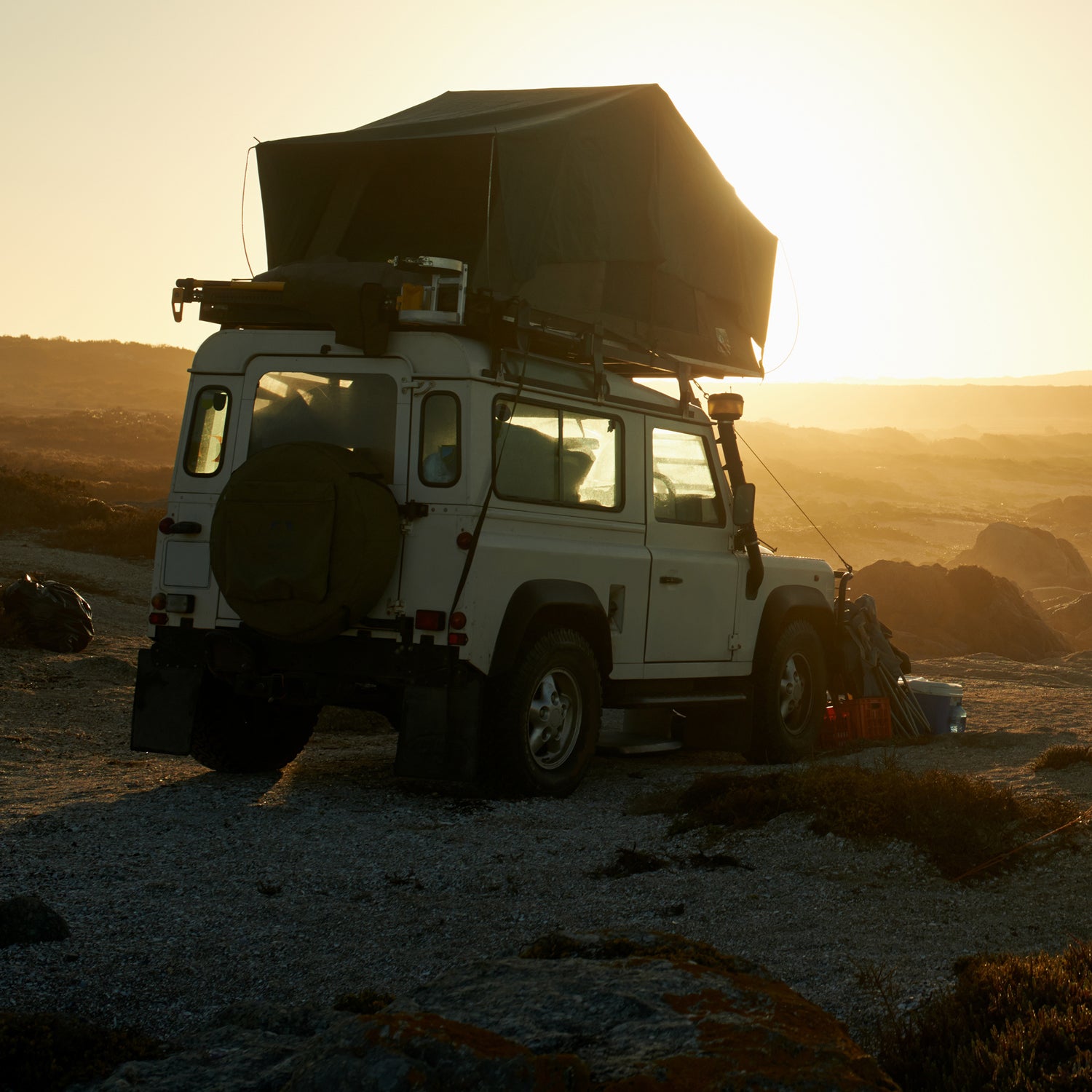 Heading out the door? Read this article on the new Outside+ app available now on iOS devices for members! Download the app.
Here are my two pieces of buying advice. First: if you're using a car to haul your camping gear, worry about comfort instead of weight and size. Second: don't spend too much money. There are plenty of great car camping models under $200, and some that even come in under $100. Here are five of my favorites.
---
The North Face Homestead Twin ($120)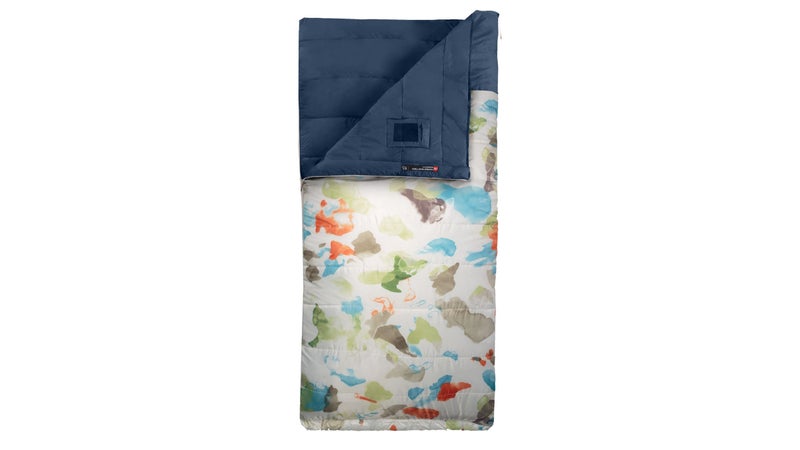 Best For: Getting Lucky
Fill: Synthetic
Temperature Rating: 20 degrees
Cut: Rectangular
Takeaway: All the testers agreed that the very wide, twin-bed-size rectangular cut could fit two people if they wanted to cuddle. The 20-degree rating is a little ambitious, because the wide cut lets warm air out, plus there's no hood. I'd trust this bag in the forties but would pack a blanket or wear extra layers if there's any chance of a freeze. We all loved the loud graphic on the front (there are four designs to choose from), and the bag gets bonus points for its special cell-phone pocket.
---
Kelty Revival ($100)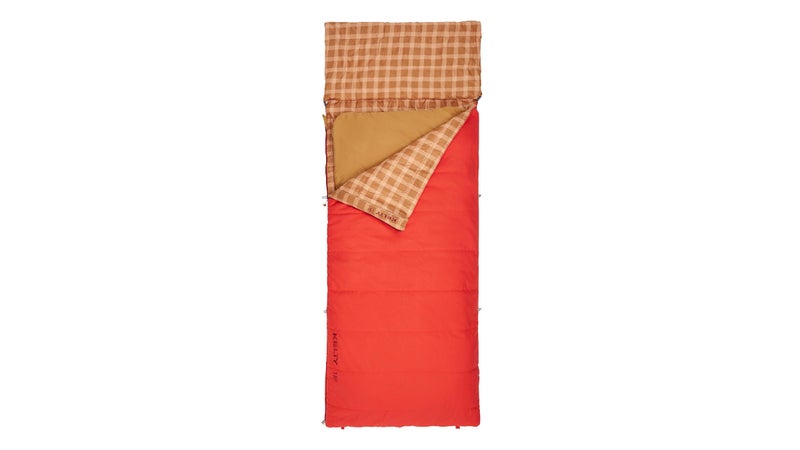 Best For: People Who Run Hot
Fill: Synthetic
Temperature Rating: 15 to 40 degrees
Cut: Rectangular
Takeaway: The bag has a broad temperature rating because although it's a normal rectangular bag on the outside, there's a half-blanket attached inside. If you're using the bag and the blanket, it's supposed to keep you warm below freezing. For warmer temps, you can unzip halfway and roll away the top of the bag, leaving just the blanket over your torso. Testers loved those built-in adjustments, but we still wouldn't recommend this bag below freezing. Like the North Face Homestead above, this bag sits in the 40-degree range. On the outside you get brushed-cotton face fabric that's heartier than ripstop nylon, just in case you find yourself sleeping directly on the ground after too many campfire libations. (It happens.) The soft cotton interior had the second-best next-to-skin feel in this test, but all that cotton doesn't do it any favors in moisture management. Finally, there's the attached pillow pocket that keeps your head padding from moving around at night.
---
Big Agnes Hog Park 20 ($190)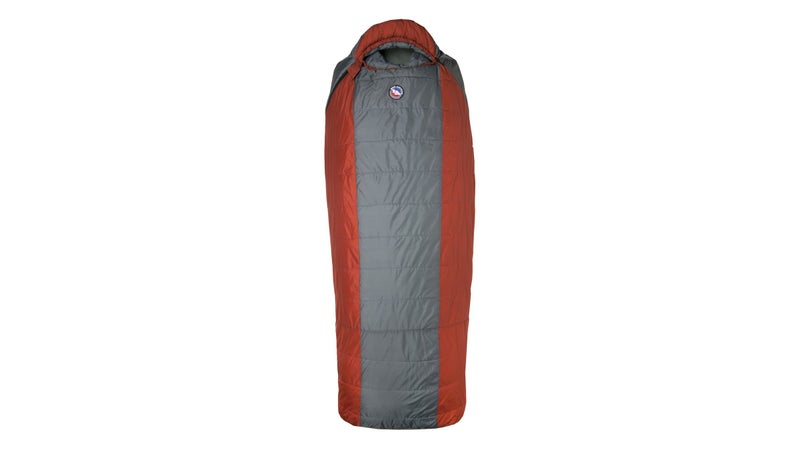 Best For: Big Dudes
Fill: Thermolite Extra Synthetic
Temperature Rating: 16 to 30 degrees
Cut: Semi-rectangular
Takeaway: If you're tall, ripped, or both, this bag is for you. It fits people up to six-foot-six and has extra room at the shoulders and chest as well. If you're not that big, the bag just offers a lot of room. Unlike some of the other sleeping bags we tested, this one is fairly true to its temperature rating and works well when there's frost on the ground. All the testers loved the brushed-cotton interior, but be warned: cotton absorbs moisture, so you don't want to sweat too much. Also, because the bag is so big, you need a 25-inch-wide pad if you want full ground coverage. That's not a concern if you're sleeping on a Paco pad or in a rooftop tent with memory foam.   
---
Eddie Bauer Snowline 20 ($130)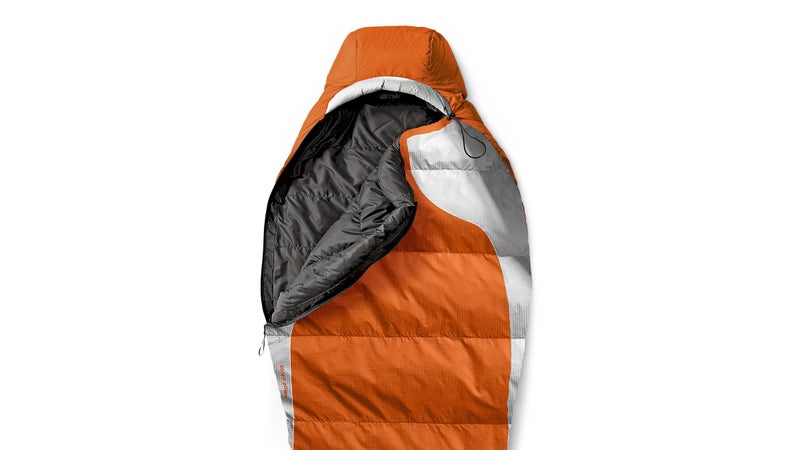 Best For: The Coldest Summer Nights
Fill: Thermafill Synthetic
Temperature Rating: 20 degrees
Cut: Mummy
Takeaway: We winced a little when testing a car-camping mummy bag—because who wants to be confined when you're camping out of a car? Our reasoning: mummy cuts are usually warmer, so this bag is designed for car camping where it's cold—like up at 10,000 feet in Colorado. The cut isn't as severe as a backpacking model, and one six-foot tester with broad shoulders had plenty of room for rolling over. We also liked the nylon interior and exterior, which helped manage moisture on wet nights testing in the Pacific Northwest.
---
REI Co-op Trail Pod 29 ($90)
Best For: Small Cars
Fill: Synthetic
Temperature Rating: 29 to 38 degrees
Cut: Mummy
Takeaway: This is our second mummy pick because the shape keeps it light and small (it weighs a mere 2.3 pounds and packs down to the size of a small watermelon), which is great when you own a Prius instead of a Tacoma. It was just as warm at Eddie Bauer's Snowline 20 in terms or warmth, and had just enough room to thrash around. Testers also appreciated the intuitive cinch-down hood, which was easy to operate after a night of drinking. All that for less than a Benjamin.  
Lead Photo: jeffbergen/iStockphoto