How to Buy a Knife That'll Last the Rest of Your Life
What to buy and how to treat it right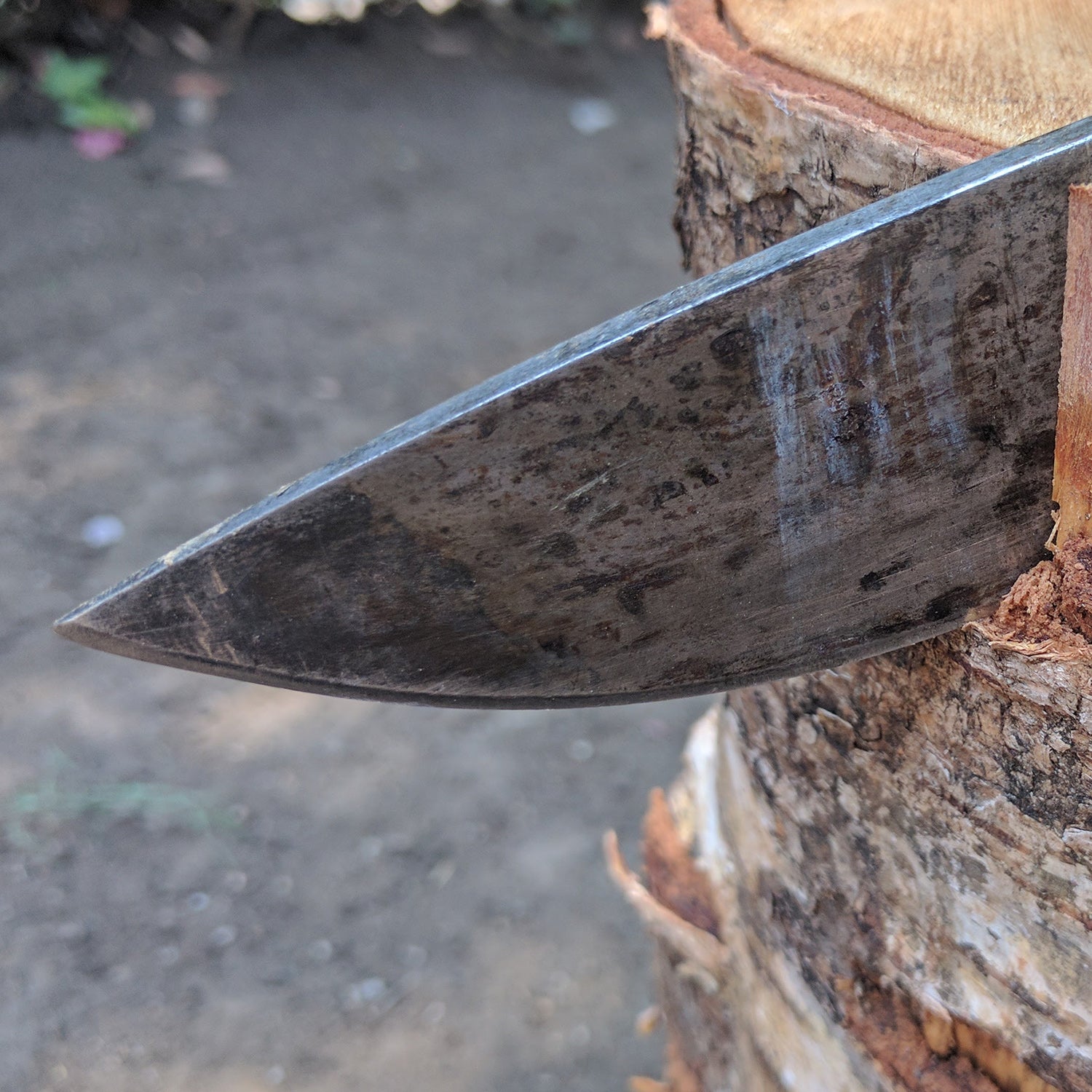 Heading out the door? Read this article on the new Outside+ app available now on iOS devices for members! Download the app.
A knife is the fundamental tool for the outdoorsperson for many reasons. It'll help you start a fire. It'll help you build a shelter. It'll help you make dinner. It might keep you alive. A knife is also incredibly simple—a sharpened piece of metal with a handle on it—which means it should last forever. Here's how to make sure it does.
Choose the Right Knife
Let's go ahead and assume this is a knife for the outdoors, which means it should be a fixed blade, rather than a folding knife. Free of moving parts, a fixed-blade knife is designed to be as strong and reliable as possible.
But not all fixed-blade knives are created equal. The first thing you should look for on this forever knife is a blade stock—the metal—that continues in its full width and depth through the entire length of the knife. The handle should be bolted to the outside of the tang, through the undiminished blade stock, behind the sharpened blade. This arrangement creates the strongest knife possible—one that should never break.
Next, consider the handle material and shape. A knife should offer your hand a comfortable, secure purchase, no matter how hard you're using it, no matter the weather, and even if it gets covered in slippery liquids like mud or blood. It should remain this way even if it's dropped, beaten up, or just lives life outside. That used to mean wood, leather, or antler were the preferred materials, but modern materials like Micarta and G10 have recently supplanted them with superior comfort, grip, and longevity. Formed under immense pressure, both of these synthetic materials are lifetime strong, impervious to moisture, and require no care whatsoever.
Now you need to think about the blade shape, geometry, style, and size. These are what determine cutting performance and the tasks a knife is able to perform. A simple drop-point shape will offer the most versatility, enabling you to slice, drill, chop, or split, while maximizing the portion of the blade you're able to use for those tasks. A blade that is ground into a single wedge-like profile (called a "full flat grind") also helps with those tasks. This wedge-like shape is as good at splitting wood as it is at slicing food. For the purposes of a general outdoors blade, avoid any serrations. Those are impossible to effectively sharpen, eat up useful edge real estate, and are only there to make up for an inadequately sharpened blade in the first place. As for size, you probably need a lot less knife than you'd think. A blade length of at least three inches will give you enough ability to process wood, while a blade under five inches will make the knife easier to carry and simpler to use. Also consider blade width. Recent knife fashion has seen massively wide blades that are little more than sharpened pry bars and feature atrocious cutting performance due to that thickness. A knife that's around 1/8 inch thick will be plenty strong and still easily slice through whatever needs cutting.
Lastly, consider the steel your knife is made from. While stainless steel may appeal for its alleged resistance to rusting (and is a better option for people working on the water), those blades are difficult to sharpen and don't hold an edge as well as alternatives with a higher carbon content. There are tons of steel options out there, but for a fixed-blade outdoors knife, I have yet to find anything better than humble 1095 carbon steel. Idaho-based Rowen Manufacturing applies an excellent heat treat, which determines much of the steel's performance.
Apply all those factors to determining which knife is right for you. For me, the answer is an ESEE 3HM. It uses a linen Micarta handle with a small diameter and foregoes a finger guard, which means you can hold it securely in many different grips, and its 1/8-inch-thick, 3.4-inch-long Rowen-made 1095 steel blade is easy to sharpen and holds an edge seemingly forever. The simple flat-ground drop-point blade will slice up a steak as well as it'll split a log. It may seem small to some, but those proportions make it so easy to carry that I'm able to bring it with me more often and in more circumstances than my larger knives, and it still massively outperforms all my smaller options. That it isn't intimidating in size or looks is a bonus, since I do sometimes need to emerge from the woods and engage with human society.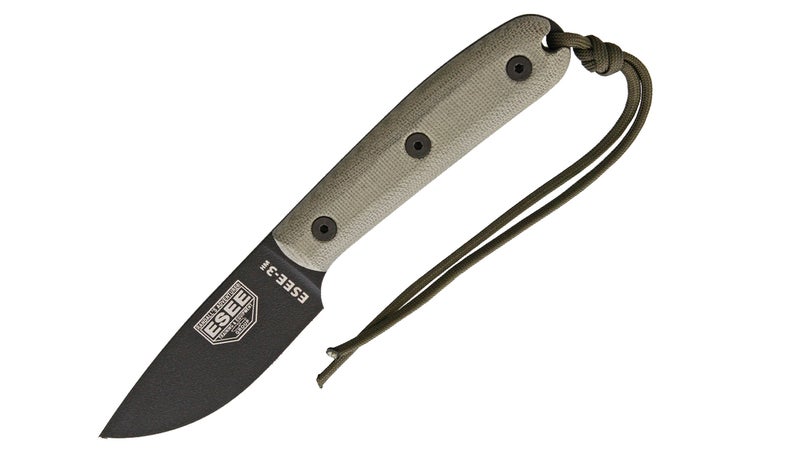 Treat Your Knife Right
First, remember to never:
Stab with your knife. Doing so risks your hand sliding down onto the blade and risks your blade's tip breaking.
Pry with your knife, at least not too hard. The knife blade and handle are thick from the edge to the spine but thin from side to side, meaning they're strong in only one direction.
Hand your knife over to some guy at the farmer's market who happens to have a grinding wheel and calls himself a knife sharpener. The heat generated by the wheel's friction risks ruining your heat treat, and he'll grind away too much of your edge without actually making it very sharp. Be super careful with power sharpeners for the same reasons.
Throw your knife. It may hit something hard, like a rock, and chip your blade. More likely, you'll simply lose it.
Turn your knife into a spear, for the same reasons you shouldn't throw it. Instead, use it to sharpen a stick.
Put your knife away dirty or wet. This promotes corrosion, which can be avoided simply by quickly wiping your knife on a pants leg.
Use your knife to cut wire. Also, check for metal, rock, or any other potential obstacle in anything you're cutting.
Loan someone your knife. You don't know how they'll use it or care for it. Instead, keep a cheaper knife around just for loaning out.
As soon as you finish using your knife, return it to its sheath. This eliminates the possibility of accidents, some of which may damage your knife as assuredly as they'll damage you.
If you're pushing your knife all the way through something or chopping with it, make sure the knife will impact something soft, like grass or wood, on the other side of whatever you're cutting.
Occasionally wipe a thin layer of cooking oil onto your blade. This prevents corrosion—without getting WD40 onto your steak.
If your handle is dirty, greasy, or discolored, a quick squirt of Windex and a wipe with a paper towel will fix it.
Keep your knife sharp. A sharper knife requires less force to use, making it safer, and it's easier to touch up an edge up than totally redo it. A few quick swipes on a Spyderco Sharpmaker after every ten minutes or so of use doesn't feel like a lot of labor. Regrinding a new edge will take you half a day.