Gear Guy
The Best Stoves for Car Camping
I pitted three models against one another to help you choose the right stove for your adventures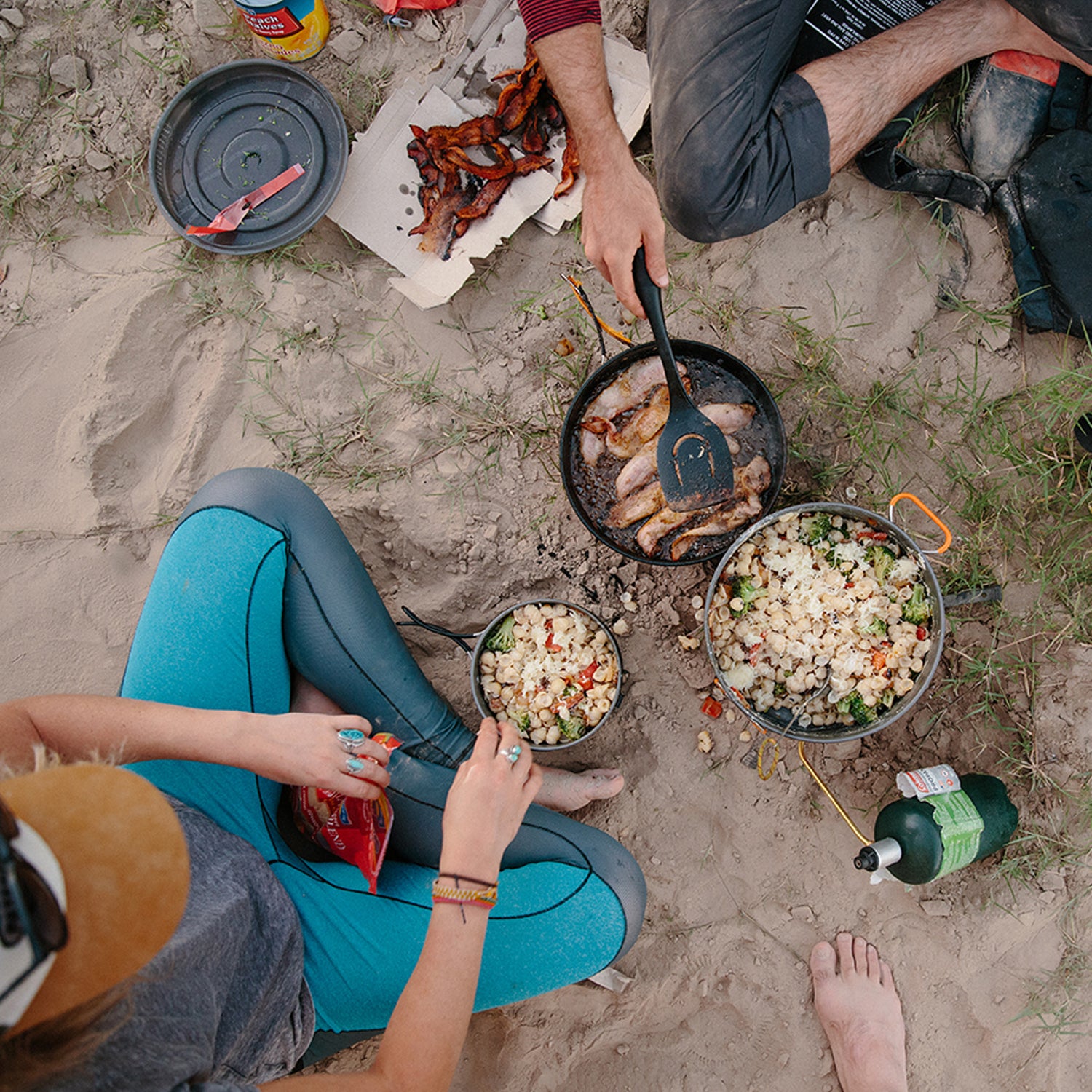 Courtesy JetBoil/Adam Wells(Photo)
Heading out the door? Read this article on the new Outside+ app available now on iOS devices for members! Download the app.
I love cooking on camp stoves. I did it for years as a raft guide, and later my wife and I courted around the two-burner that lived in my truck. Each summer, I still try to get out and cook in the woods at least a couple times.
Back in the day, everyone's go-to was a Coleman Classic. Nowadays, however, the stove market is crowded. You still see a lot of Colemans, but there are varieties from a bunch of other brands, too. I tested some of these newbies to see how they stack up. Here are the results.
Jetboil Genesis ($240)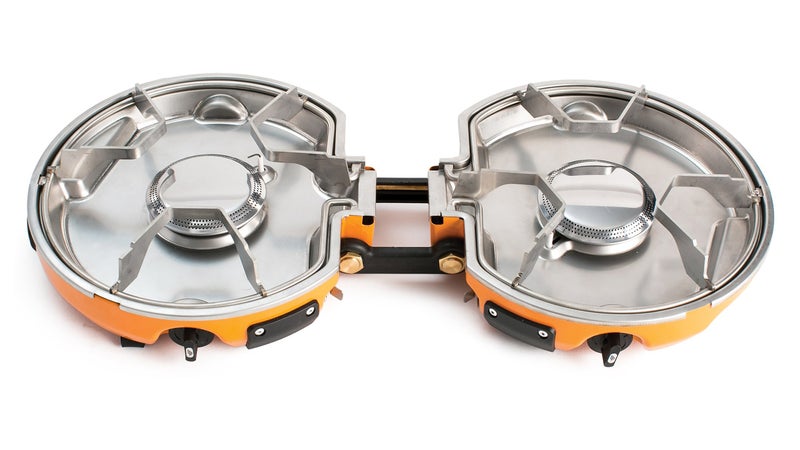 The Genesis sits apart from traditional two-burner cookstoves for several reasons. The first is its clamshell design. This two-burner, which comes with its own igniter, folds together and packs into a five-liter pot (not included), making it significantly smaller and lighter than most other camp stoves. (It weighs 6.2 pounds, compared to about 10 pounds for a Coleman Classic.)
Second, Jetboil makes an attachment that lets you daisy-chain several of these together, so you could create a four- or even six-burner setup. Jetboil also sells something called the Luna Satellite burner, which is a backpacking-style burner that attaches to the two main burners and is great for boiling water. Foodies will love the simmer nobs on the Genesis, which have more nuance than those on most of its competitors.
Finally, when you pair the Genesis with Jetboil's five-liter FluxPot, you'll notice a decrease in boil time. (Each 10,000-BTU burner will boil a liter of water in three minutes and 15 seconds.) That's because the FluxPot has the company's signature slinky-like metal band around the bottom that increases the pot's surface area and absorbs more heat.
The ultimate question: Is the Genesis, which is three times more expensive than the Coleman, worth all that extra money? My answer: It all depends on use. If you camp a lot—like at least a couple times a month during the summer—or if you're an overlander and on the road all the time, the conveniences will add up. I love how well the Genesis packs down, and I have also come to appreciate the third Luna burner that ensures I always have coffee in hand while cooking breakfast. However, if you only sleep in the woods occasionally or if space is really not a concern, save your money and go for the Coleman.
Tembo Tusk Skottle Kit ($325)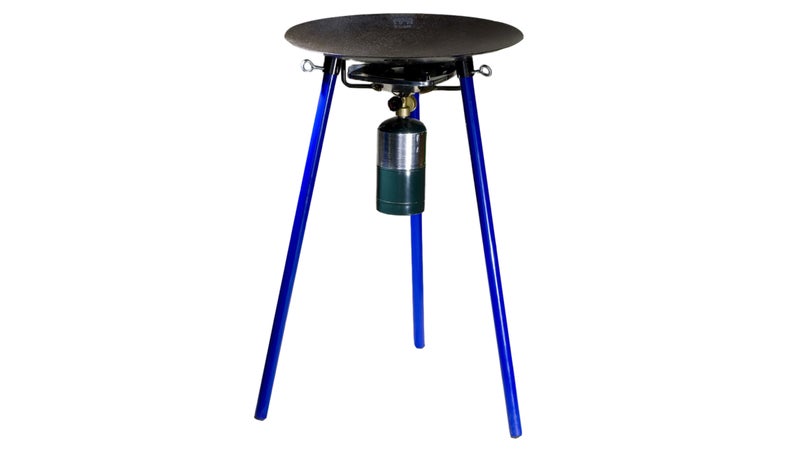 You'll notice that the Tembo Tusk isn't a two-burner. Instead, it's more like an 18-inch wok on 28-inch legs with a propane burner underneath. (You use the same miniature propane bottle you'd use with a regular camp stove.) The Tembo Tusk was invented by South African farmers who found a way to repurpose old tractor disc harrows that had worn out from tilling fields. The stove is now gaining popularity stateside thanks to the overlanding community, which has long looked to places like South Africa for innovative off-road gear ideas. (South Africans and Australians have been overlanding for decades and gave us other ideas, too, like rooftop tents.)
The Tembo Tusk shines when it comes to grilling. The preseasoned steel plate helped me make the most delicious bacon and egg breakfast I've had in years. It's also great for pancakes, steaks, vegetables, fajitas, you name it. And there's plenty of cooking space to whip up a meal to feed an army: I could have easily cooked more than a dozen eggs at once. When you're done cooking, the Tusk packs down nicely. The legs and burner come off, and everything packs into a durable, tarp-like carrying case.
The big drawback: You can't boil water, so you'll need two stoves for a full meal. As such, I think the Tusk, like the Genesis, is best for those of you who camp a lot. If you spend a considerable amount of time outdoors, you'll look forward to cooking on this thing, and you'll figure out the best way to make coffee on the side. But weekend warriors should look elsewhere.
Coleman Classic Propane Stove ($70)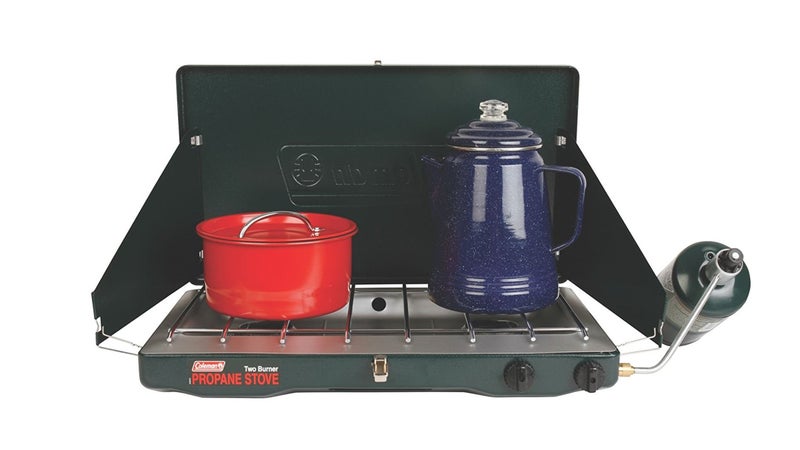 The Coleman does not boil water as fast as the Genesis, does not come with an igniter, and has a smaller grilling surface than the Tembo Tusk. But that's okay, because it works just fine, is nearly indestructible, and costs a fraction of these other stoves.
I've also come to love the simplicity of the Classic. The two 10,000-BTU burners take a little while to heat things up, but no one should be in a rush when out camping. If anything ever breaks on a Classic—which rarely happens—replacement parts are easy to find, and the fixes are easy to make. And I don't mind that there's no igniter, because igniters break, and you should bring your own flame source anyway, just in case.
Nostalgia is the final sell. This is the type of stove that was in my truck when my wife and I started dating, so every time I use one I'm reminded of those early days. I'm guessing many of you will also have fond memories using these things. Lots of us grew up camping with a Classic that might still be packed away in the garage but will fire right up when we ask it to.
Lead Photo: Courtesy JetBoil/Adam Wells