What Width Wheels Should You Buy?
With all the different rim and tire sizes, it can be hard to know where to start. We tested the new Enve M Series to break it down.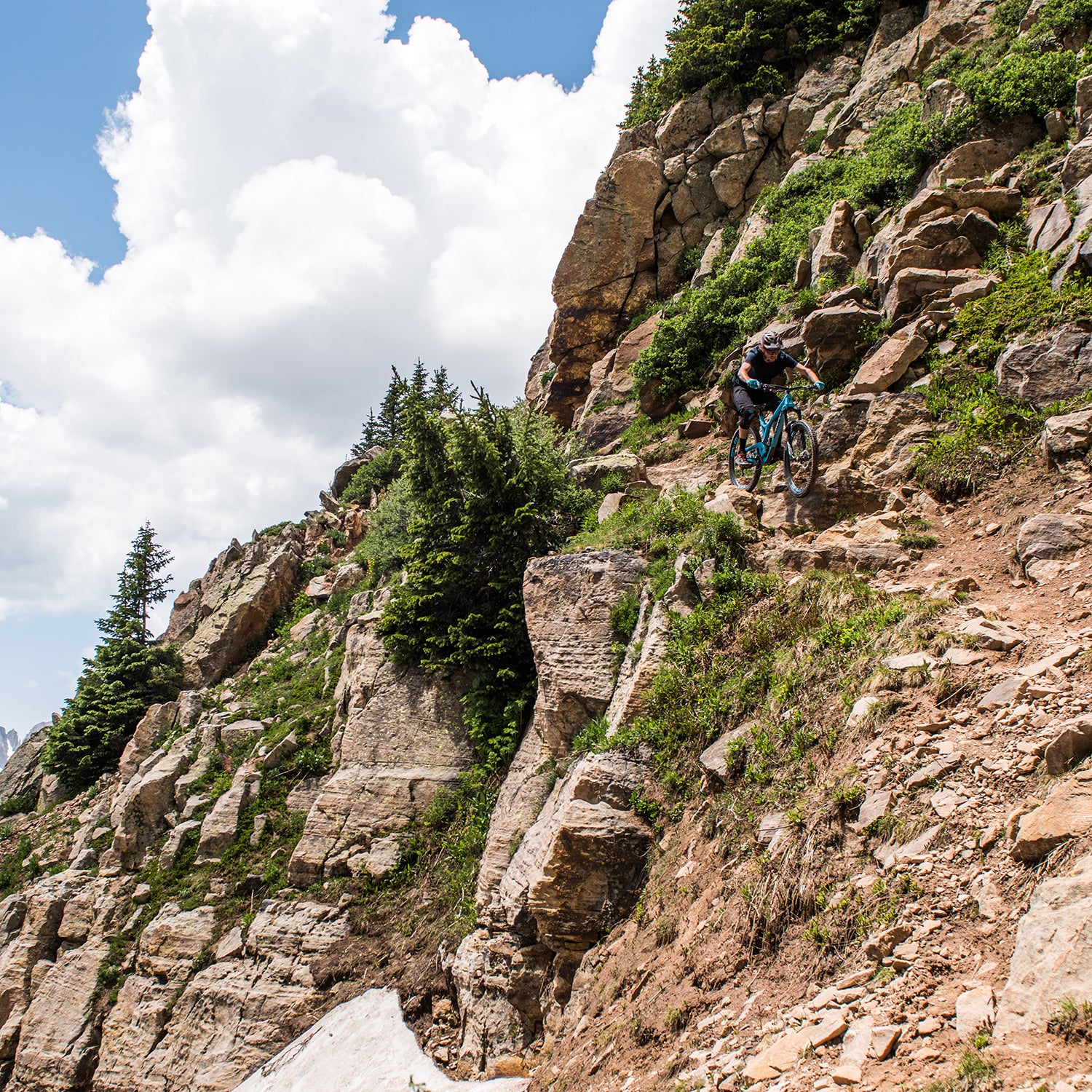 Heading out the door? Read this article on the new Outside+ app available now on iOS devices for members! Download the app.
In late August, Enve released the third generation of its mountain wheels since the company's inception in 2008. The Ogden, Utah-based wheel builder is making some fairly expected claims about the new M-Series: they are lighter and stronger than the previous generation; the layup and design has been tuned for a more comfortable ride; and the structure of the rim is said to reduce pinch flats. But what strikes me most about the M Series Gen 2 hoops is how wide the rims have become, as well as the diversity of sizes and styles available.
Mountain bike tire widths have been on the increase for years. Incremental gains led to pretty dramatic ones with the development of fat bikes, plus-size, and Boost hub spacing to accommodate the extra girth. That's been great for performance—traction and ride comfort keep improving, while manufacturers continue to work on lighter, stronger tire casings—but confusing for buyers. Whereas a 2.1- or 2.2-inch tire was standard spec a few years ago, there's now everything from that up to over five inches. Even plus-size is still shaking out, with the initial three-inches standard giving way to 2.8 inches last season, and now 2.6 inches for 2018.
Enve's new wheels are similarly diverse, including eight distinct models and four rim widths, which, like the tire-size debate, could leave you scratching your head over what to buy.
The short answer: It largely comes down to riding style and personal preference. But whereas experimenting with tires is possible (if expensive at $60 to $100 a pop), few of us are going to buy multiple sets of wheels to sort out what we like.
Before considering a range of models, it's interesting to trace the overarching trend. "As tire construction improves and the industry gets better data on rolling resistance, the consensus has grown that as terrain gets rougher, having a higher volume tire provides for a better rolling wheel," says Jake Pantone, a spokesperson at Enve. The caveat: the benefits eventually trail off with the added weight of bigger tires. "But it's not just bigger tires. A wider rim surface also affects performance."
Basically, expanding the internal rim width allows a tire to expand laterally and increase the amount of rubber that contacts the ground. So, where Enve's first mountain wheel, the XC, measured 18mm internally, the subsequent edition, the M50 Fifty, was 21mm, and the new design, the M525, is 25mm across. That's almost a 40-percent increase. And if you put the same exact tire on all three models, you get a dramatically different tire profile and width.
This isn't a completely new idea. My first experience with really wide mountain rims for standard tires came at our 2015 bike test, when Ibis launched its 941 wheels, which measured 35mm internally and turned our 2.4-inch tires into rock-rolling doughnuts. Since then, most companies have beefed up the widths of their rims, though there's still wrangling over the optimal dimensions. It's not only on the mountain side, either. Recently, on my road bike, I switched from a four-year-old set of Mavic Kysrium R-Sys SLR wheels to a brand new set of Roval CLX 32s, and the increase in inner width (from 15mm on the old hoops to 21mm on the new ones) made the 28mm tires I've been running notably wider and more comfy on the road (and even cut the weight by over a 100 grams). This was probably the single best upgrade I've made to my bike in years.
Wider is definitely the new faster for the added traction, comfort, and confidence.
So wider is better, at least within reason, which brings us back to the M Series. Enve has four families of wheels within the line corresponding roughly to the ratio of how much time a rider spends climbing versus descending: the 5 series (i.e. 50-50 climbing to descending) is for cross country; the 6 series (60 percent descending) is for trail riding; the 7 series is for all mountain or enduro; and the 9 series is for downhill. The second two numbers on any given model denote the rim's inner width, so, for example, the M525 is a cross-country with 25mm inner width.
For testing purposes, I started with the M525. Even though my style leans toward trail and all-mountain riding and my tire preference is for higher volume than the suggested 2.1-2.4 range of tires specified here, I've spent a lot of time on the previous editions' XC and M50 Fifties, so I knew these would make the best comparison. The first thing I noticed is the impressive combination of width to weight—just 1366 grams, which is lighter than many road wheel sets I've ridden. I put on 2.4-inch Maxxis Ardents to begin, and they tubelessly snapped into place with zero issue and created a broad, arched tire profile that was easy to transition from side to side but not so bulbous that it inhibited cornering.
If I've had one criticism of Enves over the years, it's that they have felt too rigid, and these new hoops alleviate that. The M525s still feel stiff and incredibly precise, even through the most brutal rock gardens, but the hard edge that sometimes felt like it was beating you up a bit is now gone. That has also translated to fewer pinch flats, as Enve advertises: in two months of riding on a range of tires from 2.25 up to 2.6 inches, I've had exactly zero flats.
Enve has created a handy chart that breaks down each of the new models and recommended tire widths to match. This is a good starting point, but the suggestions are for small increments of optimal sizing and don't necessarily take into account riders like me who want to change tire widths regularly. For instance, I had no problem running 2.6 inches on the M525s and even managed 2.8s and some 3.0s just fine. "The numbers are for optimal performance," Pantone told me. "It's not to say you can't go bigger or smaller on a given rim."
So, based on lots of testing of not just Enve's wheels but those from a dozen other brands, it seems to me that the M630 must be considered the holy grail for the average rider. In real world terms, it runs skinnies just fine (but seriously, with as good as tires are getting, there's very little reason to go down to 2.1s these days), is ideal right in the middle of the range (from 2.25 up to 2.8), and even gets a pretty good profile on plus-size tires up to 3. 
They are still exceptionally light (1522 grams). And even though it might be tempting to go to the even beefier M730, which employ an interesting new plastic strip that sit inside the rim to further improve durability), unless you are a large, aggressive rider doing lots of enduro shredding, the 6 series should be ample considering it is more impact and pinch flat resistant than the previous M70 Thirties. Similarly, the M635 or even M640 might be a good choice if you plan to run plus-size tires exclusively. But for the weight gains and broadest versatility of tire sizes, I'd still opt for the M630.
Enve builds premium wheels, and, at $2,800 a set they won't be for everyone. However, the lessons from testing their new range extend to the broader market. (Even road.) Wider is definitely the new faster for the added traction, comfort, and confidence. But it's not so simple as just getting the widest thing available since more rim means more weight. One of the biggest pitfalls of plus-size is when the wheels are so heavy that they feel slow and dead. (That's precisely why a wheel upgrade is always top of my list.) For general trail riding, a rim with something around 30mm internal width splits the difference of best contact patch and low weight and should make it possible to run a wide range of tires.
Obviously there are more factors, and companies like Enve are honing the ride with layup and shaping refinements. The bottom line: whether you can afford a premium wheel or not, if you're riding old school skinny rims, upgrading to something fatter is likely one of the most dramatic improvements you can make to your ride.
Lead Photo: Ian Matteson/Courtesy of ENVE