Chris Froome Just Killed Pro Cycling
We're told that the sport has cleaned itself up and cheating is a thing of the past. Yet with the world's top racer pushing the limits of fair play, it's sure hard to believe that.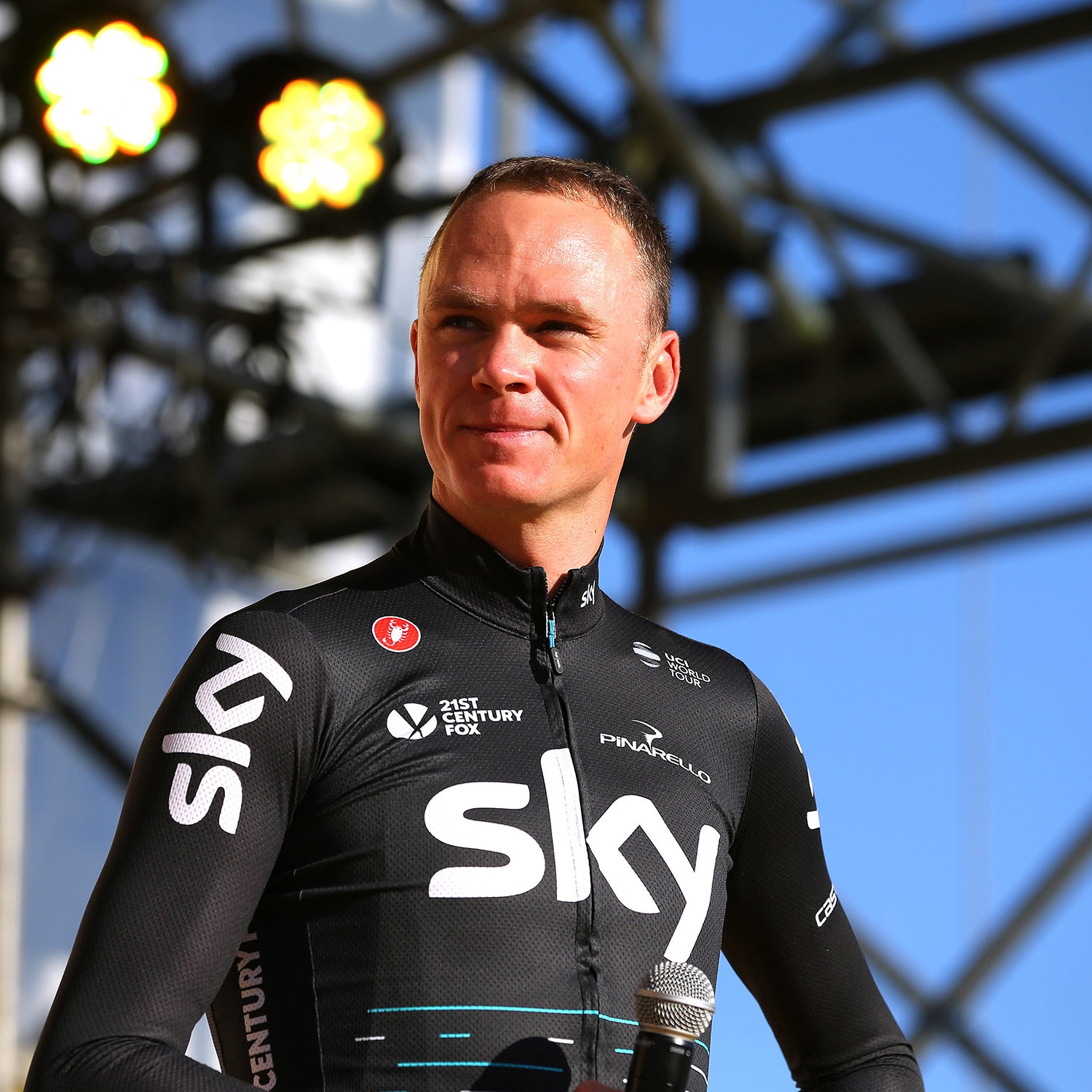 KT/Tim De Waele/Corbis via Getty(Photo)
Heading out the door? Read this article on the new Outside+ app available now on iOS devices for members! Download the app.
Word leaked last week that four-time Tour de France champ Chris Froome tested positive for elevated levels of an asthma medication during his victory at the 2017 Vuelta a España. To me, it comes as no surprise that today's most celebrated grand tour racer has been snared in a doping scandal.
The real shocker is that it took so long to catch him. 
For the record, a urine sample collected from Froome following Stage 18 at the Vuelta on September 7 revealed 2,000 nanograms per milliliter of salbutamol, a bronchodilator used in common asthma treatments including Ventolin puffers. While the drug is neither banned for use by pro racers nor requires a Therapeutic Use Exemption (TUE) like many controlled substances, the World Anti-Doping Agency (WADA) sets a threshold for its usage of 1,000 ng/mL—meaning that Froome's sample had double the permissible amount.
Because salbutamol is a "specified substance" under the WADA code, allowable up to a certain level, the positive test doesn't automatically result in a ban. Instead, it is now up to Froome and Team Sky to provide records and testing that demonstrate how the racer got so much of it in his blood. Froome is widely known to have exercise-induced asthma, and the Brit has already come out and said that he was suffering from the condition at the Vuelta and followed doctor's orders to increase his salbutamol use, albeit "staying well in the legal limit." If he and Sky can prove through records and testing that the excessive concentration occurred because of some physiological anomaly, the racer could be exonerated. If they can't, Froome could face a racing ban and be stripped of his Vuelta title, as well as the bronze medal he won on September 20 at the UCI World Championship time trial. 
The inevitable excuses and remonstrations have already begun. Froome declared the news "a huge shock" and maintained his innocence. And in a written statement, Team Sky principal David Brailsford declared that despite the "complex medical and physiological issues" at stake, the team is "committed to establishing the facts" in the case.
This dithering and excuse-making was inevitable, and the case, certain to stretch on for months or longer, will likely be decided in the courts. But no matter how it turns out, the one thing that is immediately clear is that Team Sky has lost all credibility.
Since its inception, Sky has been outspoken about its commitment to anti-doping. They even touted a zero-tolerance policy, which led to some high-profile ousters from the team. But as time has drawn on, the anti-drug position has come to look more like a PR stunt than an earnest dedication to clean sport.
In 2015, Geert Leinders, who was a doctor at Sky in 2011 and 2012, was handed a lifetime ban for doping infringements. The charges pre-dated Leinders' time at Sky, however the mere association cast a pall over the British outfit. Then last year came the Fancy Bear leak, with questions about therapeutic use exemptions for banned substances obtained by Bradley Wiggins, Sky's original GC racer and first winner of the Tour de France. Shortly thereafter, the team faced fresh questions about a medical delivery for Wiggins during the 2011 Critérium du Dauphiné. And though the case was dismissed last month for lack of evidence due in part to poor record keeping at Sky, the chairman in charge of the inquiry said the "credibility of Team Sky and British Cycling is in tatters."
Professional cycling, with its anorexic stars and synthetic results, bears about as much resemblance to the sport that I love as WWF did to Olympic wrestling.
Nothing has been proven against Sky, but for a team that has touted its anti-doping stance, all the associations and implications are almost as damning as an indictment. Why is a team that's such a champion of clean racing beset by so many doping implications and questions? And if the team's success stems from its diligence with details and marginal gains, as it claims, is it really believable that they can't stay on top of basic things like doctors and record keeping?
Setting aside all those other cases, and even before the news of Froome's adverse drug test broke last week, Sky's success has made the team look awfully suspicious. The organization launched with the goal of producing the first-ever British Tour winner within five years. Not only did they beat that goal, in half the time, they have won the event in four of five subsequent editions. Not only that, but they've done it with a second racer, Froome, who didn't even rank as a Grand Tour contender at the team's outset. We haven't seen that sort of ascendancy since the days of Lance Armstrong. Indeed, Sky's domination, in which half the team is stronger than pretty much everyone in the entire pro peloton stage after stage, year after year, is an eerie echo back to the days of U.S. Postal. Sky has lots of great explanations—a budget that dwarves every other team's budget, better training regimens, and all of those marginal gains—but let's not forget that Armstrong always had a smooth answer for his success, too. After all, if it looks too good to be true, it probably is.
Perhaps it's unfair to damn Sky by insinuation, though I'd argue that they've done a fine job incriminating themselves with scandal after scandal already. The fact is that, no matter how Sky tries to spin it, who gets blamed, or how the politics play out, it is now a matter of record that Froome tested over the allowable limit of a substance with known performance enhancing benefits en route to winning his first Vuelta. That, combined with all the other allegations of recent years, will forever tinge every one of Froome's victories. Even if Sky manages to produce an explanation for the elevated salbutamol levels—and there is no guarantee that they can—Froome will ride forward under a pall of suspicion. 
The truth is it doesn't matter how the salbutamol mess plays out. The damage is already done. The sport of cycling has been struggling for public credibility for decades now, and each time there's a scandal (remember Festina? Operation Puerto? Clenbuterol?), we're told that the sport has cleaned itself up and cheating is a thing of the past. That the world's top racer, who won two of the three biggest races this season, is pushing the limits of fair play is a pretty clear sign that's not the case. And if there's no integrity in the results, there's no real reason for fans to care. Professional cycling, with its anorexic stars and synthetic results, bears about as much resemblance to the sport that I know and love and enjoy as WWF did to Olympic wrestling.
So while the UCI and Sky and WADA sort out the latest mess, I'm turning it off and going for a bike ride. When I'm back, maybe I'll tune into some pro wrestling.
Lead Photo: KT/Tim De Waele/Corbis via Getty
Trending on Outside Online