A Brief Primer on All Those Nordic Sports
Just in time for the Olympics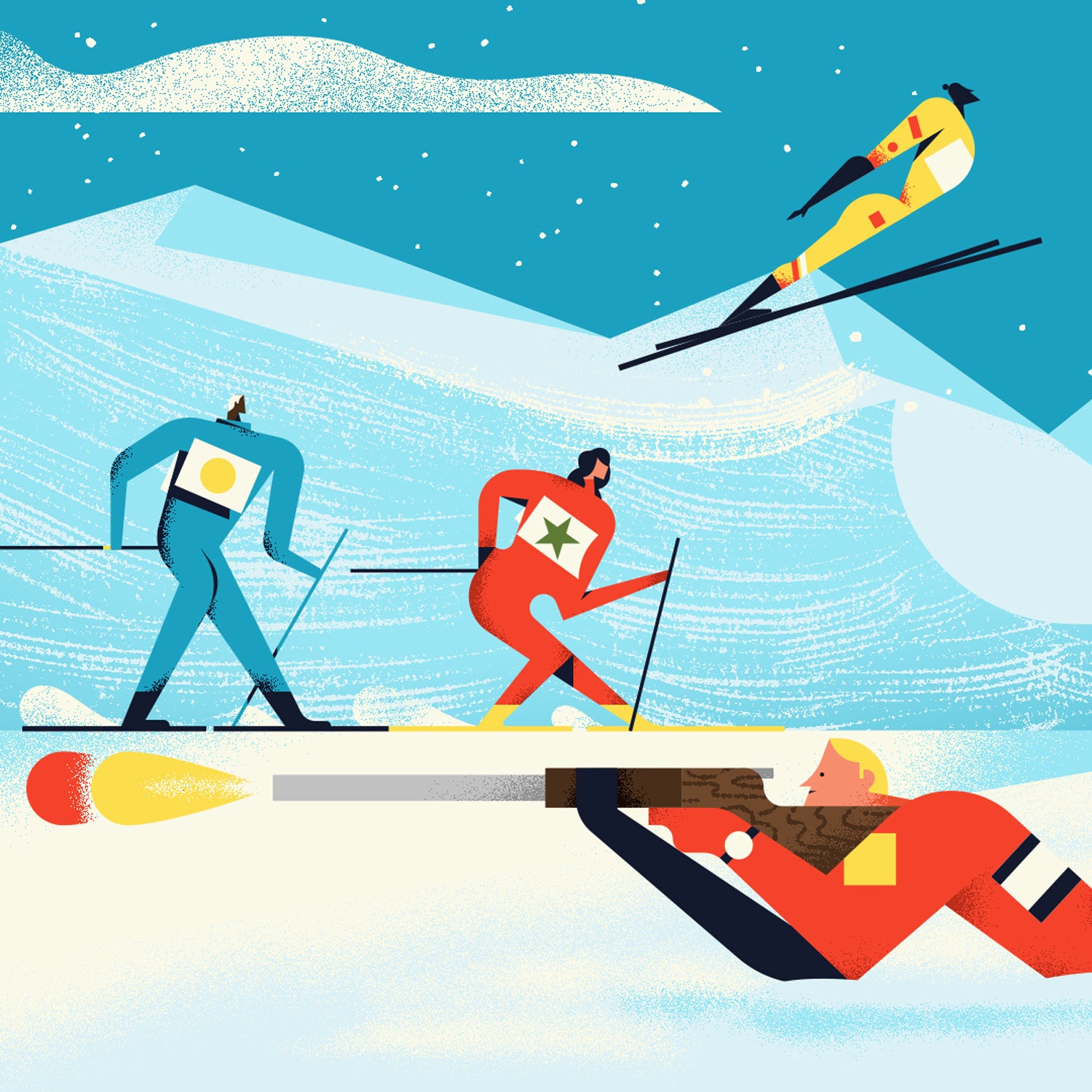 Adam Avery(Photo)
Heading out the door? Read this article on the new Outside+ app available now on iOS devices for members! Download the app.
Perhaps it's the metric system, or maybe it's the spandex onesies, but Americans have some trouble grasping the different types of Nordic skiing. It gets confusing, because "Nordic" skiing is an umbrella term for four different disciplines: cross-country, biathlon, ski jumping, and Nordic combined. This month, the U.S. team has good chances to medal across the board, so you'll want to pay attention. Consider what follows a comprehensive cheat sheet, so you can fake your way through any Olympic viewing party.
Cross-Country Skiing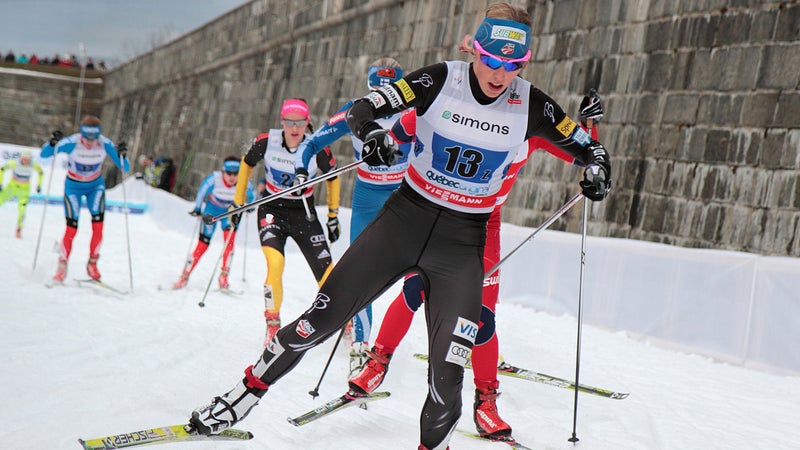 Practiced as a form of transportation since as early as 600 B.C., cross-country skiing is the one where athletes race up and downhill on a pair of no-edged carbon toothpicks at distances from 1.5 to 50 kilometers. Cross-country skiing includes two techniques: skate and classic. All competitors race in both disciplines. Skate skiing, in which athletes move across a wide groomed trail in a lateral skating motion, was invented in the 20th century and popularized by American skier and Olympic silver medalist Bill Koch. Classic skiing is where athletes stay in groomed tracks and use sticky wax on the base of their skis to gain traction on the snow and propel themselves forward.
Cross-country competitions feature sprints, individual distance, mass-start distance, and team relays. Sprints begin with an individual qualifying round and continue through the day with three more heats. Distance races employ jockeying and group race tactics that make the event feel like you're watching a Tour de France stage in 20 minutes. Cross-country skiers are known for their dramatics, often collapsing at the finish line. Racing for minutes (or hours) at nearly all-out aerobic capacity will do that to you.
Important Vocabulary
A-climb: A hill on the course with a 9 to 18 percent grade and up to 200 meters long. Sprint courses are required to have at least one of these hills; distance courses may have up to four.

Individual start: A race where competitors start 15 to 30 seconds apart from one another and race the whole course virtually alone. (The race where all competitors start together is called a mass start.)
Key Athletes: The entire U.S. women's team, Ingvilg Flugstad Oestberg (NOR), Simi Hamilton (USA), Johannes Hoesflot Klaebo (NOR), Dario Cologna (SUI).
Biathlon
Biathlon combines cross-country skiing and target shooting. Perhaps better known as "the one with the gun," biathlon originated as a tribute to Ullr, the Norse god of skiing and hunting, and eventually grew into a military training technique. Biathletes skate ski with a .22-gauge rifle on their back around a race loop, stopping in the stadium to shoot five targets before going out to do another loop.
Biathlon competitions feature sprint, distance, and relay events. During the shooting section of the race, for every missed target, athletes must ski a 150-meter penalty loop or have penalty time added to their final results. The name of the game in biathlon is relaxing enough to accurately shoot a gun in the middle of one of the hardest endurance activities in the world. That means these athletes have not only insane aerobic capacity but also a sharp eye and mad breathing techniques.
Important Vocabulary
Biathlon: Pronounced bi-a-thlon, not bi-ath-a-lon. It's OK—the athletes have trouble with spelling and pronunciation, too.

Clean: To hit all five targets without any misses in one shooting stage.

Prone: The lying-down shooting position.
Key Athletes: Susan Dunklee (USA), Rosanna Crawford (CAN), Kaisa Makarainen (FIN), Tim Burke (USA), Martin Fourcade (FRA), Johannes Thingnes Boe (NOR).
Ski Jumping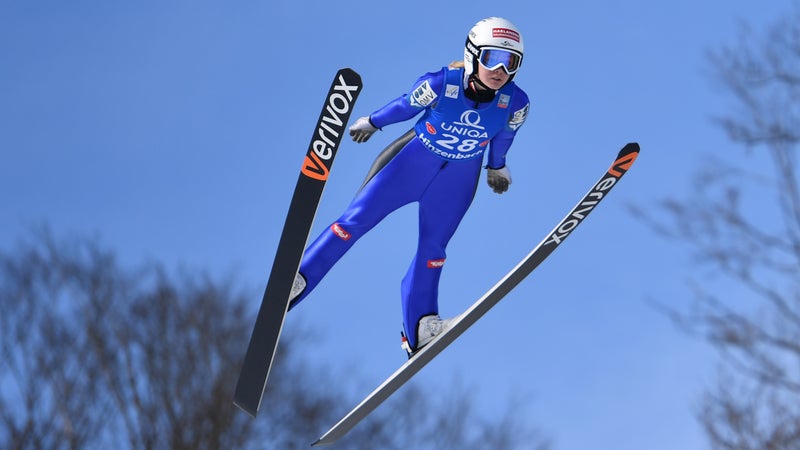 Mounted on heelless bindings on a pair of ten-foot boards, ski jumpers tuck down a steep, icy track, reaching up to 60 miles per hour before launching into flight (or not, for anyone who recalls the Wide World of Sports' "agony of defeat"). In air, athletes assume a V position before landing in a telemark technique to the cheers of judges and fans.
Competitions are structured in rounds, which generally include two jumps. A jumper's score is determined by a mix of distance jumped, technique, and wind factor. Ski jumping is all about timing. Athletes are cued on when to tuck by their coaches, who are watching the wind. They have to time their explosive jump at just the right moment on the in-run to efficiently launch into the air, and then read their landing at exactly the right point to land as safely as possible. The entire jump takes about ten thrilling seconds.
Important Vocabulary
K-point: The par of the hill, or how far an average athlete jumps. For example, a K120 hill has a K-point of 120 meters, which means the athletes should be able to jump that far.

Jumping suit: The highly regulated piece of fabric that athletes wear in-flight. Jumping suits must all be made of the same fabric, be formfitting to an exact measurement, and conform to four pages' worth of standards so as not to give any athlete an aerodynamic advantage.

In-run: That steep, icy track that jumpers speed down before flinging themselves forward into the air. The in-run is angled at roughly 38 degrees, which is how athletes can reach speeds up to 60 miles per hour before takeoff.

2014: The first year women were allowed to compete in this event in the Olympics.
Key Athletes: Sarah Hendrickson (USA), Michael Glasder (USA), Maren Lundby (NOR), Kamil Stoch (POL), Richard Freitag (GER).
Nordic Combined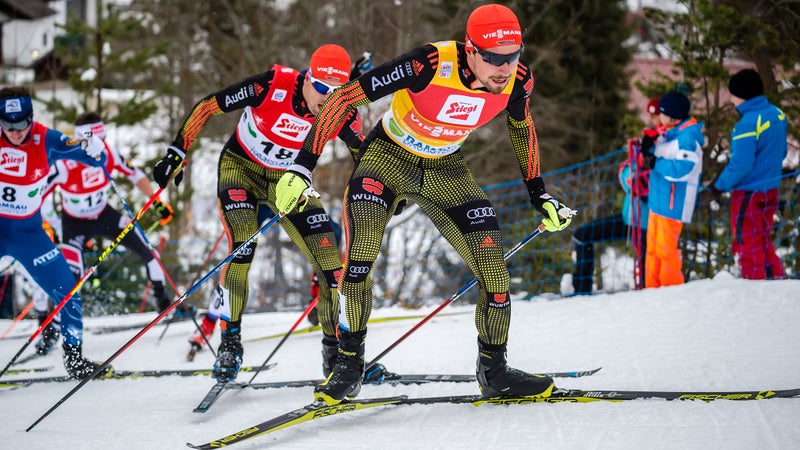 At some point in history, the Norwegians asked what were the two hardest sports in the world and decided to put them together. Nordic combined marries ski jumping (which favors light-bodied, explosive athletes) with skate skiing (which favors muscle-bodied endurance athletes) to create the most exhausting oxymoron on earth. Both the jumping and ski-racing portions of the competition are held on the same day, with athletes jumping in the morning, and then suiting (or, rather, spandexing) up to race in the afternoon. Scores from the morning jumps are worked into an algorithm that spits out a start list with determined time disadvantages. The winner of the jumping portion gets to start the ski race first, and then each other competitor starts behind him* after an allotted number of seconds based on the time algorithm. First person to the line wins.
*Note: It is always a "him." Women's Nordic combined has yet to be recognized at the World Cup level.
Important Vocabulary
See: cross-country skiing, ski jumping.
Key Athletes: Bryan Fletcher (USA), Taylor Fletcher (USA), Jan Schmid (NOR), Johannes Rydzek (GER).
Lead Photo: Adam Avery
Trending on Outside Online