Ueli Steck, After Death and in His Own Words
The climber's posthumously published autobiography gives an intimate look at a mountain legend and takes on new meaning after his death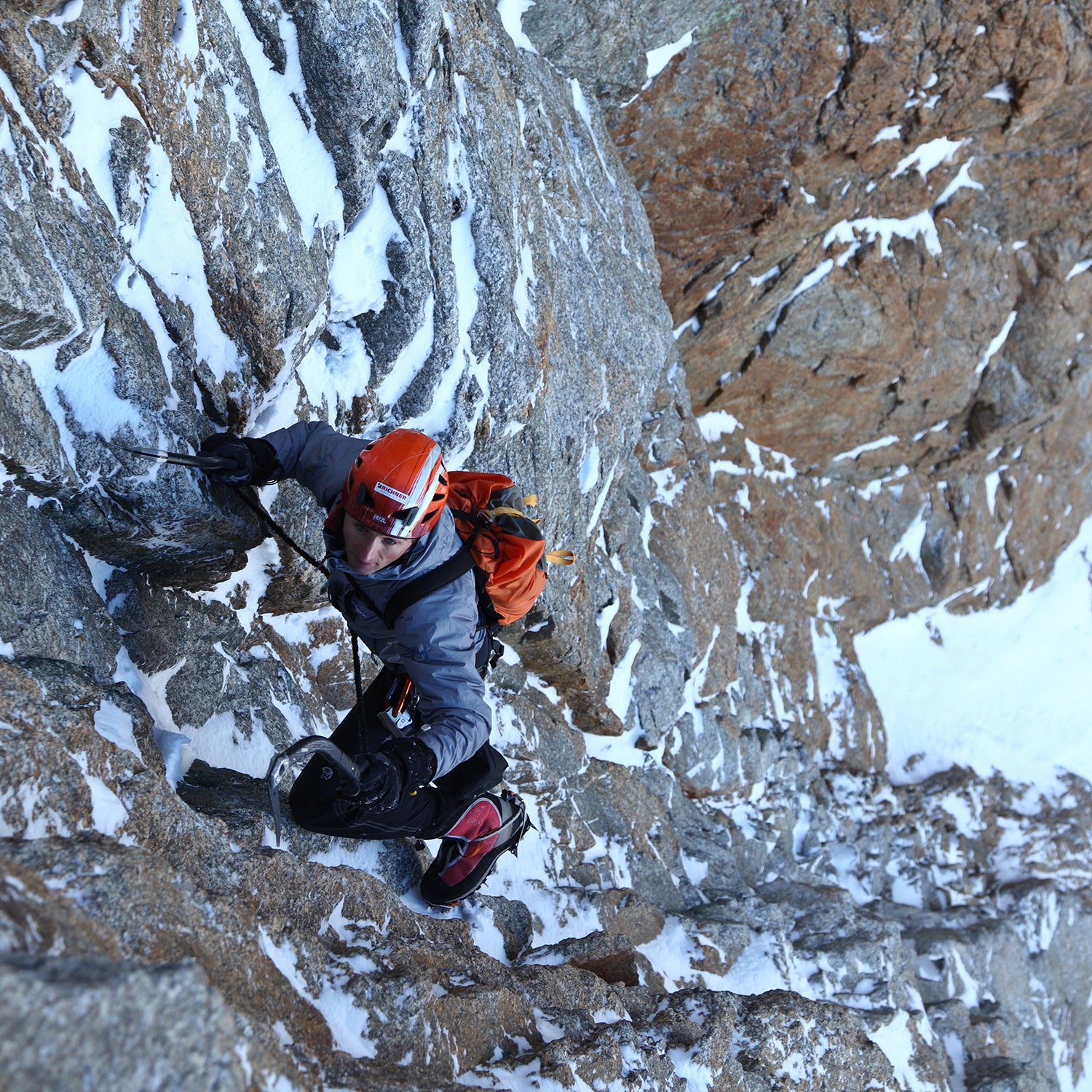 Jonathan Griffith/Barcroft Media(Photo)
Heading out the door? Read this article on the new Outside+ app available now on iOS devices for members! Download the app.
About nine years before he died, the Swiss mountaineer Ueli Steck had already thought a lot about risk and how much of it he was willing to take as a climber who used no ropes. Back then, in 2008, Steck was just beginning to gain real fame for having free-soloed some of the Alps' most fearsome faces in record times. For him, it all came down to fitness and knowing exactly what he was capable of at any given moment. Crossing that line was unthinkable.
"I don't have a death wish," Steck wrote in 2010. "On the contrary, I'm hanging onto my life like never before."
Steck died last April after suffering a fall on Nepal's 25,791-foot Nuptse, where he was climbing alone in preparation for an Everest bid. We may never know what happened that day, but his posthumously published English-language biography, Ueli Steck: My Life in Climbing, offers revelations about the climber's later years. One troubling takeaway: Steck's relationship with risk had changed dramatically since 2008, and not for the better. At his darkest moment—which coincided with one of his most remarkable climbing achievements, in 2013—Steck makes clear that if he did not have a death wish, he also did not care if he lived.
My Life in Climbing isn't a canon-worthy work of mountaineering literature so much as it is a bound collection of what feel more like journal entries. It first hit European shelves in 2016 as Der Nächste Schritt, or The Next Step; Mountaineers Books released the English translation in February 2018. Billi Bierling, assistant to the late Himalayan climbing historian Elizabeth Hawley, was just wrapping up the translation when she learned that Steck had died.
What the book lacks in overall narrative grace, however, it makes up for in the access its 224 pages give into the mind of one of the planet's best mountaineers. We see Steck race up summits in order to be back at a mountain hut before the cake sells out. We see him team up with über-athlete Kilian Jornet for a leisurely ten-hour door-to-door ascent of the Eiger from the valley floor—a 10,000-plus-vertical-foot day. All the while, death swirls around him. On a 2014 climb in Tibet, two friends are swept away in avalanche on Shishapangma, just feet from where Steck is standing. "I felt like crying," Steck writes rather flatly.
"I had no guarantee that I would not take such great risks again. In fact, I was afraid I would," Steck writes. "I had to get this under control. I was a climber and not someone wanting to commit suicide."
Steck wasn't always the most emotive or even approachable guy when it came to giving interviews to strangers, and he often drew a strict line between his professional and personal selves. The book erases that line and begins with a key pivot point in his life that sets up his battle with risk: the Sherpa fight high on Everest in 2013 that made headlines around the world.
To recap, Steck had been climbing with Simone Moro and Jonathan Griffith when a team of Sherpas fixing ropes on the Lhotse Face grew irate with the climbers for being on the same face at the same time. Things escalated. A Sherpa mob formed, and Steck, who dodged a rock to the head and took a punch to the face, was certain he would die. Instead, the Westerners were given an hour to leave the area. "We went to sleep wearing our helmets and holding our ice axes," Steck writes.
Steck explains in his own words what happened that day while offering suggestions as to why, but that's all very much secondary to the big takeaway from that affair: "I had always been aware that my life could be over in an instant, that there was no guarantee," he writes. "What I struggled with was people's behavior and the aggression I encountered." In short: "I had lost faith in humanity."
That might sound melodramatic or even earnest, but for someone as calculating as Steck, this loss of trust flattened his world. What ensues is a spiral of depression and angst that Steck attempts to overcome through climbing and training, but it doesn't really work. He soon understands that he has suppressed emotions from the encounter that haunt him. It is only months later, in this increasingly fragile mental state, that Steck heads back to Nepal, this time to Annapurna, where he pulls off the most audacious climb of his career: a solo ascent up the south face.
Annapurna, the world's tenth highest mountain at 26,545 feet, had nearly killed him in 2008, when falling debris crushed his helmet and sent him tumbling 1,000 feet down the south face. (He escaped badly bruised but relatively unscathed.) It is on his final visit there that Steck's demons finally burst free, and reading about it is at once horrifying and exhilarating. He pushes for 28 hours over wildly exposed terrain at hostile elevations where a rescue would be impossible. He carries no sleeping bag and goes for the summit with only a coil of six-millimeter cord on his back, a water bottle, and a few chocolate bars. When some spindrift nearly knocks him off the mountain, Steck's reaction is frightening: "I couldn't have cared less if I fell to my death," he writes.
Four months after he is safely home, Steck is struggling. He can't understand why he was willing to take such big risks on Annapurna, and he feels ashamed about it. He can't sleep and pops pills to help. He repeatedly envisions someone at the foot of his bed, ready to bash in his skull. "Nights became one single nightmare," he writes. Worse, he seems to know that his new who-cares M.O. might actually kill him: "I had no guarantee that I would not take such great risks again. In fact, I was afraid I would," Steck writes. "I had to get this under control. I was a climber and not someone wanting to commit suicide."
Friends said in recent interviews that Steck was indeed on the mend, that he had found joy just in being in the mountains again, and that the guardrails had come back.
The book never truly reveals head-on whether Steck bounced back from those darker places, though he does say he sought professional help, got on medication, and took time off to climb with his wife, Nicole. Soon, though, he heads back to Nepal, where he once again gets himself into dicey situations on Nuptse. Near his home, climbing on the Eiger, he refuses to acquiesce to Nicole's request that he no longer solo the north face. "If I can no longer live this part of me, I'll wither like a spent flower," he writes.
In recent interviews, friends have said that Steck was very much on the mend, that he had found joy just in being in the mountains again, and that the guardrails with risk had returned. "He was talking like it was over after Everest," says Dan Patitucci, a photographer who counted Steck among his best friends. "Ueli had a job, like an actual job as a product manager, and he was so proud of that. He'd turned 40 and was like, 'I'm OK with this.' He would say how he wanted to be an old climber."
By the end of the book, a certain peace does prevail. Steck heads back to the Eiger, but he doesn't ascend slowly. Instead, he reclaims his broken speed record on the north face with a time of 2 hours, 22 minutes, and 50 seconds, all while keeping his heart rate below 165 beats per minute. He doesn't seem to much care about that. He's done with "exhausting" his potential. He doesn't want to scare himself like he did on Annapurna ever again. He realizes he can have fun with a rope, a partner, and even by moving more slowly.
"The most important thing was to stay aware of the risk at any given moment and control it," he writes. "If I managed to do this, I would certainly be able to experience more exciting and beautiful moments in the mountains without killing myself."
Sadly, those moments would be far too few.
Lead Photo: Jonathan Griffith/Barcroft Media
Trending on Outside Online