The Field Skillet Is a Modern Spin on an Old Favorite
It's 50 percent lighter than traditional cast iron skillets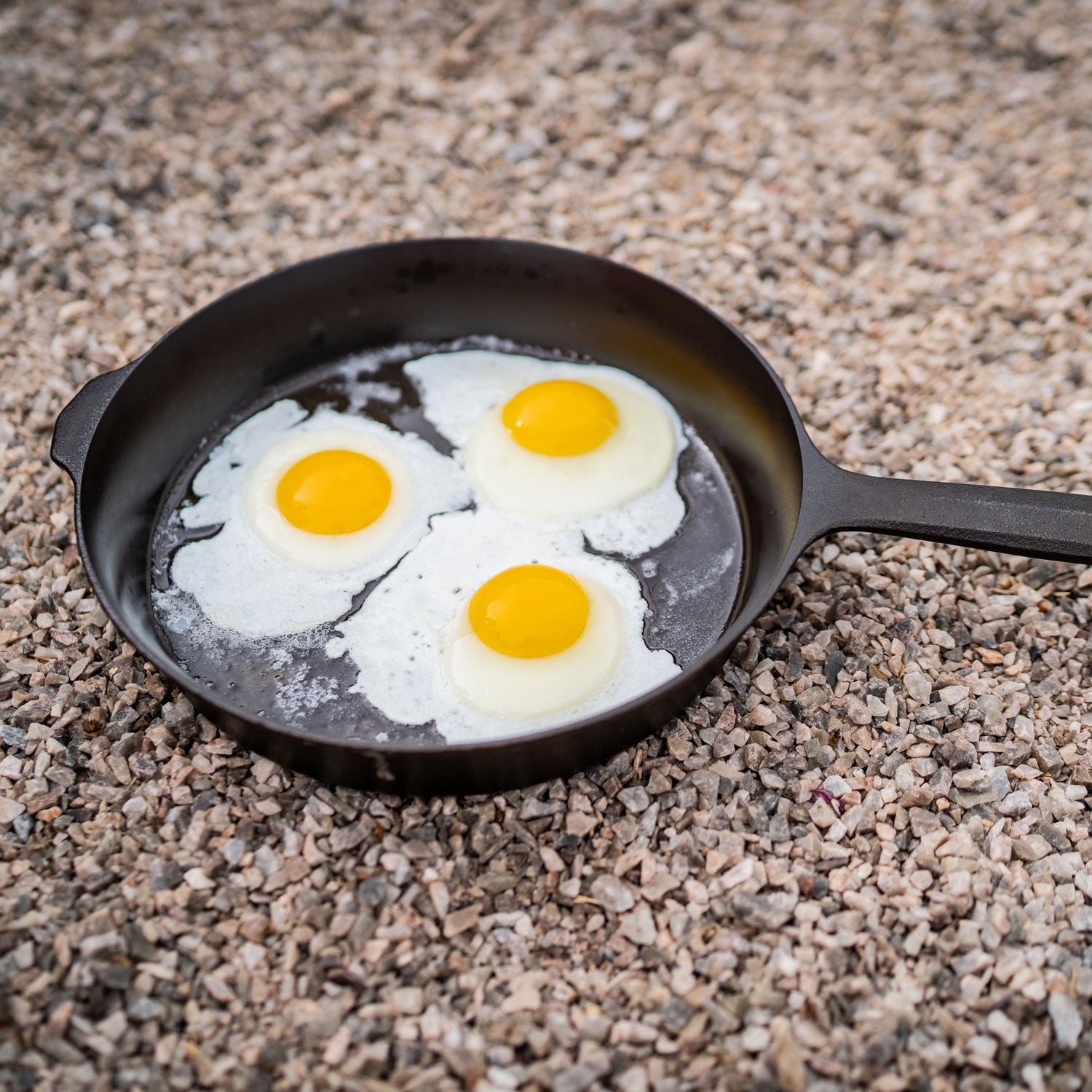 Jakob Schiller(Photo)
Heading out the door? Read this article on the new Outside+ app available now on iOS devices for members! Download the app.
I know some of you had the following thought after seeing the price tag for this skillet: "There goes another Outside writer pushing another piece of spendy, unnecessary gear." I don't blame you. Why would anyone buy a $100 cast iron pan when there are plenty of skillets at the local thrift shop, or even new, that sell for a fraction of the price?
Here's my reasoning. The Field Company's skillet stands alone because it's a 10.25-inch pan but weighs just four and a half pounds, or up to 50-percent less than similarly sized skillets. That means it will pull home cooking duty for the next 40 years but is also designed for anyone who likes to play outside and wants the convenience, but not the weight, of cast iron while car camping, overlanding, or on a multi-year van life adventure.
Cast iron obsessives will point out that The Field Company shaved weight by slimming the thickness, which means the skillet might not conduct heat as well as that monster pan you inherited from your grandma. That's true, but over weeks of testing, I've found that their version does a fine job of cooking everything from French toast to asparagus. True foodies can stick to their top-shelf skillets, but for the rest of us, The Field is a solid and trustworthy choice.
You also get some additional perks. Most notably, The Field Company machined the cooking surface of their skillet to a high sheen so food is less likely to stick; a detail that helps with things like grabbing and flipping over-easy eggs. The skillet comes pre-seasoned so you're ready to cook pretty much out of the box, and the ergonomic handle is easy to grip and tip when the pan is full of a thick and heavy spaghetti sauce.
Finally, if you're the kind of person who appreciates well-made gear that accumulates good stories over time (pocket knives, Land Cruisers, leather hiking boots), you'll see the value in buying a cast iron skillet that can travel. I have no doubt I'll cook many tasty meals in this pan while at home. But the meals that will really stand out—the ones I'll remember every time I pull it out—will be the meals I cook in the skillet while hovering over a Coleman stove on my tailgate or over a fire pit at my favorite drive-to campsite.
Lead Photo: Jakob Schiller