Even Vagabonds Need a Home
Life on the road means freedom from daily schedules. But it's nice to have familiar places to look forward to every year.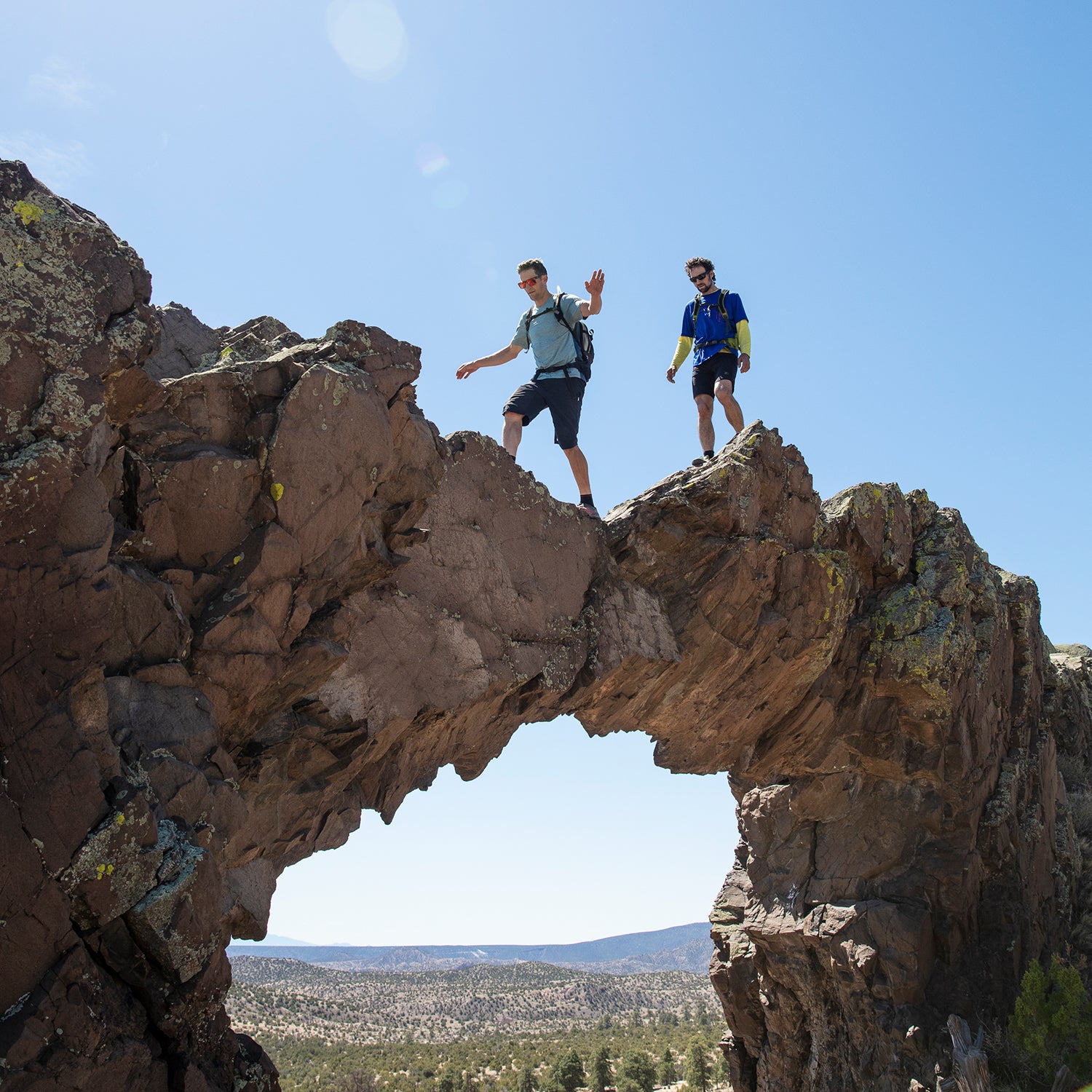 JJAG Media(Photo)
Heading out the door? Read this article on the new Outside+ app available now on iOS devices for members! Download the app.
Compared to the metronomic regularity of typical American life—6:30 a.m. wakeup, 8:30 a.m. office, Tuesdays and Thursdays yoga, two-day weekends, Saturday at the local pub—Jen's and my existence unfolds in an unforeseeable staccato of travel and assignments. If life is a road, we are constantly driving forward to see what's over the next hill, and in the interest of not being constantly forced to cancel everything, we add few events to the calendar more than a week or two away.
On the other hand, by virtue of chasing good weather, we've developed something of an annual routine, a handful of waypoints that loosely steer our travels. Catching up with bird migration at the Bosque del Apache National Wildlife Refuge is a rite of autumn, for example, and no winter would be complete without a stay in the Sonoran Desert. I've come to think of these places as signposts, places and events that roughly mark time and keep us moving as sure as those cranes and geese at the Bosque. This week, I realized that Abiquiu Lake, in north-central New Mexico, is another such marker. Though we never discussed whether we'd return here this year, I knew in the back of my head that the lake campground reopened for the season on April 15, and when we approached the road to the lake a few weeks later, there wasn't even a question that we'd make the turn.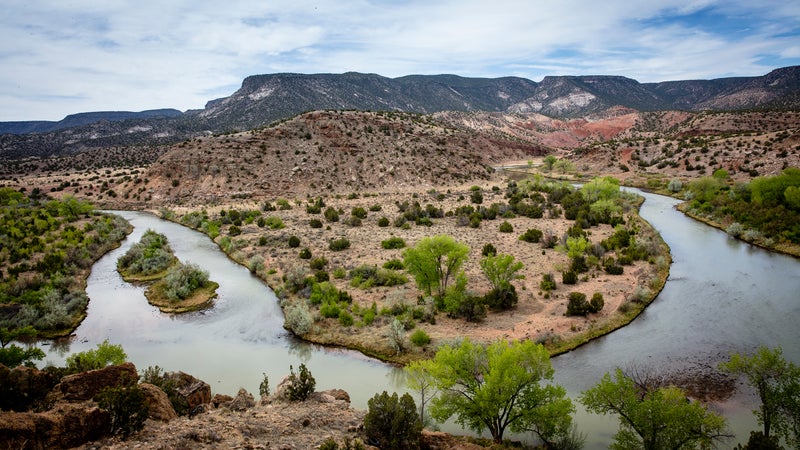 Probably best known for its position between Pedernal and Ghost Ranch, two New Mexico icons that defined the life and work of Georgia O'Keeffe, Abiquiu Lake is accordingly stunning. The flat mesa tops of the Jemez Mountains glide down to brick-colored sandstone cliffs and planes of red earth stippled with piñon pines. At the center of it all is that cerulean window of water. Water in the desert is life, and coming to the lake to swim and boat and fish is an affirmation. Just an hour north of Santa Fe, the place also holds special significance for Jen and me, as it delineates our wintering ground from summer. When we pass here, it means the temperatures in the desert are creeping up and the mountain snows are melting, unlocking the adventures and camping grounds ahead in the high Rockies.
I love the spontaneity of our lives—the knowledge that we can drive one hour or all day to find our next spot, or we can simply stay put; the ability to reshape our plans whenever we see a dirt road that looks compelling; those frequent mornings when I have to open Artemis' door to remember where we are. Road life teaches you to be flexible in a way that the nine-to-five regimen cannot. At the same time, having a few waypoints, like Tucson or Abiquiu, is a counterbalance. These spots are the constellations by which we navigate, even if we pick a different path to get there every time.
Having spots to return to also cuts the isolation of the road. At Abiquiu, the camp hosts, whom we've seen year after year, greeted us with a big hug and invited us to sit for coffee and catch up. And since Abiquiu is so close to our previous residence, it is especially significant for the access to our social network. This year, some old friends, Aaron and Amy, drove from Santa Fe with their trailer to camp with us. Others we haven't seen in months day-tripped up as well.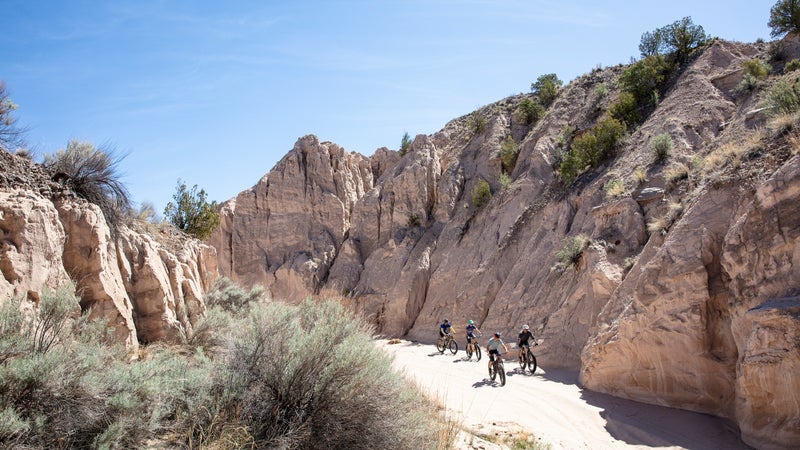 The lake was still stinging-cold from the runoff, too frigid for waterskiing without our wetsuits, which are somewhere deep in storage. Instead, Jen and I inflated our Alpacka rafts and spent a day paddling the quiet section of the Chama River that empties into the lake. Abiquiu isn't a mountain biking destination per se, but the more time we spend here, the more riding I discover. One day, we pedaled a new-to-me segment of the Continental Divide Trail into the high country, where inky stands of ponderosa were musky with elk. The next day, we hopped on borrowed fat bikes and traced sandy arroyos into the maze of canyon country to the south, where I know of a seldom-visited basalt arch called Window Rock. In the evenings, we cast for walleye and trout on the Chama, grilled elk from our just-replenished meat freezer in Santa Fe, and caught up with old friends under the stars.
At the end of the long weekend, Aaron, Amy, and the others returned to their lives and schedules back in town, leaving me and Jen alone. At first, I was melancholy to see them go. It had been great to have everyone together, and the quiet after their departure seemed to highlight just how solitary road life can be. But then I realized how much I appreciate places like Abiquiu, where I can return year after year. For millennia, the wind has whipped this landscape. As we push on up the road, never quite sure what's over the next roll, it's comforting to know that as surely as the weather will turn again in half a year, the cliffs and water and searing sun will be waiting for us here at the lake.
Lead Photo: JJAG Media