The Editor of the First Women's Fly-Fishing Magazine
When Jen Ripple learned the rich history of female anglers, she thought it was about time they had their own publication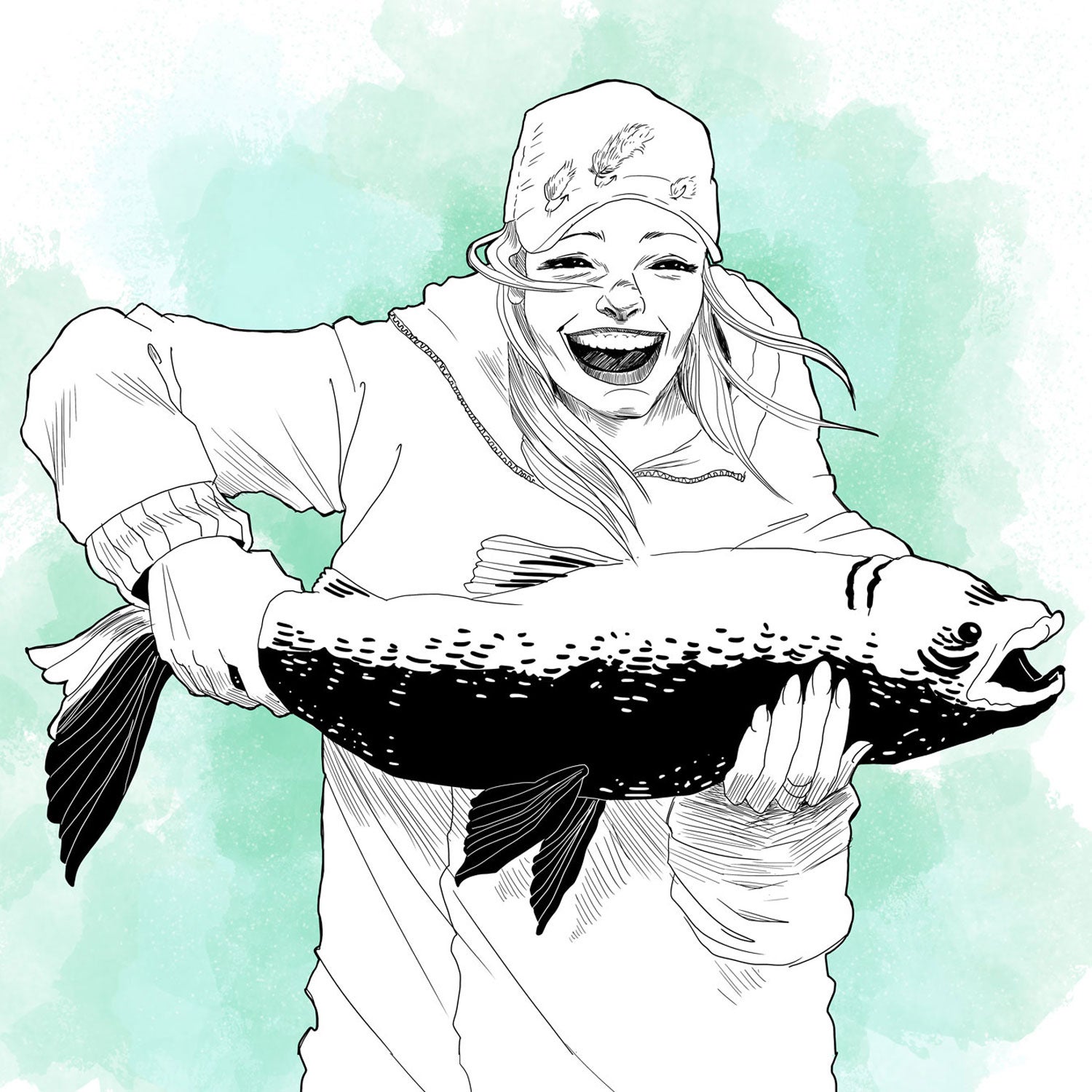 Erin Wilson(Photo)
Heading out the door? Read this article on the new Outside+ app available now on iOS devices for members! Download the app.
Job: Publisher and editor in chief of DUN magazine
Home Base: Dover, Tennessee
Age: 50
Education: Bachelor's degree in chemistry from the University of Wisconsin
Jen Ripple didn't know what fly-fishing was when she stepped into a fly shop in Ann Arbor, Michigan, ten years ago. She was working for the University of Michigan and, with little else to do during the particularly cold winter, had signed up for a fly-tying seminar on a whim. "I liked tying flies, so when the ice was off the river, I started fishing," Ripple says. Soon she was spending hours each week on the banks of Lake Huron. "After that, I just fell further and further into the black hole that is fly-fishing."
Ripple was a mother of four in a sport that labels participants fly-fishermen, but that didn't bother her. After moving to Chicago, she joined another fly-tying group, which was led by the editor of a new Midwestern fishing magazine called A Tight Loop. He hired her to write a column giving a woman's perspective on the sport. "It was mostly double entendre stuff," Ripple says. "One article I wrote was titled 'Sex Hatch,' and another one was 'Eight Inches.'"
Feeling stunted, she started looking for fly-fishing magazines aimed at women. There weren't any. So, in 2013, without any other media experience, she started her own: DUN magazine, named for the just-hatched stage in the life cycle of a mayfly, one of the most famous flies in fly-fishing. In that first year, Ripple built four digital magazine issues, each upwards of 200 pages packed full of how-tos, expressive photography, and personal essays. Every story was written by a woman.
The online issues were met with so much enthusiasm that she decided to make a print issue in the spring of 2017. "I was talking with a friend of mine, a very respected man in the industry," Ripple says. "He said, 'Jen, that's great. You're gonna have one magazine, and it's gonna be wonderful. But you'll only ever have one magazine, because there aren't enough women that fish.' It didn't even bother me, because I knew he was wrong." The fourth issue, produced by what is now a nine-person staff, hits newsstands this fall.
On the Best Advice She's Received: "It came from a National Geographic photographer, Perry Rech. He said, 'It doesn't matter what they're saying as long as they're saying something.' I never imagined that the negative criticism out there about DUN was directed at me. I was just happy people were talking about the magazine."
On Her Perfect Day: "I would wake up in Punta Gorda, Belize, in this place called the Belcampo Lodge (recently renamed Copal Tree Lodge). It's the most beautiful place I've ever been to. I'd walk down to the beautiful little restaurant, get a cup of coffee, smell the saltwater and hear the birds, and look out over the water and see fish right there. Then it's into the skiff, racing across the water. You stand in the front of a flats boat with a fly rod in your hand for what seems like hours until the next bonefish or tarpon or permit comes along. You cast to them. And if you miss them, it doesn't really matter. There's just something about being out on the saltwater. I grew up on a lake in Wisconsin, and my Grandma always said when you live on a lake, you have water in your veins."
On Her Favorite Piece of Gear: "The Yeti Panga. It's a duffel bag that turns into a backpack. I wear it when I fish, and I travel with it. It has a drysuit zipper and is completely waterproof. It saved my life when I was fishing in North Carolina. I was carrying my gear and had my Panga on my back. I slipped down an embankment and fell into a 15-foot ravine, at the bottom of which was the river. My waders immediately filled with water. I'm a really good swimmer, so I usually don't get nervous in the water, but I knew I was in trouble. Then, all of a sudden, I realized the Panga on my back was floating. I turned it around and held it to my front and kicked to the shore. That was scary."
On Her Best Fly-Fishing Tip: "I remind myself that fly-fishing isn't neurosurgery. It's supposed to be fun. So I never get too worked up about it."
On the First Female Fly-Fishing Writer: "I love A Treatise of Fishing with an Angle by Dame Juliana Berners. Dame Juliana was a nun of noble birth and wrote the book in 1496. I always thought she wrote it because she was a nun who was bored, had money, and liked to fish. Then I did the research and found out that's not true. She likely wrote the book because in 1496, an activity had to be sanctioned by the church in order for you to do it. A priest had to have a document to bless in order to sanction it, and this treatise is that document that allowed her to fish."
On the History of Women in the Sport: "When I first got into fly-fishing, I thought women were new to the sport. Then I found out we've been here since 1496, and that the way we tie our streamer flies is attributed to a woman, and that the 'bait and switch' method we use to catch billfish on the fly came from a woman. A woman was one of the most prominent guides in Maine when Teddy Roosevelt fished there in 1878. The story of women in fly-fishing is huge. It gives me and the women in the sport now a foundation."
On the Challenges of Being a Female Editor and Publisher: "In the beginning stages, I realized it was just a good old boys' club. Let's just say that the ad guy responsible for a big manufacturer isn't going to take a deal away from his friend who takes him fishing in the Bahamas, even if I prove to him that I could get him more business. That's his friend. I might not like it, but it makes sense."
On Attitudes Toward Women in Fly-Fishing: "There is, unfortunately, that vocal minority of men out there who say, 'I don't care if women fish. I just don't want them on my rivers.' Or, in the fly shop, the guy who says, 'Are you here to buy something for your husband?' But that's so small. And it's not really the whole reality of the sport, I don't think. I spoke at a Chicago fly-fishing convention yesterday and asked for all the women in the audience whose father, son, or uncle got them into fly-fishing to raise their hands. It was like 99 percent of them. Often male figures are the ones who got a woman involved in the sport."
Lead Photo: Erin Wilson