Kids and an Exciting Mountain Career? It's Complicated
These women chose to have both a family and a job as a pro skier or mountain guide. But they're often subjected to a public narrative that either villainizes or discredits their decision.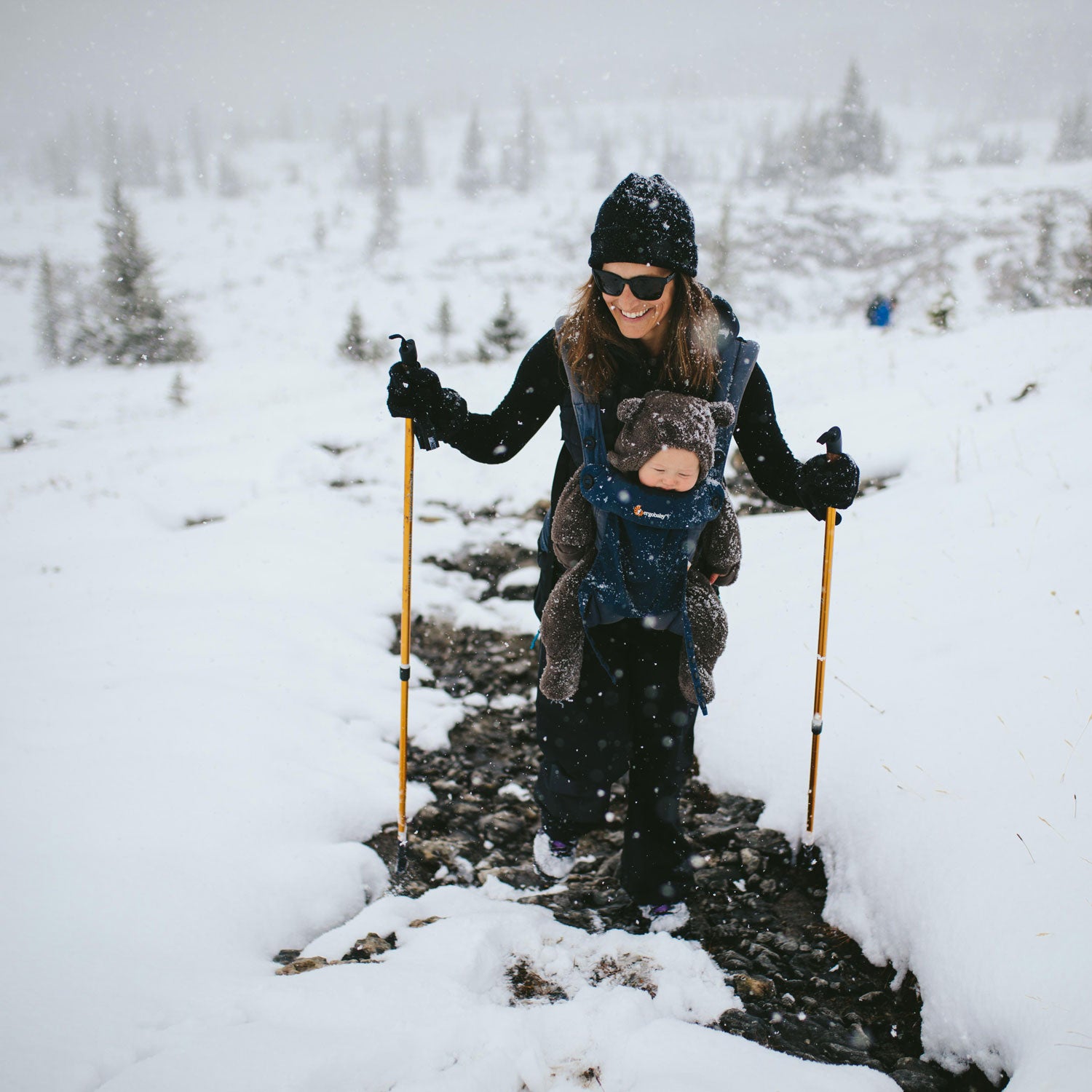 Zoya Lynch(Photo)
Heading out the door? Read this article on the new Outside+ app available now on iOS devices for members! Download the app.
In February 2014, Wendy Fisher stood at the top of a steep chute in the Whistler backcountry, camera trained on her, as she prepared to drop into her first big line in eight years. Mike Douglas, a director for Salomon Freeski TV stood next to her. "Any thoughts of the kids?" he asked.
It was a natural question. Fisher was filming Super Mom, about Fisher's return to big-mountain skiing after taking years off to prioritize motherhood. Out loud, she said, "I've had a few, yeah. But I can't think about them right now. I've got to think about me." The truth was she wasn't focused on her two sons, ages 10 and 12, at all at that moment. "I was thinking that I was scared again, but it was so rewarding."
Fisher is widely credited with helping to pioneer extreme skiing. An Olympian and World Cup competitor, she broke into extreme skiing during its emergence in the mid-1990s, winning championships and starring in films for Matchstick Productions and Warren Miller. Then she had her first child, Aksel, in 2005, and everything changed for her. "I remember holding him in my arms and thinking, 'What did I just do? I could be in Alaska skiing. I just screwed myself.' Because I fell in love with my kids."
Fisher is one of only a few women in the big-mountain industry—mountaineers, pro skiers, and guides—and one of even fewer who are raising a family. That world hasn't allowed for much nuance in how moms are portrayed or accommodated. In 1995, when American climber Alison Hargreaves died on K2, a media firestorm ensued over her choice to risk her life in the mountains as a mother. Today, popular media celebrates mountain athletes and guides who are new moms as "having it all," while rarely acknowledging the weight behind their decisions. Little attention is given to the realities of starting a family in the guiding and sponsored-athlete industries, where the mainstream model of motherhood doesn't fit. As a result, women like Fisher have had to blaze their own trails.
"I always knew I wanted to be a mom, but when I was younger, I was too focused on skiing to admit I wanted it, even to myself," says Ingrid Backstrom, 39, one of most well-known freeskiers in the world. She held a common perception that once she had kids, she wouldn't be "allowed to do anything rad." In 2017, Backstrom had her daughter, Betty, and went on to release Lineage, a film documenting her mission to ski the top 25 lift-accessed lines in North America, traveling with her then ten-month-old.
"I thought I had to do all these things and get it out of my system before kids, because then it would be over," says Caroline George, 45, a mountain guide and pro skier based in Switzerland. "But life isn't so linear. Once it's in your system, you can't get it out. And I never wanted to say to my daughter, 'I had you and I couldn't accomplish my dreams.'" At 35, George realized she wanted children but resolved that having a child wouldn't change the way she lived her life. She mountaineered halfway through her pregnancy, ski-toured all the way through it, and continues to guide now.
Fisher agrees. "I don't want my kids to hear, 'Your mom used to do that,'" she says. "I want my boys to look up to me as a fiery skier on these big lines that people don't usually expect to see women skiing." Still, Fisher says, "It's a weird mental thing just to decide to have kids in this industry." Most women, at the age they'd think about having kids, have worked for years to earn a certain level of credibility and training, and it's hard to give that up.
"If everything goes right, then it's fine, but if something goes wrong, then I'm the negligent mom."
Penny Goddard, a mountain guide and avalanche consultant based in Revelstoke, British Columbia, had her daughter in 2012, halfway through her guide training. "I don't want to be a poster girl for this imaginary dream," she says. Goddard recalls a period of serious soul searching to decide whether she would even complete her training, which involved significant time, a tremendous amount of pressure, and long stints away from her daughter after giving birth. And there were financial implications: Goddard's husband put his career on hold to take over a big share of the childcare. "I asked myself why I wanted to do this and if my ambition was getting in the way of motherhood," she says. "Now that those hardest years are behind me, I'm glad we did it, but it was heart-wrenchingly difficult."
Mountain guide Lilla Molnar, 46, based in Canmore, Alberta, encountered similar childcare hurdles when she had her daughter, Ella, in April 2012. But she was able to mold her place of employment, the massive Canadian Mountain Holidays guiding system, to her needs. She'd bring her infant daughter to the lodge with her during her multiweek guiding shifts, along with her mother, mother-in-law, or her husband, fellow mountain guide Marc Piche, who joined when he was off work. To Molnar's knowledge, this had never been done before. "I never thought, 'Now I have to change my lifestyle to suit having a baby,'" she says. "I looked for solutions rather than going back to the drawing board on how I would live my life."
Social media has in some ways supported that kind of attitude, giving women the freedom to blend family and big-mountain adventure while demonstrating to their employers (or, often, their sponsors) that such a thing is possible. To announce freeskier Tessa Treadway's pregnancy in 2013, her husband, Dave, a fellow pro skier, wrote a letter to their sponsors, including Rossignol, from their unborn son's perspective. "Hi. My name is Kasper," it read. "I want to be a skier like my mom and dad. Will you sponsor me, too?" The family has been living out of their camper with their two sons for the past three years, traveling the West and showcasing skiing as a family. Now they can't keep up with social media requests from resorts, guided ski operations, and lodges. "Lots of different companies want us on their team to promote skiing as a family," Tessa says. "We've carved out a new market for ourselves."
For athletes who make much of their living from sponsorships, the image of motherhood hasn't been part of their brand content until fairly recently. In 2001, a rumor circulated throughout the outdoor world that The North Face had dropped pro climber Lynn Hill from its sponsorship because of her pregnancy. In fact, Hill's contract had simply expired, but the rumor added to a climate in which female athletes were gun-shy about announcing pregnancy to their sponsors.
Jessica Hollister, director of consumer communications for The North Face, says the brand is very supportive of motherhood within its athlete team as part of a conscious move to share more images and stories of female explorers. "That applies to women who are getting out and pushing boundaries in all stages of their lives—including becoming a parent." The brand has already featured images and films spotlighting Backstrom with her daughter. It also sponsors ski mountaineer Kit DesLauriers and big-mountain skier Hilaree O'Neill, both of whom went before Backstrom in integrating motherhood into ski mountaineering careers. "As sponsors, we owe it to them, and the sport, to recognize and honor all of their contributions," Hollister says.
"Companies are realizing that audiences want more of a story than the image of a hot, young ripper who parties all night and shreds all day," says Izzy Lynch, a pro skier and former big-mountain competitor on the Freeride World Tour Circuit who had her son, Knox, in the spring of 2017. "They're letting us grow up. I was really proud to be skiing and shooting while pregnant."
At the same time, there's the danger that once an athlete has children, she'll fall into the default box of "mom athlete" in the public perception, a phenomenon that doesn't happen nearly as often with men. "Ever since I gave my first interview at 22, I've been asked about having kids," says mountain guide Melissa Arnot, who, in 2016, was the first American woman to summit Everest without oxygen. "I finally started replying that until we ask that question of men, I'm not willing to answer it." Arnot, 34, gave birth to her daughter just three months ago. "I've been able to hold on quite tightly to my identity. The person I am is a mountain athlete, a stubborn pursuer of what's out of the norm. I don't have interest in chasing the 'mom athlete' persona, even though there's a certain pressure to do that."
Regardless of public perception, some mothers do make the choice to cut back on high-risk, time-consuming adventures as part of their career. Treadway acknowledges that she's stepped back from skiing big lines. "If we want to ski something big, it's easier for Dave. I'm more the primary caregiver, and he's more the breadwinner—he'll still go out on those epic missions," she says. This was her own choice, she notes. "I wanted to not miss out on that time in their lives and be there for my sons. And we're promoting to people that adventure isn't over when you have kids."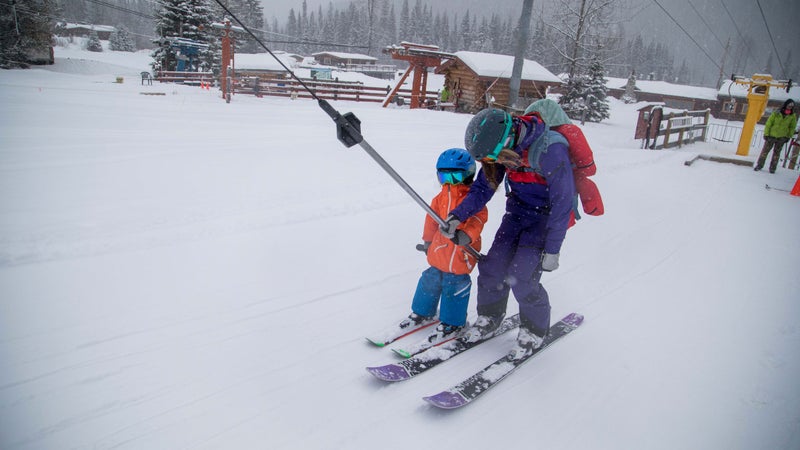 All the mothers I spoke with acknowledged that they gave no small consideration to the risk inherent in their careers—something that lots of people who don't work in the industry have opinions about. "The activities we do can be perceived as overly risky by people who aren't engaging in them on a daily basis, even though we're trained for them to the highest level," Lynch says. "If everything goes right, then it's fine, but if something goes wrong, then I'm the negligent mom."
DesLauriers questioned whether her risk tolerance would change after having children. "When I was pregnant with my first," she says, "I remember looking up at the Grand Teton and wondering if I would be the kind of parent who would get over the fear and go climb and ski something like that."
DesLauriers had already skied off the Grand twice and knew exactly what it would take. She questioned if she'd physically be able to do it after childbirth. "But I have always said that I play hard and I rehab hard. And coming back from pregnancy is like rehab," DesLauriers jokes. "I trained really hard, but I could never be out for more than two hours at a time, because I was breastfeeding constantly." The day she went for the Grand, DesLauriers fed her daughter at 11 p.m., put her back to bed, started hiking at midnight, and summited at 8 a.m. "We had to drop in whether it was soft enough or not, because I had to get back to breastfeed," she says.
Women like Treadway and her colleagues are demonstrating that there are as many ways to be a mother with a big-mountain career as there are mothers. Simplifying their stories as "having it all" or not being a "good enough" mom doesn't do service to the gravity that motherhood deserves, whether or not a woman decides to have children.
"I hope more people feel comfortable to make the choice that's right for them—and that the choice isn't limiting," Backstrom says. "It should be a celebration of everyone's individual DNA and choices and less about projecting our expectations onto anyone else."
Lead Photo: Zoya Lynch
Trending on Outside Online